6 Great Terraces for Cocktails & Food!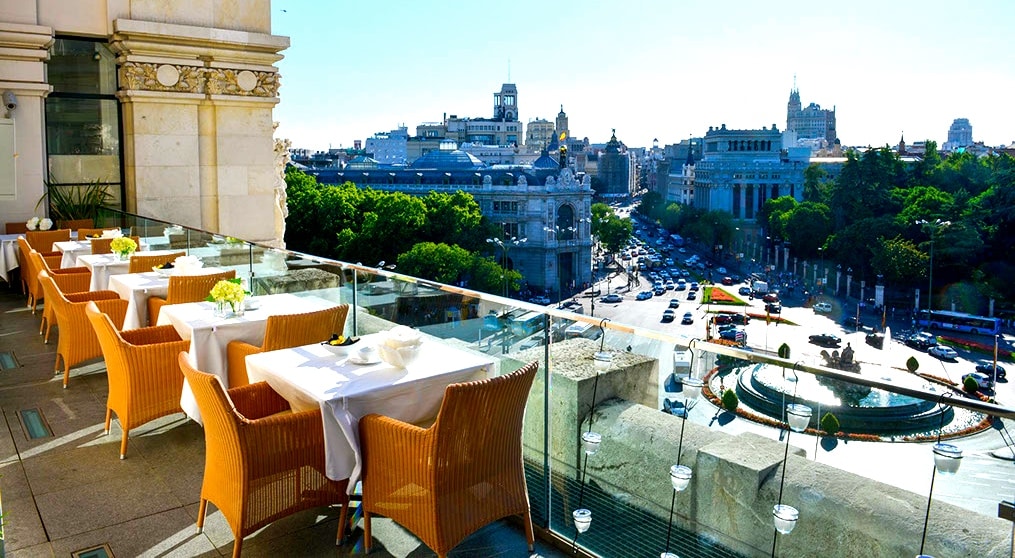 As the mild yet inevitable winter season approaches, it's definitely very tempting to stay inside and snuggle up in front of the TV to binge-watch Netflix all day. People are bundling up and hurrying inside to beat the cold, yet Madrid offers so much to see and do that it's almost impossible to avoid the outdoors. A great way to ensure that you're still getting the most of your experience here is to take advantage of the city's hidden gems such as its many incredible rooftop bars. Offering a variety of spectacular views from above as well as great food and a cozy atmosphere, Madrid's terrace lounges are begging to be discovered and explored; even after the peak summer season has come to a close!
The Roof at ME: Plaza de Santa Ana Terrace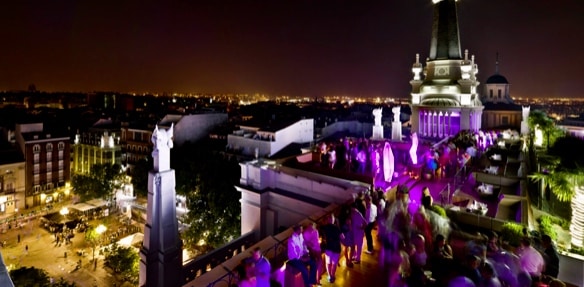 This exclusive hotel terrace has become one of the city's trendiest hotspots! With low, atmospheric lighting and a view of the Plaza Santa Ana, Teatro Royal, and more, the ME's rooftop is the perfect place to see the city lit up at night. Get ready to dress up for a classy night out, and be prepared that, given this is an upscale hotel, a pricy cocktail menu should come as no surprise.
· website ·
Tartan Roof at Circulo de Bellas Artes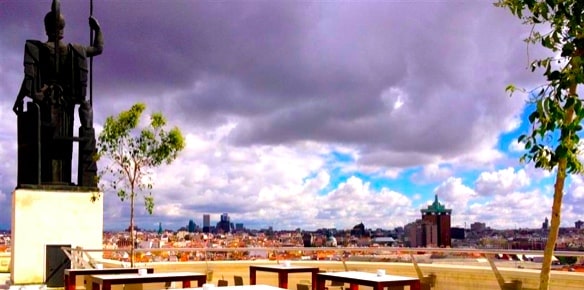 There are very few places you can see an iconic 360 view of the city other than at the rooftop of Circulo de Bellas Artes. Entrance fee to the rooftop is €4 at the bottom floor reception area (just €3 with your Carne Joven card!), which truly is a small price to pay for such a breathtaking experience! Gaze out over the vast Calle Gran Vía as you enjoy a drink or delicious meal at one of the many hightop tables, whether it is daytime, sunset, or after dark.
· website ·
Terraza Atenas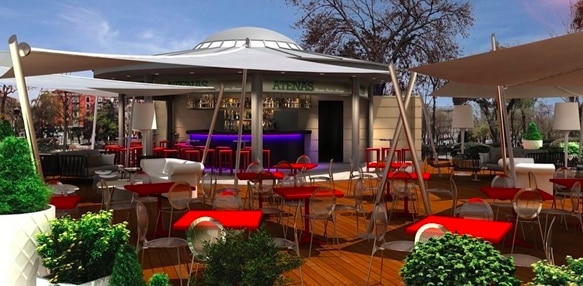 This nature-inspired terrace distinguishes itself from the rest of Madrid's rooftop bars in that it is tucked away within the Campo del Moro Park. Terraza Atenas is great in the summer, where you can dip your feet in the pools over a cocktail, as well as in the winter where you can enjoy the intimate atmosphere and views of the Almudena Cathedral on the quiet terrace. The dancefloor also comes alive at night with a DJ, as the site transforms into more of a club atmosphere.
· website ·
Terrazassion at Hotel Silken Puerta America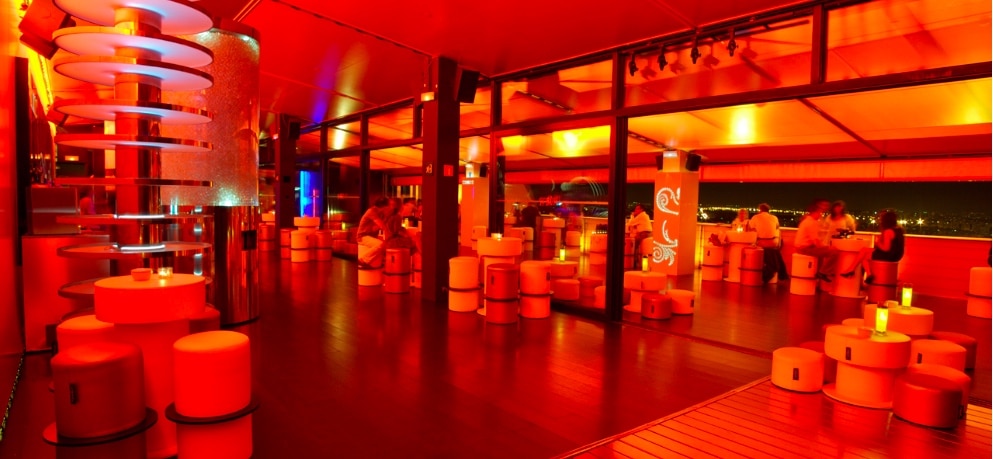 What's cool about Madrid's rooftop bars and clubs is that, they don't just serve as super trendy places to relax and grab a drink, but they can also create the perfect party vibe! What better way to spend your Sunday evening than enjoying cocktails, live music, and of course Spanish tapas than at the weekly Terrazassion Sunset Party! Offering free entry to the exclusive rooftop of this 5-star hotel, a budget-friendly drink menu, and live music (4 DJ performances!!), this is the place to be to watch the sunset over some amazing views of Madrid you wouldn't otherwise get the chance to see. Show up early this weekend and you'll get free picoteo from 16:00-19:00, including mini kebabs, chicken fingers, and tortilla de patatas! Sign up on the guest list and get more on their page!
· website ·
Palacio de Cibeles Terraza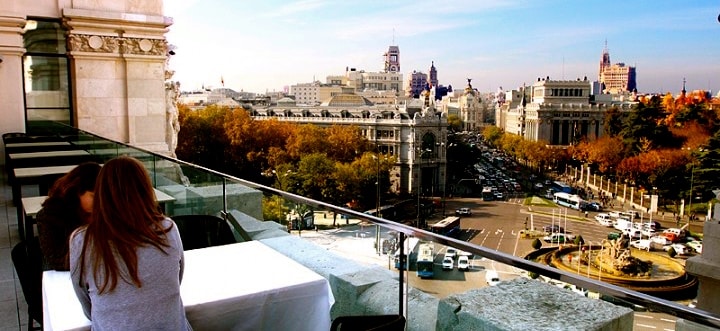 If you've recently seen the banner that reads "REFUGEES WELCOME" hanging from a strikingly tall and beautiful building, you've stumbled across Madrid's Palacio de Cibeles. Maybe you've figured out that for just 2 euro, you can travel all the way up to the mirador in half-hour intervals to enjoy the view over the Plaza de Cibeles, Paseo del Prado as well as parts of Calle Gran Via. But did you know that this panoramic view can also be enjoyed with a gin and tonic in your hand and virtually no time constraint? That's the beauty of the Palacio de Cibeles' Terraza bar and restaurant!! The outdoor terrace offers a unique view of the Plaza de Cibeles' fountain, which is especially beautiful when illuminated at night. The newly-refurbished site is now open to the public and invites an elegant yet relaxed atmosphere with a menu specializing in selections of fresh fish and wine. This place is quite a treat and definitely worth it if you have a little more time and money to spend!
· website ·
La Taberna Puertalsol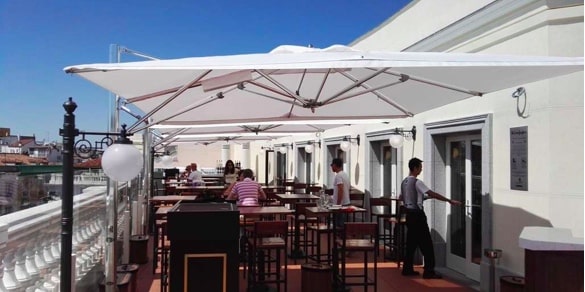 Located on the 5th floor of the Cortes Inglés near Puerta del Sol (as you can probably imagine from the name), this brand new gastronomic rooftop bar and restaurant boasts the rare combo of a casual atmosphere and great food. The menu offers a very wide variety of tapas and tradition Spanish dishes of exceptionally high quality thanks to the work of well-known chefs Alberto Chicote and Pedro Olmedo. Although people will frequent places like this in the summer time, it's not too late to check it out! Open 361 days per year, there's no excuse for missing out on the unique and impressive views of the Puerta del Sol and calle Preciados.
· website ·