Bucmi – Your beauty & wellness platform with great discounts!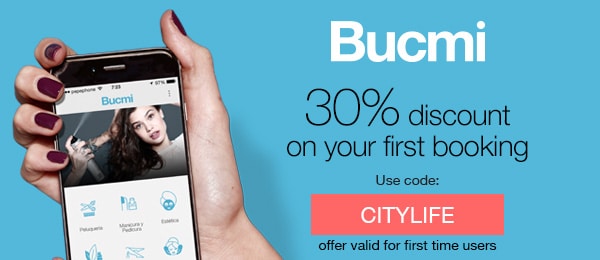 [Spanish Version at the bottom] 
You have just arrived at a new city and ahead, you have a million experiences and people to meet. However, you might have left behind some really important things, like your trusted hairdresser. Don´t worry! Bucmi is the site that gives you access to a few thousand professionals you can trust to take good care of you: hairdressers, manicurists, physiotherapists, Spas, whatever you need! A world of beauty and wellness at your disposal through the application of the website Bucmi.com!

Bucmi is a booking platform that allows you to make an appointment and reservations at more than 3,000 centres throughout Spain. In addition, it offers you the possibility of knowing the views of thousands of users who have attended these centres, so making the right choice is very simple. And if you have any questions, you have a team of advisors which will find the centre and service best suited to your needs.
Bucmi – Hairdressers, manicurists, Spas, physiotherapists and more on one platform with great discounts! 
Booking is very simple, just have to go to Bucmi and select the service that you want. Then choose the centre that you prefer, either by proximity or by personal taste and select the day and time that suits you. Now just enter the method of payment and… ready! You will receive confirmation and details of the appointment in your mail. Thanks to Bucmi you can take advantage of exclusive promotions and discounts of up to 50%. In addition to all of these benefits Bucmi is available 24 hours a day and 365 days a year!
Get an additional 30% discount on your first booking with promotion code: CITYLIFE
Being part of the Citylife community you will receive a very special gift – you can enjoy an additional 30% discount on your first booking. There is no excuse not to be perfectly groomed for all the events and activities that Citylife has prepared for you! To enjoy the additional 30% discount, simply visit the Bucmi website in your web browser or download their App. Once your have chosen your beauty service type the discount code CITYLIFE. It's that easy!
★ ★ ★ ★ ★ ★ ★ ★ ★ Español ★ ★ ★ ★ ★ ★ ★ ★ ★ ★ ★
Has llegado a una nueva ciudad y por delante tienes un millón de experiencias y gente que conocer. Sin embargo, atrás has dejado cosas realmente importantes, como a tu peluquero de confianza. Don´t worry! Bucmi te acerca a miles de profesionales en los que podrás confiar para cuidar de ti: peluqueros, manicuristas, Spas, fisioterapeutas… todo un mundo de belleza y bienestar a tu alcance a través de la App o la web de Bucmi.com!
Bucmi es una plataforma de reservas que te permite pedir cita y reservar en más de 3000 centros de toda España. Además, te ofrece la posibilidad de conocer las opiniones de miles de usuarios que han acudido a esos centros, por lo que acertar en la elección es muy sencillo. Y si te queda alguna duda, dispones de un equipo de asesoramiento que se encargará de encontrar el centro y servicio que mejor se adaptan a tus necesidades.
Bucmi – Peluqueros, manicuristas, Spas, fisioterapeutas y más en una plataforma con grandes descuentos! 
Reservar es muy sencillo, solo tienes que acceder a Bucmi y seleccionar el servicio que deseas realizarte. A continuación, elige el centro que prefieras, ya sea por proximidad o por gusto personal y selecciona el día y la hora que más te convenga. Ahora solo queda introducir el método de pago y… ¡listo! Recibirás la confirmación y todos los detalles de la cita en tu mail. Con Bucmi puedes beneficiarte de promociones exclusivas y descuentos de hasta el 50%. Además de todas estas ventajas que tienes a tu disposición las 24 horas del día y los 365 días del año, sólo por formar parte de Citylife tienes un regalo muy especial!
Aprovecha un descuento adicional 30% en tu primera reserva con el código promocional: CITYLIFE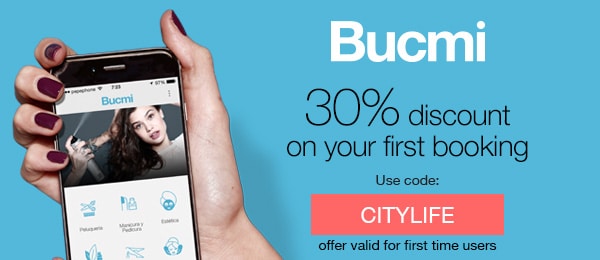 Por ser un nuevo usuario de Bucmi.com podrás disfrutar de un 30% de descuento adicional en tu primera reserva. Ya no hay excusas para acudir perfecta a todos los eventos y actividades que Citylife ha preparado para ti. Para disfrutar del 30% de descuento simplemente accede a la web de Bucmi a través de tu buscador o descárgate la App. Una vez hayas elegido el servicio que deseas realizarte, escribe el código CITYLIFE en el apartado de código promocional que encontrarás en el momento previo a realizar el pago. Así de sencillo!