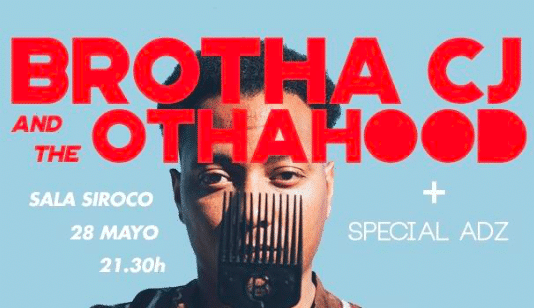 Brotha CJ and The Othahood are a young musical group hailing from The United Kingdom, Spain, United States and Bolivia, who came together right here in Madrid to experiment with and share their love of music with the city! Mixing a unique blend of Hip-Hop, Gospel, and Punk into their sound, they are quickly gaining popularity among the local crowd – including being featured in several top Spotify playlists and selling out there last show!
If you're a fan of live shows, and supporting up and coming groups, Brotha CJ and The Othahood are definitely a group worth checking out during your time in the city! The members consist of CJ (Vocals), Guille (Drummer), Milo (Keys), Carl (Guitar) and our very own Ken Masters (Bass)! All of whom have been playing in the music game for over 10 years!
On May 28th, the group is hitting the stage at Sala Siroco with guest performer Special Adz for their third show as a collective group in Madrid. The doors open at 21:00 and tickets costs 7€ each and can be purchased online or at the Citylife office!! Support the show and head to the event page to spread the word! 
Your friendly, neighbourhood, travel guide,
– Leah