The Disfruta Madrid Más card is your passport to fantastic discounts and services in Madrid!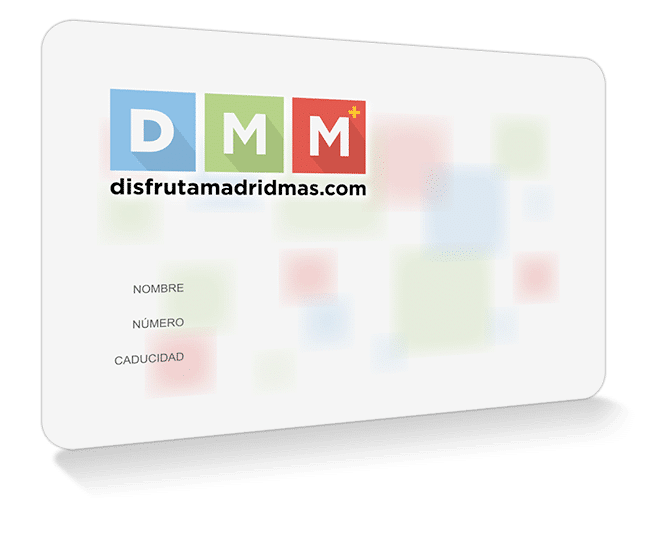 BUY YOUR DISFRUTA MADRID MÁS CARD NOW!
Let us be your guide in Madrid!
You only have to use the card a few times to make it worth your while. In just one day you can save more than 25 euros, which is the cost of a one-year card!
What are you waiting for? Buy your Disfruta Madrid Más card now!
¡COMPRA TU TARJETA DISFRUTA MADRID MÁS AHORA!
¡Déjanos ser tu guía en Madrid!
Solo tienes que utilizar tu tarjeta unas pocas veces para amortizarla. ¡En un día puedes ahorrar más de 25€, que es el coste de la tarjeta para todo un año!
¿A qué estás esperando? ¡Compra tu tarjeta Disfruta Madrid Más ahora!
DESCRIPTION / DESCRIPCIÓN
The "Disfruta Madrid Más" membership card is the ID card of our community. Those having the card will have preferential treatment and discounts of up to 50% in everything relating to museums, theatres, concerts, restaurants, movies in original version, clothing stores, shoe stores, tapas bars, clubs, gyms, dance schools, hair salons, etc. Even more, the membership card allows you priviliged access at great discount to all activities & trips organized by Citylife Madrid!
La tarjeta "Disfruta Madrid Más" es el distintivo de nuestra comunidad. Con ella tendrás acceso exclusivo a multitud de actividades y descuentos de hasta un 50% en todo lo relacionad con museos, teatros, conciertos, restaurantes, cine en VO, telefonía móvil, tiendas de moda, zapaterías, bares de tapas, clubs, gimnasios, escuelas de baile, peluquerías, etc. ¡Aún más, nuestra tarjeta te permite el acceso a grandes descuentos a todas las actividades y a todos los viajes organizados por Citylife Madrid!