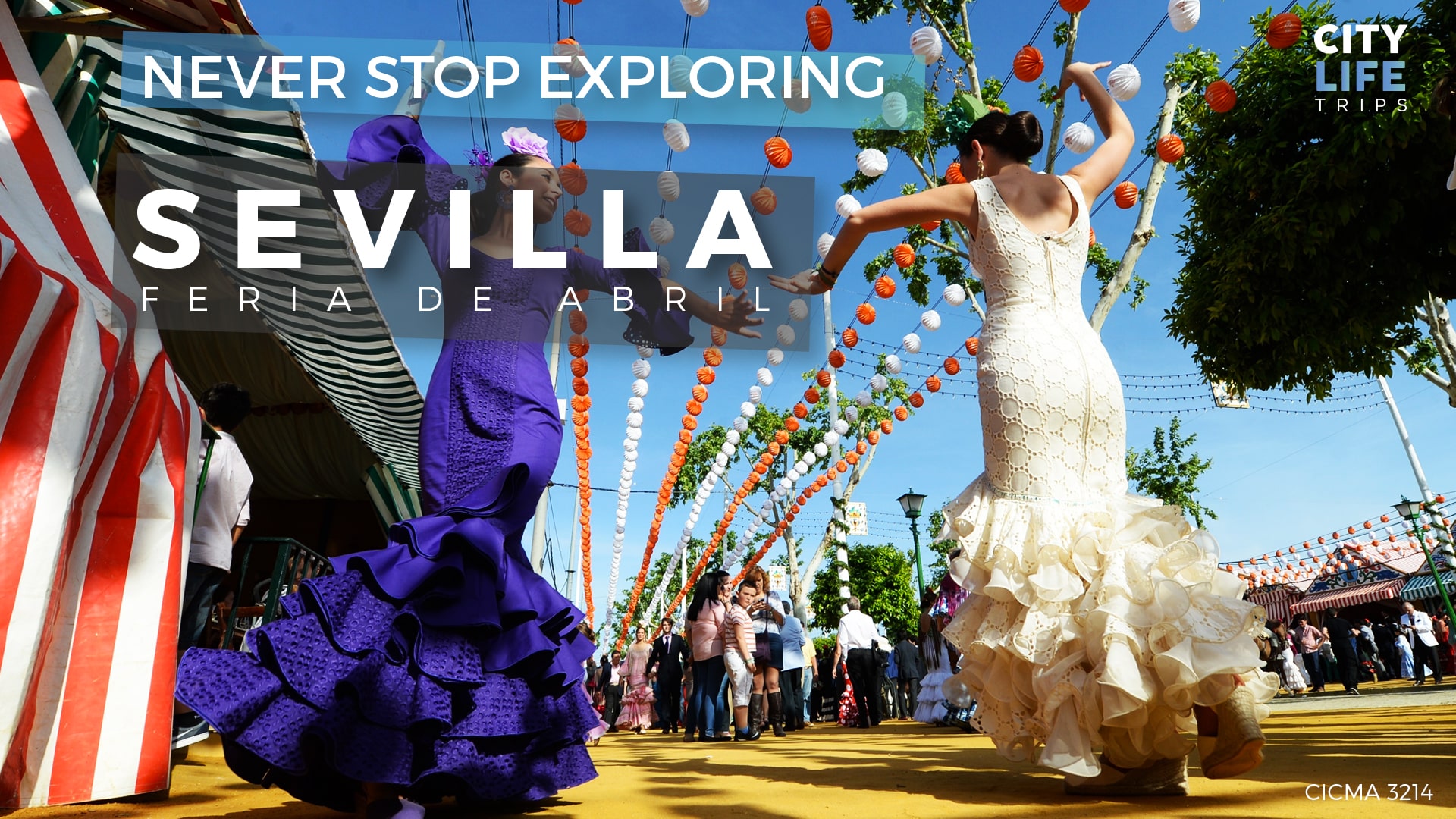 Share this event with friends!
Trip Details
Date: 11/05/2019 - 12/05/2019
Duration: Day & Night Out
Meeting Time: 9:45 AM
Meeting Point: Citylife Bus StopPaseo Moret
Price: 39 €
Price with City Card: 35 €
Trip Description
Booking: You can either book online at the bottom of this page or in our office in Calle Gran Vía 22, 2nd floor (Monday – Friday: 10:00-19:00)!
Meeting point in Paseo Moret (Metro: Moncloa): 9:45 (Saturday)
Departure from Madrid: 10:00 (Saturday) / Arrival to Sevilla: 16:00 (Saturday)
Departure from Sevilla: 1:30 (Sunday) / Arrival to Madrid: 7:00 (Sunday)
A bailar a bailar – Check out this video to see what the biggest Spanish Feria has to offer!
Are you looking to experience some Spanish tradition? How about dancing, singing, sevillanas flamenco, tapas and wine at a party that lasts day and night? Sounds good doesn't? Then you can't miss the Fair of Seville!
After this famous Holy Week, Seville welcomes spring with its April Fair. During this week of celebration and joy, the Royal enclosure is filled with colorful stalls where Sevillians and tourists gather to eat, drink and dance. Here you can try the famous "rebujito", a cool and refreshing drink that has been a traditional beverage for years! Also, don´t miss out on the tapas of ham or fried fish while checking out the men and women walking on horseback dressed in traditional costumes! The April Fair is a unique event, incomparable to any other and a special opportunity to see one of the most Spanish traditions!
In addition Seville is known for its warm weather. It´s sunny almost every day of the year and has friendly locals, who enjoy life above all and who welcome everyone to celebrate their culture with them!
The price includes (39€ / 35€ with City Card*):
✓ Transportation by private bus
✓ Free time to explore Sevilla & la Feria de April
✓ Traditiona Sevillan Flower Accessory
✓ Representative throughout the trip
✓ Trip photographer
✓ All taxes included
Booking: You can either book online at the bottom of this page or in our office in Calle Gran Vía 22, 2nd floor (Monday – Friday: 10:00-19:00)!
Discount for City Card holders! Don't have the City Card yet? Please check here for details on how to become a member!
*Please be adivsed that in accordance with our terms and conditions the City Card membership cannot be used to obtain discounts for anyone but the card holder.
Reminder: This trip does not include, nor requires, accommodation as we'll be leaving Seville around 2:00 am arriving to Madrid on Sunday early morning.
If you have any questions, please get in touch with us:
Citylife Madrid
Calle Gran Vía 22 – Duplicado, 2nd Floor, 28013 Madrid
Metro: Gran Vía
trips@citylifemadrid.com
+34 915 296 673
www.citylifemadrid.com
Book now
Bookings are closed for this event.