Morocco – The African Adventure #1 (9 days/8 nights) – Unity

March 30
I
20:00
–
April 7
I
20:00
Standard Price: 549€
Unity Price: 529€

---
Have you always wanted to go on an adventure? We're ready to take you through Morocco for an unforgettable 9 day experience starting at the mountains in the North all the way through the desert in the South! On this trip we will see everything Morocco has to offer, from its most famous sites and its delicious cuisine ot its unforgettable culture! Below you will find a detailed outline of the itinerary for our African Adventure. So read it through and get excited!
You will notice we have not mentioned exact times in this outline. This is because our daily itinerary could and, eventually will be subject to change due to reasons out of Citylife's control. But don't worry this is all a part of the Moroccan experience!
Continue reading to learn more about how our Meet us There Package works.
---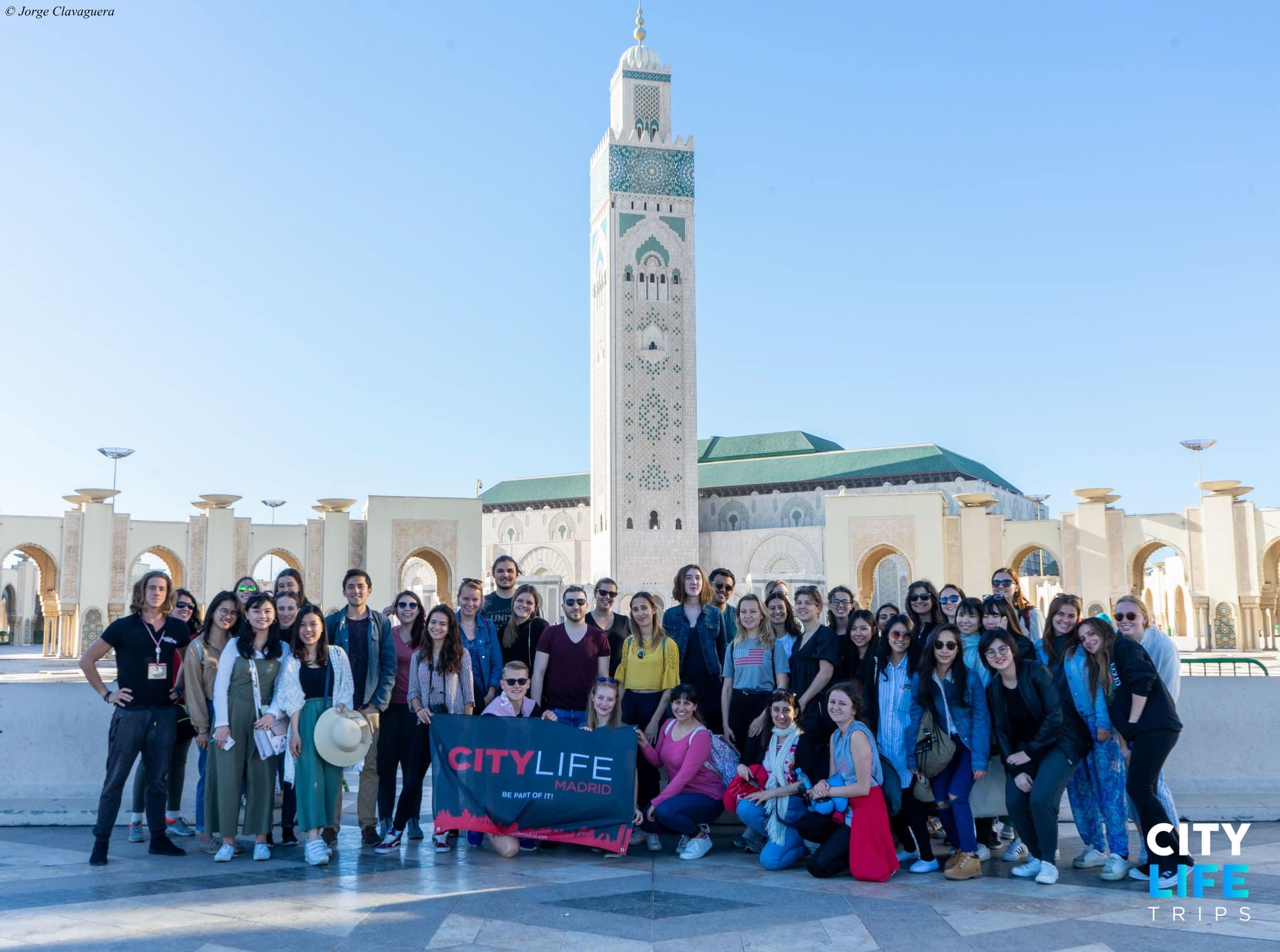 Transportation from Spain to Morocco is not included in this package. You will need to book your own flight to and from Tangier and send us the flight details. With these details, we will happily arrange your airport pick-up and drop off at no extra charge.
---
Ryanair has the best prices for flights to Morocco! We recommend looking at their website for your flight.
Important Things to Keep in Mind:
You will need to fly in to and depart from Tangier*
Plan to arrive to Tangier on March 30th. We recommend the Ryanair flight FR3876 leaving at 20:15 from Madrid.
Plan to leave from Tangier on April 7th**. We recommend the Ryanair flight FR7755 leaving at 21:35 from Tangier.
Send all your flight information and questions to

[email protected]
*Our recommended departure flight is from Tangier, however there is another flight leaving earlier from Tetouan (FR 2390 leaving at 13:00). If you prefer to take this flight we can arrange transportation for you to Tetouan, however you will need to cover the costs yourself.
**Airport drop-off in Tangier is included in the package price and will be arranged if you take our recommended flight. If you choose a different Tangier flight from the one recommended you will need to cover the costs of your own transport to Tangier.
Day 1: Tangier Arrival Day (Thursday)

Our trip will start with ease as everyone arrives to Tangier. The airport pick up (included) will bring you for a quick and simple dinner stop (not included) and then we will go to our hotel to check in. From there we will be free for the rest of night to rest up and prepare for our big adventure to begin!
Day 2: Tangier – Casablanca – Marrakesh (Friday)

It all starts here. After enjoying a complimentary breakfast, it is time to begin our journey to Marrakesh. Don't miss the evolution of the landscape as we drive South. A brief stop for lunch (not included) will be our very first contact with the Moroccan culture, getting to know the country one snack at a time 🙂

Casablanca comes next, the true economic engine of the country. Modern as it is, and always bustling with activity, the city may remind you of any other "western" capital you might be acquainted with, until we come across the famous Hassan II Mosque. Second largest Mosque in the world (Mecca being the first), its Minaret has become Casablanca's top landmark, one that can be recognized from far, far away! We'll stop to admire its architecture and design before continuing until we reach Marrakesh where we will check-in at our hotel, our home abroad for the next three nights.

Once we've settled, those interested can gather for an optional group dinner (not included) at one of our favourite local restaurants!
Day 3: Marrakesh (Saturday)

We start our day by enjoying breakfast at the hotel. Don't bother taking your wallet with you, it is included!

Once our batteries are fully charged again, we'll take our first guided walking tour of the trip. Our official local guides will unravel all the mysteries the city has to offer. From the Koutoubia Mosque to the Dar Si Said Museum (optional), we'll go through some of the most iconic parts of Marrakesh. Don't miss the Herboriste (traditional pharmacy) for a rather theatrical auction-style shopping experience, featuring Argan Oil and many other products. The tour should be over around lunch time, allowing you to further explore the city for the rest of the day at our own pace.

After a day full of cultural immersion, it's high time we get to know our fellow travellers even more! Those interested can join another optional group dinner in the evening.
Day 4: Marrakesh (Sunday)

Our last day in Marrakesh is all about free time! On this day you're free to enjoy the city in whatever way is best for you! We will provide you will all kind of hints and tips for what to see and do with your day. We can also help you arrange activities if you are interested.

Some things to see and do are:

Visit the bustling Jemaa el-Fnaa square, which is the heart of Marrakesh's old city and filled with street vendors, musicians, and entertainers.
Explore the vibrant souks (markets) and shop for traditional Moroccan goods like textiles, ceramics, spices, and jewelry.
Walk through the magnificent Saadian Tombs, the resting place of members of the Saadian dynasty.
Visit the Badi palace, the giant ruins of a once great palace of Sultan Ahmed al Mansour.
Take a stroll in the lush Majorelle Garden, a botanical garden designed by French painter Jacques Majorelle.
Experience a traditional Moroccan Hammam spa, where you can enjoy a steam bath, exfoliating scrub, and massage.
Visit the Bahia Palace, a stunning 19th-century palace with intricate tilework and beautiful gardens.
Try traditional Moroccan cuisine, such as tagine, a slow-cooked stew made with meat, vegetables, and spices, served with bread.

On this day you will also be free for dinner! So take advantage of the time and visit that cute resturant you wanted to try, check out the famous Medina BBQ street food or try some typical Moroccan fast food!
Day 5: Marrakesh – Atlas Mountains – Ait Ben Haddou – Rose Valley (Monday)

Our day begins with a hotel breakfast (included) so we can head towards Ouarzazate, known as the "Door of the Desert" through the Atlas Mountains, filled with stunning natural views. We will stop in Tizi n'Tichka for some amazing panoramic picture opportunities. We will continue South and follow the road that leads us to the amazing mud village of Ait Ben Haddou, famous for its Kasbah (which was declared a UNESCO World Heritage Site). Several famous movies, such as the Gladiator and Game of Thrones were filmed in this beautiful town. Then we continue to the Rose Valley were our accommodation will be waiting for us.

Once we've arrived and checked in the hotel we will have dinner (included) at the hotel. Then it's time to rest up for our biggest day of the trip – the Sahara Desert!
Day 6: Rose Valley – Todra Canyons – Sahara Desert (Tuesday)

After our hotel breakfast (included), we'll continue through a path filled with beautiful scenery and unforgettable Kasbahs (Islamic fortresses), and breathtaking Oasis'. Each one unique from the next. After several stops, we will arrive at one of the most iconic places in the South of Morocco: the Todra Canyon. Cliff walls of epic proportions and immense beauty surround the channel of the River Todra.

---

Time to head to the Sahara desert. After stopping by a local shop and selecting some traditional Berber gear (scarves, jilaba's, jewellery), we will stop for lunch (not included). Once our tummies are full, we will finally hit the breathtaking dunes of the Sahara and arrive to our beautiful Berber camp just outside the desert.

Once setteled in, we will take our camels out to the dunes where we will have the chance to sandboard and catch the sunset over the Sahara before heading to dinner at the camp (included). Afterwards, we'll celebrate our adventure in style at our camp party before spending the night in typical Berber tents!

---
Day 7: Sahara Desert – Ifrane – Fez (Wednesday)

After an unforgettable night in the desert we start with an early climb to the closest dune, to catch a glimpse of the sun rising over the sands. Then, a filling breakfast (included) before we start our day on the road as we make our way North! We will watch the landscape change from orange to green as we pass through Rissan Erfoud and the Ziz Valley taking in the sights of the palm trees and canyons surrounding us. Once past the port of Tizi-n Talghomt, we will stop in Midelt for lunch (not included).

---

Continuing our journey, we'll venture through the cedar forest and stop to see the Moroccan monkeys in their natural habitat! Next, we will go through Ifrane (which has been called the Moroccan Switzerland) and arrive in Fez, Morocco's cultural capital. Upon arrival we will check in, freshen up and enjoy dinner at our hotel (included)!
Day 8: Fez – Chefchaouen (Thursday)

After breakfast (included), we will explore one of the oldest imperial cities in Morocco with a local guided tour. Founded in 808, Fez is one of the first political, religious, and cultural capitals in the world and is truly incredible. We will begin the official tour at the Golden Doors of the spectacular Royal Palace. Next, we will wander around and inside the historical Medina, allowing the beautiful architecture and surrounding sites to transport us back over 1000 years ago.

When the tour is over, we will have a quick lunch stop (not included) and head to the beautiful Blue City of Chefchaouen!

We will arrive in Chefchaouen with time to check in and head out for one last optional group dinner at our favourite restaruant in the city (not included)! Afterwards it'll be time to head to the hotel and get some rest before our final day of the trip.
Day 9: Chefchaouen – Tangier – Madrid Departure Day (Friday)

After breakfast (included), we will enjoy the last guided visit of the trip in the wonderful streets of the Blue City. After lunch (not included) it will be time to head back to Tangier* to catch up our plane that will bring us back to Madrid.

*Remember, there is an alternative flight option that leaves from Tetouan ((FR 2390 leaving at 13:00)). If you wish to take this flight we can arrange the transport for you, but you will need to cover the cost.
Included in Price:
9 days & 8 nights (7 in hotels & 1 in Berber tent)
Airport pick up and drop off
All transportation in Morocco
Hotel in Tangier
3 Nights Hotel in Marrakesh
Hotel in Dades
Night in Berber tent in Sahara Desert
Hotel in Fez
Hotel in Chefchaouen
Guided visit of Marrakesh
Guided visit of Ait Ben Haddou (Kasbah)
Guided visit of Fez
Stop at the Hassan II Mosque in Casablanca
Camel ride in Sahara Desert (1 camel per person)
Sand boarding in Sahara Desert
3 dinners & 8 breakfasts
All taxes included
Not Included in Price:
Anything not mentioned in "trip includes"
Flight to and from Morocco
Our included dinners do not include drinks.
Lunches & other dinners not mentioned above*
*Lunches range from approx.10€-15€. There aren't any activities that will cost you any money to participate it, as they are all included in your package. To be on the safe side, we recommend a daily budget of 30€ for food and drinks. When possible, we will stop at supermarkets or shops for snacks and drinks.
Please make sure you have your passport with you and that it is valid for at least 6 months from the moment you enter Morocco!
---
You don't need a visa (your passport is sufficient) if you are from the European Union, Andorra, Argentina, Australia, Bahrain, Brazil, Canada, Chile, China, Congo, Cote d'Ivoire, Denmark, European Union, Finland, Guinea, Hungary, Iceland, Indonesia, Korea (Rep. of), Kuwait, Libya, Liechtenstein, Mali, Malta, Mexico, Monaco, New Zealand, Niger, Norway, Oman, Peru, Philippines, Puerto Rico, Qatar, Romania, Russia, Saudi Arabia, Senegal, Singapore, Sweden, Switzerland, Tunisia, Turkey, United Arab Emirates, United Kingdom, United States of America.
---
If you are NOT from the European Union or one of the countries listed above, we are glad to assist you with the visa application process. Please send an email to [email protected] for further assistance.
Citylife offers a basic travel insurance package with every trip that can be purchased as an add-on to your ticket. The insurance is provided by Innovac and will cover basic medical emergencies for the duration of the trip.
Do you Need to Take the Insurance?
It is not mandatory to take this specific insurance that we offer, but please keep in mind that it is your responsibility to make sure that you are travelling with proper coverage. If you decide not to take the insurance, we will consider that you are covered by another policy.
---
For a complete breakdown of the coverage that the insurance provides, please click here.
---
Reserve your Tickets Now
---
Citylife Terms & Conditions
We encourage all travelers to read our terms & conditions carefully before booking any event with us. By completing your booking you are agreeing to our terms as well as the COVID-19 regulations laid out by us and the government of our destination.
---
Upcoming Trips
March 23 @ 08:00
-
March 27 @ 01:00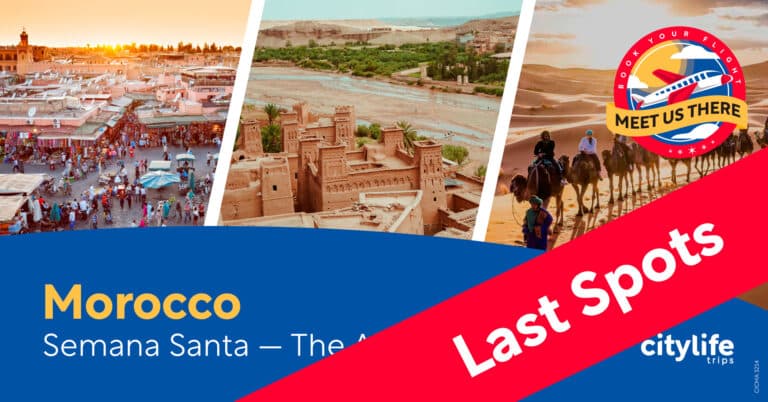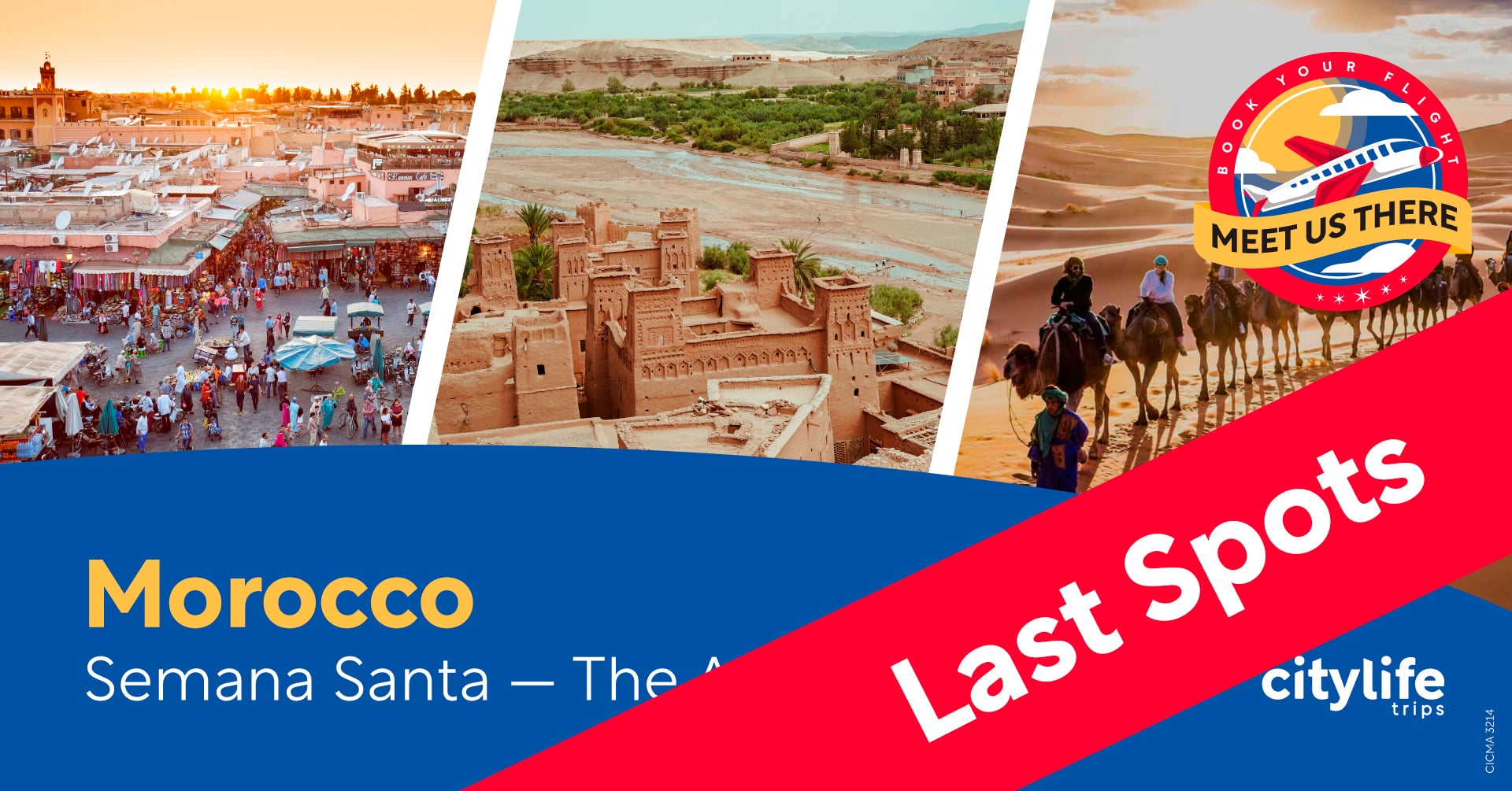 March 30 @ 20:00
-
April 7 @ 20:00