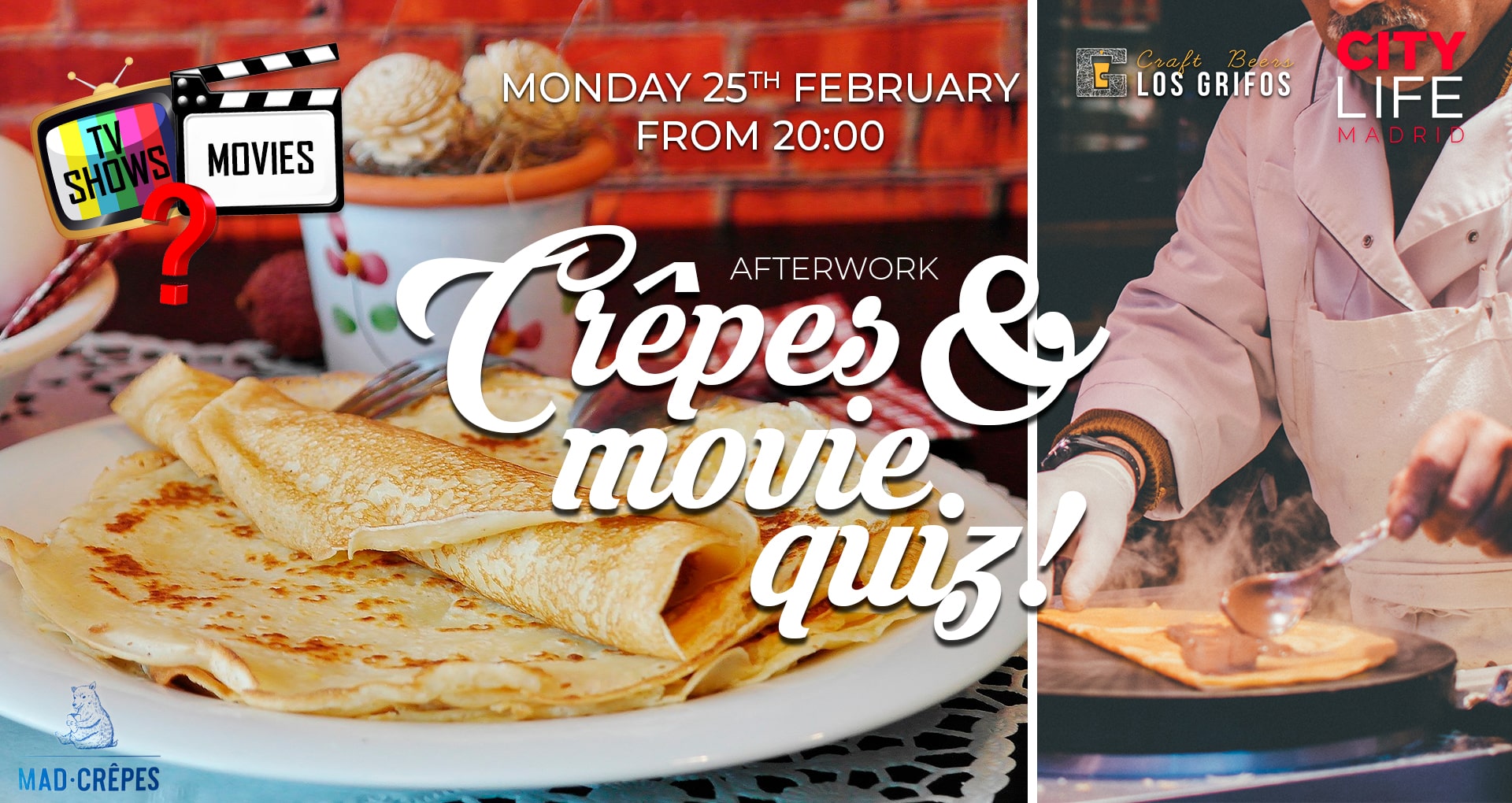 Share this event with friends!
Activity Details
Date: 25/02/2019
Duration: 2 - 2,5 Hours
Los Grifos Craft Beers
Meeting Time: 8:00 PM
Meeting Point: Los Grifos Craft BeersCalle Manuela Malasaña 33
Price: FREE €
Price with City Card: FREE €
Activity Description
★ Activity Details – No Reservation required! ★
These days, you'd be hard-pressed to find a town in France that doesn't feature a quaint little "crêperie", serving up super-thin pancakes in a range of sweet and savory forms.
The feather-light "crêpe" (pronounced with a hard e ["-ep", not "-ape"]) is a French staple, sold in restaurants and street vendors all over the country. Be it slathered in Nutella, sprinkled lightly with sugar or dripping with cheese, the crepe is an important item on the French menu!
We are bringing you Original Crepes from "Bretagne" (this little buckwheat pancake had its humble beginnings in this specific area of western France) on Monday the 25th of February in Los Grifos Craft Beers! 🤩
All the sweet crepes will cost only 3€ and savory galettes (salty crepes) from 5€. All the info and prices are shared in the Facebook event!
Additionally, we will organize a Movies & TV Shows quiz.
The game is easy; songs are played and you just need to find from which movie or which TV show this song comes from. Free beers for the winners 🍺!!!
Event starts at 20:00 and we will start the quiz around 21:00. Time to get some crepes and beers before to prepare your brains! 🧠
★ ★ ★ THANKS TO OUR PARTNERS ★ ★ ★
MAD Crêpes – Clément Charpentier
Los Grifos Craft Beers – Alexandre Bazzoli
★ ★ ★ How to RESERVE your spot(s) ★ ★ ★
There is no reservation required for this event but we do recommend to make a reservation for a table directly with the bar to ensure your spot(s)!
☎️ 910 52 26 31 ☎️
✓ PRICE: FREE! (you'll pay what you drink & eat)
✓ WHEN: Monday 25th of February from 20:00
✓ WHERE: Los Grifos Craft Beers – Calle Manuela Malasaña 33
✓ METRO: San Bernardo & Bilbao
Please note, you have to be 18 or older to join this activity!
★ Outlook – Next Meet & Beer event! ★
No time this time? Check out our next activities and get your ticket(s) already now!
★ Become Part of the Citylife Madrid community! ★
FB Page | FB community 2018/2019 | Twitter | Instagram | Youtube
★ Photos and Newsletter★
We will take photos during the event and publish them on the Citylife Madrid Facebook page. With the reservation of an event you will receive automatically our weekly newsletter which informs you among other things about our events (e.g. date and time). You have the possibilty to unsubscribe at anytime.
Book now
This event does not require any booking. If you have any questions, please send an email to: info@citylifemadrid.com