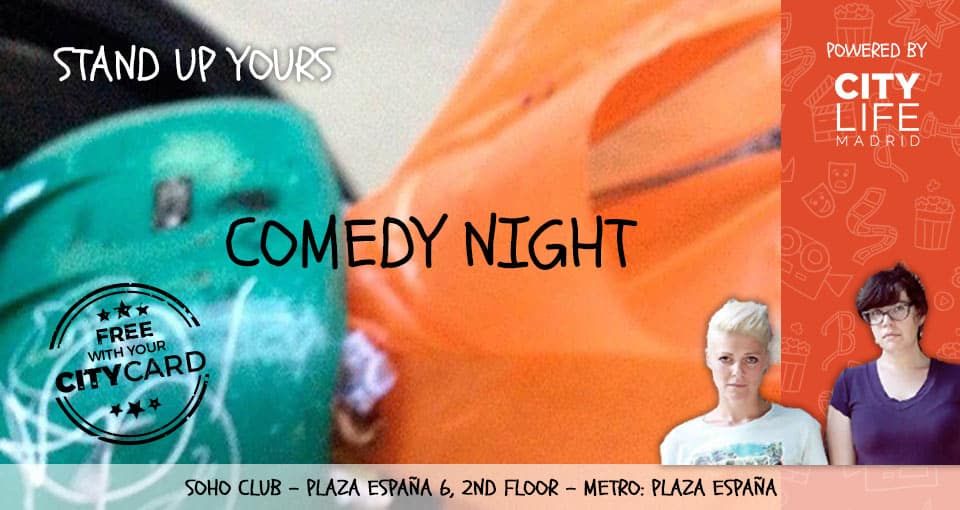 Share this event with friends!
Activity Details
Date: 11/10/2018
Duration: 1.5 Hours
Meeting Time: 8:00 PM
Meeting Point: SOHO CLUBPlaza de España 6
Price: At the Door: 5 €
Price with City Card: FREE €
Activity Description
PLEASE RESERVE YOUR SPOT(S) NOW – DETAILS BELOW!
Open Mic Stand Up Comedy in English!
★ ★ ★ Activity Details! ★ ★ ★
Did you know laughter really is the best medicine? Get those endorphins going and beat the mid-season blues by attending Citylife Madrid's upcoming comedy event.
Host by Stand Up Yours: Claire Jones
TBC
★ ★ ★ How to RESERVE your spot(s) ★ ★ ★
There are only 40 spots available for this exclusive activity. We recommend to make your reservation as early as possible to secure your spot(s). Simply fill out the booking form below!
✓ PRICE: FREE with your CITY CARD | Regular price: 5€ to be paid at the entry! Not a City Card holder yet? Please check here for details on how to become a member!
✓ WHEN: THURSDAY at 20:00
✓ WHERE: Soho Cambridge Club
✓ METRO: Plaza España
★ Outlook – Next Events! ★
No time this time? Check out our next activities and get your ticket(s) already now!
★ Become Part of the Citylife Madrid community! ★
FB Page | FB community 2018/2019 | Twitter | Instagram | Youtube
★ Photos and Newsletter★
We will take photos during the event and publish them on the Citylife Madrid Facebook page. With the reservation of an event you will receive automatically our weekly newsletter which informs you among other things about our events (e.g. date and time). You have the possibilty to unsubscribe at anytime.
Book now
Bookings are closed for this event.