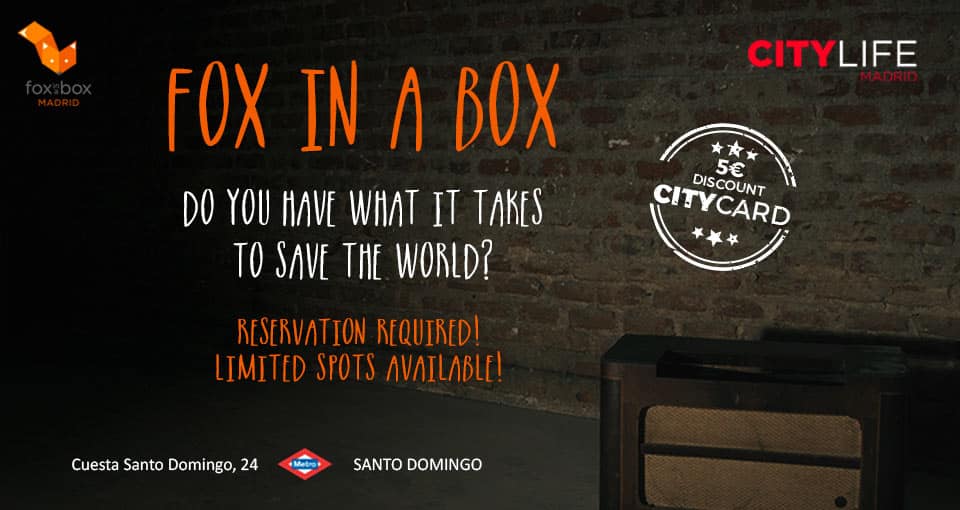 Share this event with friends!
Activity Details
Date: 26/03/2019
Duration: 1 Hour
Meeting Time: 7:45 PM
Meeting Point: Fox in a Box MadridCuesta Santo Domingo 24
Price: 15 €
Price with City Card: 10 €
Activity Description
[Spanish Version at the bottom]
People say if you don't do wild things while you are young, you'll have nothing to smile about when you are old.
So let's try with us an ultimate adrenalin game to challenge yourself and train your brain! We offer you a Madrid version of the old popular game show Ford Boyard!
In teams of 2-6 people you will have 60 minutes to riddle how to escape from a room, save the world or find a cure for a virus! Does not it sound super exciting? Indeed it is! Even TripAdvisor recommends this Fox in Box game as a "must try" and refers to it as "exciting, interesting & fun!"
★ Activity Details – Reservation required! ★

★ ★ ★ How to RESERVE your spot(s) ★ ★ ★

✓ PRICE: Only 10€ with your CITY CARD | Regular price: 15€! Not a City Card holder yet? Please check here for details on how to become a member!!
✓ WHEN: TUESDAY at 19:45
✓ WHERE: Cuesta Santo Domingo, 24
✓ METRO: Santo Domingo I Opera
Location: http://foxinaboxmadrid.com
★ ★ ★ How to BUY your TICKET(S) ★ ★ ★
1. Buy your ticket(s) online by filling out the BOOKING FORM below! (or)
2. Stop by our office and buy your tickets at our reception (cash/credit card – Calle Gran Vía 22 Dupdo, 2°Dcha, 28013 Madrid)
★ Outlook – Next Activities ★
No time this time? Check out our next activities and get your ticket(s) already now!
★ Become Part of the Citylife Madrid community! ★
FB Page | FB community 2018/2019 | Twitter | Instagram | Youtube
★ Photos and Newsletter★
We will take photos during the event and publish them on the Citylife Madrid Facebook page. With the reservation of an event you will receive automatically our weekly newsletter which informs you among other things about our events (e.g. date and time). You have the possibilty to unsubscribe at anytime.
★ ★ ★ ★ ★ ★ ★ ★ ★ ★ ★ ★ ★ ★ ★ ★ ★ ★ Español ★ ★ ★ ★ ★ ★ ★ ★ ★ ★ ★ ★ ★ ★ ★ ★ ★ ★

               COMPRA TU(S) ENTRADA(S) ONLINE O EN NUESTRA OFICINA!

La gente dice que si no haces cosas salvajes mientras eres joven, no tendrás nada para sonreír cuando seas viejo.
Así que ven con nosotros a probar un juego que hara subir tu nivel de adrenalina desafiandote a ti mismo y entrenar tu cerebro! Te ofrecemos una versión madrileña de la vieja serie popular juego Ford Boyard!
En equipos de 2-6 personas tendrás 60 minutos para encotrar la manera de cómo escapar de una habitación, salvar el mundo o encontrar una cura para un virus! ¿Suena muy emocionante, no crees? De hecho es! Incluso TripAdvisor recomienda este juego "Fox in a Box" como un "must try" y se refiere a este juego como "emocionante, interesante y divertido!"
★ Detalles de la actividad – Se exige reserva! ★
★ ★ ★ Cómo RESERVAR ★ ★ ★
✓ PRECIO: Solo 10€ con la City Card | Precio normal: 15€! Aún no tienes la tarjeta CITY CARD? Consigue la tuya aquí!
✓ CUÁNDO: Martes a las 19:45
✓ DÓNDE: Cuesta Santo Domingo, 24
✓ METRO: Santo Domingo I Opera
Lugar: http://foxinaboxmadrid.com
★ ★ ★ Como puedes COMPRAR tu(s) entrada(s)? ★ ★ ★
1. Compra tu(s) entrada(s) ahora online rellenando el formulario que encontrarás más abajo! (ó)
2. Acércate a nuestra oficina y compra tu(s) entrada(s) en nuestra recepción (Calle Gran Vía 22 Dupdo, 2°Dcha, 28013 Madrid)
★ Calendario – Próximas actividades ★
¿No tienes tiempo esta vez? Mira las próximas sesiones y asegúrate tu(s) plaza(s) reservando ya!
★ Forma parte de la comunidad de Citylife Madrid! ★
Página FB | FB comunidad 2018/2019 | Twitter | Instagram | Youtube
★ Fotos y Boletín ★
Se harán fotos durante los eventos que serán publicadas en la página de Facebook de Citylife Madrid. Con la reserva de un evento automáticamente recibirás nuestro boletín semanal con las últimas novedades!
Book now
Bookings are closed for this event.