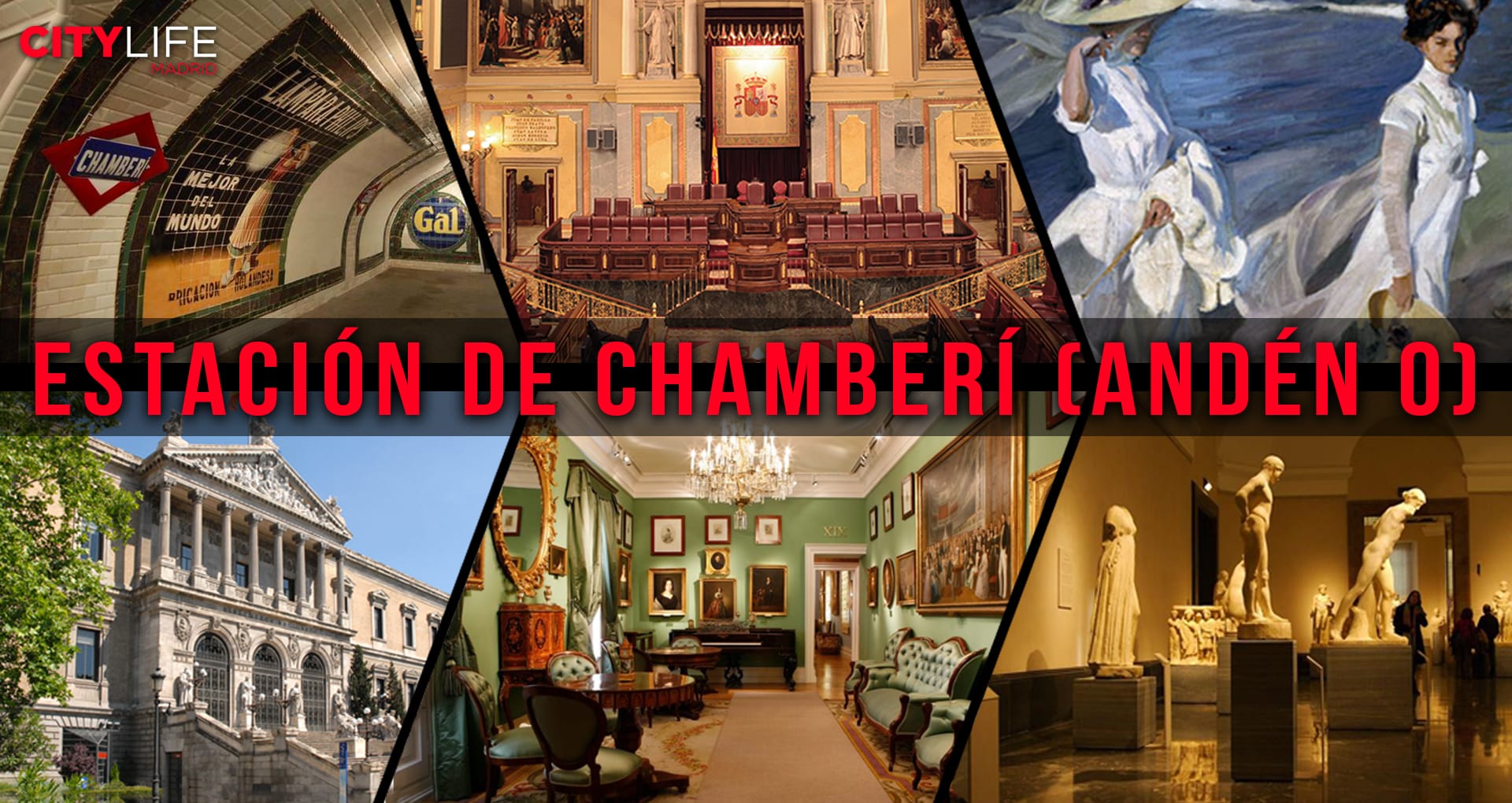 Share this event with friends!
Activity Details
Date: 27/09/2019
Duration: 1 Hour
Meeting Time: 5:00 PM
Meeting Point: Estación de ChamberíPlaza de Chamberí
Price: FREE €
Price with City Card: FREE €
Activity Description
[Spanish Version at the bottom] 
Normally a ride on the metro is just a way to get around, and a metro stop is just a place to catch a train. At Andén 0 of the Estación de Chamberí, that is definitely not the case. This historic metro station was transformed into a historical museum experience in 2008, and aims to display the reality of the Madrid metro in the early 1920s. Sign up for a FREE tour and glimpse into the past with Citylife today! For further details on the Chamberí Metro Station in Madrid check here.

★ Activity Details – Reservation required!★
✓ PRICE: FREE – Preferred booking for City Card holders! Not a City Card holder? Please check here for details on how to become a member!
✓ LANGUAGE: English or Spanish
✓ WHEN: Friday at 17:00 (estimated duration 1 hour)
✓ WHERE: Plaza de Chamberí, s/n, 28010 Madrid
✓ METRO: Iglesia I Bilbao

In order to be able to attend the tour you require a confirmation e-mail. A Reminder with the tour details will be sent on the day of the event.
PLEASE BE ADVISED  if you won't be able to come, you must let us know by 12:00pm the day of the tour, as the spots are very limited. If you don't show up, without letting us know, we'll proceed to cancel all your possible reservations to another museum visit.
★ Outlook – Next free Cultural Visits ★
No time this time? Check out our next activities and get your ticket(s) already now!
★ Become Part of the Citylife Madrid community! ★
FB Page | FB community 2019/2020 | Twitter | Instagram | Youtube
★ Photos and Newsletter ★
With the reservation of an event you will receive automatically our weekly newsletter which informs you among other things about our events (e.g. date and time). You have the possibility at anytime to unsubscribe.
★ ★ ★ ★ ★ ★ ★ ★ ★ ★ ★ ★ ★ ★ ★ ★ ★ ★ ★ ★ ★ ★ ★ Español ★ ★ ★ ★ ★ ★ ★ ★ ★ ★ ★ ★ ★ ★ ★ ★ ★ ★ ★ ★ ★ ★
Normalmente un paseo en el metro es sólo una forma de moverse y una estación de metro es sólo un sitio para coger un tren. El Andén 0 o la estación de Chamberí definitivamente no es el caso. Esta historica estación de metro ha sido transformada en museo histórico en 2008 y tiene como objetivo mostrar la realidad del Metro de Madrid a principios de los años 20. Regístrate ya para un viaje en el tiempo con Citylife!
★ Detalles de la Actividad – ¡Se exige reserva! ★
✓ PRECIO: Entrada GRATIS – Reserva preferida para los titulares de la City Card! ¿No eres titular de la City Card? Por favor, consulte aquí para obtener detalles sobre cómo convertirse en un miembro!
✓ IDIOMA: Inglés o Español
✓ CUÁNDO: Viernes a las 17:00 (duración estimada: 1h)
✓ DONDE: Plaza de Chamberí, s/n, 28010 Madrid
✓ METRO: Iglesia I Bilbao

Para poder asistir al tour se requiere un correo electrónico de confirmación. Un recordatorio con los detalles del tour se enviará el día del evento.
POR FAVOR, si no puede venir, debe avisarnos antes de las 12:00 pm del día del tour, ya que los lugares son muy limitados. Si no se presenta, sin avisarnos, procederemos a cancelar todas sus reservas posibles para otra visita al museo.
★ Calendario de actividades ★
¿No tienes tiempo esta vez? Mira las próximas actividades y asegúrate tu(s) plaza(s) reservando ya: www.citylifemadrid.com/activities
★ ¡Forma parte de la comunidad de Citylife Madrid! ★
FB Page | FB community 2019/2020 | Twitter | Instagram | Youtube
★ Fotos y Boletín ★
Con la reserva de un evento automáticamente recibirás nuestro newsletter con las últimas informaciones.
Book now