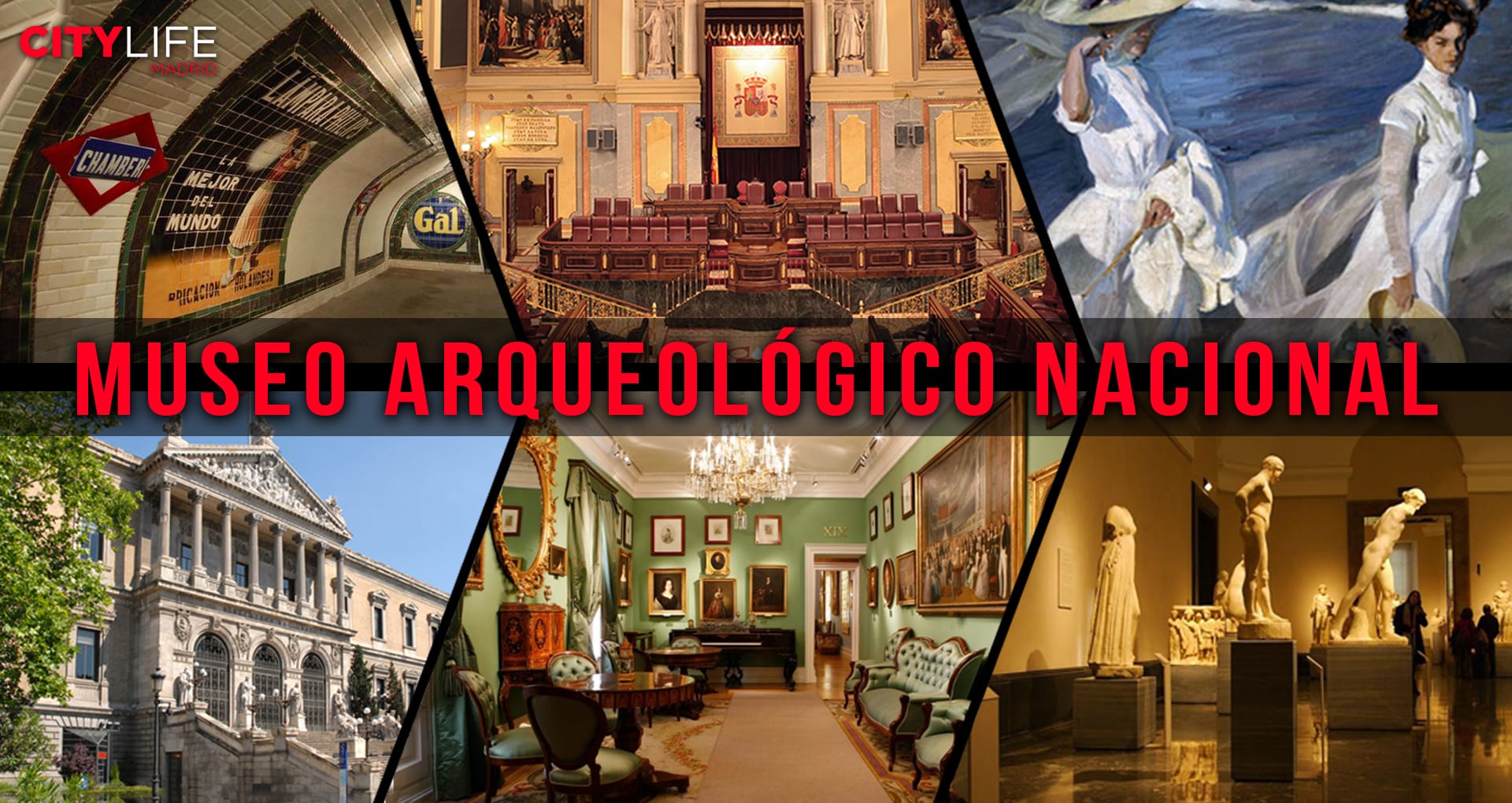 Share this event with friends!
Activity Details
Date: 08/02/2019
Duration: 1 Hour
Meeting Time: 10:30 AM
Meeting Point: NATIONAL ARCHEOLOGICAL MUSEUMCalle de Serrano, 13
Price: FREE €
Price with City Card: FREE €
Activity Description
[Spanish Version at the bottom] 
One of the real artistic treasures of Madrid is the Museo Arqueológico Nacional (The National Architecture Museum). It's a public institution funded by the Spanish government, with the goal of providing an enriching look at various civilizations that have occupied what is current Spain as well as various other regions of the Mediterranean. It offers an incredibly comprehensive look and numerous different cultures, peoples, and civilizations spanning from millions of years ago to present day. The museum believes that the best way to learn about ourselves is by studying the history of those who came before us, and the best way to do that is by explore the exhibits at the MAN! The museum just underwent 6 years of renovations and remodeling, so now is the time to see it! There are several permanent exhibitions as well as new ones every year, and you can join us for FREE in exploring them! Citylife will be offering tons of free, guided tours of the various exhibitions that MAN offers over the course of the year.
This time: Antiguo Egipcio
Have you been to the Temple of Debod yet? If not, it is one of the must see sights in Madrid, especially during sunset. Not only does the park offer one of the best views in the city, but the Temple of Debod also offers a rich history, which is explored in the exposition "El Nilo, Egipto y Nubio" at the Museo Arqueológico Nacional. The temple was actually a gift to Spain from the Egyptian government, an act of gratitude for Spanish aid in excavation and protection of Ancient Nubia. Nubia was a territory that belonged to Egypt and Sudan and was situated right on the Nile river. After a new dam was built, Nubia was under threat of flood, and the entire civilization was in danger of being lost. However, thanks to efforts of archeologists from Spain along with several other nations, much of the civilization could be preserved.
In addition to the excavation of Nubia, Spain has partnered with Egypt on several excavations, some of which continue to this day. The Egyptian government has gifted Spain with almost 5,000 pieces from various excavations. Many of these pieces have been preserved at put on display at the MAN, and are being shown at this incredible exhibit! Take advantage of this partnership between nations to join us on a free tour of this exhibit. View these beautiful excavation pieces, all while learning all about the societal customs of ancient Egypt. Learn more about the Egyptian pantheon, the religious customs of the Egyptians, as well as customs around death and mummification! Read more here and sign up soon!
★ Activity Details – Reservation required! ★
✓ PRICE: FREE – Preferred booking for City Card holders! Not a City Card holder? Please check here for details on how to become a member!
✓ LANGUAGE: Spanish
✓ WHEN: Friday at 10:30 (Estimated duration 1 hour)
✓ WHERE: Calle de Serrano, 13, 28001 Madrid
✓ METRO: Serrano

In order to be able to attend the tour you require a confirmation e-mail. A Reminder with the tour details will be sent on the day of the event.
PLEASE BE ADVISED  if you won't be able to come, you must let us know by 12:00pm the day before, as the spots are very limited. If you don't show up, without letting us know, we'll proceed to cancel all your possible reservations to another museum visit.
★ Outlook – Next free Cultural Visits ★
No time this time? Check out our next activities and get your ticket(s) already now!
★ Become Part of the Citylife Madrid community! ★
FB Page | FB community 2018/2019 | Twitter | Instagram | Youtube
★ Photos and Newsletter ★
With the reservation of an event you will receive automatically our weekly newsletter which informs you among other things about our events (e.g. date and time). You have the possibility at anytime to unsubscribe.
★ ★ ★ ★ ★ ★ ★ ★ ★ ★ ★ ★ ★ ★ ★ ★ ★ ★ ★ ★ ★ ★ ★ Español ★ ★ ★ ★ ★ ★ ★ ★ ★ ★ ★ ★ ★ ★ ★ ★ ★ ★ ★ ★ ★ ★
Uno de los verdaderos tesoros artísticos de Madrid es el Museo Arqueológico Nacional. Es una institución pública financiada por el gobierno español, con el objetivo de proporcionar una mirada enriquecedora a varias civilizaciones que han ocupado lo que es la España actual, así como a otras regiones del Mediterráneo. Ofrece un aspecto increíblemente completo y numerosas culturas, pueblos y civilizaciones diferentes que abarcan desde hace millones de años hasta nuestros días. El museo cree que la mejor manera de aprender sobre nosotros mismos es estudiando la historia de aquellos que vinieron antes que nosotros, y la mejor manera de hacerlo es explorando las exhibiciones en el MAN. El museo se sometió a 6 años de renovaciones y remodelaciones, ¡así que ahora es el momento de verlo! ¡Hay varias exposiciones permanentes y nuevas cada año, y puedes unirte a nosotros GRATIS para explorarlas! Citylife ofrecerá toneladas de visitas guiadas gratuitas a las diversas exposiciones que MAN ofrece a lo largo del año.
En esta ocasión – Antiguo Egipcio



¿Ya has estado en el Templo de Debod? Si no, es uno de los lugares de visita obligada en Madrid, especialmente durante el atardecer. El parque no solo ofrece una de las mejores vistas de la ciudad, sino que el Templo de Debod también ofrece una rica historia, que se explora en la exposición "El Nilo, Egipto y Nubio" en el Museo Arqueológico Nacional. El templo fue en realidad un regalo para España del gobierno egipcio, un acto de gratitud por la ayuda española en la excavación y protección de la antigua Nubia. Nubia era un territorio que pertenecía a Egipto y Sudán y estaba situado justo sobre el río Nilo. Después de que se construyó una nueva presa, Nubia estaba bajo amenaza de inundación, y toda la civilización estaba en peligro de perderse. Sin embargo, gracias a los esfuerzos de los arqueólogos de España junto con varias otras naciones, gran parte de la civilización podría ser preservada. Además de la excavación de Nubia, España se ha asociado con Egipto en varias excavaciones, algunas de las cuales continúan hasta hoy. El gobierno egipcio ha regalado a España casi 5,000 piezas de varias excavaciones. Muchas de estas piezas se han conservado en exhibición en el MAN, ¡y se exhibirán en esta increíble exhibición! Aproveche esta asociación entre las naciones para unirse a nosotros en una visita gratuita a esta exhibición. Vea estas hermosas piezas de excavación, todo mientras aprende todo acerca de las costumbres sociales del antiguo Egipto. ¡Aprenda más sobre el panteón egipcio, las costumbres religiosas de los egipcios, así como las costumbres en torno a la muerte y la momificación! ¡Lea más aquí y regístrese pronto!
★ Detalles de la Actividad – ¡Se exige reserva! ★
✓ PRECIO: GRATIS
✓ IDIOMA: Español
✓ CUÁNDO: Viernes a las 10:30 (duración estimada: 1h)
✓ DÓNDE: Calle de Serrano, 13, 28001 Madrid
✓ METRO: Serrano

★ ¿Cómo puedes reservar tu plaza? ★
¡Envía un correo a info@citylifemadrid.com para reservar tu plaza hoy! Para poder asistir al tour necesitas un e-mail de confirmación. El e-mail de confirmación será enviado un día antes del evento. Recordatorio con los detalles del tour será enviado el día del evento.
POR FAVOR, si no puede venir, avísenos antes de las 12:00 pm del día anterior, ya que los cupos son muy limitados. Si no se presenta, sin avisarnos, procederemos a cancelar todas sus reservas posibles para otra visita al museo.
★ Calendario de actividades ★
¿No tienes tiempo esta vez? Mira las próximas actividades y asegúrate tu(s) plaza(s) reservando ya: www.citylifemadrid.com/activities
★ ¡Forma parte de la comunidad de Citylife Madrid! ★
FB Page | FB community 2018/2019 | Twitter | Instagram | Youtube
★ Fotos y Boletín ★
Con la reserva de un evento automáticamente recibirás nuestro newsletter con las últimas informaciones.
Book now
Bookings are closed for this event.