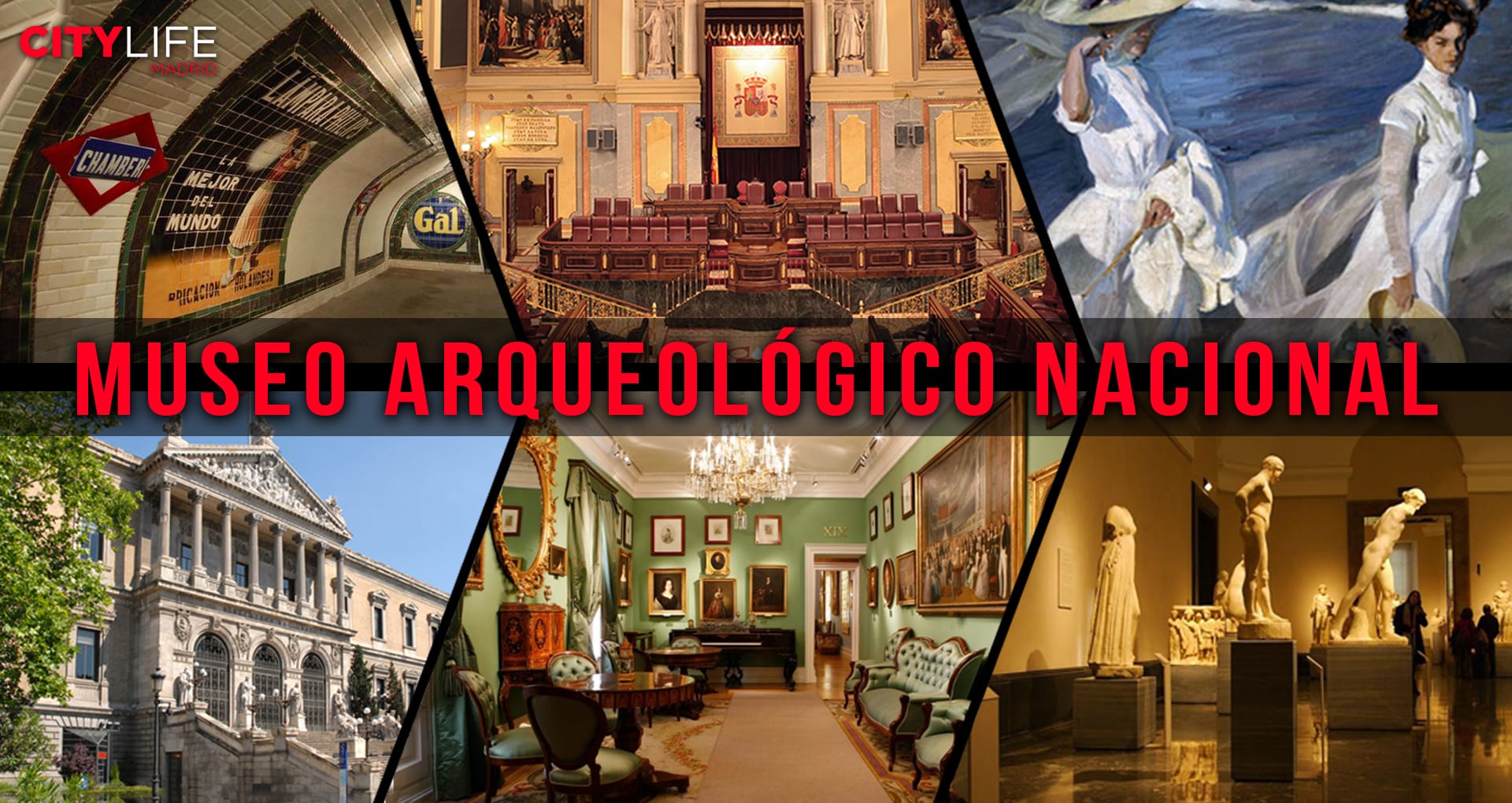 Share this event with friends!
Activity Details
Date: 13/02/2019
Duration: 1 Hour
Meeting Time: 4:30 PM
Meeting Point: NATIONAL ARCHEOLOGICAL MUSEUMCalle de Serrano, 13
Price: FREE €
Price with City Card: FREE €
Activity Description
[Spanish Version at the bottom] 
One of the real artistic treasures of Madrid is the Museo Arqueológico Nacional (The National Architecture Museum). It's a public institution funded by the Spanish government, with the goal of providing an enriching look at various civilizations that have occupied what is current Spain as well as various other regions of the Mediterranean. It offers an incredibly comprehensive look and numerous different cultures, peoples, and civilizations spanning from millions of years ago to present day. The museum believes that the best way to learn about ourselves is by studying the history of those who came before us, and the best way to do that is by explore the exhibits at the MAN! The museum just underwent 6 years of renovations and remodeling, so now is the time to see it! There are several permanent exhibitions as well as new ones every year, and you can join us for FREE in exploring them! Citylife will be offering tons of free, guided tours of the various exhibitions that MAN offers over the course of the year.
This time: Grecia Clásica
We owe so much of our lives today to Ancient Greek influence. From art, to politics, to sports, to education, much of what makes up our own culture today originated in Greek civilization. The Museo Arqueológico Nacional acknowledges how important this revolutionary, advanced society was and has collected an impressive exhibit of ancient relics from the time period. A combination of audiovisual presentations as well as ancient pieces on display make up this fantastic exhibit. It especially focuses on exploring three main themes: the roles of men and women in society, the roles of cities themselves in creating our identities as people and the influence of them on our society, and the traditions, beliefs, and customs surrounding death in Greek society. Come join us as we explore this incredibly influential culture with a free, guided tour at the MAN!
★ Activity Details – Reservation required! ★
✓ PRICE: FREE – Preferred booking for City Card holders! Not a City Card holder? Please check here for details on how to become a member!
✓ LANGUAGE: Spanish
✓ WHEN: Wednesday at 16:30 (Estimated duration 1 hour)
✓ WHERE: Calle de Serrano, 13, 28001 Madrid
✓ METRO: Serrano

In order to be able to attend the tour you require a confirmation e-mail. A Reminder with the tour details will be sent on the day of the event.
PLEASE BE ADVISED  if you won't be able to come, you must let us know by 12:00pm the day of the tour, as the spots are very limited. If you don't show up, without letting us know, we'll proceed to cancel all your possible reservations to another museum visit.
★ Outlook – Next free Cultural Visits ★
No time this time? Check out our next activities and get your ticket(s) already now!
★ Become Part of the Citylife Madrid community! ★
FB Page | FB community 2018/2019 | Twitter | Instagram | Youtube
★ Photos and Newsletter ★
With the reservation of an event you will receive automatically our weekly newsletter which informs you among other things about our events (e.g. date and time). You have the possibility at anytime to unsubscribe.
★ ★ ★ ★ ★ ★ ★ ★ ★ ★ ★ ★ ★ ★ ★ ★ ★ ★ ★ ★ ★ ★ ★ Español ★ ★ ★ ★ ★ ★ ★ ★ ★ ★ ★ ★ ★ ★ ★ ★ ★ ★ ★ ★ ★ ★
Uno de los verdaderos tesoros artísticos de Madrid es el Museo Arqueológico Nacional. Es una institución pública financiada por el gobierno español, con el objetivo de proporcionar una mirada enriquecedora a varias civilizaciones que han ocupado lo que es la España actual, así como a otras regiones del Mediterráneo. Ofrece un aspecto increíblemente completo y numerosas culturas, pueblos y civilizaciones diferentes que abarcan desde hace millones de años hasta nuestros días. El museo cree que la mejor manera de aprender sobre nosotros mismos es estudiando la historia de aquellos que vinieron antes que nosotros, y la mejor manera de hacerlo es explorando las exhibiciones en el MAN. El museo se sometió a 6 años de renovaciones y remodelaciones, ¡así que ahora es el momento de verlo! ¡Hay varias exposiciones permanentes y nuevas cada año, y puedes unirte a nosotros GRATIS para explorarlas! Citylife ofrecerá toneladas de visitas guiadas gratuitas a las diversas exposiciones que MAN ofrece a lo largo del año.
En esta ocasión – Grecia Clásica

Le debemos gran parte de nuestras vidas hoy a la influencia griega antigua. Desde el arte, a la política, a los deportes, a la educación, gran parte de lo que constituye nuestra propia cultura hoy se originó en la civilización griega. El Museo Arqueológico Nacional reconoce cuán importante fue esta sociedad revolucionaria y avanzada, y ha reunido una impresionante exhibición de antiguas reliquias de la época. Una combinación de presentaciones audiovisuales y piezas antiguas en exhibición conforman esta fantástica exhibición. Se centra especialmente en explorar tres temas principales: los roles de hombres y mujeres en la sociedad, los roles de las ciudades en la creación de nuestras identidades como personas y la influencia de ellas en nuestra sociedad, y las tradiciones, creencias y costumbres en torno a la muerte en griego sociedad. ¡Únete a nosotros mientras exploramos esta cultura increíblemente influyente con una visita guiada gratuita en el MAN!
★ Detalles de la Actividad – ¡Se exige reserva! ★
✓ PRECIO: GRATIS – Reserva preferida para los titulares de la City Card! ¿No eres titular de la City Card? Por favor, consulte aquí para obtener detalles sobre cómo convertirse en un miembro!
✓ IDIOMA: Español
✓ CUÁNDO: Miércoles a las 16:30 (duración estimada: 1h)
✓ DÓNDE: Calle de Serrano, 13, 28001 Madrid
✓ METRO: Serrano

Para poder asistir al tour se requiere un correo electrónico de confirmación. Un recordatorio con los detalles del tour se enviará el día del evento.
POR FAVOR, si no puede venir, debe avisarnos antes de las 12:00 pm del día del tour, ya que los lugares son muy limitados. Si no se presenta, sin avisarnos, procederemos a cancelar todas sus reservas posibles para otra visita al museo.
★ Calendario de actividades ★
¿No tienes tiempo esta vez? Mira las próximas actividades y asegúrate tu(s) plaza(s) reservando ya: www.citylifemadrid.com/activities
★ ¡Forma parte de la comunidad de Citylife Madrid! ★
FB Page | FB community 2018/2019 | Twitter | Instagram | Youtube
★ Fotos y Boletín ★
Con la reserva de un evento automáticamente recibirás nuestro newsletter con las últimas informaciones.
Book now
Bookings are closed for this event.