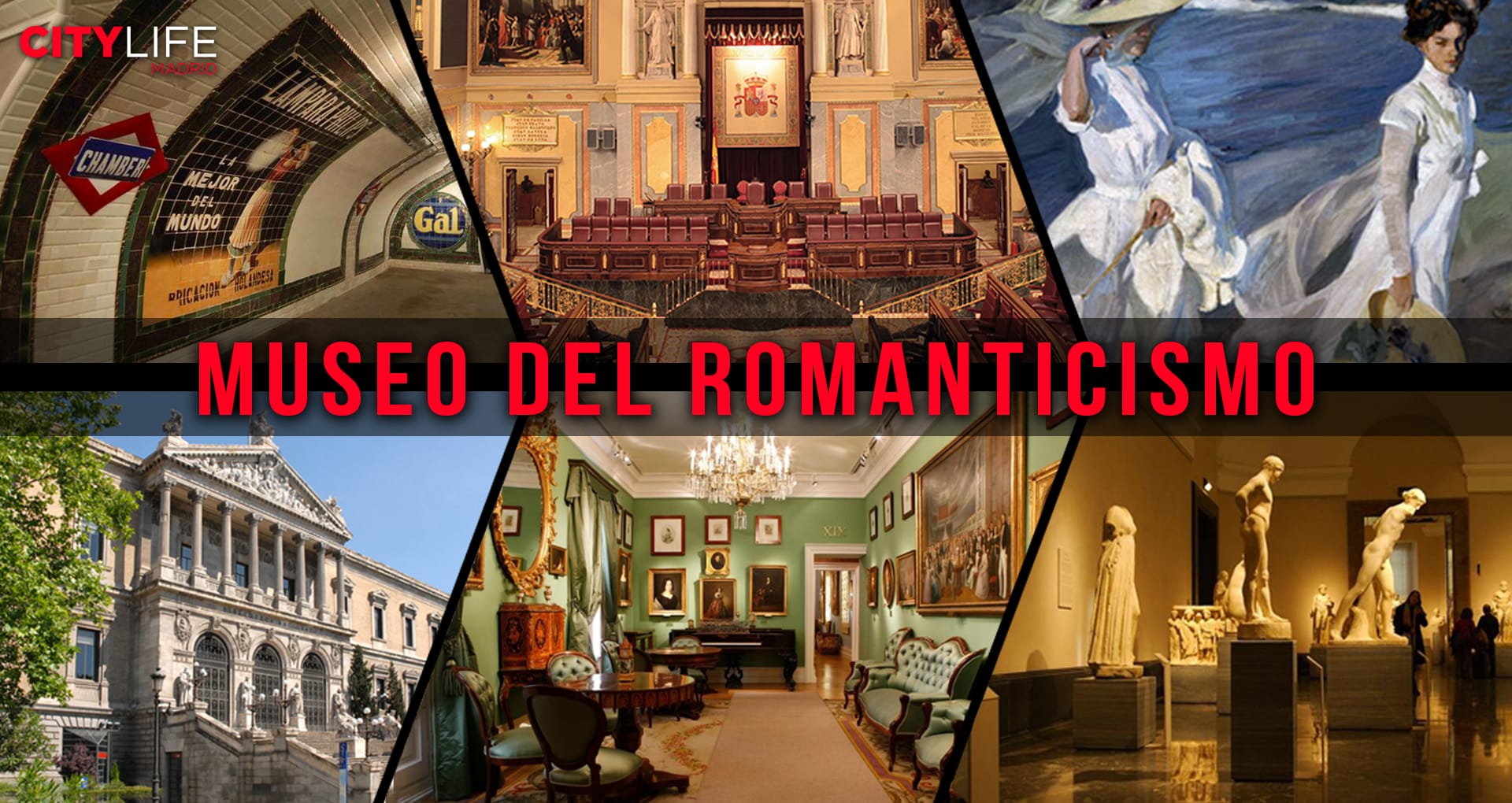 Share this event with friends!
Activity Details
Date: 12/03/2019
Duration: 1 Hour
Meeting Time: 5:00 PM
Meeting Point: Museum of RomanticismCalle San Mateo, 13
Price: FREE €
Price with City Card: FREE €
Activity Description
[Spanish Version at the bottom] 
Located in an 18th century palace in the trendy barrio of Chueca, the Museum of Romanticism is one of the most culturally and historically significant galleries in the city. Featured in the 1,400-piece collection are incredible articles such as grand pianos and wall size oil paintings from artists including Francisco de Goya, Federico de Madrazo, Leonardo Alenza & more! Come by with Citylife Madrid and immerse yourself in the world of 19th century romanticism with our FREE group visit! For further details on the Museum of Romanticism in Madrid check here.
★ Activity Details –  Reservation required! ★
✓ PRICE: FREE entry for anyone under 25, entry is 1,50€ for 25+. Don't forget to bring your student ID!
✓ LANGUAGE: Attention – no guide on this tour
✓ WHEN: Tuesday at 17:00 (Estimated duration 1 hour)
✓ WHERE: Calle San Mateo, 13, Madrid
✓ METRO: Tribunal I Alonso Martínez

Preferred booking for City Card holders! Not a City Card holder? Please check here for details on how to become a member!
In order to be able to attend the tour you require a confirmation e-mail. A Reminder with the tour details will be sent on the day of the event.
PLEASE BE ADVISED  if you won't be able to come, you must let us know by 12:00pm the day of the tour, as the spots are very limited. If you don't show up, without letting us know, we'll proceed to cancel all your possible reservations to another museum visit.
★ Outlook – Next free Cultural Visits ★
No time this time? Check out our next activities and get your ticket(s) already now!
★ Become Part of the Citylife Madrid community! ★
FB Page | FB community 2018/2019 | Twitter | Instagram | Youtube
★ Photos and Newsletter ★
With the reservation of an event you will receive automatically our weekly newsletter which informs you among other things about our events (e.g. date and time). You have the possibility at anytime to unsubscribe.
★ ★ ★ ★ ★ ★ ★ ★ ★ ★ ★ ★ ★ ★ ★ ★ ★ ★ ★ ★ ★ ★ ★ Español ★ ★ ★ ★ ★ ★ ★ ★ ★ ★ ★ ★ ★ ★ ★ ★ ★ ★ ★ ★ ★ ★
Situado en un palacio del siglo XVIII en el moderno barrio de Chueca, el Museo del Romanticismo es una de las galerías más importantes de la historia y cultura de la ciudad. Con una colección de 1.400 objetos que van desde pianos de cola a pinturas de grandes artistas como Francisco de Goya, Federico de Madrazo, Leonardo Alenza y mucho más! Ven con Citylife Madrid y sumérgete en el mundo del romanticismo con nuestra visita gratuita!
★ Detalles de la Actividad – ¡Se exige reserva! ★
✓ PRECIO: Entrada GRATIS para menores de 25 años, la entrada es 1,5€ para mayores de 25. No olvides tu carné de la universidad.
✓ IDIOMA: Attención – Esta visita es sin guía
✓ CUÁNDO: Martes a las 17:00 (duración estimada: 1h)
✓ DÓNDE: Calle San Mateo, 13, Madrid
✓ METRO: Tribunal I Alonso Martínez

Reserva preferida para los titulares de la City Card! ¿No eres titular de la City Card? Por favor, consulte aquí para obtener detalles sobre cómo convertirse en un miembro!
Para poder asistir al tour se requiere un correo electrónico de confirmación. Un recordatorio con los detalles del tour se enviará el día del evento.
POR FAVOR, si no puede venir, debe avisarnos antes de las 12:00 pm del día del tour, ya que los lugares son muy limitados. Si no se presenta, sin avisarnos, procederemos a cancelar todas sus reservas posibles para otra visita al museo.
★ Calendario de actividades ★
¿No tienes tiempo esta vez? Mira las próximas actividades y asegúrate tu(s) plaza(s) reservando ya: www.citylifemadrid.com/activities
★ ¡Forma parte de la comunidad de Citylife Madrid! ★
FB Page | FB community 2018/2019 | Twitter | Instagram | Youtube
★ Fotos y Boletín ★
Con la reserva de un evento automaticamente recibirás nuestro newsletter con las últimas informaciones.
Book now
This event is fully booked.