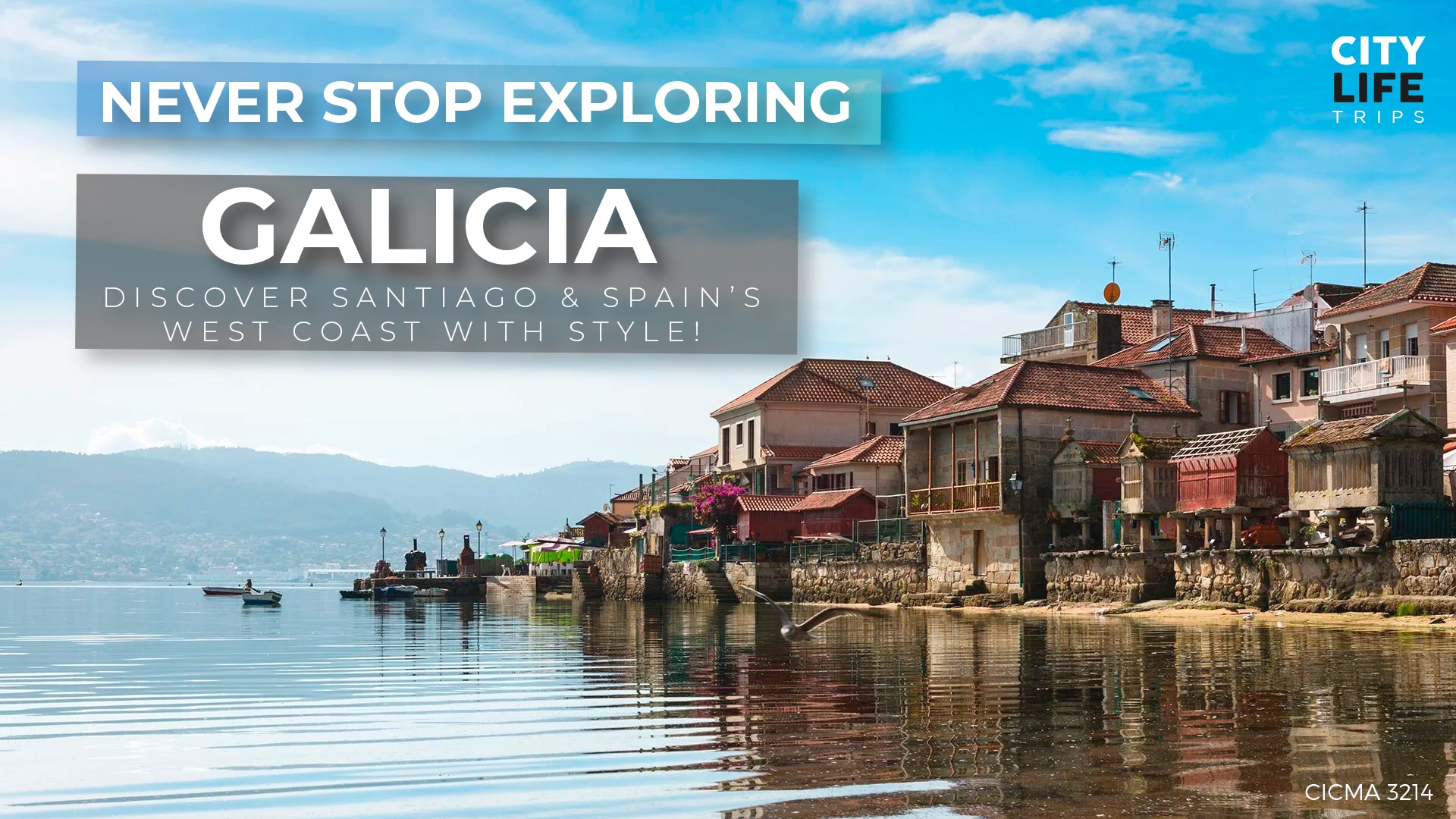 Share this event with friends!
Trip Details
Date: 25/10/2019 - 27/10/2019
Duration: 3 Days & 2 Nights
Meeting Time: 6:45 AM
Meeting Point: Citylife Bus StopPaseo Moret
Price: 179 €
Price with City Card: 169 €
Trip Description
Booking: You can either book online at the bottom of this page or in our office in Calle Gran Vía 22, 2nd floor (Monday – Friday: 10:00-19:00)!
Meeting point in Paseo Moret (Metro: Moncloa): 06:45 (Friday)
Departure Madrid: 7:00 (Friday) / Arrival Santiago: 15:00 (Friday)
Departure Santiago: 11:30 (Saturday) / Arrival Pontevedra: 12:30 (Saturday)
Departure Pontevedra 12:00 (Sunday) / Arrival Madrid: 23:00 (Sunday)
Galicia is water: rain that seeps through its veins and blooms in millenary forests or freezes in the heights above the mountains; water that bubbles in the interior of the Earth and that comes out in the form of numerous rivers, streams or hot springs; water that bathes its almost 1500 km of tangled coastline that draws from paradisiacal beaches to steep cliffs. And if this generous nature is combined with a variety of historical remains and a cuisine based on the good work and quality of its products, Galicia has everything to satisfy any traveler, who with the help of Citylife will make the most of this trip.
Day one 
After an early departure from Madrid, we'll head to Santiago de Compostela. The final stop on the epic Camino de Santiago pilgrimage trail, Santiago is a unique city imbued with the aura of a millennium's worth of journeys. Long-gone centuries live on in its arcaded streets and magnificent stone architecture, of which the famous cathedral is the jewel in the crown. On the way to this amazing city we'll do a very special stop over at Puebla de Sanabria, right before getting into Galicia, a tangle of medieval alleyways that unfold around a 15th-century castle and trickle down the hill. Certainly, one of Spain's loveliest hamlets.
Upon arrival to Santiago, we'll check into our amazing 4**** Hotel to dust of from the trip before reuniting to have a local guide unravelling the misteries of Santiago de Compostela
Day two
Don't dare to miss the Hotel's breakfast, it is simply superb (and it's included). With a full belly we'll head South until we reach our next destination, Pontevedra, an inviting, small riverside city that combines history, culture and style into a lively base for exploring the Rías Baixas. The interlocking lanes and plazas of the compact Old Town are abuzz with shops, markets, cafes and tapas bars. After leaving our stuff at our Hotel, we'll head straight to Combarro. On the ría's north shore, Combarro has a particularly quaint old quarter that makes it worth to visit. But before we get to explore the Village by foot, we'll take a cruise through the ría (stuary). During the cruise, not only we'll be visiting the neighbouring island of Tambo and the traditional "Bateas" where the mussels are farmed, but we'll be served a very special 4 course meal including drinks and dessert.
Day three
Again, do not miss another complimentary breakfast before leaving Pontevedra. We'll get enough free time to further explore Pontevedra's charming streets before heading back to Madrid
The trip price includes (179€ / 169€ with City Card*):
✓ Transportation by private bus
✓ 1 night 4**** hotel accommodation with breakfast in Santiago
✓ 1 night 3*** hotel accommodation with breakfast in Pontevedra
✓ Official guided tour of Santiago de Compostela
✓ 3 hour cruise through Ria de Pontevedra with a 4 course meal, drinks and dessert
✓ Visit to Combarro
✓ Visit to Puebla de Sanabria
✓ Visit to A Gudiña
✓ Representative throughout the trip
✓ Trip photographer
✓ Travel insurance
✓ All taxes included
The trip price doesn't include:
✓ Anything not mentioned in "trip includes"
Booking: You can either book online at the bottom of this page or in our office in Calle Gran Vía 22, 2nd floor (Monday – Friday: 10:00-19:00)!
Discount for City Card holders! Don't have the City Card yet? Please check here for details on how to become a member!
*Please be adivsed that in accordance with our terms and conditions the City Card membership cannot be used to obtain discounts for anyone but the card holder.
If you have any questions, please get in touch with us:
Citylife Madrid
Calle Gran Vía 22 – Duplicado, 2nd Floor, 28013 Madrid
Metro: Gran Vía
trips@citylifemadrid.com
+34 915 296 673
www.citylifemadrid.com
Book now