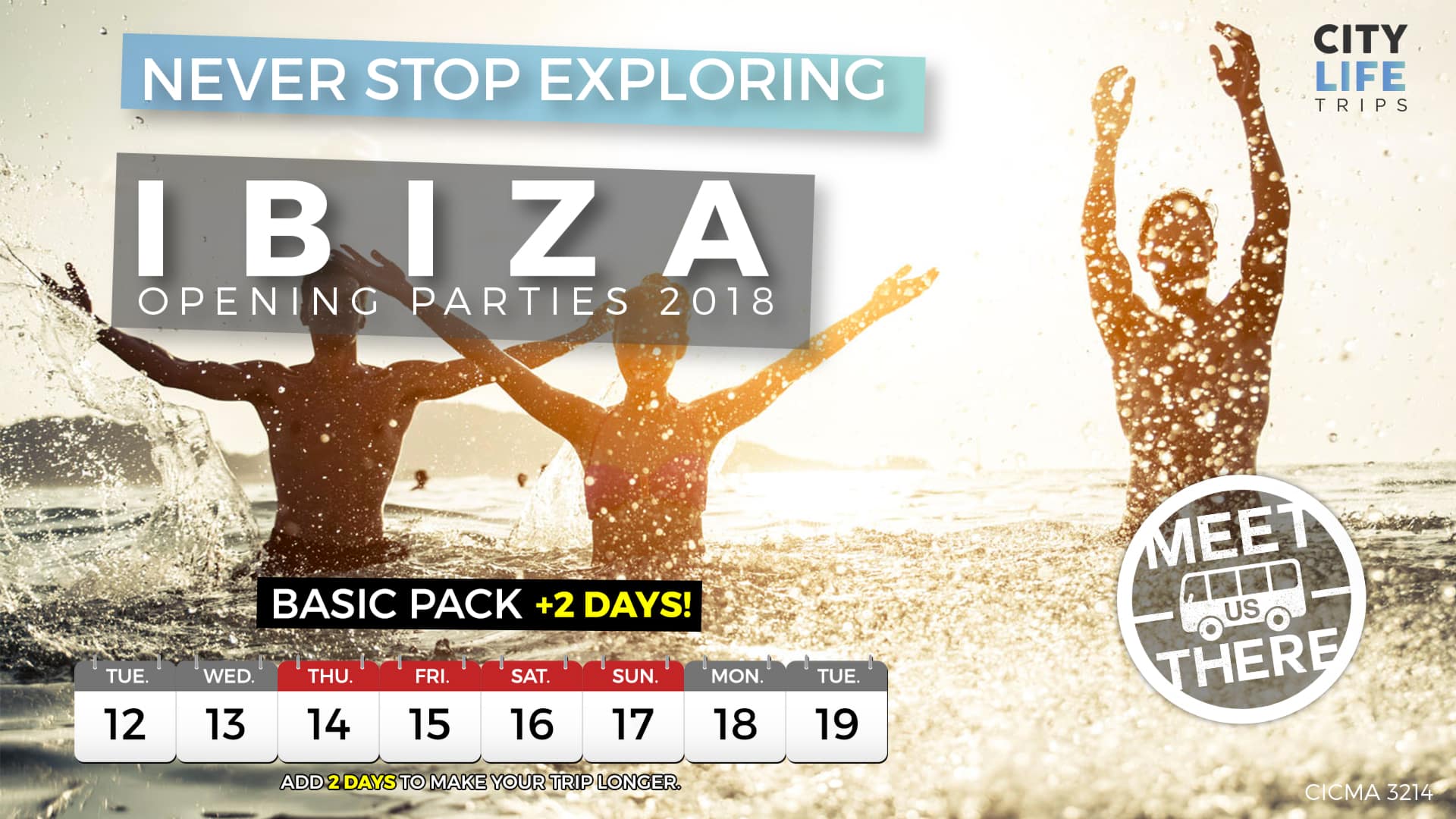 Share this event with friends!
Trip Details
Map Unavailable
Date: 14/06/2018 - 17/06/2018
Duration: 6 Days & 5 Nights
Price: 179 €
Price with City Card: 169 €
Trip Description
Booking: You can either book online at the bottom of this page or in our office in Calle Gran Vía 22, 2nd floor (Monday – Friday: 10:00-19:00)!
Basic Pack: Trip start in Ibiza: 14:00 (Thursday) / Trip end in Ibiza: 11:00 (Sunday)
+ 2 Extra Days: Arrive 1 or 2 days earlier or stay 1 or 2 days longer. Just send us the flight details.
What means "Meet us there"?
This trip DOES NOT include the flights to and from Ibiza. Hence, you simply buy your flight tickets for the time and airport that suits you the best and meet us in our hotel. You can arrive in Ibiza any time on the day of arrival, your Citylife Team will be waiting for you in the hotel for the check-in. All you need to do is to book your trip and flight ticket and let us know your day and time of arrival and departure. A good website to look for flights is www.skyscanner.com. If you want to arrive earlier or stay longer, please send us an email to trips@citylifemadrid.com and we'll arrange it for you.
Every year, after a long winter, as the summer arrives, a new season starts in Ibiza. Every club, bar, restaurant, lounge and beach club reopens their doors after a much needed lethargy. The opening of the season is the time to be in Ibiza, before the Island gets completely overcrowded, but already thrives with people from all over the world anxious to party, everybody is trying to regain the visitor's loyalty by throwing some of the most memorable parties of the season, The Opening Parties!!
Let us be your hosts in Ibiza, not only we'll take you there, provide you with the nicest accommodation and the highest discounts in the best parties, but we'll put together a day plan every day for those willing to explore all the charms Ibiza offers to the visitor.
Check out our Ibiza video to get an idea of what this beautiful island has to offer!
The price includes (179€ / 169€ with DMM card*):
✓ 5 nights hotel accommodation with breakfast (2 people per room)
✓ Fun optional activities such as beach visits, Formentera island excursion, private boat rental to explore Ibiza's coast…
✓ Party package including free entrance to some of the most iconic parties in Ibiza (Details will be confirmed closer to the date)
✓ Trip photographer
✓ Travel insurance
✓ All taxes included
The price Does Not Include:
✓ Anything not listed above
✓ Transportation to and from Ibiza
Booking: You can either book online at the bottom of this page or in our office in Calle Gran Vía 22, 2nd floor (Monday – Friday: 10:00-19:00)!
*Discount for DMM card holders! If you don't have the DMM card yet and want to know more about it, please send us an email to info@citylifemadrid.com.
If you have any questions, please get in touch with us:
Citylife Madrid
Calle Gran Vía 22 – Duplicado, 2nd Floor, 28013 Madrid
Metro: Gran Vía
trips@citylifemadrid.com
+34 915 296 673
www.citylifemadrid.com
Book now
This event is fully booked.