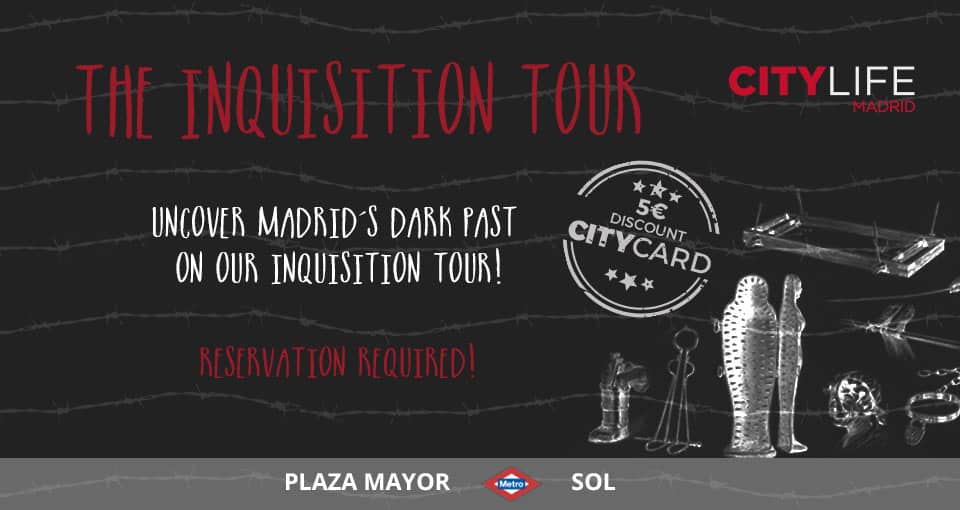 Share this event with friends!
Details
Date: 15/04/2020
Duration: 2 Hours
Meeting Time: 7:00 PM
Meeting Point: Plaza Mayor – Statue Felipe IIIPlaza Mayor
Price: 10 €
Price with City Card: 5 €
Description
The Spanish Inquisition is one of the most mysterious and bloody institutions of European history to date weighing heavy over Spain like a curse. In the name of religious orthodoxy, the ruthless founders of the Inquisition oversaw the torture, repression and banishment of hundreds of innocent and terrified people. What began as an attempt to protect the sanctity of the Catholic church and the morality of the populace swiftly became an oppressive regime and would eventually leave a dark shadow on the landscape of Spain's history.
La Inquisición española es una de las instituciones más misteriosas y sanguinarias de la historia europea hasta la fecha, algo que pesa sobre la conciencia de España como una maldición. En nombre de la ortodoxia religiosa, los despiadados fundadores de la Inquisición supervisaron la tortura, la represión y el destierro de cientos de personas inocentes y aterrorizadas. Lo que comenzó como un intento de proteger la santidad de la Iglesia Católica y la moralidad de la población, pronto se convirtió en un régimen opresivo que acabaría dejando una oscura sombra en el paisaje de la historia de España.


Activity Details:
On this spine-chilling walking tour we explore the mysteries and legacies of the Spanish Inquisition, visiting key areas of the city which were the setting for this bloody tribunal. Your guide will expose the truth about the four long centuries where the Institution loomed over the city. Discover the real motives behind the foundation of the Spanish Inquisition and the people who ran it, the gruesome and cruel torture methods they employed, and the people who they made their victims.
Detalles de la Actividad:
En esta escalofriante excursión exploramos los misterios y legados de la Inquisición española, visitando zonas clave de la ciudad que fueron escenario de este sangriento tribunal. Su guía expondrá la verdad sobre los cuatro largos siglos en los que esta institución controló la ciudad. Descubre los verdaderos motivos detrás de la fundación de la Inquisición española y la gente que la dirigió, los horripilantes y crueles métodos de tortura que emplearon, y lquiénes fuero sus víctimas.
Activity Price:
Standard Price – 10€

City Card Price – 5€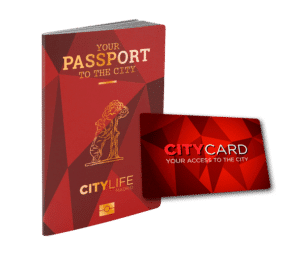 Save on this booking today with the City Card! Order your personal City Card now! To browse through all available discounts & advantage, click here!
Ahorra en esta reservación con tu tarjeta City Card! Pide tu City Card ahora aquí! Para ver todos los descuentos y ventajas disponibles, haz clic aquí.
Included in Price:
Night time tour with a local guide
Classic tales from the Spanish Inquisition
Visit to some of Madrid's most famous monuments (no entry to these locations)
Incluido en el Precio:
Tour nocturno con guía local
Cuentos clásicos de la Inquisición española
Visita a algunos de los monumentos más famosos de Madrid (no hay entrada a estos lugares)
Booking Information:
You can either book now at the bottom of this page or in our office on Calle Gran Vía 22, 2nd floor. If you have any questions please get in touch with us at info@citylifemadrid.com or +34 915 296 673
*Please be advised that in accordance with our terms and conditions the City Card membership cannot be used to obtain discounts for anyone but the card holder.
Información de la reserva:
Puede reservar ahora al final de esta página o en nuestra oficina en la calle Gran Vía 22, segundo piso. Si tiene alguna pregunta, póngase en contacto con nosotros en info@citylifemadrid.com o +34915296673
* Tenga en cuenta que de acuerdo con nuestros términos y condiciones, la membresía de City Card no se puede utilizar para obtener descuentos para nadie más que el titular de la tarjeta.
Book now