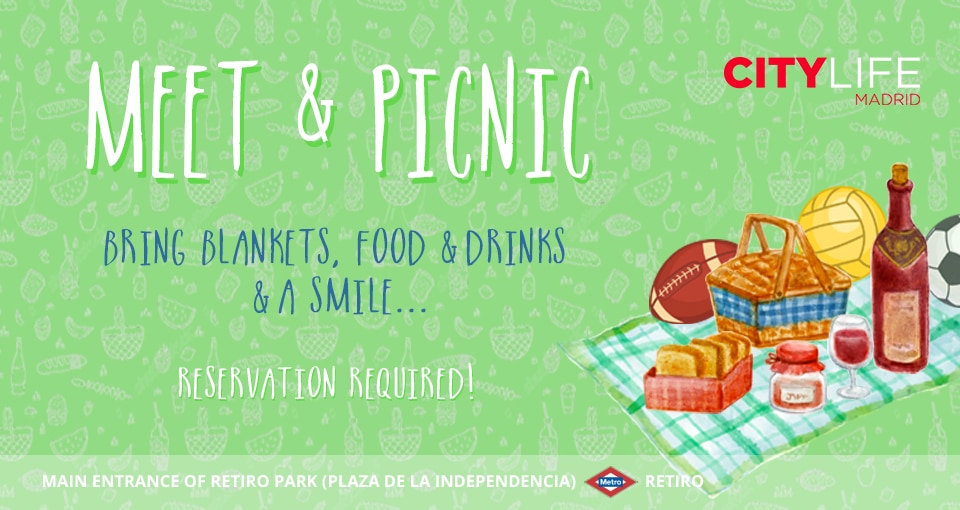 Share this event with friends!
Activity Details
Date: 26/05/2019
Duration: 3-4 Hours
Meeting Time: 4:30 PM
Meeting Point: Parque del RetiroPlaza de la Independencia
Price: FREE €
Price with City Card: FREE €
Activity Description
[Spanish Version at the bottom]
★ Activity Details – Reservation required! ★
Spring time is picnic time! If you're looking to hangout with people from all over the world while enjoying Madrid's warm weather, come and join us in Retiro! Bring blankets, music, your guitars, food & drinks! We will eat, drink, sing, play games and much more!
★ How to reserve your free SPOT(s) ★
Please let us know if you are participating by filling out the reservation form below. This way we ensure to bring enough frisbees, footballs, volleyballs & beachballs.

✓ PRICE: FREE
✓ WHEN: SUNDAY at 16:30
✓ WHERE: Meeting Point: Plaza de la Independencia – Main entry of Retiro Park
✓ METRO: Retiro
★ Outlook – Next Events ★
No time this time? Check out our next activities and get your ticket(s) already now!
★ Become Part of the Citylife Madrid community! ★
FB Page | FB community 2018/2019 | Twitter | Instagram | Youtube
★ Photos and Newsletter★
We will take photos during the event and publish them on the Citylife Madrid Facebook page. With the reservation of an event you will receive automatically our weekly newsletter which informs you among other things about our events (e.g. date and time). You have the possibility to unsubscribe at anytime.
★ ★ ★ ★ ★ ★ ★ ★ ★ ★ ★ ★ ★ ★ ★ ★ ★ ★ Español ★ ★ ★ ★ ★ ★ ★ ★ ★ ★ ★ ★ ★ ★ ★ ★ ★ ★
★ Detalles de la Actividad – ¡Se exige reserva! ★
La Primavera es tiempo para picnic. Si lo que quieres es pasar un rato divertido con gente de todo el mundo, mientras disfrutas del increible tiempo de Madrid, ven con nosotros a picnic en el parque del Retiro. Traete mantas, comida, bebida, las guitarras y musica. Vamos a comer, beber, cantar, hacer juegos y mucho más!
★ ¿Cómo puedes reservar tu plaza? ★
Por favor haznos saber si vas a venir, rellenando el formulario abajo. De esta forma nos aseguraremos de tener suficiente frisbees, pelotas de futbol, voleybol & raquetas.
✓ PRECIO: GRATIS
✓ CUÁNDO: Domingo a las 16:30
✓ DÓNDE: Punto de encuentro: Plaza de la Independencia – Entrada principal del Parque del Retiro
✓ METRO: Retiro
★ Calendario de actividades ★
¿No tienes tiempo esta vez? Mira las próximas sesiones y asegúrate tu(s) plaza(s) reservando ya!
★ ¡Forma parte de la comunidad de Citylife Madrid! ★
Página FB | FB communidad 2018/2019 | Twitter | Instagram | Youtube
★ Fotos y Boletín ★
Se harán fotos durante los eventos que serán publicadas en la página de Facebook de Citylife Madrid. Con la reserva de un evento automáticamente recibirás nuestro boletín semanal con las últimas novedades!
Book now
Bookings are closed for this event.