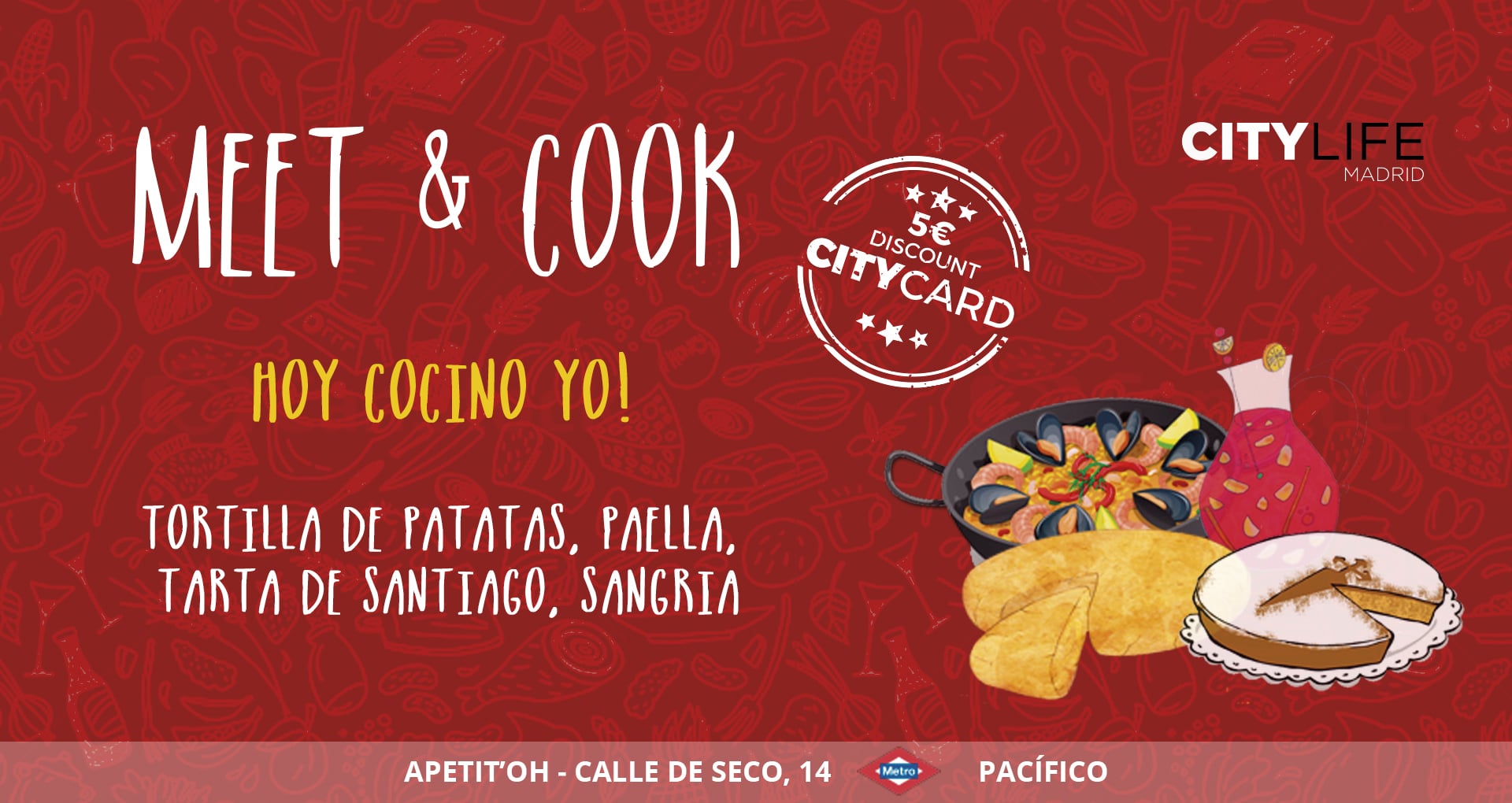 Share this event with friends!
Activity Details
Date: 17/11/2019
Duration: 2 Hours
Meeting Time: 7:30 PM
Meeting Point: Apetit'Oh!Calle de Seco, 14
Price: 25 €
Price with City Card: 20 €
Activity Description
[Spanish Version at the bottom] 
SPECIAL PRICE FOR CITY CARD HOLDERS: Log in here to save money when buying your ticket(s) online or reserve your spot(s) presenting your City Card at the Citylife Madrid office.
Address:
Calle Gran Vía, 22 Dpdo, 2nd D.
(Metro: Gran Vía)
Opening hours:
10:00 to 19:00.[/vc_message]
They say the heart of a culture lies in its food, and Spain is no exception! With our "Meet & Cook" cooking class series you can learn how to make (and eat) some of Spain's most famous dishes and bring yourself even closer to this wonderful country. Experience culture through the art of cooking with Citylife Madrid!
Each month we will organize a cooking class in a professional cooking school for you to learn how to prepare Spanish dishes. At the end of the class you will eat the food and enjoy some classic Spanish drinks like Sangría & Tinto de Verano. Come and enjoy a cooking class with us! Qué aproveche!
Activity Details – Reservation required!
This class is conducted in Spanish, but being very visual it will be quite easy to follow for those who don't speak the language. During the class you'll prepare 3-4 traditional dishes with an experienced chef. At the beginning of the class you will learn about the history of the different dishes, ingredients and how to prepare a classic Spanish drink. Then it is time for hands-on experience where you will learn how to prepare the different dishes. Last but not least it is dinner time:) We will all enjoy the food together with drinks!
On the menu this time:

Tortilla de patatas
Paella
Tarta de Santiago
Sangría
Drinks: You will have water throughout the class as well as a Sangría for FREE during the dinner!
PRICE: Only 20€ with your CITY CARD | Regular price: 25€! Not a City Card holder yet? Please check here for details on how to become a member!
LANGUAGE: Spanish
WHEN: Sunday at 19:30 (estimated duration: 2h)
WHERE: Apetit' oh! – Calle de Seco, 14
METRO: Pacífico | Puente de Vallecas
How to BUY your TICKET(S)?

1) Buy your ticket(s) online by filling out the BOOKING FORM below! (or)
2) Stop by our office and buy your tickets at our reception with cash or card! (Calle Gran Vía 22 Dupdo, 2°Dcha, 28013 Madrid)
Outlook – Next Cooking Classes & Menus 
No time this time? Check out our next activities and get your ticket(s) already now!
 Become Part of the Citylife Madrid community!
FB Page | FB community 2019/2020 | Twitter | Instagram | Youtube
Photos and Newsletter
We will take photos during the event and publish them on the Citylife Madrid Facebook page. With the reservation of an event you will receive automatically our weekly newsletter which informs you among other things about our events (e.g. date and time). You have the possibilty to unsubscribe at anytime.
★ ★ ★ ★ ★ ★ ★ ★ ★ ★ ★ ★ ★ ★ ★ ★ ★ ★ Español ★ ★ ★ ★ ★ ★ ★ ★ ★ ★ ★ ★ ★ ★ ★ ★ ★ ★
COMPRA TU(S) ENTRADA(S) ONLINE O EN NUESTRA OFICINA!
Dicen que el corazón de una cultura radica en su comida, y ¡España no es una excepción! Con nuestro programa Meet & Cook puedes aprender a preparar (y comer) algunos de los platos más famosos de la gastronomía española, acercándote aún más a este maravilloso país. Experimenta la cultura a través del arte de la cocina con Citylife Madrid!
Cada mes vamos a organizar un curso de cocina en una escuela de cocina profesional para que puedas aprender a preparar platos españoles. Al final de la clase comeremos lo elaborado y disfrutaremos de algunas bebidas típicas españolas como la sangría o el tinto de verano. ¡Ven y disfruta de una clase de cocina con nosotros, qué aproveche!
Detalles de la actividad – Se exige reserva! 
Esta clase es realizada en español, pero siendo tan visual sera sumamente facil de seguir. Durante la clase prepararás 3-4 platos tradicionales con un experimentado chef. Al principio de la clase aprenderás más sobre la historia de los diferentes platos e ingredientes, así como a preparar una bebida típica española. Después llegará el momento de ponernos "manos a la masa" donde aprenderemos cómo preparar diferentes platos. Por último, pero no menos importante, llegará la hora de cenar 🙂 ¡Todos disfrutaremos juntos de la comida y bebidas!
Esta vez en el menú:
Tortilla de patatas
Paella
Tarta de Santiago
Sangría
Bebidas: Dispondrás de agua durante la clase y también, ¡Un Sangría GRATIS durante la cena!
PRECIO: Solo 20€ con la City Card | Precio normal: 25€! Aún no tienes la tarjeta CITY CARD? Consigue la tuya aquí!
IDIOMA: Español
CUÁNDO: Domingo a las 19:30 (duración estimada: 2h)
DÓNDE: Apetit' oh! – Calle de Seco, 14
METRO: Conde de Casal | Pacífico
Como puedes COMPRAR tu(s) entrada(s)? 
1. Compra tu(s) entrada(s) ahora online rellenando el formulario que encontrarás más abajo! (ó)
2. Acércate a nuestra oficina y compra tu(s) entrada(s) en nuestra recepción (Calle Gran Vía 22 Dupdo, 2°Dcha, 28013 Madrid)
Calendario – Siguientes clases de cocina y & menus 
¿No tienes tiempo esta vez? Mira las próximas sesiones y asegúrate tu(s) plaza(s) reservando ya!
Forma parte de la comunidad de Citylife Madrid!
Página FB | FB comunidad 2019/2020 | Twitter | Instagram | Youtube
Fotos y Boletín
Se harán fotos durante los eventos que serán publicadas en la página de Facebook de Citylife Madrid. Con la reserva de un evento automáticamente recibirás nuestro boletín semanal con las últimas novedades!
Book now
This event is fully booked.