MEET & TASTE – Tapas tour!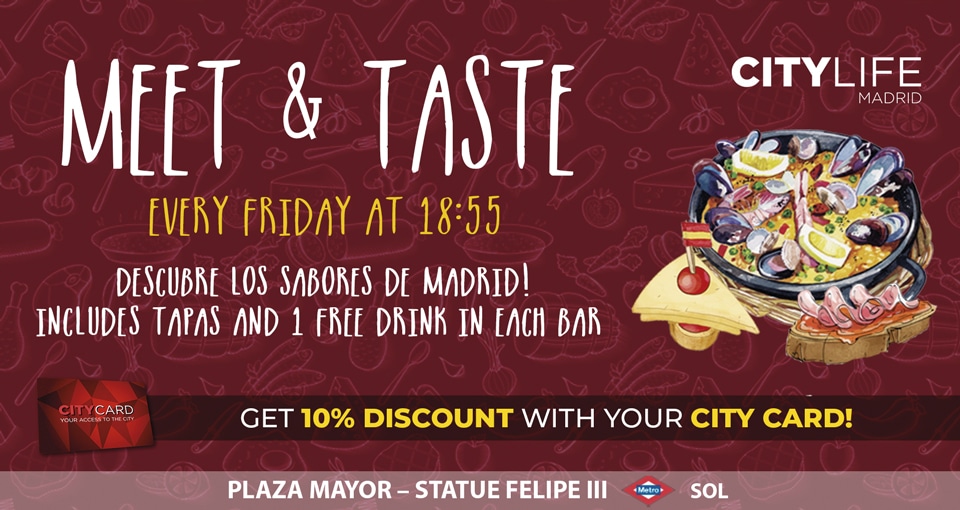 Share this event with friends!
Date: 13/12/2019
Duration: 2,5 hours
Meeting Time: 6:55 PM
Meeting Point: Plaza Mayor – Statue Felipe IIIPlaza Mayor
Price: 18.00 €
Price with City Card: 16.20 €
Going out for tapas is a lively and cultural experience in Madrid. These outings usually consist of friends, good food and a lot of drinking! If you want to taste the genuine food and drink of Spain, and learn about the mouthwatering cuisine, then join our weekly Meet & Taste Tapas tour on Fridays and discover the culinary side of this beautiful city!
ATTENTION: THE TOUR IS OPERATED BY OUR FRIENDS SANDEMANS NEW EUROPE. WATCH OUT FOR THE GUIDES WITH THE RED TSHIRTS!
To reserve your spot(s) now, please click here!
ATTENTION: Get a 10% discount using the promo code CITYLIFEMAD when reserving your spot(s)!
Salir de tapas en Madrid es una experiencia animada y cultural. ¡Estas salidas suelen constar de amigos, buena comida y mucha bebida! Si quieres probar las comida y bebidas auténticas de España y aprender sobre cocina apetitosa, únete a nuestro tour Meet & Taste cada viernes y descubre la parte culinaria de esta hermosa ciudad!
ATENCIÓN: EL TOUR ESTA OPERADO POR NUESTROS AMIGOS SANDEMANS NEW EUROPE. LOS GUÍAS LLEVAN UNA CAMISETA ROJA!
¡Para reservar tu(s) plaza(s) ahora, haz click aquí!
ATENCIÓN: Recibe un 10% de descuento usando el código promocional CITYLIFEMAD al reservar tu(s) ticket(s)!
Price
Only 18€ for students (normal price: 20€) | Use promo code CITYLIFEMAD for an additional 10% discount!
Meeting Point
Plaza Mayor (watch out for the team in red SANDEMANs NEW Europe T-shirts!)
FURTHER DETAILS: During this 2,5 hour tour we visit different locations in the centre of Madrid. In each one we will enjoy a selection of traditional tapas in a social atmosphere. Typical traditional tapas range from marinated fish and "patatas bravas" to jamón Ibérico as well as homemade paella (rice dish), tomatoe bread (pan con tomate) and cheese.
Our tour includes:
✘ A visit to typical Spanish taverns, bodegas & restaurants
✘ A selection of free tapas and free drinks (beer, cidre, rebujito cocktail, etc.)
✘ Entertaining and knowledgeable local guide explaining traditions and speaks English and Spanish
✘ Authentic tapas experience and a memorable night out with great people!
If you have any special food requirements let your guide know once there!
MÁS DETALLES: Durante este tour de 2,5 horas de duración, visitaremos diferentes lugares en el centro de Madrid. En cada lugar disfrutarás de una amplia selección de tapas tradicionales en un ambiente excepcional, además recibirás bebidas gratuita. El abanico de tapas típicas incluye desde pescaditos fritos y patatas bravas hasta jamón Ibérico, así como la paella, pan con tomate y queso.
Nuestro tour incluye:
✘ Visita a tabernas, bodegas y restaurante típicos españoles
✘ Una selección de tapas y bebidas gratuitas (cerveza, sidra, rebujito, etc.)
✘ Entretenido y documentado guía que explicará las tradiciones locales y que habla en inglés y español
✘ Auténtica experiencia de tapas pasando una noche memorable con gente fantástica!
Si tiene alguna preferencia alimentaria ¡avíse a su guía una vez allí!
We will take photos at the event and publish them on the Citylife Madrid Facebook page. With the reservation of an event you will receive automatically our weekly newsletter which informs you among other things about our events. You have the possibilty at anytime to unsubscribe.
Sacamos fotos en los eventos y les publicamos en la página de Citylife Madrid en Facebook. Con la reserva de un evento automaticamente recibirás nuestro newsletter con las ultimas informaciones. Existe la posibilidad de darse de baja en cualquier momento.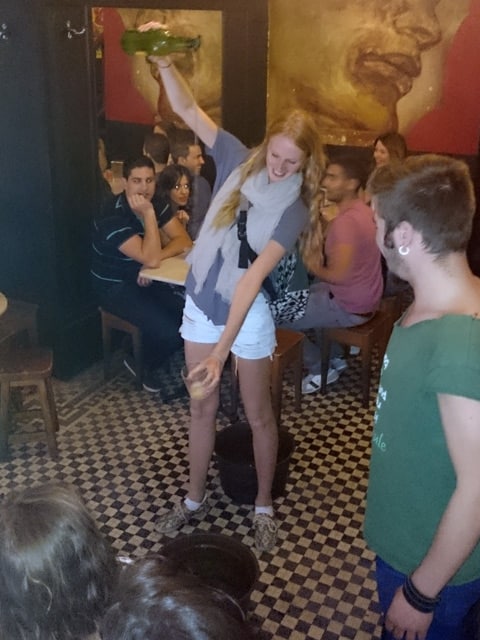 This event does not require any booking. If you have any questions, please send an email to: info@citylifemadrid.com
Check out our upcoming Trips!
Check out our upcoming activities!