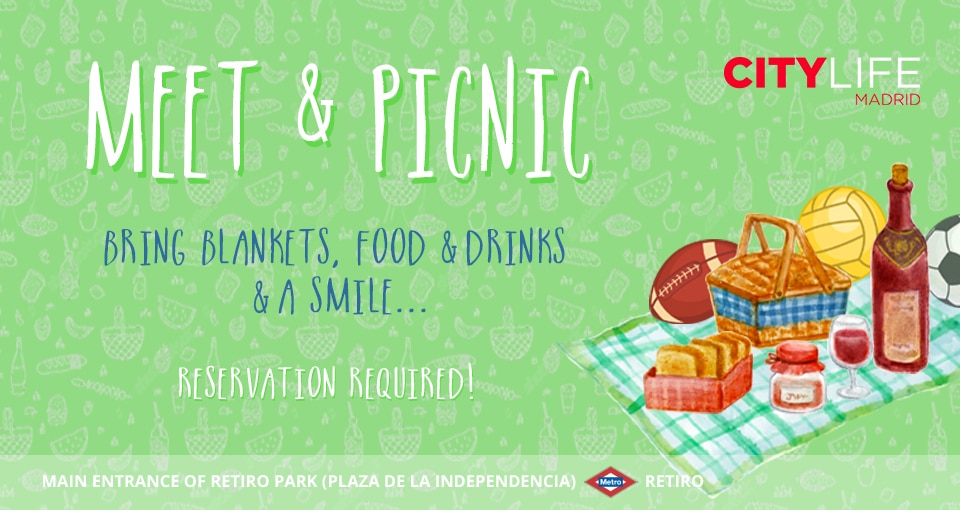 Share this event with friends!
Details
Date: 23/05/2020
Duration: 4 Hours
Meeting Time: 4:30 PM
Meeting Point: Parque del RetiroPlaza de la Independencia
Price: FREE €
Price with City Card: FREE €
Description
Spring time means picnic time! Join us in Madrid's beautiful Retiro Park for an afternoon picnic! If you're looking to hangout with people from all over the world while hanging out in the cities famous "central park", come and join us in Retiro! Bring blankets, music, your guitars, food and drinks! We will eat, drink, sing, play games and much more!


Activity Price:
This event is completely FREE! Just bring yourself and anything else you'd like to share at the picnic!
Precio de la Actividad:
Este evento es totalmente GRATIS! Simplemente únete a nosotros y trae lo que te gustaria compartir en este picnic!
Reserve your spot(s):
Please let us know if you are participating by filling out the form at the bottom of this page. If you have any questions please get in touch with us at info@citylifemadrid.com or +34 915 296 673
Reserve tu(s) plaza(s):
Por favor, haznos saber si vas a participar rellenando el formulario al final de esta página. Si tienes alguna pregunta, no dudes en ponerte en contacto con nosotros en info@citylifemadrid.com o +34915296673
Book now