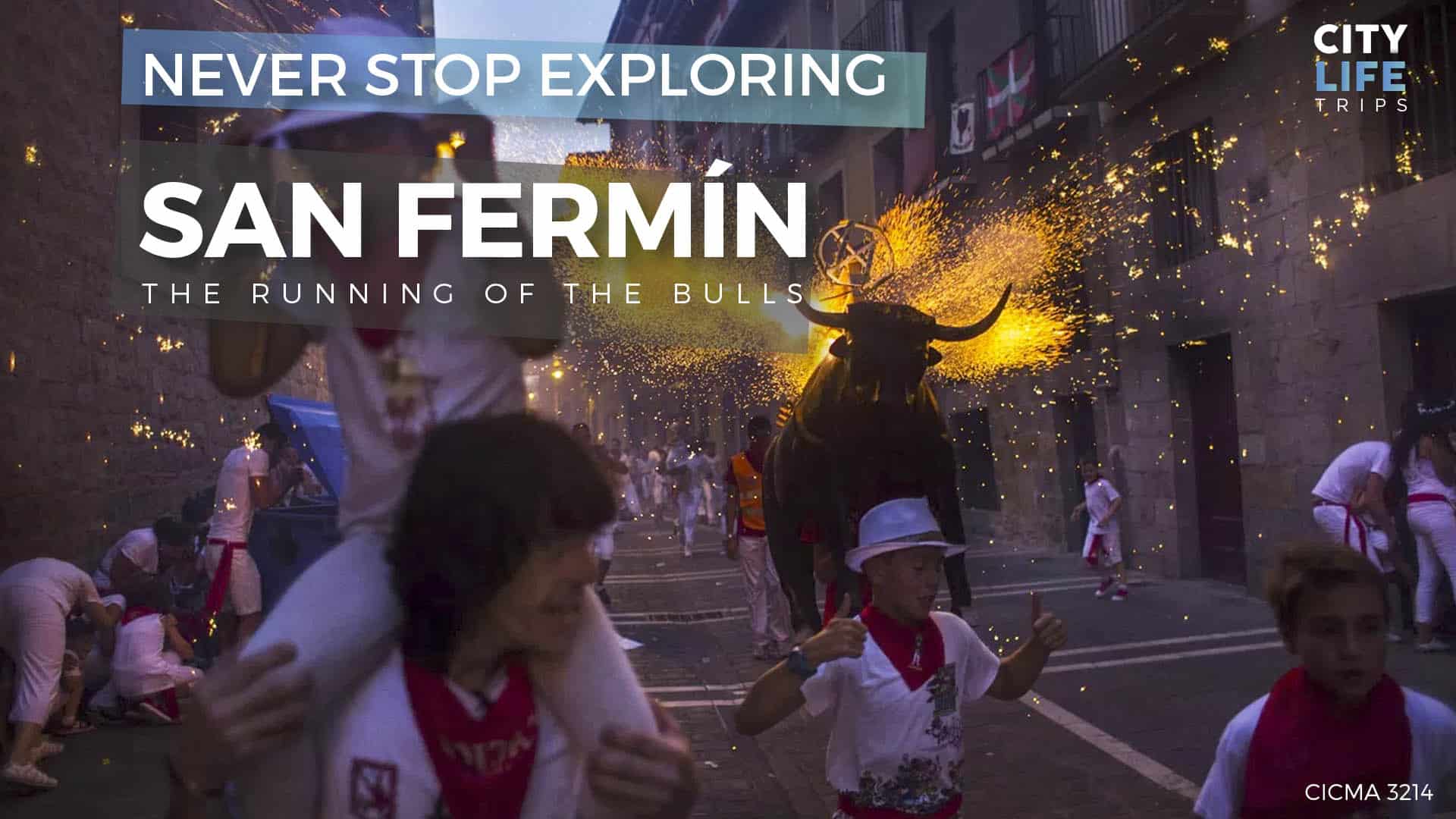 Share this event with friends!
Trip Details
Date: 07/07/2017 - 08/07/2017
Duration: Day & Night Out
Meeting Time: 2:45 PM
Meeting Point: Citylife Bus StopPaseo Moret
Price: 35 €
Price with DMM Card: 32 €
Trip Description
Booking: You can either book online at the bottom of this page or in our office in Calle Gran Vía 22, 2nd floor (Monday – Friday: 10:00-19:00)!
Meeting point in Paseo Moret (Metro: Moncloa): 14:45 (Friday)
Departure from Madrid: 15:00 (Friday) / Arrival to Pamplona: 21:00 (Friday)
Departure from Pamplona: 10:00 (Saturday) / Arrival to Madrid: 16:00 (Saturday)
San Fermín is a synonym for street party; a mixture between carnival, Mardi Gras and a bacchanal, fueled with liters and liters of alcohol. The festival honors San Fermín, the patron of Navarra; it is the perfect mixture of a religious celebration and the wildest street party you will ever see.
As usual, alcohol and music are the center of the party, as well as people's attitudes. There's no other secret. Maybe the most amazing thing is how peaceful the celebration is despite its gigantic proportion! The golden rule, live and let live. People do not only drink and dance to the music in the middle of the street…they sleep, eat, wee, sunbath and of course love each other at any given place of the city. Everything seems to be great during San Fermín.
But what truly makes San Fermín an internationally renowned festival is the celebration of the "encierro", the running of the bulls; a race through the old town's narrow streets with many brave wild bulls running behind. The kick-off is 8:00am and it takes place every day during San Fermín. If you want to see the entire program, click here: Program San Fermín
These are some of the key facts about The Running of the Bulls:
> Participation is free and at your own risk
> It can only be accessed through a gate located at Plaza Consistorial from 6:30am to 7:30am
> You won't be allowed to participate if you are drunk, or carrying a backpack, camera, or any other thing that might slow you down
> Everybody has to sing three times to San Fermín before the kickoff
> A first rocket marks the beginning, the second one all the bulls are out in the street, the third one tells you it's over the bulls finally made it to the bullring, and the fourth and last rocket means that all the bulls are in the stable
> If you fall to the ground, stay there, DO NOT STAND UP
> Follow the shepherd's instructions at all times
> Do not touch the bulls
> Once the bulls have overtaken you, stop running. The race is over for you!
The trip includes (35€ / 32€ with DMM card*):
✓ Transportation by private bus
✓ Take whatever you want on the bus (Luggage, food, drinks…)
✓ Representative throughout the trip
✓ Trip photographer
✓ Travel insurance
✓ All taxes included
Booking: You can either book online at the bottom of this page or in our office in Calle Gran Vía 22, 2nd floor (Monday – Friday: 10:00-19:00)!
*Discount for DMM card holders! If you don't have the DMM card yet and want to know more about it, please send us an email to info@citylifemadrid.com.
If you have any questions, please get in touch with us:
Citylife Madrid
Calle Gran Vía 22 – Duplicado, 2nd Floor, 28013 Madrid
Metro: Gran Vía
trips@citylifemadrid.com
+34 915 296 673
www.citylifemadrid.com
Book now
This event is fully booked.