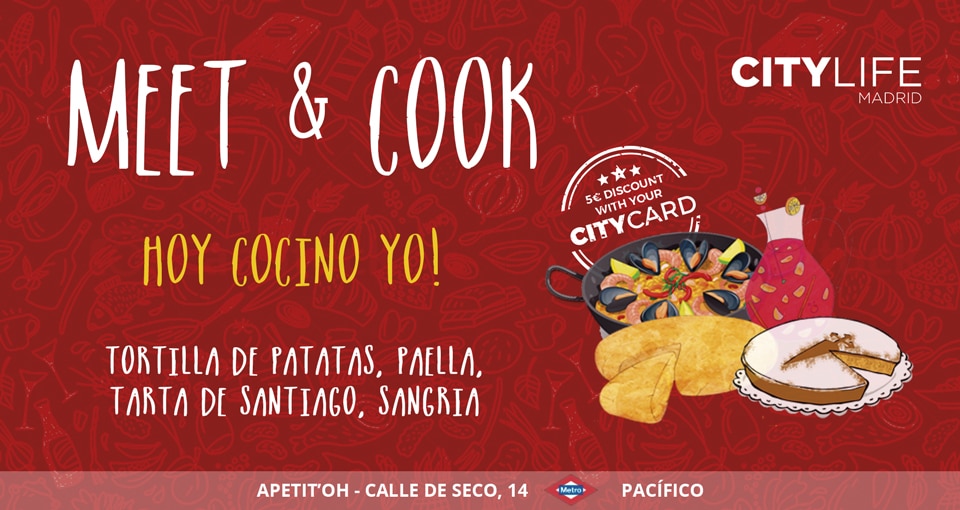 Share this event with friends!
Details
Date: 22/03/2020
Duration: 2 Hours
Meeting Time: 7:30 PM
Meeting Point: Apetit' Oh!Calle de Seco, 14
Price: 25 €
Price with City Card: 20 €
Description
They say the heart of a culture lies in its food, and Spain is no exception! With our "Meet & Cook" cooking class series you can learn how to make (and eat) some of the most famous Spanish dishes and bring yourself even closer to this wonderful country. Experience culture through the art of cooking with Citylife Madrid! Each month we will organize a cooking class in a professional cooking school for you to learn how to prepare Spanish dishes. At the end of the class you will eat the food and enjoy some classic Spanish drinks like Sangría or Tinto de Verano. Come and enjoy a cooking class with us! Qué aproveche!
Dicen que el corazón de una cultura reside en su comida, y.. ¡España no es la excepción! Con nuestra serie de clases de cocina "Meet & Cook", podrás aprender a preparar (y comer) algunos de los platos españoles más famosos y conocer aún mejor este maravilloso país. ¡Experimenta la cultura a través del arte de cocinar con Citylife Madrid! Cada mes organizaremos una clase de cocina en una escuela de cocina profesional para que aprendas a preparar platos tradiconales españoles. Al final de la clase, comerás la comida y disfrutarás de algunas bebidas típicas españolas como Sangría o Tinto de Verano. ¡Ven y disfruta de una clase de cocina con nosotros! ¡Qué aproveche!


Activity Details:
This class is conducted in Spanish, but being very visual it will be quite easy to follow for those who don't speak the language. During the class you'll prepare 3-4 traditional dishes with an experienced chef. At the beginning of the class you will learn about the history of the different dishes, ingredients and how to prepare a classic Spanish drink. Then it is time for hands-on experience where you will learn how to prepare the different dishes. Last but not least it is dinner time:) We will all enjoy the food together with drinks!
Detalles de la Actividad:
Esta clase se lleva a cabo en español, pero siendo muy visual, será bastante fácil de seguir para aquellos que no hablan el idioma. Durante la clase, prepararás 3-4 platos tradicionales con un chef experimentado. Al comienzo de la clase, aprenderás sobre la historia de los diferentes platos, ingredientes y cómo preparar una bebida clásica española. Después llegará el momento de la verdad, hora de ponerse manos a la obra y preparar los diferentes platos. Por último, pero no menos importante, es la hora de la cena 🙂 ¡Todos disfrutaremos de la comida junto con las bebidas!
Activity Price:
Standard Price – 25€

City Card Price – 20€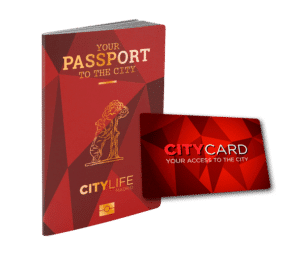 Save on this booking today with the City Card! Order your personal City Card now! To browse through all available discounts & advantage, click here!
Ahorra en esta reservación con tu tarjeta City Card! Pide tu City Card ahora aquí! Para ver todos los descuentos y ventajas disponibles, haz clic aquí.
Included in Price:
Guided cooking class with a professional chef
Tortilla de patatas
Paella
Tarta de Santiago
Sangría
Incluido en el Precio:
Clase de cocina guiada con un chef profesional.
Tortilla de patatas
Paella
Tarta de Santiago
Sangría
Booking Information:
You can either book now at the bottom of this page or in our office on Calle Gran Vía 22, 2nd floor. If you have any questions please get in touch with us at info@citylifemadrid.com or +34 915 296 673
*Please be advised that in accordance with our terms and conditions the City Card membership cannot be used to obtain discounts for anyone but the card holder.
Información de la reserva:
Puede reservar ahora al final de esta página o en nuestra oficina en la calle Gran Vía 22, segundo piso. Si tiene alguna pregunta, póngase en contacto con nosotros en info@citylifemadrid.com o +34915296673
* Tenga en cuenta que de acuerdo con nuestros términos y condiciones, la membresía de City Card no se puede utilizar para obtener descuentos para nadie más que el titular de la tarjeta.
Book now