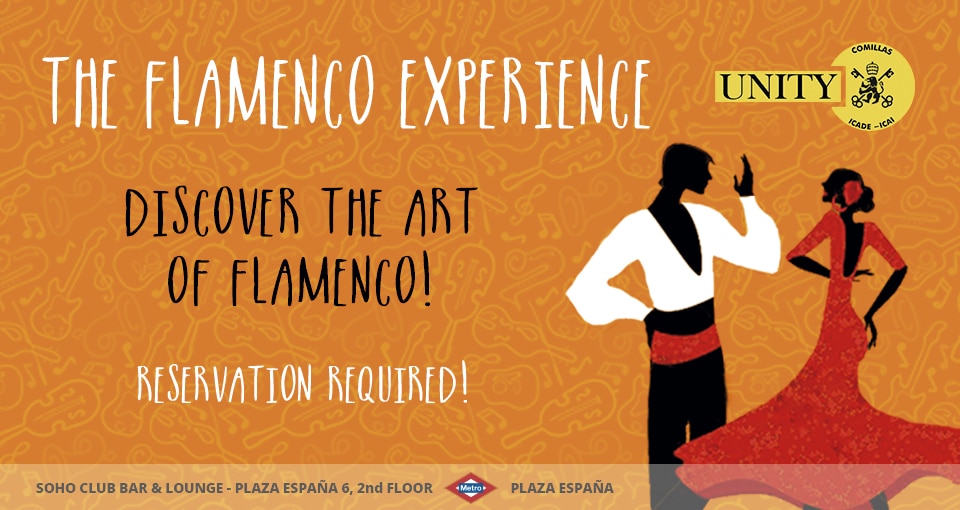 Share this event with friends!
Details
Date: 09/01/2020
Duration: 1.5 Hours
Meeting Time: 8:00 PM
Meeting Point: Soho ClubPlaza de España 6
Price: 10 €
Price with City Card: 10 €
Description
Drama, passion and intensity. These are only a few words used to explain the art of Flamenco. This traditional folk music was created out of the oppression and struggles of the poor from the 16th century, so every dance holds an incredible story. Unity wants to share this amazing experience with you by taking you through what we like to call "The Flamenco Experience"!
Drama, pasión e intensidad. Estas son solo algunas palabras utilizadas para explicar el arte del flamenco. Esta música folclórica tradicional nace de la opresión y la lucha de los pobres del siglo XVI, por lo que cada baile tiene una historia increíble. ¡Unity quiere compartir esta increíble experiencia con usted a través de lo que nos gusta llamar "The Flamenco Experience"!
Included in Price:
Flamenco performance by professional artists
Incluido en el Precio:
Espectáculo de flamenco de artistas profesionales
Booking Information:
You can either book now at the bottom of this page or in our office on Calle Gran Vía 22, 2nd floor. If you have any questions please get in touch with us at info@citylifemadrid.com or +34 915 296 673
*Please be advised that in accordance with our terms and conditions the City Card membership cannot be used to obtain discounts for anyone but the card holder.
Información de la reserva:
Puede reservar ahora al final de esta página, o en nuestra oficina en la calle Gran Vía 22, segundo piso. Si tienes alguna pregunta, ponte en contacto con nosotros en info@citylifemadrid.com o +34915296673
* Tenga en cuenta que de acuerdo con nuestros términos y condiciones, la membresía de City Card no puede utilizarse para obtener descuentos para nadie más que el titular de la tarjeta.
Book now