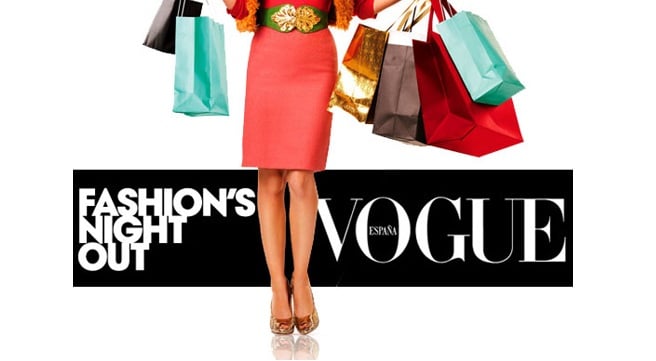 Share this event with friends!
Activity Details
Map Unavailable
Date: 12/09/2019
Duration: 4-5 Hours
Calle Serrano
Price: FREE €
Price with City Card: FREE €
Activity Description
[Spanish Version at the bottom]
The Barrio Salamanca in Madrid is one of the swankiest, most high-end neighbhourboods in the city. This expensive and glamourous shopping area is often exclusive to clients with a lot of money to spend. But in September, Salamanca will become a little more accessible! Vogue Fashion's Night Out will be returning to Madrid for its 10th year! Don't miss it!
WHEN: September 12th, 2019 starting from 20:00
WHERE: Barrio Salamanca, between Calles Serrano, Calle Ortega & Calle Gasset
PRICE: Completely FREE! You simply need to register. For more info on how to register please check out the Facebook event.
About the Vogue Fashion's Night Out
So what is VFNO? Well, its exactly that, a night out! This is an evening made for chic – with around 160 stores offering discounts on high-end merchandise and fashionable gifts. There will be champagne, and live music. If you aren't interested in making an purchases, the VFNO is still a fun place for a glamorous night out with your friends as you try on some exclusive designer items. With red carpets, champagne, a sneak peak at the coming fashion trends and red carpet photo opportunities – you will feel like a little star!
Become Part of the Citylife Madrid community!
FB Page | FB community 2019/2020 | Twitter | Instagram | Youtube
Newsletter
With the reservation of an event you will receive automatically our weekly newsletter which informs you among other things about our events (e.g. date and time). You have the possibilty at anytime to unsubscribe.
★ ★ ★ ★ ★ ★ ★ ★ ★ Español ★ ★ ★ ★ ★ ★ ★ ★ ★ ★ ★
El barrio Salamanca de Madrid es uno de los barrios más elegantes y de mayor poder adquisitivo de la ciudad. Este caro y glamuroso área comercial, es normalmente exclusivo para aquellos clientes con una gran cantidad de dinero para gastar. Pero en septiembre, Salamanca se convierte en un poco más accesible! La "Vogue Fashion Night Out" regresará a Madrid por décima ocasión! No te la pierdas!
✓  CUÁNDO: El 12 de septiembre, a las 20:00
 ✓ DÓNDE: En las calle calles Serrano y Calle Ortega & Calle Gasset (Barrio Salamanca)
✓ PRECIO: El evento es completamente gratis! Solo tienes que registrarte. Para mas información,apúntate al evento de Facebook!
★ Acerca "VOGUE Fashion Night Out" ★
Entonces, ¿qué es VFNO? Bueno, es exactamente eso, una noche para salir! Una noche hecha para ser elegante – con aproximadamente 160 tiendas que ofrecen descuentos en productos de alta calidad y regalos fashion. Habrá cava y música en vivo. Si no estas interesado en comprar, la VFNO sigue siendo un lugar divertido para pasar una noche glamurosa con tus amigos, ya que puedes probarte artículos de diseño exclusivo. Con alfombras rojas, champán, un adelanto de las próximas tendencias de moda y la oportunidad de ser fotografiado con la alfombra roja – Te sentirás como una pequeña estrella ;)!…
★ Forma parte de la comunidad de Citylife Madrid! ★
Página web: www.citylifemadrid.com
Página FB: https://www.facebook.com/citylifemad
Comunidad FB: https://www.facebook.com/groups/citylifeMAD
Twittter: CityLifeMadrid
Instagram: instagram.com/citylifemadrid
★ Fotos y Newsletter ★
Tomaremos fotos durante el evento que serán publicadas en la página de Facebook de Citylife Madrid: https://www.facebook.com/citylifemad/photos_albums
Con la reserva de este evento, recibirás automáticamente nuestro boletín semanal en el que se informa, entre otras cosas, de nuestros eventos, información útil, etc. No obstante, tienes la posibilidad de darte de baja en cualquier momento.
Book now
This event does not require any booking. If you have any questions, please send an email to: info@citylifemadrid.com