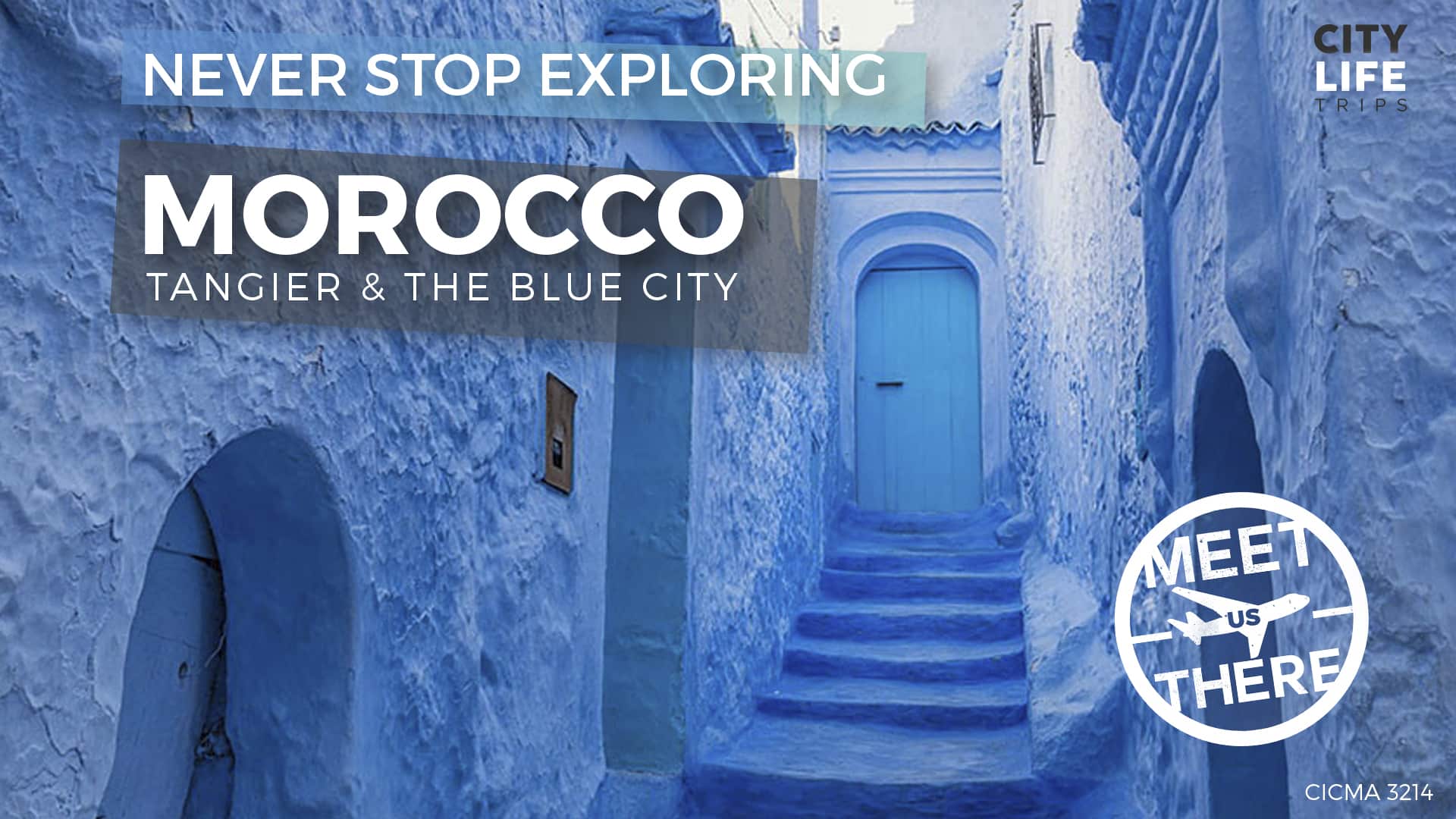 Share this event with friends!
Trip Details
Map Unavailable
Date: 14/02/2020
Duration: 3 Days & 2 Nights
Price: 149 €
Price with City Card: 139 €
Trip Description
Let Citylife take you on a trip through Morocco you will never forget!
This trip is a perfect introduction to Morocco. With camel riding along the Atlantic Ocean, guided tours, hotel accommodation, included breakfast and all the transportation taken care of. All you have to worry about is having a good time!
We'll start on Friday, once you've landed in Tangier. The airport pickup will bring you to our hotel where you'll connect with the group! Before we explore the city we will first head to the coast where we will enjoy a short camel ride along the beach (which will surely be the one of the trip's highlights). Then we will visit the legendary Hercules Caves. As a last stop before heading to the medina we will see the point where the Atlantic Ocean meets the Mediterranean Sea!
Later on in the day we will head towards the city, to explore more of Moroccan culture. Tangier is a perfect mix of old and new architecture, divided by an ancient wall. On our tour we will explore the medina (old town), a nest of medieval alleyways. Don't miss the rather theatrical visit to a traditional Moroccan pharmacy. At the end of the day, those interested can join for a traditional Moroccan dinner which offers live music, delicious typical food and great vibes!
Finally, on Saturday we will travel to another city in Morocco. One of the prettiest towns in the country, Chefchaouen. The city is beautifully perched beneath the raw peaks of the Rif mountains. It's known for its artsy vibe as well as its blue-washed streets. We will explore the town with a local guide, after-which the day is yours! In Chaouen, we will be staying at a charming Boutique Hotel, located right next to the old town.
How does it work?
Book your flight to and from Tangier, Morocco and send us your flight details and we'll arrange the airport pick up and drop off with our local partners. The trip starts on Friday morning around noon at the hotel and ends on Sunday after breakfast with the hotel check out and transfer back to Tangier. You should book your flights for Friday morning and Sunday afternoon*. If you want to arrive earlier or later and need hotel accommodation, please let us know.
*Airport Pick-up (included) can be arranged on Friday anytime, but we do recommend you to arrive before 14:00 not to miss anything
Airport Drop-off (included) can only be arranged for flights leaving on the evening (14:30 or later) as we are getting to Tangier on Sunday at noon. For any flights leaving before 14:30 on Sunday we can still help you arrange your own private transportation to the airport, just shoot us an email to trips@citylifemadrid.com.
Important Note:
Our itinerary could be subject to change at any given time due to reasons out of Citylife's control. Such as traffic, weather or sea navigation conditions.

Trip Price:
Standard Price – 149€

City Card Price – 139€
Trip Breakdown:
Trip starts in Tangier: Friday morning, (Anytime before 14:00)

Trip ends in Tangier: Sunday morning, (Anytime after 14:30)
Included in Price:
Airport Pick Up & Drop Off (as explained above)
3*** Hotel accommodation with Buffet Breakfast (3 people per room) in Tangier
Boutique Hotel accommodation with Buffet Breakfast in Chaouen "The Blue City"
Guided tour of Tangier
Guided tour of Chaouen
Free time in Chaouen for further exploring
Stop at Cape Spartel
Visit of the Hercules Cave
Short camel ride along Atlantic Ocean
Local Moroccan guide throughout the trip
Representative throughout the trip
Trip photographer
Travel insurance
All taxes included
Not included in Price:
Anything not mentioned in "trip includes"
Optional Moroccan dinner with music
Visa & passport:
Please make sure you have your passport with you and that it is valid for at least 6 months from the moment you enter Morocco!
You don't need a visa (your passport is sufficient) if you are from the European Union, Andorra, Argentina, Australia, Bahrain, Brazil, Canada, Chile, China, Congo, Cote d'Ivoire, Denmark, European Union, Finland, Guinea, Hungary, Iceland, Indonesia, Korea (Rep. of), Kuwait, Libya, Liechtenstein, Mali, Malta, Mexico, Monaco, New Zealand, Niger, Norway, Oman, Peru, Philippines, Puerto Rico, Qatar, Romania, Russia, Saudi Arabia, Senegal, Singapore, Sweden, Switzerland, Tunisia, Turkey, United Arab Emirates, United Kingdom, United States of America, or Venezuela.
If you are NOT from the European Union or one of the countries listed above, we are glad to assist you with the visa application process. Please send an email to trips@citylifemadrid.com for further assistance.
Booking Information:
You can either book now at the bottom of this page or in our office on Calle Gran Vía 22, 2nd floor. If you have any questions please get in touch with us at trips@citylifemadrid.com or +34 915 296 673
*Please be advised that in accordance with our terms and conditions the City Card membership cannot be used to obtain discounts for anyone but the card holder.
Book now