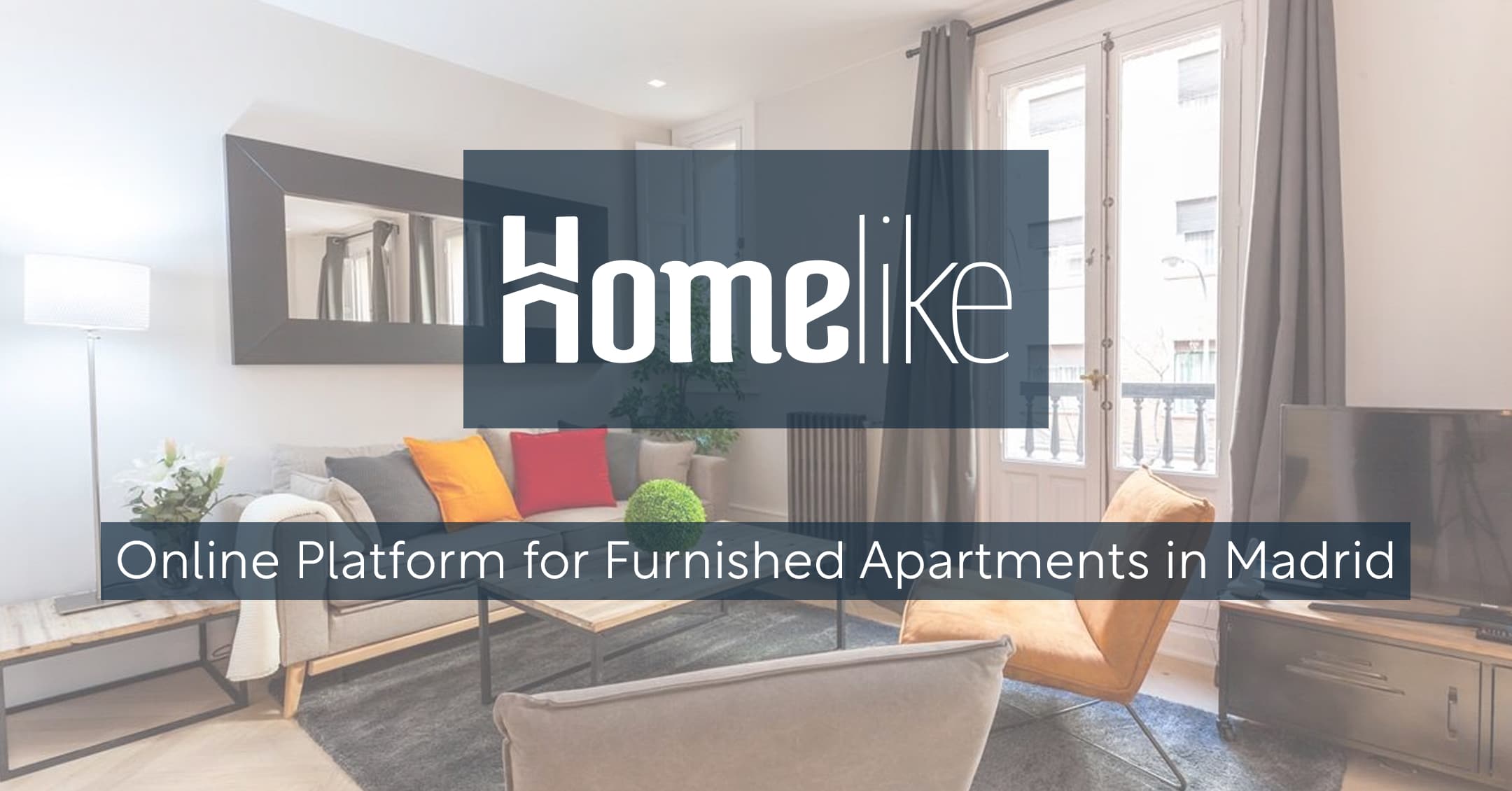 Homelike is an online booking platform for furnished apartments, with 85,000+ apartments in 450+ cities. It is a great option for people on the move who are in need of accommodation from one month onwards with flexible move in and move out dates. With all the utilities including internet costs already included in the rent, the company makes sure everyone can find suitable accommodation in a convenient way!
---
Who Should use the Homelike Platform in Madrid?
---
Are you moving to Madrid for work, study or other personal reasons? Are you frequently in Madrid on extended trips? Are you a pandemic-created digital nomad or remote worker looking to spend some time in Madrid? Are you a serial staycationer looking for your next destination? Do you hate the idea of moving to a new place and furnishing it from scratch? If your answer is yes to one or all of the above, beeline it to the Homelike website!
Many of us are using our new-found freedom of remote work to live in new places and experience a different way of life. Homelike provides everyone a dependable and easy way to find and book a home away from home by bringing tenants and landlords together under one roof.
The Homelike platform is ideal for:
Digital nomads interested in a location-independent lifestyle
Business travellers looking to stay in Madrid for over 30 days
Remote workers who want to work from Madrid
Expats moving to Madrid
People who just want to move into a fully-furnished property without the hassles typically associated with moving
---
In a nutshell, Homelike can be used by anyone and everyone who wants to be in a place for 30 days or more.
What type of Apartments Does Homelike Offer?
---
The Homelike marketplace offers a large selection of self-catering apartments, aparthotels, serviced apartments, co-living spaces, and studios to rent for thirty days or more. Homelike is the ideal choice for anyone looking for fully-furnished and clean homes with functional kitchens, WiFi, and utilities. The apartments are sourced from professional landlords and verified by a dedicated internal team. The company offers a wide range of rentals suitable for all tastes and budgets including pet-friendly, family-friendly, and luxury listings.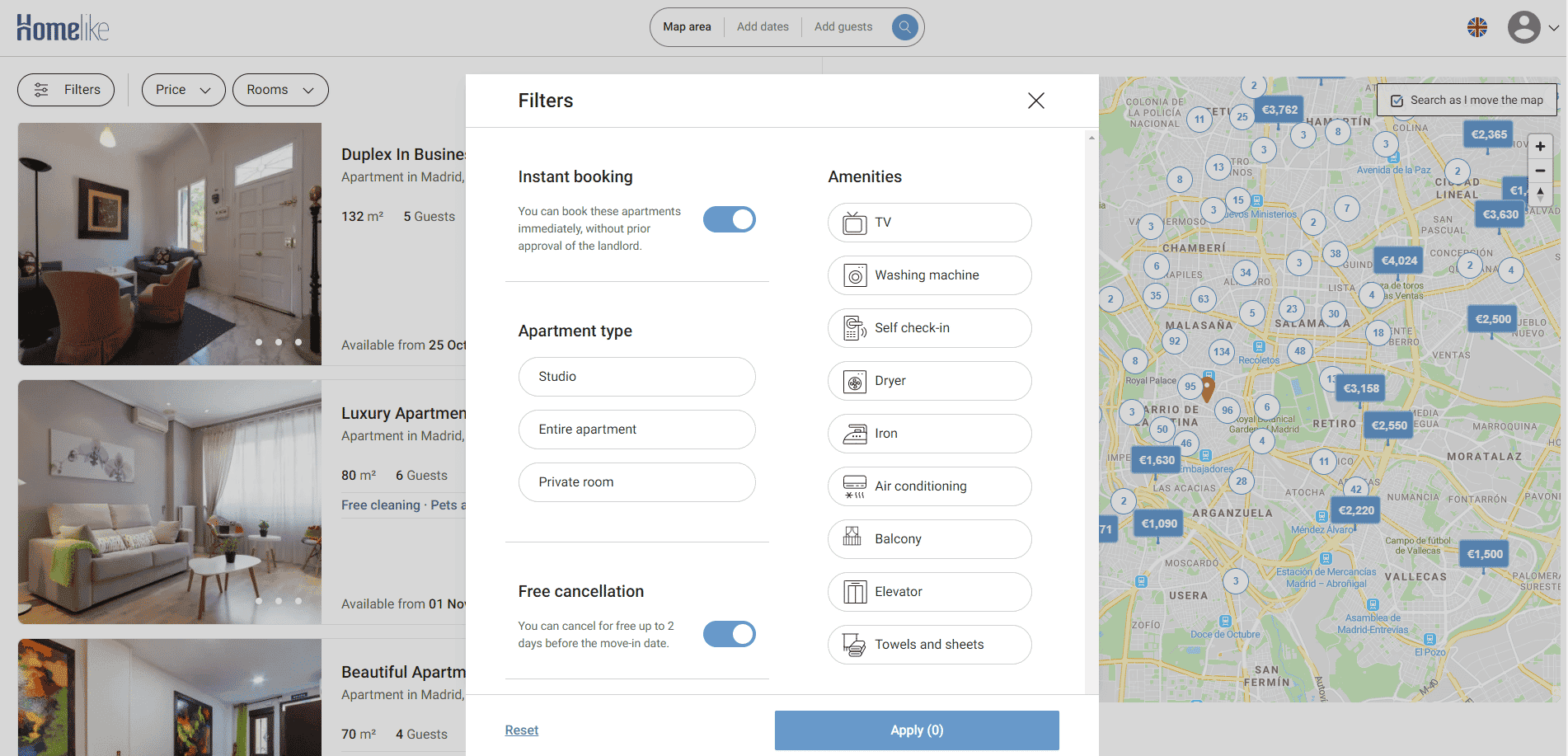 Instant booking filter: Tenants prefer not to wait for their booking to be accepted, while Landlords don't want to lose a booking to another supplier. That's why Instant Booking is a win-win for both parties. By using the instant book filter, tenants can easily find apartments that can be booked directly without waiting for the home owner's approval.
Free cancellation filter: Homelike's free cancellation filter allows users to find apartments that can be cancelled up to 2 days before move-in.
Deposit-free filter: It is often next to impossible to find apartments that don't require a security deposit. Homelike's No Deposit filter allows you to easily find apartments that don't have a deposit requirement.
Pets allowed filter: It's no secret that moving with your fur family can be an agonising experience. Many homeowners and rental property providers simply don't allow pets. Even when there is no blanket ban, pet-friendly apartments come with a hefty price tag and often an additional pet deposit. Homelike's Pets Allowed filter helps you navigate this labyrinth of difficulties to find homes that welcome your pets with open arms.
How can you make a free booking request on Homelike?
---
Ready to take the leap and book your new home (short term or long-term)? Good choice! The Homelike process is super simple. Don't let the number of bullet points below alarm you. We're just trying to break down the process into bite-sized chunks.
Use the search bar to select your city (Madrid in this case) and press search
On the results page, use the filters to choose things that matter to you such as price, number of bedrooms, move-in and move-out dates, furnishings, etc
If you have a pet, choose the "Pets Allowed" filter
If you don't want to shell out a security deposit, choose the "No Deposit" filter
If you want to have the ability to cancel free of charge after booking, choose the "Free Cancellation" filter
Use the map to zoom in to your preferred neighbourhood, if you have one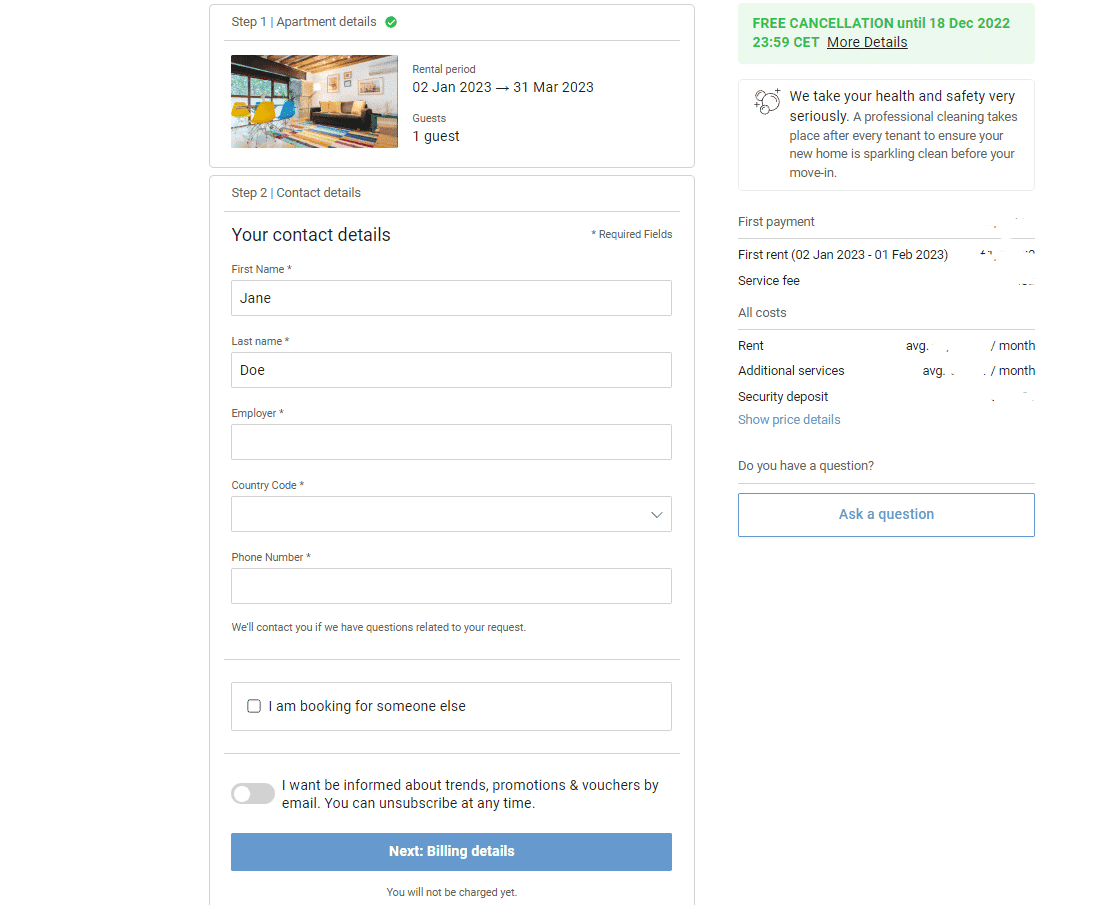 Select your apartment and number of guests
Click continue to request
A popup prompts you to register or sign in with your Google or Linkedin accounts
Enter your details and submit a request
The homeowner gets notified via email and approves the request.
You get notified of the approval by email and make the booking
You sign your digital rental agreement, followed by the homeowner
The homeowner sends you all the move-in/ check-in information
Pack your bags and moving boxes
Walk into your new home!
Is it Safe to Rent in Madrid Through Homelike During COVID-19?
---
To help meet the expectations of pandemic-era travellers, Homelike has launched an Enhanced Hygiene Initiative based on guidelines and recommendations from the world's leading health organisations. The company has been actively encouraging its homeowners to crank up their game by adopting its 6 enhanced cleaning protocols. Now, what does this mean for you?
Apartments that have opted into Homelike's Enhanced Safety Standards will display an associated badge to highlight this criterion and take a higher priority in how they appear in apartment search results. An example of Homelike's enhanced safety protocols is that homeowners are required to keep the apartment vacant for at least 24 hours after a tenant moves out other than for cleaning and sanitisation.
In Which Other Cities Can I Book my Monthly Stay?
---
Homelike can be used in many major European cities. Regardless of whether you're looking to savour the famous food scene of Madrid or enjoy a summer getaway in sunny Barcelona, or you prefer the vibrant city lifestyle of Berlin, London, Paris more, Homelike has you covered.
If you want to stay in Spain, explore and enjoy Valencia, Malaga, Seville or any other city or town of your choice.
---