For the Spanish version please click here.
Adolfo Suárez Madrid-Barajas Airport is the major international airport in Madrid. Unless you happen to be flying to Spain in a private jet, Barajas is most likely where you will land on your journey over. It's the sixth busiest airport in Europe, serving almost 50 million passengers a year. The airport opened in 1928, and has grown to be one of the most important aviation centres in Europe! It's also located quite close to the city centre, only around 17 kilometres. Once you've landed and collected all your bags, there are several ways to reach the centre – bus, metro, taxi and even limo services if you're feeling fancy.
Before you head to your new home though, remember that you can always head straight from the airport to the Citylife office to get some essential steps checked off your list of to do's.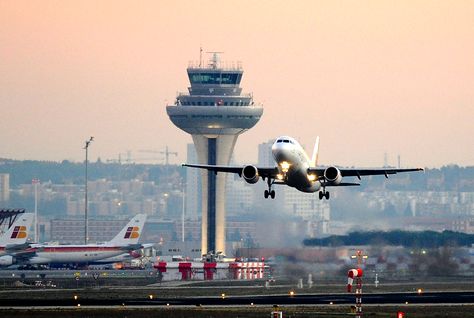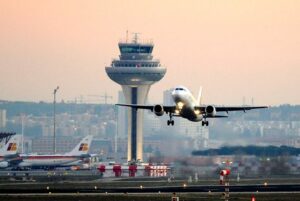 We will give you a free Madrid Starter Kit filled with all the basics to get acquainted with the city. We can also set you up with a new, free Spanish SIM card, a free Spanish Bank account or your monthly transport card and even help you with your housing search or review your contract before you sign it!
In addition to these free services we also offer free luggage storage, wifi and work stations that you can hangout at until you get yourself set up at your new home!
As our office is right in the centre, you can access it from any mode of transport offered from the airport! So, what are the different options for travelling to the centre from Barajas?
Airport Bus / Express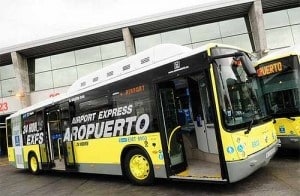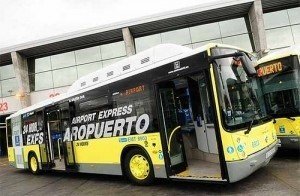 The airport express bus runs every 15 – 20 minutes to terminals 1, 2 and 4. From the airport, the bus will take you all the way to Madrid's Atocha Renfe station – or Plaza de Cibeles if you arrive between 23:00-6:00. Both of which are very central. From these locations you can walk, take the metro or take a connecting bus to anywhere you need to go. The airport express bus now offers those who ride the opportunity to pay with their credit cards or with their mobile phones, rather than paying with cash. This will make transport on the airport express bus quicker and easier. The EMT line 200 also makes stops at terminals 1, 2, 3 and 4. It takes you to the Avenida de América station, where you can also take connecting buses, metros or walk to your destination! You can get to our office easily from both of these locations traveling to stop Chueca on line 5, Sol on line 1, 2 (it's closed between Retiro – Sol), 3 (you can also get off on Callao stop). Tickets for these airport bus cost between €5 and €6 and you can pay directly on the bus as you board.
Taxi / Limousine Services – DISCOUNTS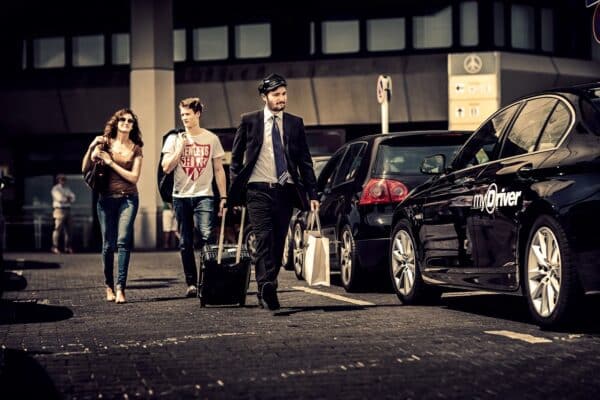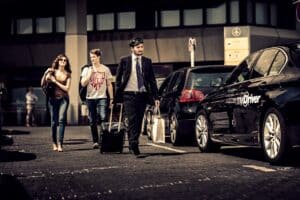 As with most airports, you will find a huge supply of taxis waiting for you outside the airport. By law, these taxis have to give passengers a flat rate of €30 to reach the city centre. So, just give them your address and off you go! Enjoy a 5€ discount on your first ride with FREE NOW! Check here for details!
If you prefer the security of booking a car pick up service we recommend Uber or myDriver! If you book a myDriver car with the discount code CITYLIFEMADRID, you will save €15! With Uber you will save 10€ on your first ride using the promotion code mvrsxng1ue. For more details on these great deals check out our myDriver and Uber blogs!
Metro / Subway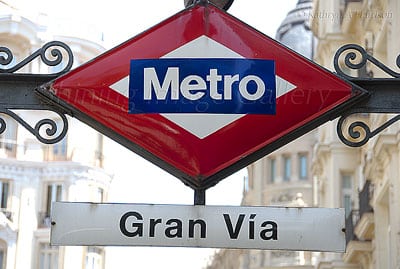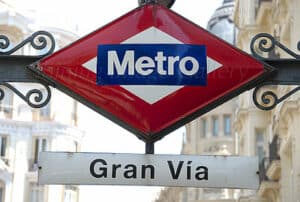 Madrid has one of the best underground systems in Europe. So, naturally you can use it to travel to and from the airport quite easily. With easy to understand signs to guide you in the right direction, the metro is one of the best and easiest options to get where you need to go. The trip takes about 40 – 50 minutes to the centre and you will have to make a few connections. Most stations are equipped with elevators and escalators to make travelling with large bags a little less stressful. Tickets from the airport are a little more expensive than the average one way ticket, at about €6 with the airport supplement. You can calculate your route here. Don't forget, if you'd like to come to our office we are located at Metro Gran Vía, but it's under construction, so the closest ones are: Sol, Callao and Chueca (Calle Gan Vía 22 Dpdo – 2nd floor).
From Terminal 4 you also have the option of taking the Cercanias train. Lines C-10 and C-1 go from Terminal 4 direct to Chamartin. The journey takes about 10 minutes to Chamartin. From there you can connect to the metro. You can find a PDF map of the cercanias trains here.
Hint: If you are still looking for a cheap place to stay during your first days in Madrid, click here to obtain discounts at many hostels, hotels & touristic appartments in Madrid!
Don't forget to reserve your free Madrid Starter Pack here, so that you can conveniently pick it up upon your arrival in the city. Once in our office you can take the opportunity to ask us all your questions and to get all the help you may need for free!
– Joa