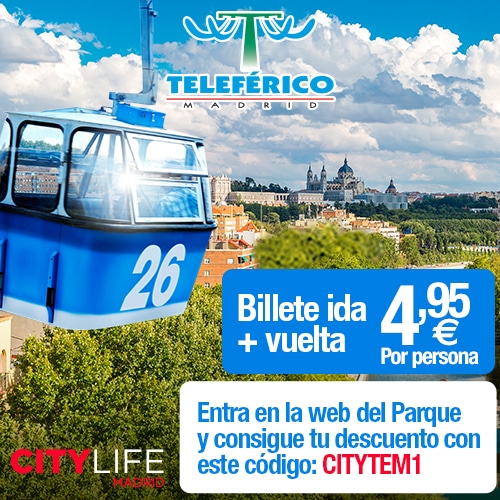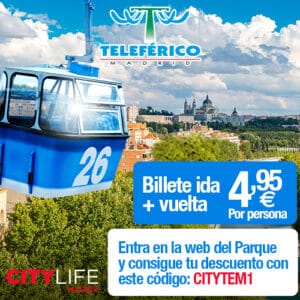 The Teleférico Madrid is a cable car system that gives you a birds eye view of Madrid. A trip on the Teleférico allows you a unique perspective of Madrid while flying over parks, streets, and monuments. Revel in the incredible views with voice-overs guiding you as you discover the emblematic monuments. To one side you can see the historical city and to the other, a more modern Madrid, including the skyscrapers and the Four Towers. The cars take you to a breathtaking viewpoint where you can grab a coffee or enjoy a nice lunch on the restaurants terrace!
Take a ride across Madrid's gorgeous Casa de Campo and see some of the most famous and beautiful monuments the city has to offer. An average ride on the cable cars lasts around 11 minutes each way and travels about 40 metres in the air stretched across 2.5 kilometres!
Save money with Citylife Madrid!
Citylife is all about giving you access to the best of Madrid for an affordable price, and thats why we've got this awesome discount offer for you! If you want to take a ride on the Teleférico for the lowered price of €4.95 you just have to follow a few steps:
First off, you can either buy your tickets online or at the ticket office:
Online: Simply visit the official website and head to ticket purchases. Discount code coming soon!
Ticket Office: Additionally you can buy your tickets on site at their ticket office.
How to get there
You can depart from whichever end of the Teleférico that you'd like the two stations are called: Rosales Station and Casa de Campo Station. The Rosales Station can be reached from Metro Argüelles and Bus lines 21, 74. The Casa De Campo Station can be reached from Metro Lago! But of course, we suggest starting from the Rosales and enjoying the peace ride through Casa de Campo so you can end the trip on the beautiful terrace bar. You can buy either 1 way tickets or round trip, whatever you'd like! So what are you waiting for!?
For a chance to win free tickets for the Teleférico, make sure to enter our weekly raffle!
Your friendly neighbourhood travel guide,
– Leah