Win amazing prizes each week!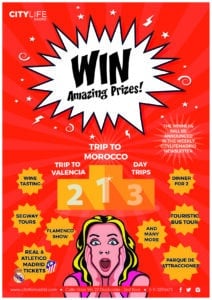 1st Prize: 1 trip ticket to Morocco – Tangier & The Blue City Chaouen (Oct. 26th – 29th 2017 (3 days & 2 nights))!
2nd Prize: 2 trip tickets to Valencia – Weekend Beach Break (Sept. 30th – 1st of Oct. 2017 (2 days & 1 night))!
3rd Prize: 5 trip tickets to one of our many Day Trips 2017 (Toledo, Segovia & Pedraza, Cuenca, Salamanca & Avila etc.)!
And many more! Check here for all prizes!
IMPORTANT: The lucky winners will be communicated on a weekly basis in our weekly newsletter! Prizes change each week! To participate, simply click here for more details!