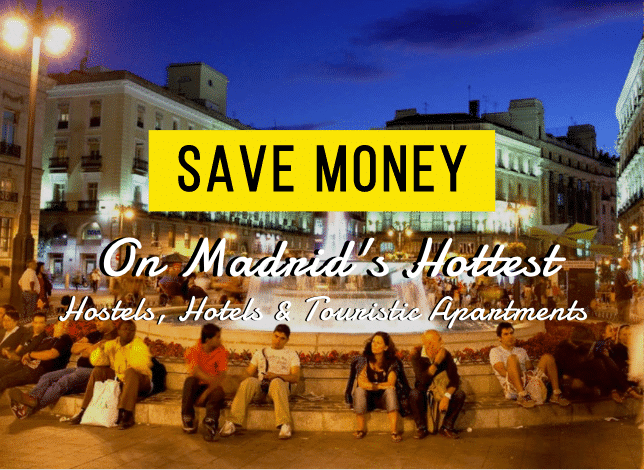 [Haz clic aquí para la versión en inglés]
¿Necesitas un lugar donde quedarte durante tus primeras noches en Madrid? ¿Tienes amigos que van a venir a verte? ¡Hemos conseguido increíbles descuentos para ti y tus amigos o familiares en los hostales, hoteles y apartamentos turísticos más populares de Madrid!
Reservar un hostal en Madrid es una excelente manera de descubrir la ciudad con un coste reducido. Increíblemente baratos y cada vez con mayor estilo, los hostales son la mejor forma de ahorrar dinero. ¡Hemos seleccionado los mejores hostales de Madrid en colaboración con Sungate Hostel y Hostelsclub!
En el caso de preferir quedarte en un hotel o apartamento turístico, también podrás disfrutar de descuentos en una de las mejores cadenas hoteleras de Madrid en alojamientos 4*: Exe Hotels Madrid & Eurostars Hotels Madrid, así como en los apartamentos turísticos: Suites You & PyR Select!
DESCUENTOS EN HOSTALES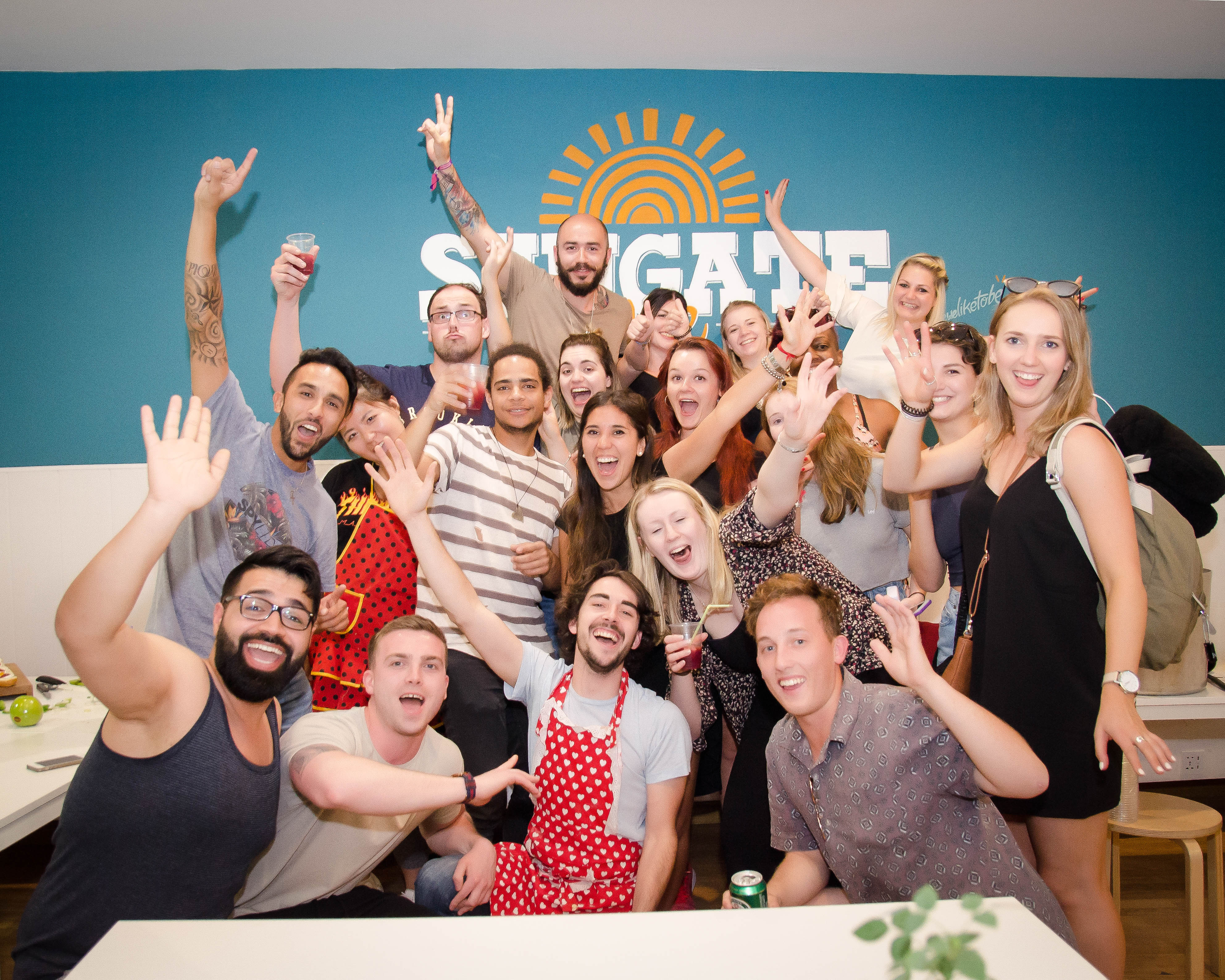 El Hostal Sungate es según muchas plataformas como "Tripadvisor" o "Hostelworld" uno de los mejores hostales de la ciudad de Madrid. Abajo y en su página web podrás encontrar más información acerca de este hostal. Es nuestra mejor recomendación en caso de que te interese en alojarte en un hostal en Madrid.
Hace varios años, nosotros, los que formamos parte del equipo de Sungate, vinimos a Madrid como viajeros y estudiantes, y decidimos quedarnos al enamorarnos de esta gran ciudad.
Nuestra misión en Sungate, es aportarte cualquier tipo de consejo o recomendación que pueda servirte de ayuda durante tu estancia aquí y para que puedas disfrutar de esta maravillosa ciudad al máximo.
Nuestro hostal está ubicado en el centro de la ciudad, entre las paradas de metro más céntricas, Sol y Callao. El traslado desde el aeropuerto y a la principal estación de tren (Atocha) es sencillo por medio de transporte público.
Las habitaciones mixtas y las habitaciones de mujeres son espaciosas, con mucha luminosidad y especialmente diseñadas para "mochileros" y viajeros, equipadas con taquillas y aire acondicionado. Otra de las mejores cosas de las habitaciones es que las camas son individuales, NO tenemos literas. También os ofrecemos una amplia zona común en la que te podrás relajar y conocer a más viajeros como tú y a nuestro equipo de jóvenes y muy simpáticos empleados. Además,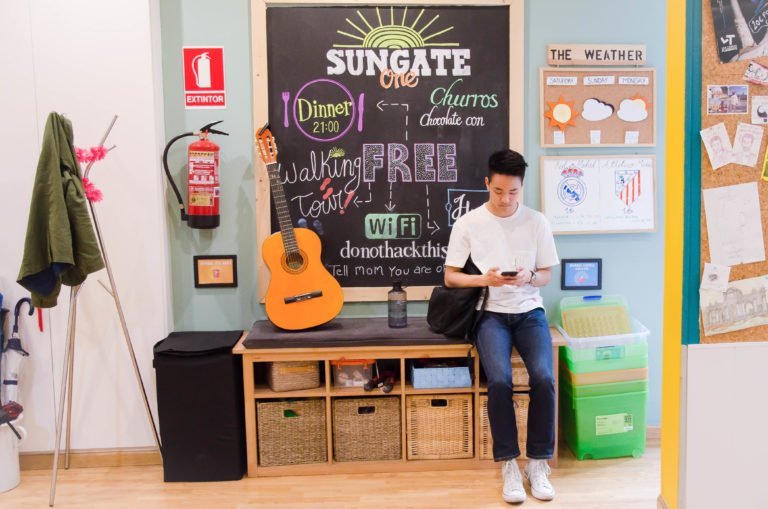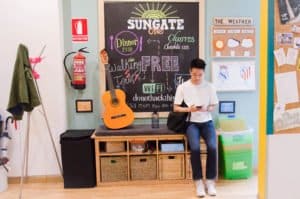 disponemos una cocina completamente equipada para nuestros clientes.
Por último, os podemos ofrecer: Mapas gratuitos, té y café, secadores de pelo, plancha y servicio de lavandería (7€) y toallas de baño (2€).
¡Haz clic aquí para saber más!
Generator Madrid – Ahorra 15% con el código de promoción CITYLIFE10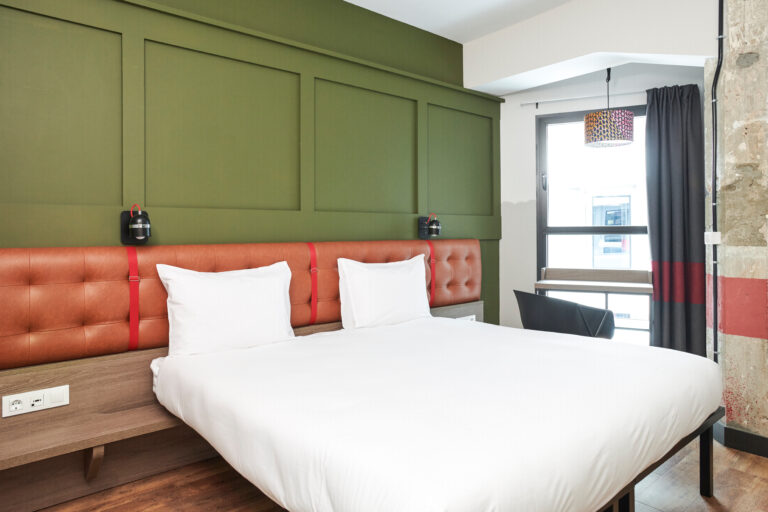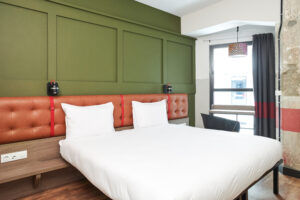 Hay una razón por la que Generator es el lugar ideal para alojarse cuando se visita una nueva ciudad: la experiencia es inmejorable. Combinando un hotel boutique con el ambiente del albergue, Generator garantiza camas cómodas, deliciosa comida, brillantes espacios sociales y recuerdos inolvidables.
Hay 14 destinos de Generator en Europa y Estados Unidos, y cada uno de ellos tiene un diseño único y un enfoque centrado en el cliente, dependiendo de la ciudad en la que se encuentre.
Generator Madrid está situado en el corazón de la ciudad, justo al lado de Gran Via, en la esquina de las calles de Silva y San Bernardo. Salga de la puerta y podrá elegir entre centros culturales, lugares de interés artístico, bares y los mejores restaurantes de la ciudad.
Originalmente construida en 1930, la antigua gasolinera es ahora un edificio de 5 pisos diseñado con el toque de Generador, pero rociado con un toque local. Descansa en nuestra terraza en la azotea con un cóctel para disfrutar de la mejor vista del atardecer de la ciudad, o relájese y haga nuevos amigos en nuestro café.
Ya sea que estés de gira y planeando hacer algunos amigos, o que estés en la ciudad para un fin de semana de fiesta, tenemos todo lo que necesitas para hacer de tu viaje uno inolvidable. Haz click aqui y descubre mas sobre nosotros!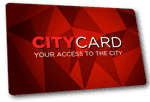 Con tu tarjeta personal City Card, recibirás 15% de descuento en Generator Hostel Madrid!

Además, Hostelclubs.com te ofrece grandes descuentos en los siguientes hostales en el corazón de Madrid:
Mad Hostel es un hostal de diseño y reconocido, situado en una "corrala" (típico edificio antiguo de Madrid). Con habitaciones privadas que están conectadas entre sí a través de balcones interiores, los huéspedes recibirán una autentica bienvenida española mirando al patio central. Maravillosamente situado, el hostal está a solo 10 minutos a pie de los museos de la ciudad. Es cómodo tanto para estancias cortas como para aquellas que extienden su viaje. Mad Hostel es un lugar maravilloso para pasar tiempo en la capital española.
TOC Hostel Madrid forma parte de una cadena de hostales de diseño y está a solo 120 metros de la Puerta del Sol. Súper elegante y con mucho estilo, el hostal es un estupendo lugar para conocer gente nueva. Haciendo especial hincapié en el arte y el diseño, es sin duda alguna uno de los hostales más bonitos de Madrid. Situado en el centro es perfecto para todos aquellos que quieren visitar todos los grandes museos de la ciudad y restaurantes internacionales.
Mad4you Hostel está situado en el centro del moderno barrio de Malasaña de Madrid. Recientemente renovado y excepcionalmente cool, el hostal ofrece todas las comodidades del siglo XXI, manteniendo el encanto tradicional de una casa del siglo XV. Este hostal es perfecto si quieres pasar un buen rato entre bares transgresores y cafeterías de jazz durante tu estancia en Madrid .
Cat's hostel es posiblemente el mejor hostal de fiesta en Madrid .
Ofrece habitaciones limpias y sencillas para todos los huéspedes, el hostal
se encuentra en un palacio del siglo XVII en el centro de Madrid . Al lado de excelentes bares de tapas y de todos los monumentos principales de la ciudad, no hay mejor lugar para saborear la auténtica vida de "gato" (se dice de los Madrileños más puros) de la ciudad.
Super cool y obsesionados con el diseño; The Hat Madrid está situado en la Plaza Mayor, a pocos minutos de la Puerta del Sol, Gran Vía y La Latina. Perfecto para salir por la noche ofrece habitaciones privadas de lujo y habitaciones para compartir, The Hat es un hostal milenario que está a la última.
HOTELES & APARTMENTOS TURÍSTICOS CON DESCUENTO
Para aquellos que prefieren alojarse en hoteles o apartamentos turísticos, también hemos conseguido grandes descuentos con algunas de las mejores cadenas hoteleras en Madrid: Hoteles Madrid Exe, Hoteles Eurostars Madrid, PyR Select & Suites You Apartments. Para obtener el descuento, simplemente sigue las siguientes instrucciones:
Accede a la página web del hotel, haciendo clic en el enlace de arriba.
Selecciona España, Madrid, Eurostars Plaza Mayor y las fechas de tu estancia
Insertar el código de promoción "CITYLIFE 2015"
Dirección: Calle Doctor Cortezo, 10, 28012 Madrid
Acceder a la página web del hotel, haciendo clic en el link de arriba.

Seleccionar las fechas de su estancia e insertar el código de promoción "CITYLIFE 2015"
Dirección: Calle de Mejía Lequerica, 10, 28004 Madrid
PyR Select – Disfruta de tu estancia en Madrid!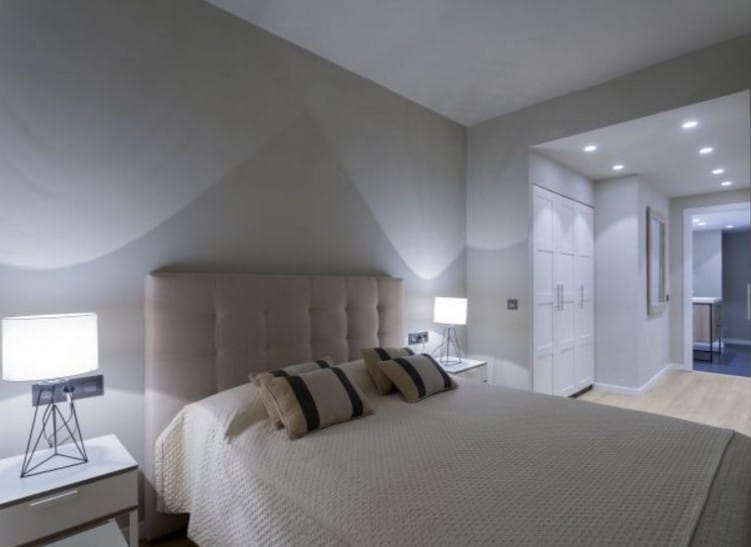 PYR SELECT quiere hacer tu experiencia durante tu estancia única para que te sientas en casa en Madrid. Disfruta de los mismos servicios que en un hotel en uno de sus apartamentos turísticos!
Suites You – Aprovecha el descuento del 5%!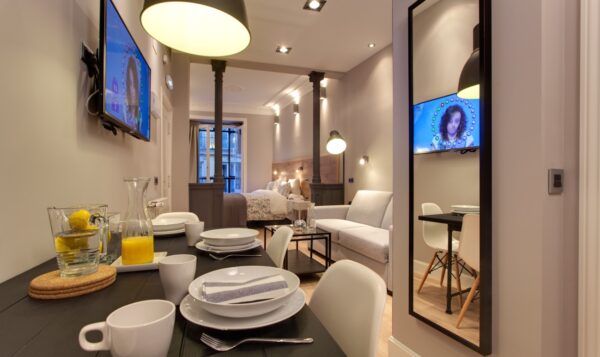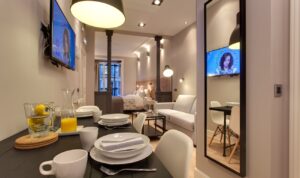 Suites you está situado justo en el centro de Madrid. Con su diseño elegante y escandinavo es una opción perfecta para una estancia confortable. Mantiene unos altos niveles de limpieza e independencia. Disfruta de una experiencia agradable con todas las comodidades como aire acondicionado, TV y conexión WIFI. Alójate en el corazón de Madrid, a un precio muy competitivo y disfruta de toda la belleza que esta ciudad puede ofrecer.
Consigue el 5% de descuento, comprueba la disponibilidad en www.suitesyou.com e introduce el código "CL2019" en el cuadro de descuento.
¡Reserva tu Madrid Starter Pack de manera gratuita y recógelo a tu llegada!
No olvides reservar tu Madrid Starter Pack de manera totalmente gratuita aquí. De este modo podrás recogerlo cuando hayas llegado a la ciudad. Una vez te encuentres en nuestra oficina, ¡tendrás la oportunidad de hacernos tus preguntas y obtener toda la ayuda que puedas necesitar gratis! Lee más aquí.
¡Disfruta de tu estancia!