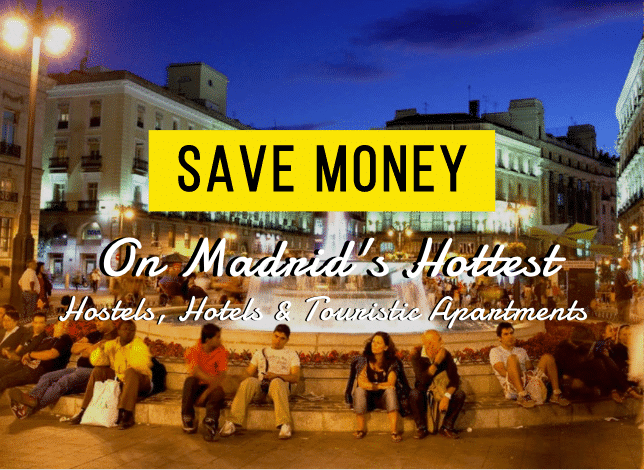 Need a place to stay during the first nights after arriving in Madrid? You have friends and family coming over to visit? We established great discounts for you and your friends & family with the most popular hostels & hotels as well as touristic apartments in Madrid!
Booking a hostel in Madrid is an excellent way to explore the city on a budget. Exceptionally cheap and increasingly stylish, hostels are a brilliant way to save money. We selected the most popular hostels in Madrid in collaboration with Sungate Hostel and Hostelsclub! In case you prefer staying at a hotel or a touristic apartment, you will also be able to enjoy discounts at some of Madrid's nicest 4 star hotel chains: Exe Hotels Madrid & Eurostars Hotels Madrid as well as at the touristic apartments: Suites You & PyR Select!
HOSTEL RECOMMENDATIONS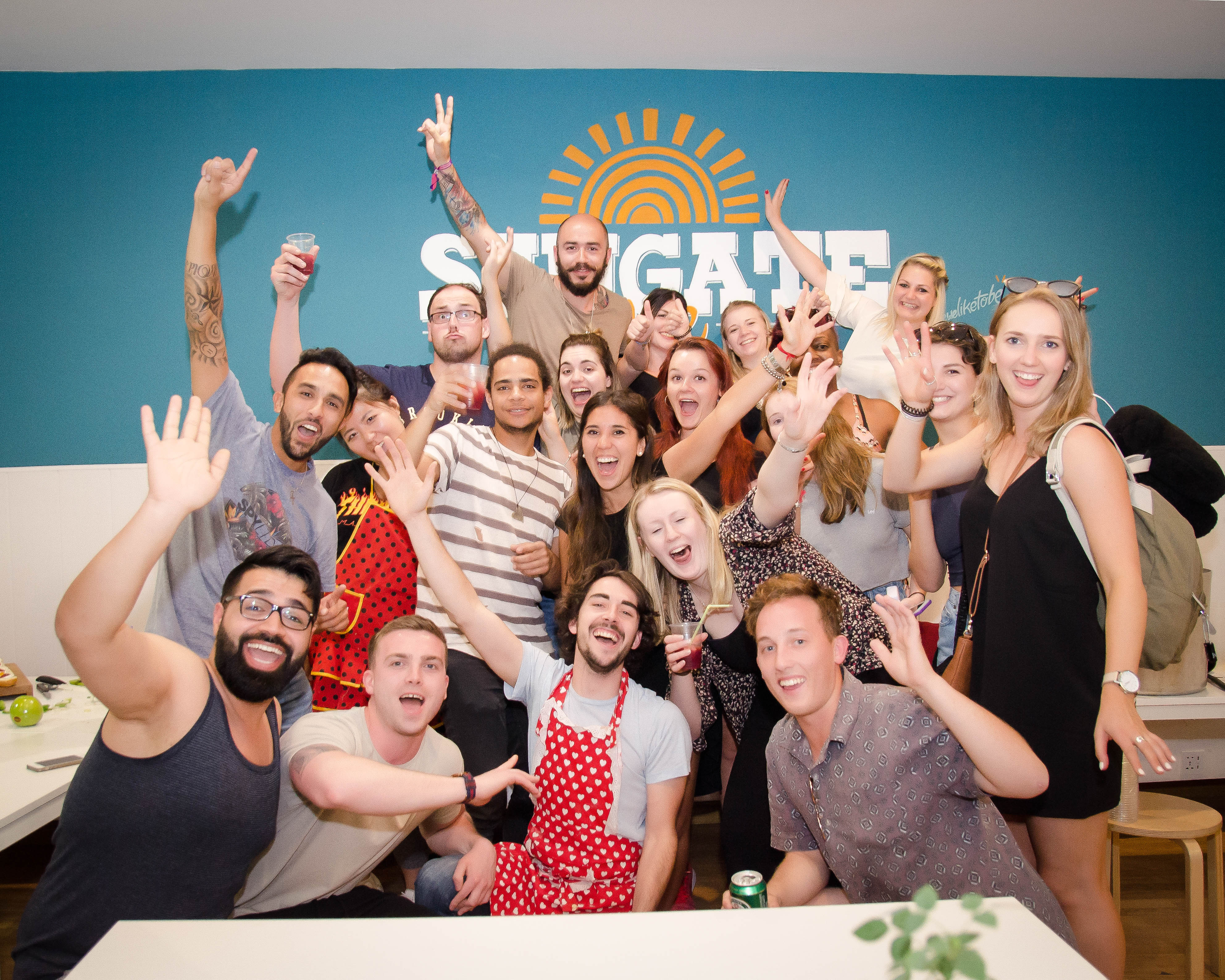 The Sungate Hostel in Madrid is, according to known platforms like Tripadvisor & Hostelworld, one of the best hostels all over the city. Below and on their web is more information provided by the hostel. They are our top recommendation in case you need a hostel in Madrid!
Many years ago, we, the staff of Sungate Hostel, arrived to Madrid as travelers and students, and we fell in love with the city and decided to stay.
Our mission at Sungate is to provide you with all kinds of advice, hints & tips at the beginning and throughout your stay, so you can enjoy this wonderful city to the fullest! Our hostel is located right in the city center, between two main metro stations: Sol and Callao. It is easily reachable from the airport and the main train station (Atocha).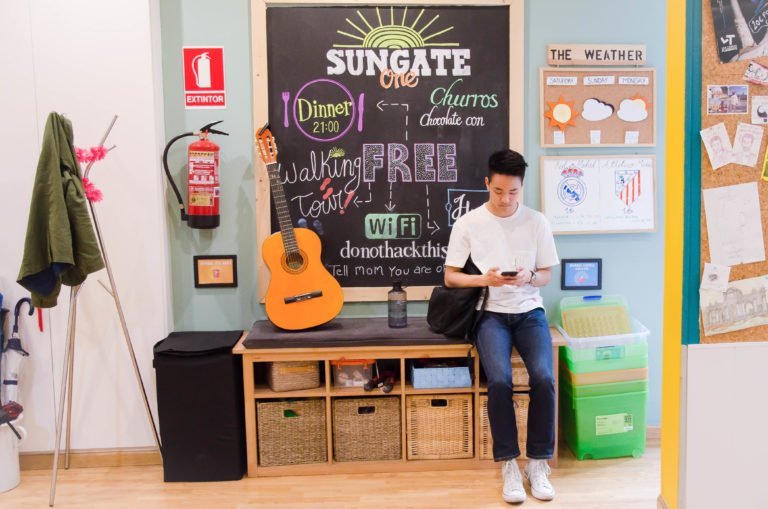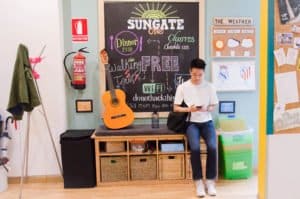 Our mixed and female dorms are spacious, bright and specially designed for backpackers. All of them are equipped with air conditioning and lockers. What's also great about our hostels' rooms is that there are NO bunk beds! In our spacious common area you can chill or socialize with fellow travellers as well as our young, friendly staff. Our fully equipped kitchen is also at your disposal.
Last but not least, we also offer: Free maps, complimentary coffee & tea, hair dryers, iron, laundry service (7€) and towels to rent (2€). Click here and find out more about us!
Generator Madrid – A great option right in the centre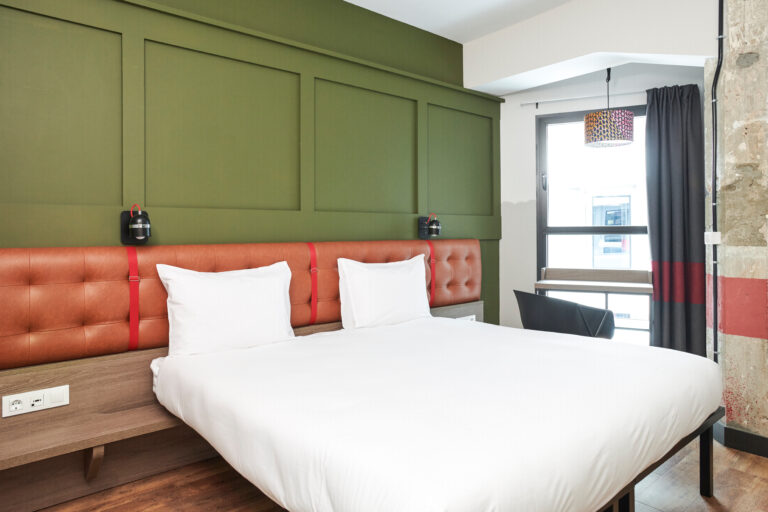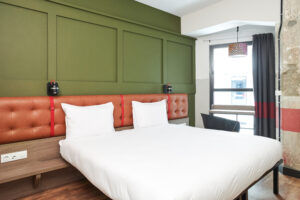 There's a reason Generator is the go-to place to stay when visiting a new city: the experience just can't be bettered. Combining a boutique hotel with a hostel vibe, Generator guarantees comfortable beds, delicious food, brilliant social spaces and unforgettable memories.
There are 14 Generator destinations across Europe and the US, and each one has a unique design and guest-focused approach, depending on the city it's in.
Generator Madrid is located in the heart of the city, right off the bustling Grand Via, at the corner of Calle de Silva and Calle de San Bernardo. Step out of our front door and you'll be spoilt for choice with cultural hubs, artistic hotspots, top bars and the best restaurants in town.
Originally built in 1930, the former gas station is now a 5-storey building designed with the Generator touch, but sprinkled with local flair. Kick back on our rooftop terrace with a cocktail for the best sunset view in town, or chill-out and make new friends in our café.
Whether you're touring along and are planning to make some friends, or you're in town for a weekend of partying with your crew, Generator has everything you need to make your trip an unforgettable one.
In addition, Hostelclubs.com offers you great discounts in the following hostels in the heart of Madrid:
Mad Hostel is a popular designer hostel situated in a 'corrala,' which is a typical old building in Madrid. With its adjoining private rooms accessible by interior balconies. Guests will receive an authentic Spanish welcome overseeing the central courtyard. Wonderfully located, the hostel is only a ten-minute walk from the city's legendary art museums. Affordable for short and long-term stays, Mad Hostel is a great place to hang out in the Spanish capital.
TOC Hostel Madrid is part of a chain of stylish hostels and is only 120m from Puerta del Sol. Super trendy with its own style, the hostel is a great place to meet new people. Paying close attention to art and interior design it is without a doubt one of the nicest hostels in Madrid. Situated in the centre it is perfect for all those that want to visit all of Madrid's great museums and international restaurants.
Mad4you Hostel is situated in the centre of Madrid's hipster Malasaña neighbourhood. Newly renovated and exceptionally cool, the hostel offers modern comforts while maintaining the traditional charm of a 15th century household. This hostel is perfect if you want to hang out in edgy bars and jazz cafes while staying in Madrid.
Cat's Hostel is arguably the best party hostel in Madrid. Offering clean, simple rooms to all guests, the hostel resides in a 17th century palace in Madrid's city centre. With excellent tapas bars nearby and all of the city's main attractions accessible on foot, there is nowhere better to embrace the city's legendary 'cat' lifestyle.
Super cool and designer obsessed; The Hat Madrid is situated in Plaza Mayor and only a few minutes from Puerta del Sol, Gran Via and La Latina. Perfect for nights out and offering luxurious private and shared rooms, the Hat Madrid is the ultimate millennial hostel.
HOTEL & TOURISTIC APARTMENT DISCOUNTS
For those of you who prefer to stay at hotels or touristic apartments, we also established great discounts with some of the best hotel chains in Madrid: Exe Hotels Madrid & Eurostars Hotels Madrid as well as PyR Select & Suites You apartments! 
Access the webpage of the hotel by clicking on the title above
Select Spain, Madrid, Eurostars Plaza Mayor and the dates of your stay
Address: Calle Doctor Cortezo, 10, 28012 Madrid
Access the webpage of the hotel by clicking on the title above
Address: Calle de Mejía Lequerica, 10, 28004 Madrid
PyR Select & Suites You– Popular touristic apartments in Madrid
PyR Select – Enjoy your time in Madrid!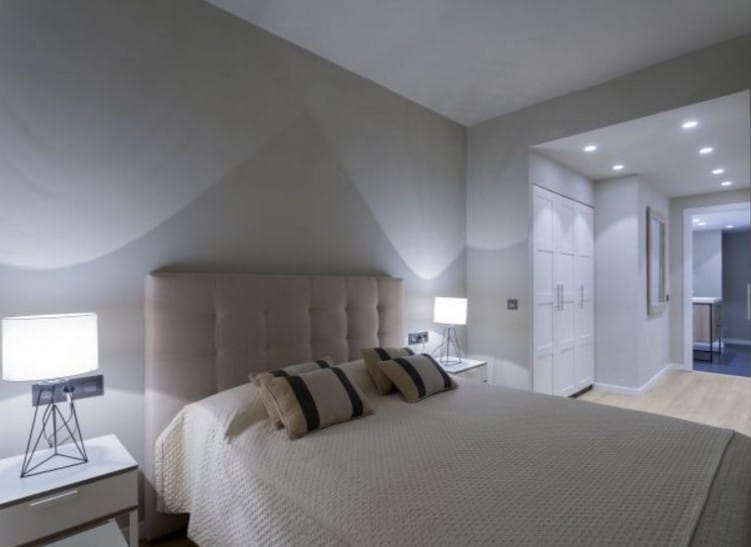 PYR SELECT strives to make your travel experience as easy and simple as possible so you feel at home away from home. Enjoy the same services that you find in a hotel in their touristic apartments!
Suites You – Take advantage of our 12% discount!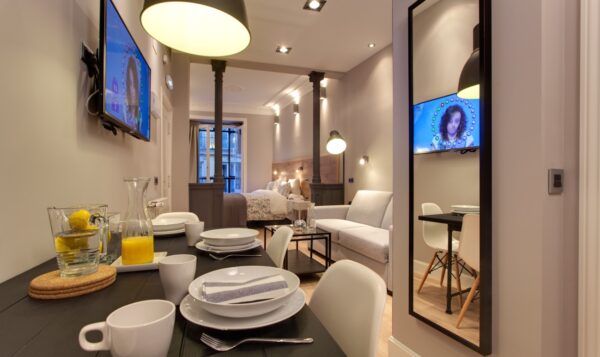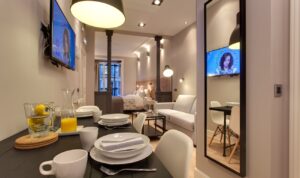 SUITES YOU apartments are located right in the centre of Madrid. With its elegant and Scandinavian design, it is a perfect option for a comfortable stay. Maintain your high standards of cleanliness and independence, take advantage of this pleasant experience with all the facilities like AC, TV and free WI-FI. Stay in the heart of Madrid at a very competitive price and enjoy all the beauty this city can offer.
Get your 12% discount checking our apartments availability at www.suitesyou.com and introducing the code CITYLIFE in the discount box.