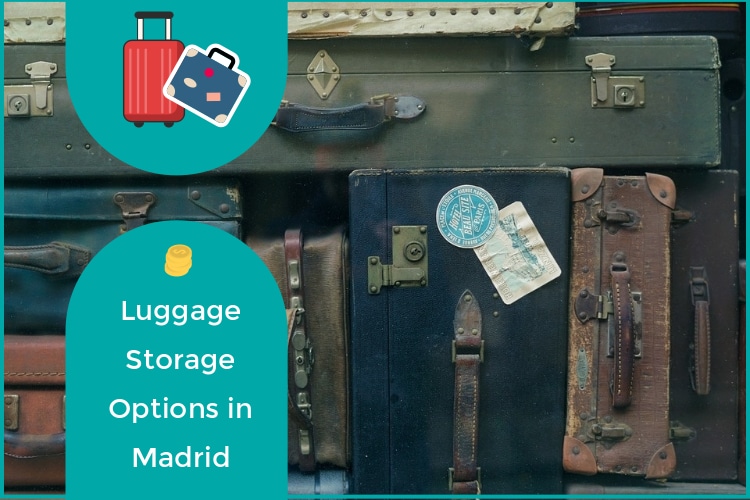 We've all been there. Those moments when, you have no where to put your luggage and have several hours to kill. We usually tell you about so many great things to do here in Madrid, but none of them are much fun if you're dragging your suitcase behind you. Luckily Madrid has some easy options for luggage storage while you're busy out having fun.
At the Citylife Madrid office on Gran Vía we offer a short-term luggage storage service and package reception service! But for those who are looking to store their items for more than a few hours, there are three great luggage storage options in Madrid:
LuggageHero
---
You can easily drop off your bags using LuggageHero's network of more than 50 local shops located around crucial traffic hubs, tourist destinations and popular districts. Those include Atocha Train Station, Chamartin Railway Station, Plaza Mayor, Prado Museum and Centro Madrid.
Let's say you arrive in Madrid hours before your rental is ready and you want to check out the sights. Maybe you want to visit Plaza Mayor, the Museo Nacional del Prado or simply stroll down the Rastro market.
Just go to the LuggageHero reservation platform to find a handy storage site inside a shop or other business – all verified by LuggageHero. Using their map, you can locate the shops that are most convenient for you. Each bag receives a safety seal, and the bag and contents are insured for €2,500. Charges start at €1 per hour with a maximum of €10 per day per piece of luggage first day, plus a one-time handling fee of €2 per bag. And, if your plans change, there's no cancellation fee. You can find LuggageHero networks in major cities across Europe and North America.
Lock & Be Free!
---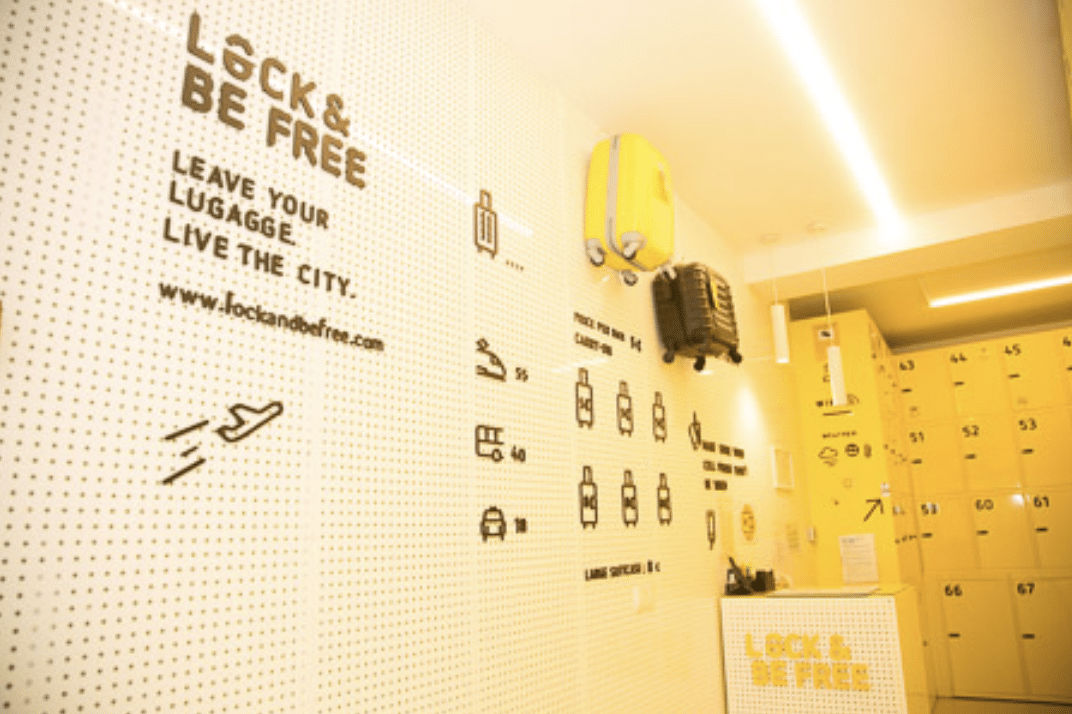 So how does Lock and Be Free work? Quite easily actually! All you have to do is reserve your locker online. Once you arrive to Madrid you drop off your items, lock them up and then off you go! The shop also offers free services like charging stations for your electronics, wifi, a printer for boarding passes and other tickets, and maps of the city. The rates are determined by size of the luggage and are charged by the day – large bags are 8€/day and small bags are 5€/day. They have 3 locations in the city and can be contacted via telephone and email!
Bounce
---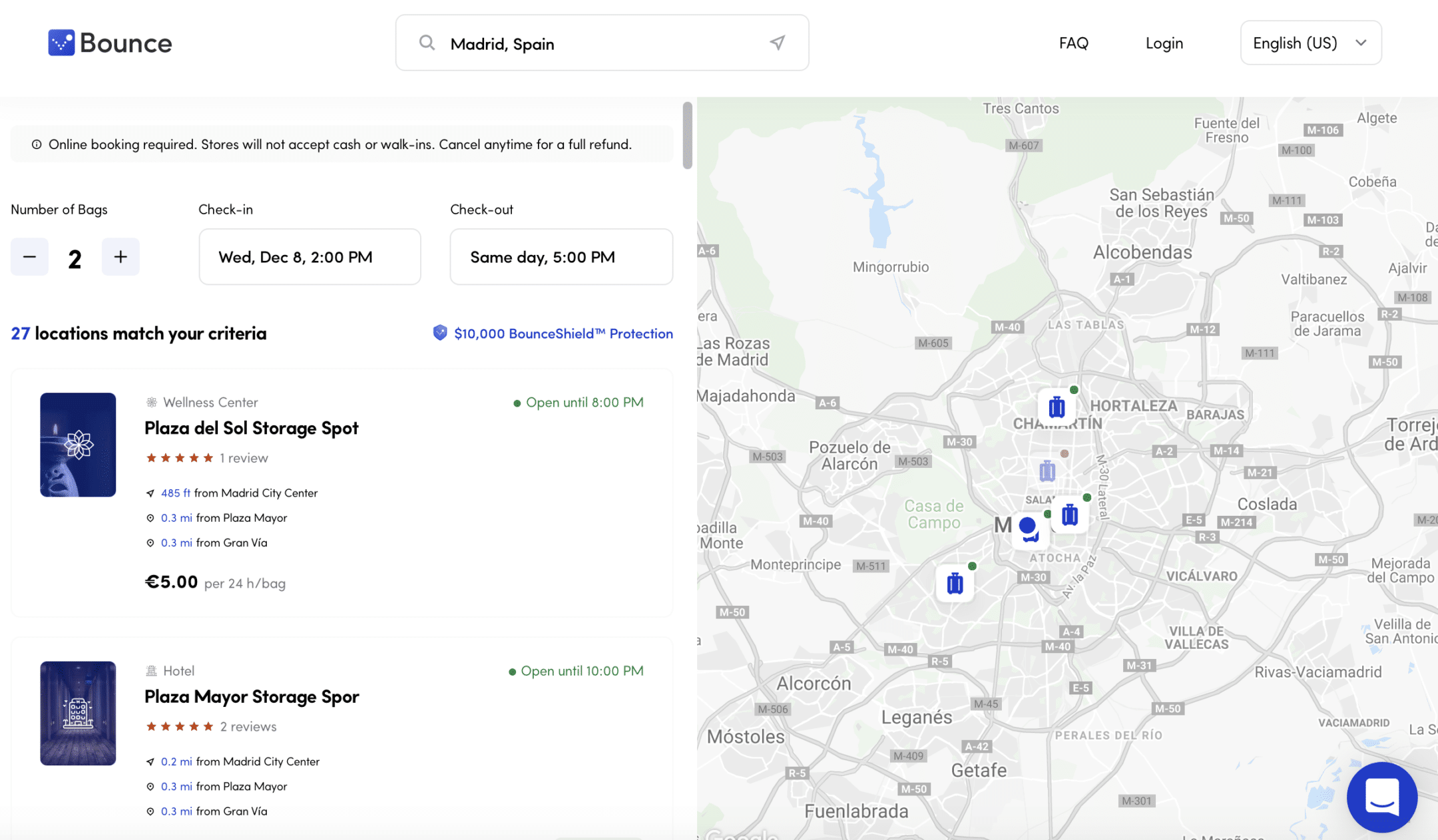 Bounce offers convenient luggage storage across Madrid, with more than 25 locations available nearby popular tourist attractions and transport hubs, available for just €5/bag per 24 hours.
Perhaps you've arrived in Madrid early and have a few hours to spare before you can check into your accommodation. There's no need to drag your bags around with you until you can leave them in your room – Bounce has luggage storage locations around the city near key locations such as the Plaza Mayor, Gran Via, and Atocha Station. Bounce partners with local businesses, many of them open until late or 24 hours, so that you can be sure to find luggage storage in Madrid that suits you, no matter what time or day!
Booking luggage storage with Bounce is quick and easy – all you need to do is visit the Bounce website or download the app, book the best location for you, and show the store partner your reservation when you arrive. Then you'll be free to explore the city in the knowledge that your bags are in safe hands.
---