Madrid is an amazing city with lots to offer. From the rich culture scene, and delicious local food, to the gorgeous architecture and vibrant nightlife, there are many reasons to choose Spain's capital as your new home! If you're coming to Madrid to study, work or just live life, there are various important topics you should be aware of.
The more prepared you are, the smoother the experience will be!
We at Citylife specialize in assisting young internationals prepare for their move to Madrid. To help you organize your move, we've put together a collection of Welcome Guide eBooks, that are filled with essential information and helpful insider tips. By filling out the form at the bottom of this page, you will not only download the Citylife Welcome Guides, but you'll also be reserving your free Madrid Starter Pack, which is filled with all kinds of goodies.
On top of all this, you'll be automatically subscribed to our weekly Citylife Newsletter – which will keep you up to date on everything happening in the Citylife Community. It's a three in one deal!
Madrid Welcome Guides – eBook Collection
---
The Welcome Guides consist of several downloadable eBooks which we have created to help you prepare for and get the most out of your time in Madrid! They will be your consultant, your must have companion and your friend during your stay. These guides will answer all of your questions so that you arrive in Madrid well prepared and are able to experience this amazing city to the fullest! The guides are:
1. Moving to Madrid – The Ultimate Guide
Everything you need to know about moving to Madrid, all in one eBook. In addition to helping you move to Madrid, this guide provides advice so you can stay safe and healthy during your time abroad. In this guide, we highlight information like recommended health insurance providers, alternative ways to process your Spanish visas, how to find a flat or room and much more.
It will also include a "Moving to Madrid Checklist" to help you organize your entire preparation process!
2. Housing in Madrid – Everything you Need to Know
Our Housing Guide includes a detailed look at the city's top neighbourhoods for students and expats so you can choose the right area for you. An explanation of rental laws here in Spain so you can understand your contractual obligations as a tenant. Insider advice for recognizing and avoiding scams. An outline of reliable and trustworthy housing agencies and online platforms so you can start you search on the right foot. And of course, discount codes to save you money during the entire process!
3. Live & Enjoy Madrid – Online Magazine
Madrid is one of the most vibrant cities in Europe, and our personal favourite! It's got culture, arts, amazing food, lively streets and amazing history. There are many ways that you can live and enjoy this city and our guide will get you started.
4. The Citylife Madrid Newsletter – Never Miss Out
Keep up to date with our community newsletter! Every week we cover interesting topics to help you immerse yourself with the locals. From topical information about events, festivals and other timely things taking place in the city, to our top recommended locations to eat, drink and have fun in the city! We will also ensure our subscribers keep up to date with everything Citylife has to offer – announcing the latest trips, events and activities that we will be hosting.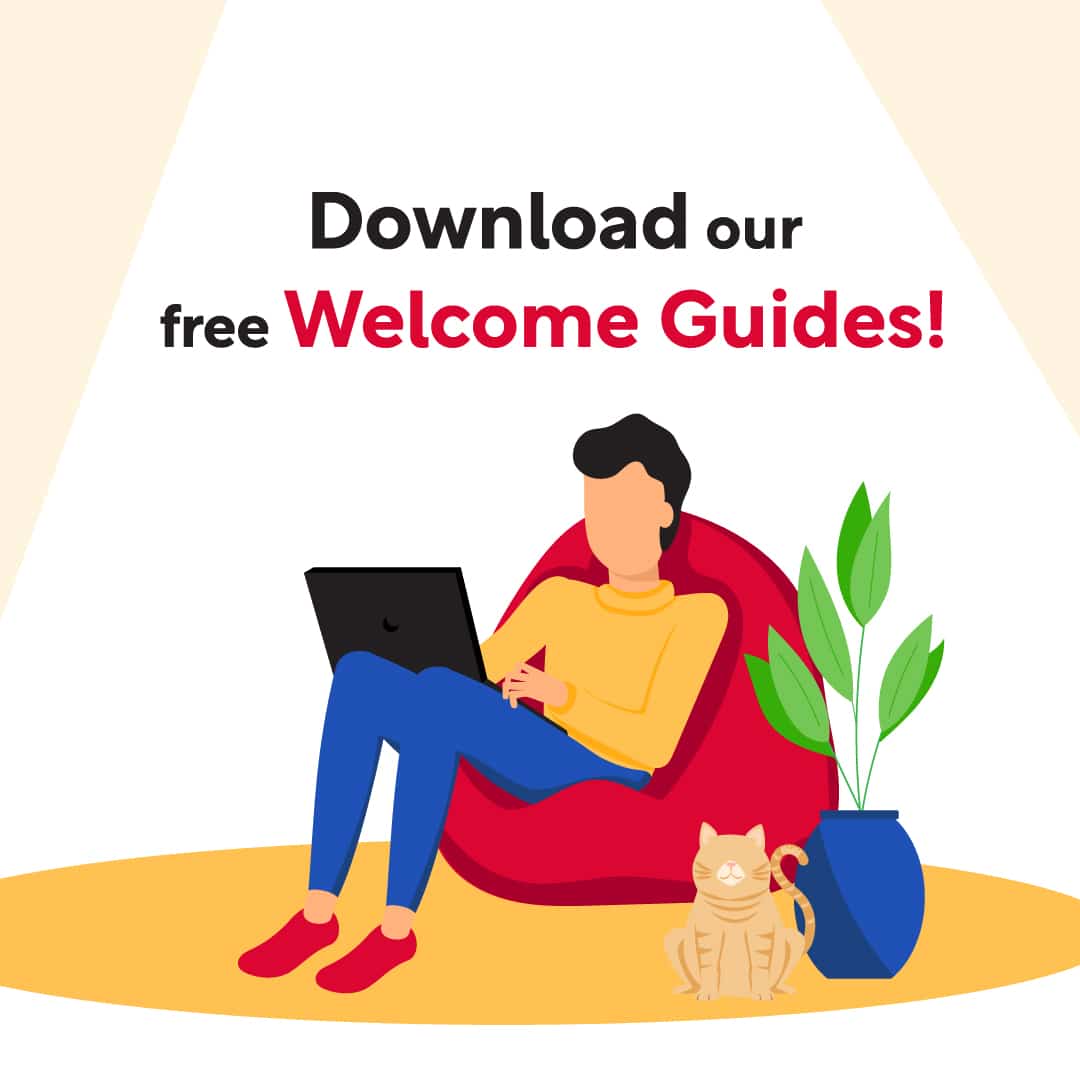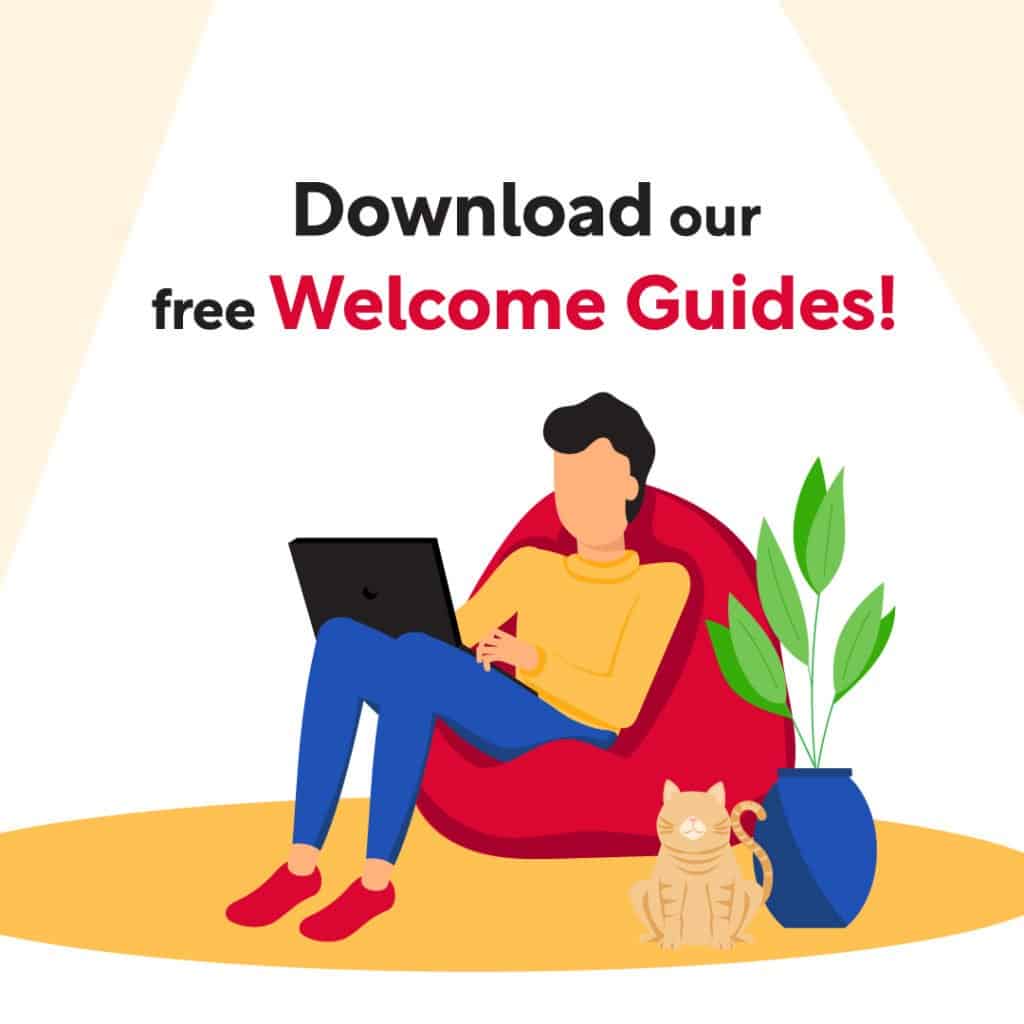 Subscription is automatically done when you download our Welcome Guide eBooks! You can unsubscribe at any point in time.
The Free Madrid Starter Pack
---
We know that everyone loves to receive gifts, especially useful gifts. That's why we've put together our free Starter Pack, which is available to our entire community. All you have to do is fill out the form below to reserve your pack and come to our office on Gran Vía to pick it up upon your arrival. Inside the pack you will find:
Citylife Tote Bag
Official Madrid Student Guide
Madrid City Map
Free Spanish SIM Card
Citylife Coupon Booklet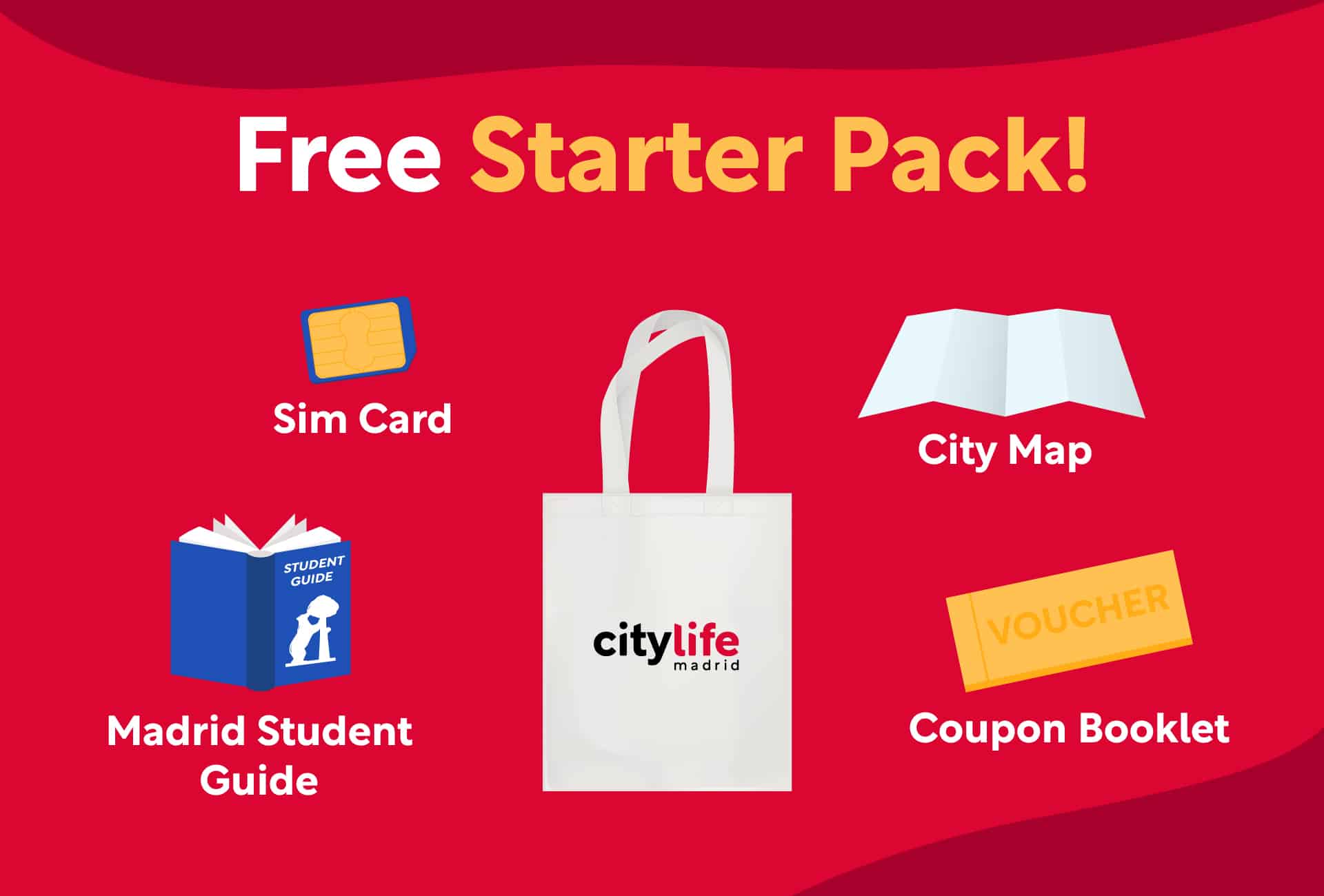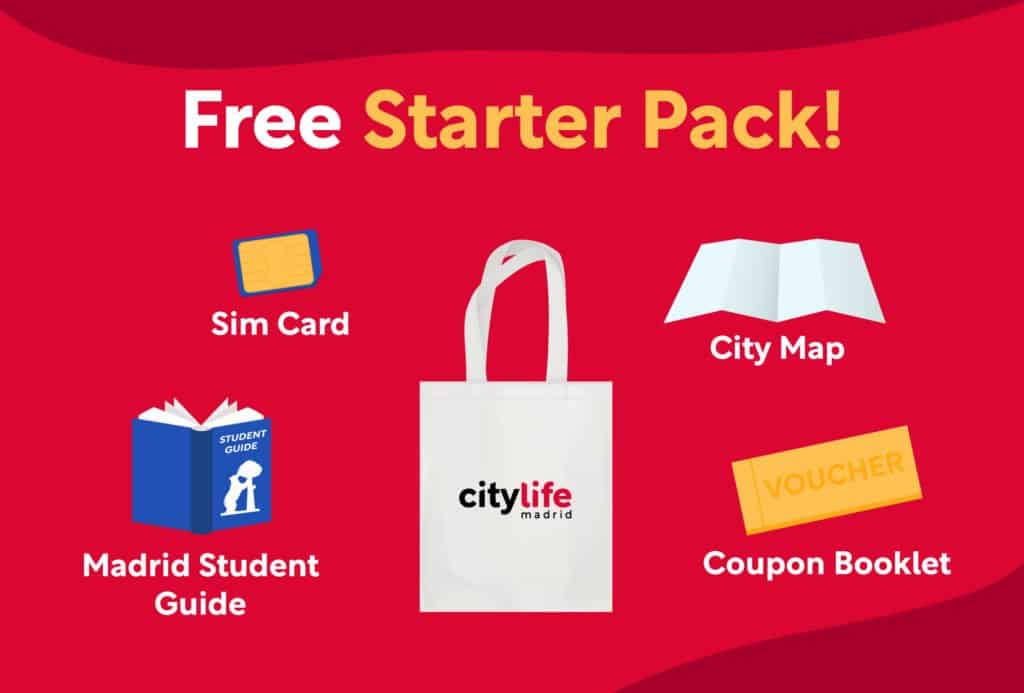 Need advice or support?
When you stop by our office to pick up your Welcome Pack, use the time to ask us about anything you may need help with! We offer free support for several topics, like:
Get your free Welcome Guides eBooks & Starter Pack now!
---
Note: If you have already filled out this form in the past, but you can't find the welcome information anymore, please send us an email to: [email protected]! By filling out the form, we subscribe you automatically to our weekly Newsletter. You can unsubscribe at any point in time.