What Documents do I Need to Live, Work and Study Legally in Madrid?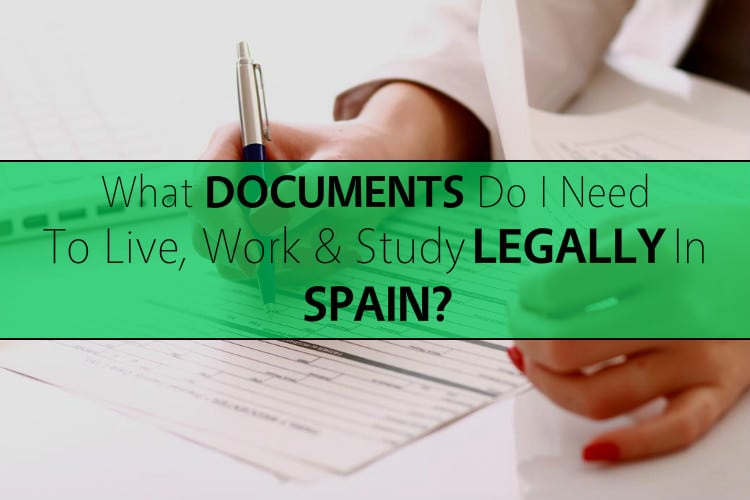 You've probably heard of a few confusing documents that you have to obtain to solidify your stay here in Madrid. Such documents meaning the NIE and TIE, Empadronamiento and Numero de Seguridad Social. What has probably been even more confusing which documents you need or don't need. Rest assured, here we have outlined what each document is and if you do in fact, need them.
Empadronamiento
What is it? Not everyone knows this, but once you arrive in Spain – no matter what type of visa you have – you have to register yourself as a resident. This specific document is called a "Empadronamiento" and its really easy to get! The benefit of getting an Empadronamiento is that you will be considered a member of your municipality. As a registered resident you will recieve the same treatment when it comes to healthcare, police and legal services. Having your Empadronamiento will also further your eligability if you decide to stay in Spain and apply for Official Residency. Another one of the many benefits of getting your Empadronamiento is it will enable you to apply for a NIE and for Spanish health insurance.
Do you need it? Yes, the empadronamiento is the "gateway" to all other important documents you will need during your stay. If you are only staying for 3 months you will not need it, although, the government still prefers if you have it.
How to apply:
Book your appointment online or call 010
Once you have confirmed an appointment time and location bring the following with you to your appointment:
Contract or bill with your name and address on it to prove it is in fact your place of residence. NOTE: if your name is NOT on the contract or bill you will need a roomate whose name is on the contract to give you a secondary signature on the application form. The signee must accompany you to your appointment with their ID.
Passport/ID
After this appointment an Empadronamiento document will be handed to you right away.
And thats it! This is probably the smoothest experience you will have in a government office in Spain. So why not just get it out of the way? Besides, it's pretty cool to know you are an official member of the municipality of Madrid, right?
NIE/TIE
What are they? The NIE is the Foreign Identification Number and the TIE is the Foreign Identification Card in which your NIE is printed – got it? The difference between the two cards has caused a lot of controversy and confusion among the expat and erasmus communities over the years, ask your administration which one you need to be 100% sure. Moreover, these two documents solidify your existence here in Spain and in Madrid. To sum it all up – The Visa gets you here, the NIE/TIE keeps you here. You will need this document to open a most bank accounts, a phone contract, to work or intern, and even install internet in your home!
Do I need them? Absolutesly yes. If you are a non-European student or expat staying here for over 3 months you must have one of these documents. if you are a European student you don't need it. However, if you are a European expat you also must have one of these documents. Both EU and non-EU persons have within 30 days of their arrival to obtain one of these documents. As mentioned above, consult your administration to determine which one you need.
How to apply:
1) Buckle up and find a Spanish friend to help you with the forms
2) complete the application form: NIE or TIE
3) Book your appointment online
In PROVINCIAS DISPONIBLES choose Madrid.
In TRÁMITES DISPONIBLES PARA LA PROVINCIA SELECCIONADA choose Certificados UE (if you are from the European Union), or Toma de Huellas (Expedición de Tarjeta) if you are from overseas
Fill in all required information
Receive you appointment date.
4) Gather your papers:
Passport and copy of all pages
Empadronamiento
Completed EX-15 or EX-17 form
2 recent Passport sized photos
Document indicating why your in Spain (contract, acceptance letter)
Your plane ticket into the country or your itinerary.
5) Prove you've paid the required tax at any bank in the city. (bring completed tax form)
6) Head to the designated office to hand in your papers. Get there EARLY.
Numero de Seguridad Social (

Social Security Number)
What is it? This is your typical document that grants you access to the public health system. It also tracks your taxes during your stay especially if you are working and recieivng payment every month.
Do I need it? No, If you are a student you are eligible for the card but you don't need to have it during your stay. However, if you are working your employer will most likely require that you have this card as it tracks your taxes.
How to apply:
1) Complete the form
2) Gather your papers:
Original and copy of your passport
original and copy of you NIE/TIE
Your Empadronamiento
3) Visit your closest Oficina de la Seguridad Social. Find the closest one to you here
4) Head over, take a number and be patient.
Your friendly neighbourhood Travel Guide,
– Leahxx