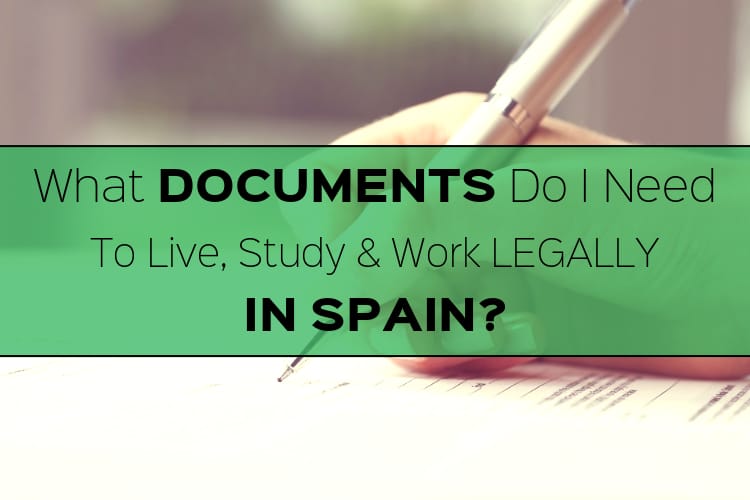 The Citylife team has collected the information below via intense research in collaboration with Proyecto Océano, one of Madrid's most known legal associations. Please keep in mind that we are not directly related to any legal or government departments and the information may be subject to change.
[Pincha aquí para la versión en español]
If you're not from Spain, but are living or planning on moving here, then you will most likely need to have at least one of the following documents. There are different documents required to live, study and work legally whilst in Spain. Here we will outline all you need to know about the NIE/TIE, Empadronamiento, and Social Security Number.

To make it easier to understand, we will explain what each document consists of, and if it is necessary for you. Simply keep reading and follow the instructions!
Empadronamiento: The Empadronamiento is an official document stating where you live. This will make you a citizen of the city in which you reside, and will be needed in many cases (especially if you are not a citizen of the EU or equivalent) to apply for any other paperwork like the TIE etc.
NIE/TIE: The NIE ('Número de Identidad de Extranjero') is a number of identification assigned to any non-Spaniard who lives in Spain. It is necessary to carry out any procedures with administration services, to contract products and services, and ultimately to provide your identity number. EU citizens (or equivalent

*

) might need to apply for the NIE depending on the criteria in the graph outlined below (click on it)! The TIE ('Tarjeta de Identidad de Extranjero') is the identity card that all citizens of Non EU member countries (or equivalent

*

) have to apply for once they arrive in Spain. This identity card will contain a photo in addition to your NIE proving your identity and recognising you legally.  So as a Non EU citizen you will need to apply for the TIE once in Spain, not the NIE!
Social Security Number: This is required to legally work or do a paid internship in Spain. You will need to request the so called "número de afiliación" so that your employer can request your social security number.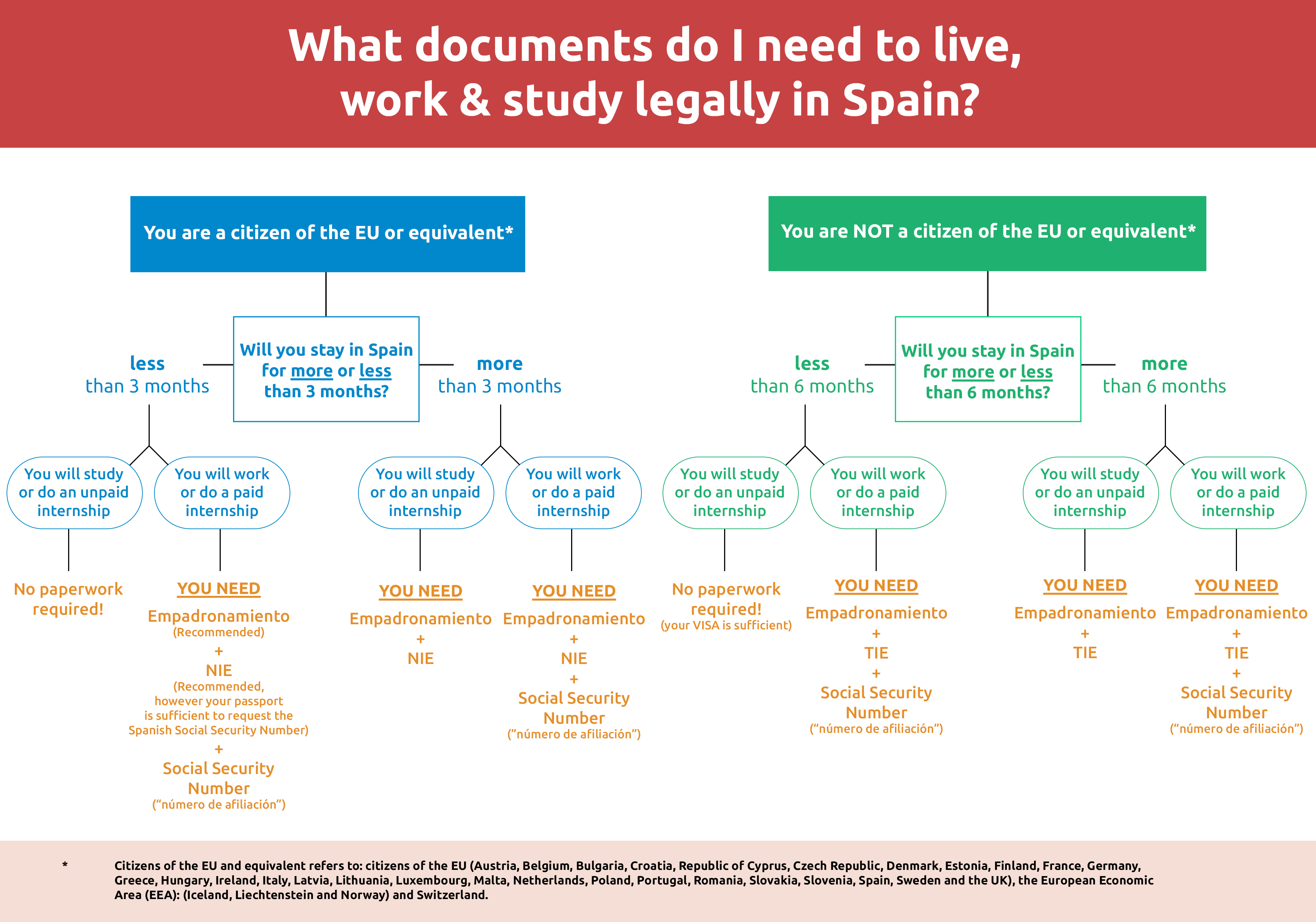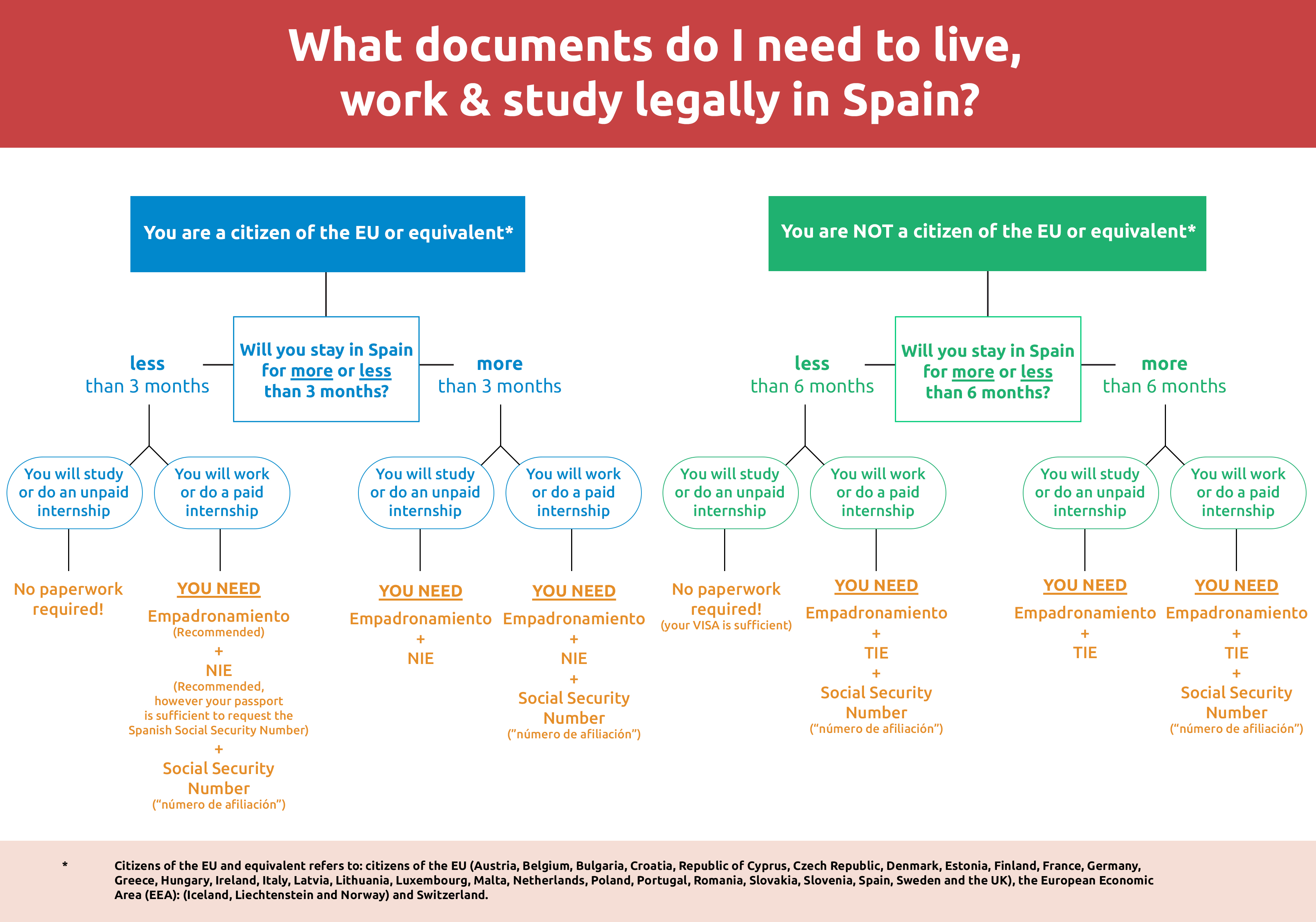 Depending on the following criteria, you may need one or more of the documents mentioned above:
From a EU-member country or not
Length of your stay in Spain
Purpose of your stay in Spain:

Studies / unpaid internship
Work / paid internship

Carrying out operations with tax repercussions
If you are a citizen of the European Union or equivalent*, click here to find out what to do next. If you are a Non-EU citizen or equivalent*, please check here and follow the instructions.
* EU citizens and equivalent refers to: Citizens of the European Union (Germany, Austria, Belgium, Bulgaria, Cyprus, Croatia, Denmark, Slovakia, Slovenia, Estonia, Finland, France, Greece, Holland , Hungary , Ireland , Italy, Latvia, Lithuania, Luxembourg, Malta, Poland, Portugal, United Kingdom, Czech Republic, Romania and Sweden), the European Economic Area (Liechtenstein, Iceland, Norway) and Switzerland.
Do you still have questions or other legal topics you need answered?
Simply fill out the form below and your query will be sent to us as well as to our friends at Proyecto Océano, one of Madrid's most known legal associations, who are also here to help you out! Please note: By sending the form below, you automatically agree that we can forward your data to Proyecto Océano.