Applying for a Social Security number in Spain (Numéro de Seguridad Social) is an essential task for anyone who plans to earn money while living in Spain for a certain period of time. Like many other important documents that you might need to apply for (NIE/TIE Card, Empadronamiento), the Social Security number will allow you to integrate into life in Spain as a resident and a member of the community. It's not required for everyone, so be sure to confirm if you need to get the Social Security number for your specific situation in Spain.
---
In this guide we will cover everything you need to know about the Social Security number in Spain. From what the document is, to who should get it and how to apply for it. Take a look at our content overview to find exactly what information you need or continue reading to soak in all the information we have to share with you below.
---
Get your Social Security number in Madrid fast and easy with MTS Relocation & Consulting Services! MTS is a reliable and experienced company that specializes in Spanish Immigration support services for internationals moving to Spain!
They are offering very fair rates for international students and expats. Simply contact them via their Social Security support services form to get free advice & a free quote!
---
Important: The Citylife team has collected the information below via intense research in collaboration with MTS Relocation & Consulting Services and Proyecto Océano, two very known legal & relocation companies in Spain. Please keep in mind that we are not directly related to any legal or government departments. Please remember to use this article as a compliment to your own research on official government sites.


1. What is the Social Security Number & Who Needs to Apply for it?
---
The Social Security number is officially known as the "Número de Afiliación de la Seguridad Social", but is often referred to as just the "Numéro de Seguridad Social" or the "SSN". Having it means that you are officially registered as a part of the tax & social security system in Spain and thus you will gain access to many benefits that are a part of the Spanish social system. These benefits include healthcare benefits, social benefits, security and disability benefits, unemployment benefits and other resources that might support you in times of difficulty.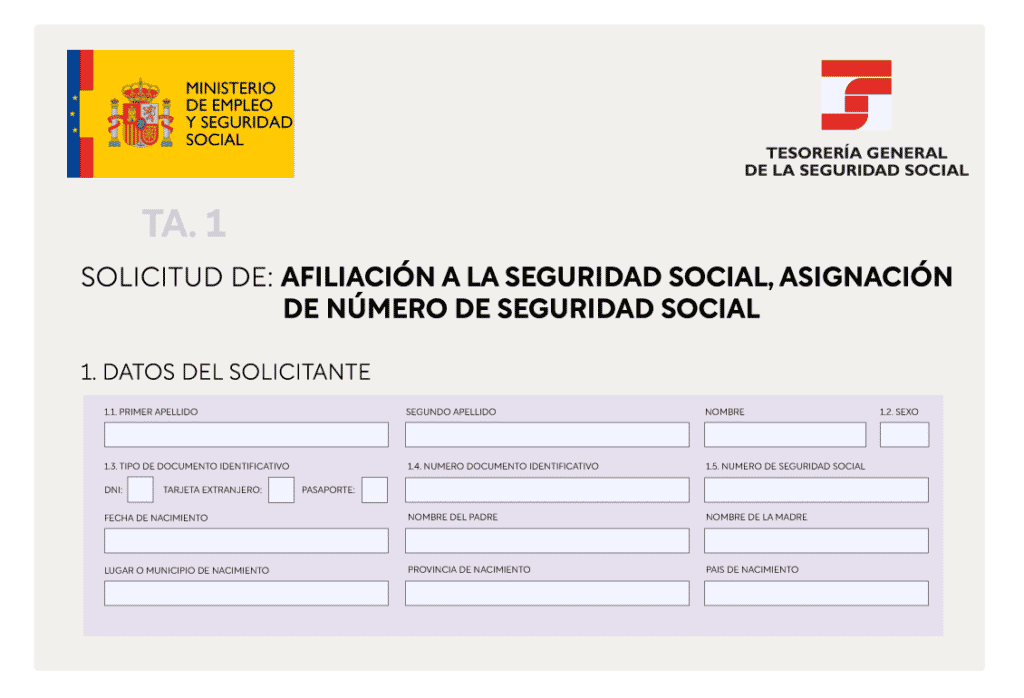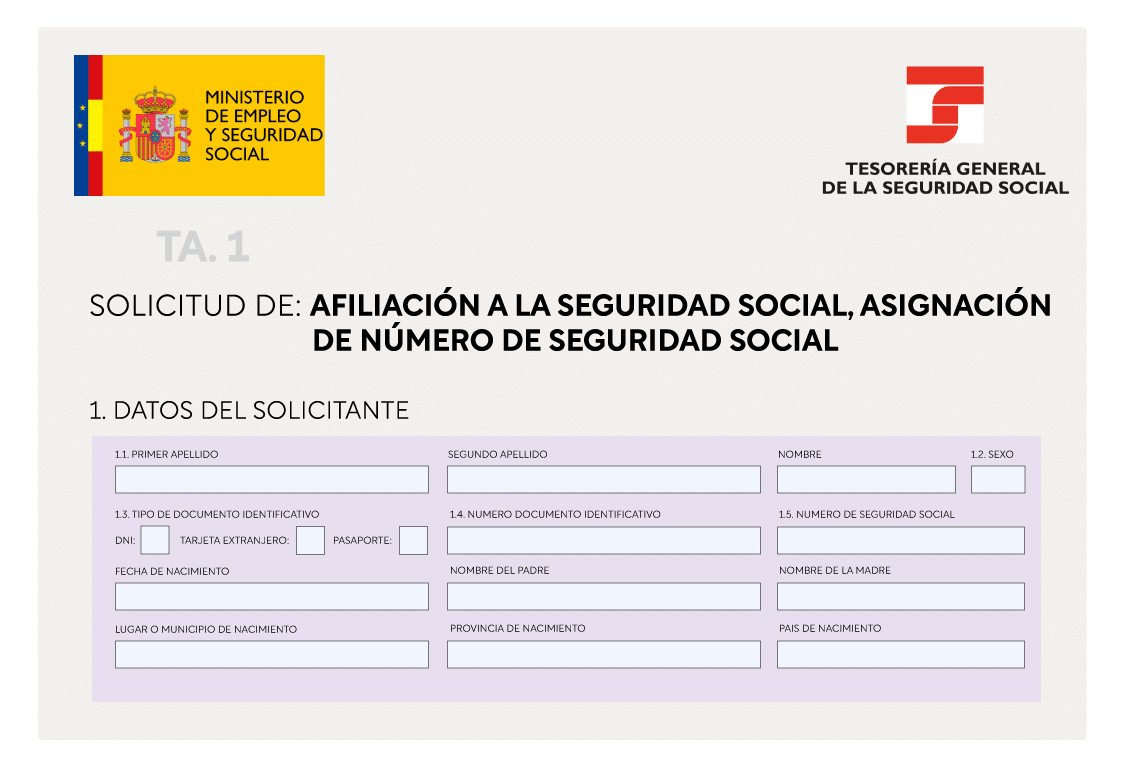 The Social Security number in Spain is required when a person legally living in the country intends to earn money in an official capacity. Unlike other important legal documents that you may need to apply for, the duration of your stay in Spain is not important. You will always need a SSN if you intend to participate in any of the following situations:
Being employed at a company
Being self employed (autónomo)
Being a student taking on a professional, paid internship
Being a civil servants or military personnel
Being a business owner or business partner
Access to public healthcare is on of the most important benefits of registering to the Social Security system in Spain. Make sure you know everything about healthcare in Spain so you can properly navigate it during your time here. Also make sure that you contract the best private health insurance possible so you're fully covered!
---
2. How to Get the Social Security Number in Madrid
---
Applying for the Social Security number in Spain is not the most straightforward process – but we're sure you already expected that. Navigating the Spanish bureaucratic systems often make things more difficult than they need to be, with information online being limited and official resources being unfortunately difficult to follow. Trying to navigate those systems without speaking Spanish is just another hurdle you will need to jump over. In this chapter will we go over the important basics for applying for your Social Security number. It will also outline how to make an appointment, what forms you need and what to expect from the process.
2.1 Cita Previa "Seguridad Social" – Making your Appointment for the Social Security Number
To make your appointment (cita previa) for your Social Security Number you need to head to the official website of the Spanish "Seguridad Social". On this page you need to find the closest office to you and book your appointment via the information the page provides. There is a process for applying for your Social Security number online, however you will be required to have both a NIE/TIE and a special digital certificate. Find out more about the digital certificate here and try applying online here.


In the drop down labeled "Localización" select your location details. In our case it is "Por Municipio" and "Madrid, Madrid". Once selected click "Aplicar filtros".
The page will reload to a large list of offices. For the Social Security number appointment you need to look for offices labelled "TESORERIA GENERAL DE LA SEGURIDAD SOCIAL".
Once you've found the office that you'd like to go to, use the contact info provided to request your appointment. You will most likely be directed to a call center and do not be astonished if it is quite difficult to get through to actually request an appointment. Please be aware that you will need to speak in Spanish when contacting the right call center. If you need your Social Security Number urgently or you are facing any other problems, you can contact MTS and they will help you to get the SSN within 3-4 working days.
2.2 Modelo TA-1 (Social Security Application Form)
To apply for the Social Security number in Spain you need to complete the Modelo TA-1. Please feel free to download it below to use for your appointment.
2.3 What Documents to Submit at your Social Security Number Appointment
Passport, National ID card (only for EU citizens)

*

or NIE Card / TIE Card if you have one (plus copy)
Valid visa if you are a non-EU citizen (plus copy)
Formal, signed housing contract or the Padrón certificate if you have one (plus copy)
Employment contract / paid internship contract (plus copy)
*EU citizens can apply for a Social Security Number with their passport or National ID card. However, it's important to apply for your NIE Card and update your SSN with your NIE number as soon as possible. For assistance with this process, reach out to MTS Relocation & Consulting Services.
2.4 What to Expect at the Appointment
As we've mentioned in our other Spain Immigration articles, we recommend showing up to your appointment early, with all the required paperwork, well organized. These offices will not have many English speakers so having your papers ready and properly completed will help the appointment go smoother. Once you've submitted your application you should receive your official Social Security number on the spot.
If you are looking for assistance with setting up your appointment we recommend contacting MTS Relocation & Consulting Services.
MTS guarantees quick results. You will obtain your Social Security number in only 3-4 days so you can avoid all the painful hassle and pitfalls usually related to the application process.
3. Get Personalized Support with your Social Security Number Application
---
The process for getting the Social Security number in Spain is definitely tricky. We understand that you might need help to make your appointment and filling out the correct form, which is why we want to connect you with MTS Relocation & Consulting Services! They offer many services to help their clients prepare for the SSN but also other legal procedures like the NIE/TIE, Autorización de Regreso, TIE Renewal, Padrón Certificate, Spanish citizenship and so on. From simply making your appointment to preparing all the required documents on time!

4. Fill out our Free SSN Support Form for More Advice!
---
Feeling overwhelmed and still have some questions or would like an expert to support? Fill our our Social Security Support Form below and we will do our best to guide you in the right direction. Depending on your question we might send you some helpful resources, or connect you with experienced professionals who can give you a free consultation. Take advantage of the form and submit any questions you might have! The first email consultation is free of charge!
Please note: By sending the form below, you automatically agree that we can forward your data to "MTS – Relocation & Consulting Services for Spain" as well as "Proyecto Océano" so that they may review your case and provide you with further advice if needed!
Complete our free "Social Security Support" Form (Click to open)
---