Getting your Empadronamiento certificate ("Padrón") in Madrid is one of the many legal procedures that you will most likely need to complete once you've moved to Spain. In fact, the Empadronamiento certificate is often required when applying for other important documents like the TIE Card and Social Security Number. In other cases, The Empadronamiento is not mandatory to present – like when applying for the NIE Card – but we still recommend that everyone living in Spain longer than 3 months applies for it due to the longterm benefits that come along with it!
---
In this step by step guide we will go over everything you need to know about applying for the Empadronamiento certificate in Madrid. It outlines everything from who really needs to apply for it, to what the certificate does and how to actually get it done. Take a look at our content overview to choose exactly what you want to read about, or keep reading to learn everything we have to share about the Empadronamiento in Spain.
Please keep in mind that the Empadronamiento certificate is handled by the municipal government (Ayuntamiento) of each city. The purpose and benefits of the certificate will be similar in all Spanish cities however the application process may differ. This article will cover in detail how to apply for the Empadronamiento certificate in Madrid.
Get your Empadronamiento in Madrid fast and easy with MTS Relocation! A reliable and experienced company that specializes in Spanish Immigration! They are offering up to 50% off for international students, so make sure to check out their services to get your free advice & a free quote!
---
Important: The Citylife team has collected the information below via intense research in collaboration with MTS Relocation & Consulting Services and Proyecto Océano, two very known legal & relocation companies in Spain. Please keep in mind that we are not directly related to any legal or government departments. Please remember to use this article as a compliment to your own research on official government sites.


1. What is the Empadronamiento & Who Needs to Apply for it?
---
The Empadronamiento is officially known as the "Padrón Municipal de Habitantes" and is also commonly referred to as just the "Padrón". It's a general census record of habitants in the city, which allows the municipal government to allocate the right amount of funds and community services to a particular region or neighbourhood of the city (healthcare centres, police, maintenance, etc.). Once a person is registered ("empadronado/a"), they will officially become a member of the community and their presence in Spain will be verified. The Padrón has no real effect on a person's legal status, however the document is required for many subsequent documents that might be required when moving to Spain or to extend time in Spain.
The Empadronamiento Certificate in Spain is required when:
Applying for the TIE (Tarjeta de Identidad de Extranjero) or to renew the TIE
Applying for the local health insurance card
Applying for "Pareja de Hecho" or a marriage certificate
Buying or selling a car
Getting a Spanish driver's license
And many more administrative tasks
In several cases the Empadronamiento also is used to prove how long you've been living in Spain. Therefore the sooner you apply for it the better prepared you will be in future situations.
---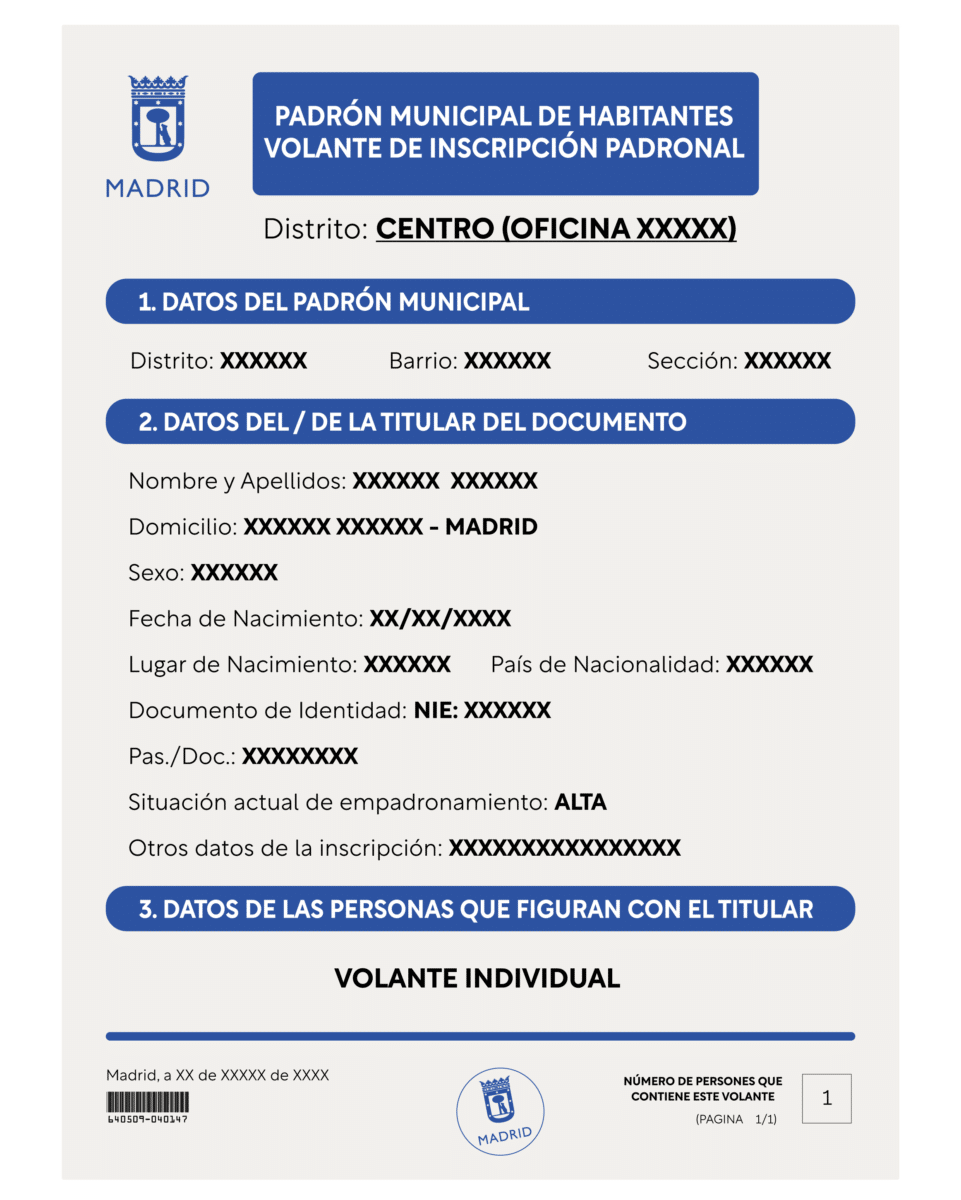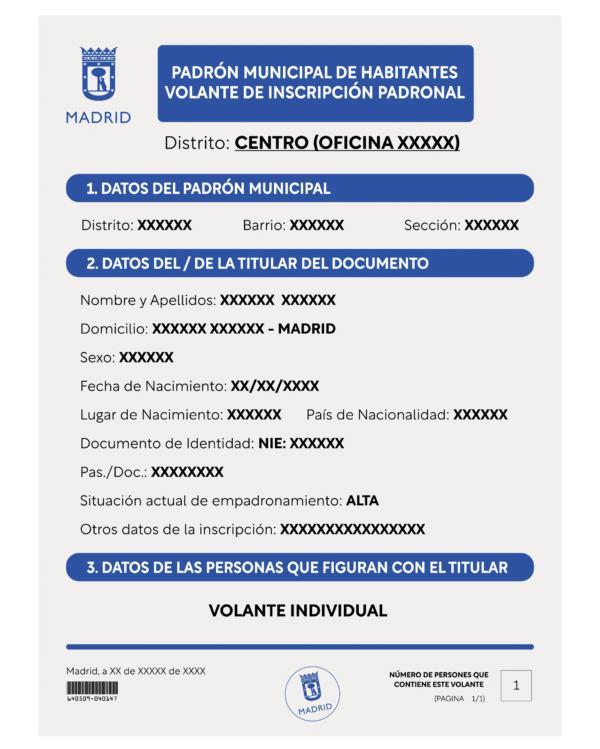 Who Needs to Apply for the Empadronamiento?
To keep it simple, everyone who plans on living in Spain for more than 6 months needs to apply for the Empadronamiento certificate. Even those who are coming from EU countries will need to get the Padrón. As we explained above, the Empadronamiento in Spain simply verifies a person's presence in the community and being "empadronado/a" can only help in the long run.
If you are only coming to Spain as a tourist (i.e. no more than 90 days) or you know that you will only be staying in Spain for 6 months or less, you do not need to register for the Empadronamiento certificate.
2. How to Apply for the Empadronamiento in Madrid
---
In this chapter we will go over everything you need to know about applying for the Empadronamiento certificate in Madrid. We will include how to make the appointment, what forms you need to submit and what to expect at the appointment itself. Make sure you read it carefully so you don't miss any important details!
2.1 "Cita Previa" Padrón Madrid – How to Make your Empadronamiento Appointment
To register for the Empadronamiento certificate in Madrid you need to make an appointment online ("cita previa") at the closest office for citizen services ("Oficinas de Atención al Ciudadano") to your address. As the Empadronamiento in Spain is a government census, it is important that you register at the office in/close to your neighbourhood and not one on the other side of the city. Follow the steps below to make your Padrón appointment.


To make an appointment online for your Empadronamiento in Madrid, please visit the Madrid City Hall website and select "Pedir Cita Previa".
The page will reload and display 3 dropdowns. For Tipo de Servicio, select "Padón". If it's your very first time applying for the certificate, select "Padrón" under Gestión. If you're renewing your Padrón or changing your address, select "Certificado de Empadronamiento" under Gestión. For Oficina, select the office in or closest to your neighbourhood*.
Once you've selected your specific office the page will reload to give you an outlook of appointment dates and times to select. If there are no appointments available at that time, the page will tell you "Las citas disponibles en esta oficina han sido reservadas recientemente, consulte otra oficina con disponibilidad". You will need to try again later to look for your "cita previa". If you need your Empadronamiento certificate urgently, you can contact MTS and they will help you to get the Empadronamiento as quick as possible.
*As this is a census, you should always make your Padrón appointment in your own neighbourhood to ensure the government has the most accurate records.
---
Once you've chosen a date and time the page will reload and you will need to indicate your personal details. If this is your first time applying for a Empadronamiento in Spain then use your passport details or national ID (if you are from the EU). Make sure to write everything down exactly as it is written on your document. You will also need to indicate a Spanish phone number without the country code (+34). Once completed, click "Continuar".
You will have an opportunity to review all your personal details as well as the appointment details. If everything is correct, click "Crear Cita"
Once your appointment is confirmed you will see your appointment code at the top of the page. You will receive this confirmation via email, however, we recommend saving and printing this page too.
2.2 How to Correctly fill out the Hoja Padronal (Empadronamiento Madrid Application Form)
To apply for the Empadronamiento certificate in Madrid you need to complete the Hoja Padronal. Please feel free to download it below to use for your appointment.
2.3 What Documents you Need to Submit at your Empadronamiento Madrid Appointment
Passport, National ID card (EU citizens) or NIE/TIE if you have one
Formal housing contract with the applicant's name and signature as well as the landlord's name and signature*
Hoja Padronal (Empadronamiento Madrid application form)
*Contracts must be for a period of 6 months or longer regardless of how long you are staying in Spain. For example, you cannot be "empadronado/a" at one address for 4 months and then another address for 5 months. Additionally, Airbnb contracts are known to be rejected for Padrón applications because they are technically not made for long term stays.
2.4 Attending your Padrón Appointment – What to Expect
The Empadronamiento is not a document just for foreigners, so keep in mind that the offices will be quite busy with both internationals and nationals trying to register. Have all your paperwork ready and organized and don't forget to take a number when you arrive. The majority of the staff at these offices will not speak English so you may not be able to ask any questions or negotiate any details at the appointment. They will call your number and you will simply hand them your papers for review.
You will receive your Empadronamiento certificate at the appointment. Once you do, you're free to go!
3 Get Personalized Support with your Padrón Application
---
The steps mentioned above can be overwhelming for anyone! If you're struggling to make your appointment and to fill out all the correct forms, we recommend contacting MTS Relocation & Consulting Services! They offer many services to help their clients prepare for the Empadronamiento certificate but also other legal procedures like the NIE/TIE, Autorización de Regreso, TIE Renewal, Social Security, Spanish citizenship and so on. From simply making your appointment to preparing all the documents!


So if you would like to avoid a bumpy start, get in touch with MTS to organize a free email consultation and get a free quote for their services! They offer discounted rates of up to 50% off to international students! Simply follow the link below to contact them for a free quote! Get a Free Consultation & Quote
4. Fill out our Free Immigration Support Form for More Advice!
---
Feeling overwhelmed and still have some questions or would like an expert to support? Fill our our Immigration Support Form below and we will do our best to guide you in the right direction. Depending on your question we might send you some helpful resources, or connect you with experienced professionals who can give you a free consultation. Take advantage of the form and submit any questions you might have! The first email consultation is free of charge!
Please note: By sending the form below, you automatically agree that we can forward your data to "MTS – Relocation & Consulting Services for Spain" as well as "Proyecto Océano" so that they may review your case and provide you with further advice if needed!
Complete our free "Spain Immigration Legal Support" form (Click to open)
---