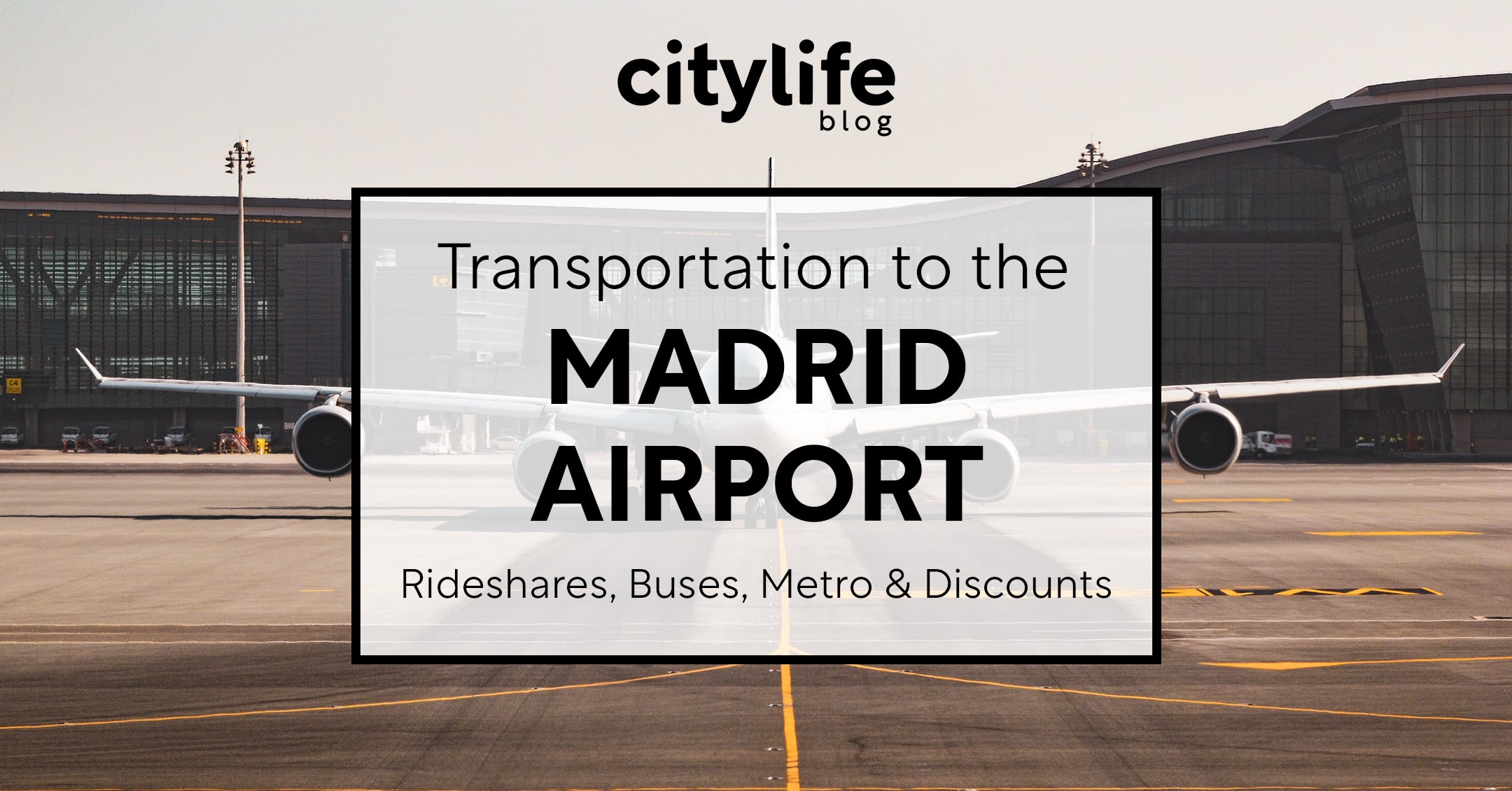 The Madrid Airport, officially known as the Adolfo Suárez Madrid-Barajas Airport, is Madrid's major international airport, connecting Spain's capital to the rest of the world. It's the sixth busiest airport in Europe, serving almost 50 million passengers a year and serves as a connection point for many international flights. What sets the Madrid Barajas airport apart from its other giant European counterparts is that it's located quite close to the city centre (only around 17 kilometres). Making it very easy to access by several means of transportation, in only a short amount of time.
In this article we will cover the several different types of transportation options that are available for you to travel to and from the Madrid Airport. We will recommend both private and public options with various price ranges and we will even tell you about some great discounts you can take advantage of!
---
Madrid Airport Terminals
---
Before we start listing Madrid airport transport options, it's important that you know a little bit about the Madrid Airport and where its different terminals are located. Due to the airport's distribution, some terminals are easier to access by certain modes of transport, while others can be more time consuming and inefficient.
The Madrid Airport consists of 4 terminals (T1-T4). Terminals 1-3 are located in the primary building of the airport. They service domestic, international, European and intercontinental flights. T1, T2 and T3 are easily accessible by Metro, bus, rideshares and private transport. There is also an easily accessible parking lot for private, rental and caresharing vehicles.
Terminal 4 is located in another area not too far from the primary building. It consists of 2 buildings – T4 and T4S. They service domestic, European and international flights. T4 is easily connected to the Metro, bus, rideshares and private transport. T4 also offers parking. T4S on the other hand, is like an island which can only be accessed via the shuttle train that leaves from terminal T4. This is important to keep in mind because that transfer will add a significant amount of time to your commute.
---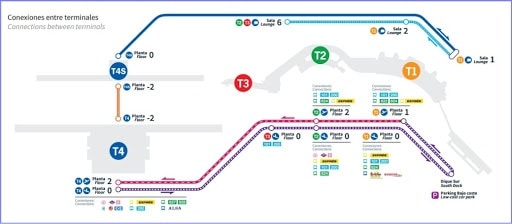 If you need to travel between the different terminals, T1-T4 at the Madrid Airport are connected by a bus shuttle system that operates fairly frequently. Whereas terminal 4S is connected to T4 via an underground shuttle train.
Bus & Airport Express
---
There are two ways that you can get to or from the airport by bus. The first being the standard Madrid EMT bus service and the second is the official Airport Express.
Madrid EMT Bus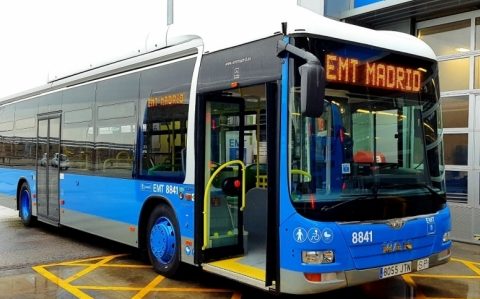 The EMT bus line 200 connects the center of Madrid with the Madrid Airport. The line starts at the Avenida de Americas station and makes stops at T1 Departures, T2 Departures, T4 Arrivals and then returns to Avenida de Americas. Don't worry if you need to transfer to/from T3 to/from either of these stations, you can walk between the two terminals very easily from inside the airport.
Hours & Price:
The bus runs every day, including holidays from 05:50 – 23:30. Price per ticket is approximately 1.50€. For information on frequency make sure to check the Madrid EMT app.
---
Airport Express Bus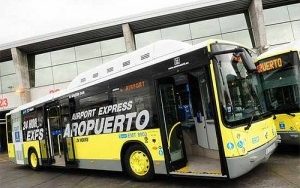 The Airport Express bus (line 203) connects the very center of Madrid with the Madrid Airport. It stops at the Atocha train station, Plaza Cibeles and O'Donnell station before heading T1 Departures, T2 Departures, T4 Arrivals and then back towards Atocha station to start the loop again. Just like with the regular EMT bus, you will have easy access to T3 once you are inside the airport.
Hours & Price:
The bus runs every day, including holidays for 24hrs. The standard price is 5€ regardless of where you get on or off in the shuttle loop. For information on frequency make sure to check the Madrid EMT app.
---
Taxi, Rideshare & Limousine
---
In Madrid the idea of taking a car to the airport is much less stressful than in other cities. One reason being that the airport is much closer to the city center than most cities (roughly 20-25 mins by car). The second being that there are so many rideshare options available that the prices are quite competitive. Just take a look at top ridesharing options in Madrid below and you can plan your trip to or from the Madrid Airport with ease.
Madrid Taxi Service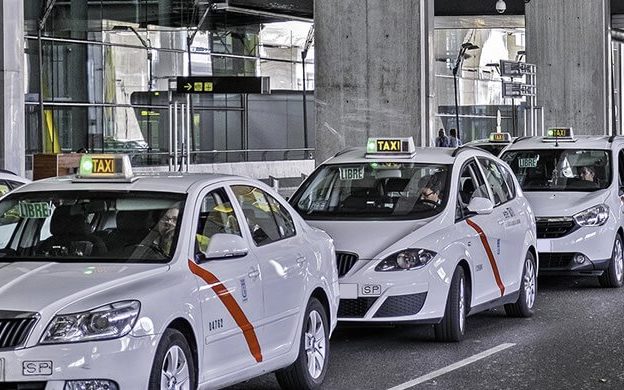 Save 5€ by downloading the FREE NOW app and using our promo code before order your taxi in advance!
At the Madrid Airport there is a designated zone where the official Madrid Taxis line up to attend customers. There are always a lot of taxis there, so you almost never have to wait long. What's more, is that all rides either to of from the airport cost a flat rate of 30€. Meaning that if you're new to the city you don't have to risk getting taken for a long tour.
---
Rideshare Apps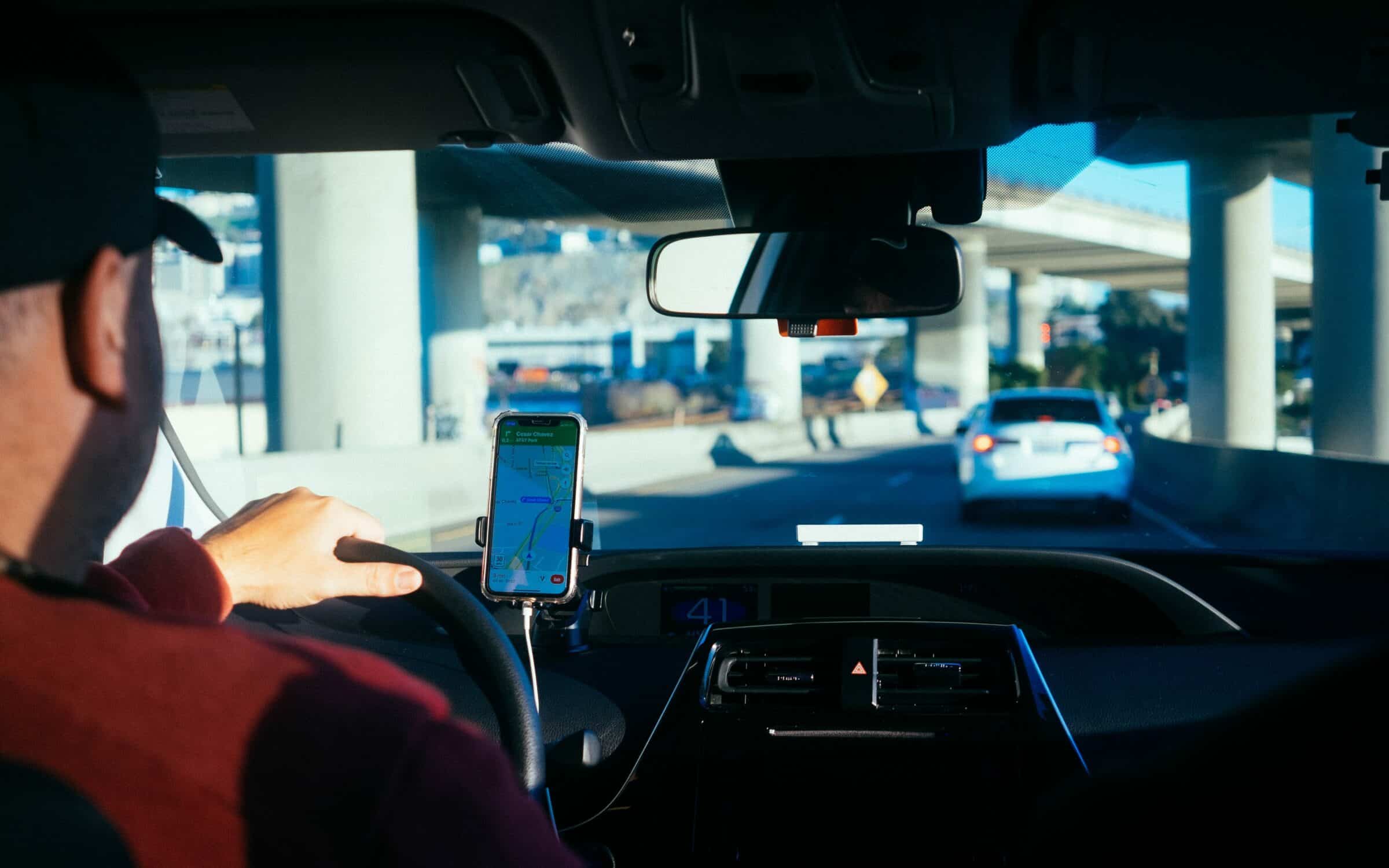 To get some awesome discounts for the companies mentioned in this section, simply scroll down!
Another alternative is to book a rideshare via one of Spain's top rideshare apps! These car services can't meet you in the same location as the Madrid taxis. But you simply arrange the meeting location with your diver and off you go! Here are your options: Uber, Bolt, Cabify and Free Now. Also Check out our article on Ridesharing Apps in Madrid.
---
Limousine Service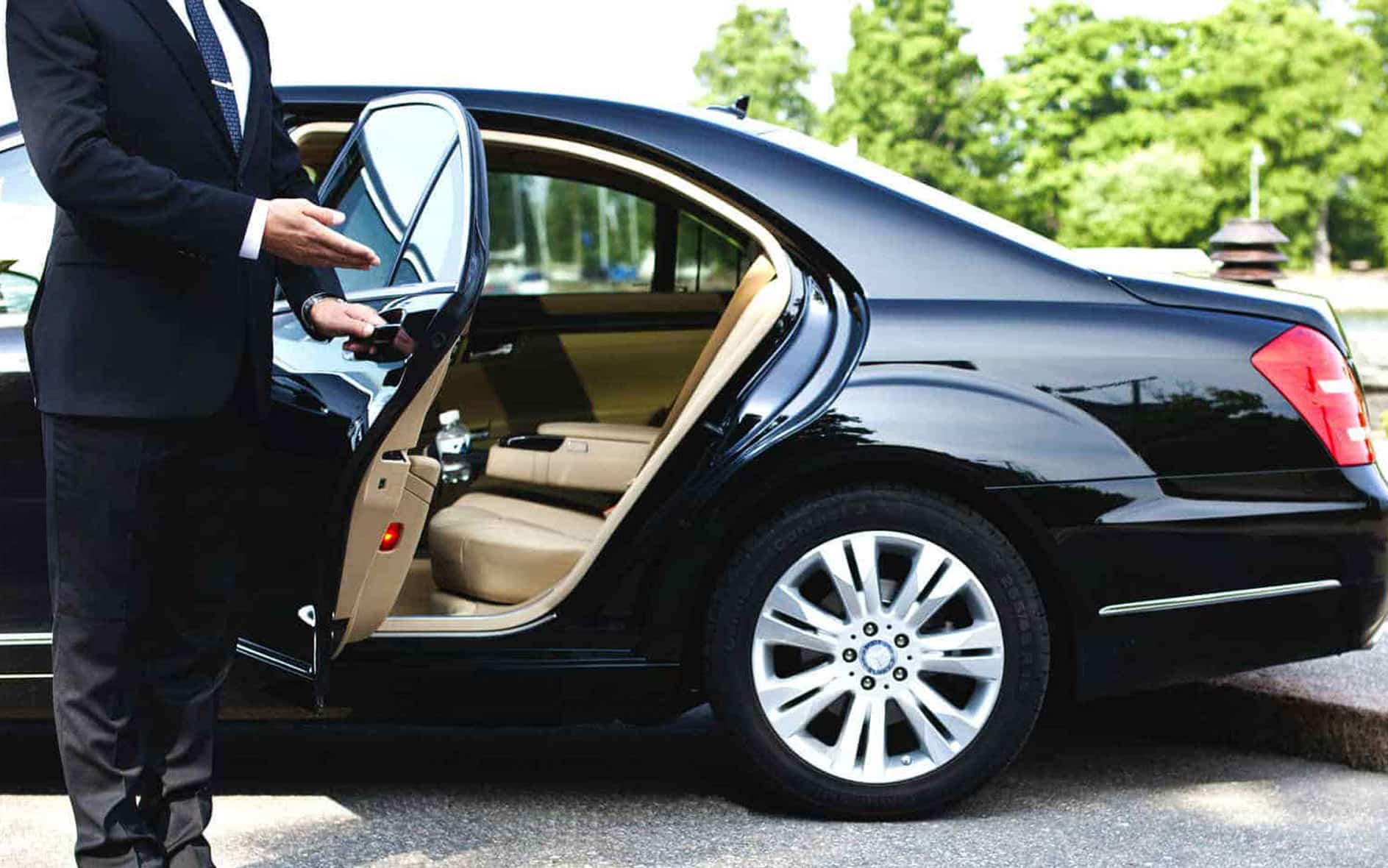 If you prefer to arrange something a little more upscale, then you can look into a limousine service. These services usually include a nicer grade vehicle, a chauffeur-styled driver and an all-round up-scale experience. In many cases you will need to book this kind of service in advance for ensure availability. You can look at some of the top rated companies like Blacklane and Grand Class as a start!
---
Alternative Vehicles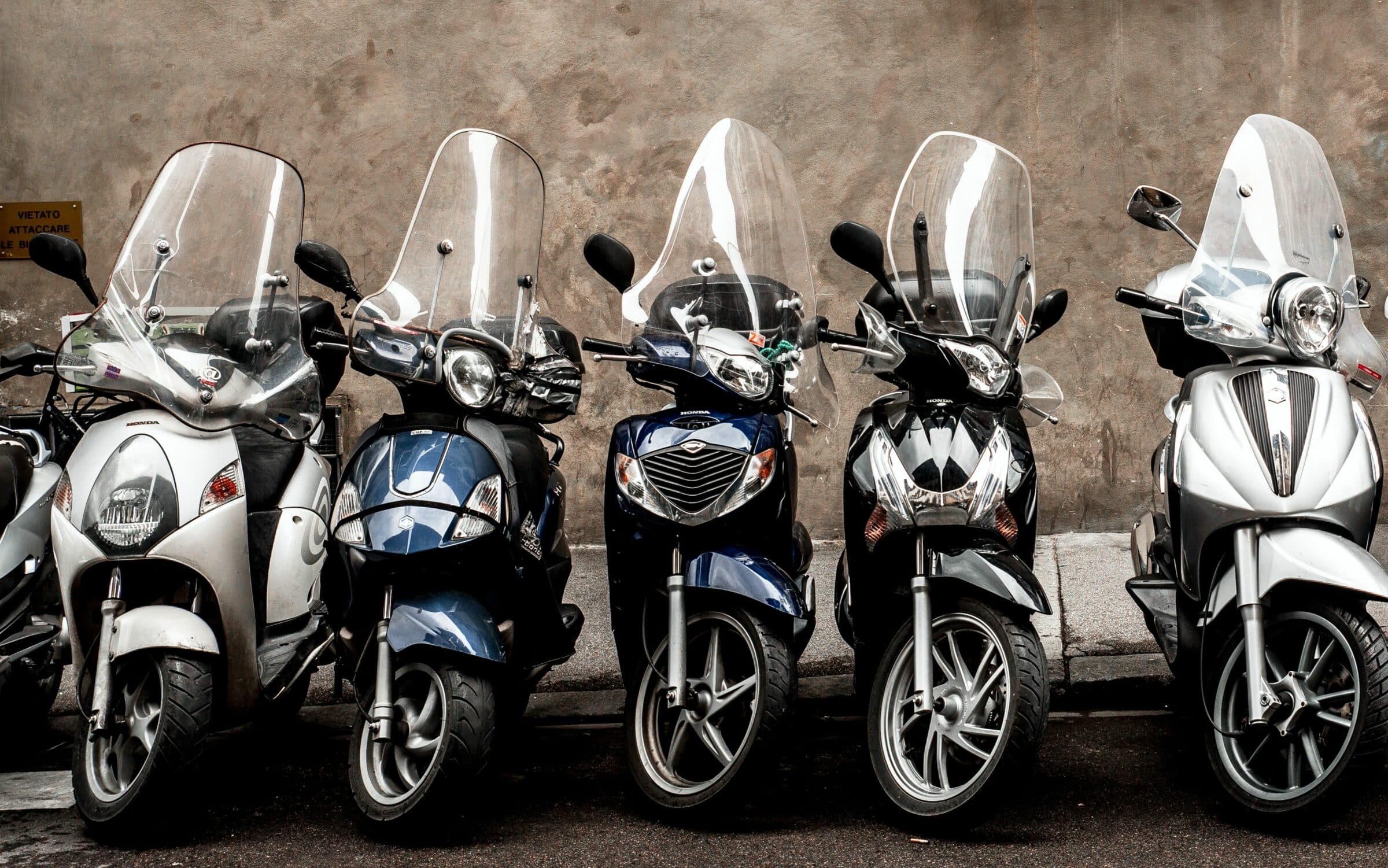 The Madrid Barajas Airport also offers various parking spaces for alternative modes of transportation like motor scooters (mopeds) and even bicycles! If you own your own bike or moto you can park yours in the free area if you wish or you can pay for the parking with security. Alternatively, some of the motor scooter rental companies in Madrid have designated parking for their customers to drop off their rented vehicle!
Learn everything there is about the different ways that you can travel around Madrid with our helpful guide to ridesharing, carsharing and car rentals in Madrid. In this article we also share some awesome discounts that you can take advantage of!
---
Madrid Metro (Subway)
---
Another way that the Madrid airport connects to the rest of the city is via Line 8 of the Madrid Metro. All you need to do is connect with one of the stops along Line 8 and the metro will take you to Terminals 2 & 4. As you can see from the image we have shared below, the station with the best connection is Nuevos Ministerios. The metro line works the same for those travelling from the airport to the city. Depending on your final destination you will most likely find the best connection to your next metro line or bus via the Nuevos Ministerios station.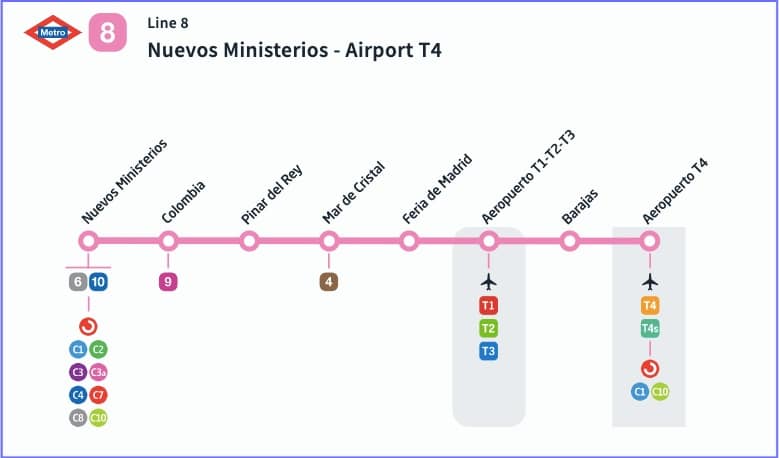 Hours and Price:
The metro line runs every day including holidays from 06:00-02:00 (last departure starting at 01:33). You can use your monthly metro card, a single ticket or a 10 ride ticket as you normally would for the metro.
However, you will need to pay an additional 3€ supplement to access Line 8. This supplement can be paid before exiting/entering the Aeropuerto T1-T2-T3 station. Alternatively you can top-up the supplement fee on your metro card from the machines at any metro station.
To determine the frequency of each metro line and map out your metro journey to/from the Madrid Airport you can download the Madrid Metro App.
---
---
---