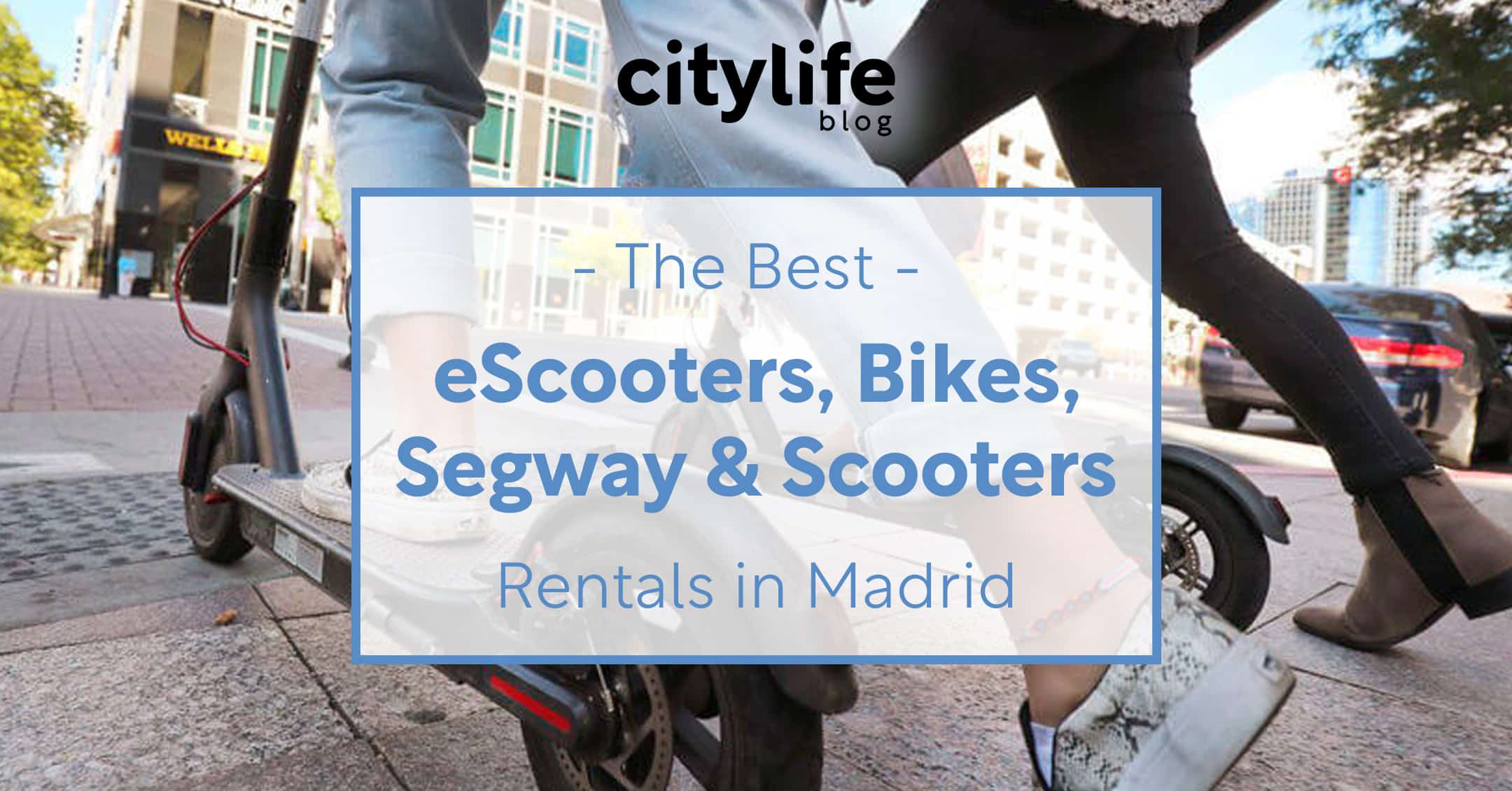 Alternative modes of transport like bike rentals in Madrid, e-Scooters, Segways and motor scooters are an incredible way to get where you need to go. Whether you're looking for a more eco-friendly way of getting around the city, or you're looking for a way to spend more time outside. In addition to adding more quality to your commute, they can also end up being far more affordable than a car or even a monthly public transport pass, making it the perfect option for young internationals to move around Madrid.
In this article we will cover some awesome transport alternatives, including e-Scooters in Madrid, bike rentals in Madrid, Segway rentals in Madrid as well as electric motor scooters in Madrid and some really useful discounts! Continue reading to learn about all the amazing options there are or choose the topic you're most interested in via the buttons below. If you're also interested in travelling by car, check out our guide to car rentals, carsharing and ridesharing in Madrid.
---
---
e-Scooters in Madrid (Kick Scooters)
---
e-Scooters (also known as kick scooters) are the newest craze in modern, urban transportation. That's because they take up much less space than a bike and take less effort to use. All while getting you around quickly and in an eco-friendly way! Check out our list of top e-Scooter companies in Madrid so you can start scooting around the city today!
---
Lime-S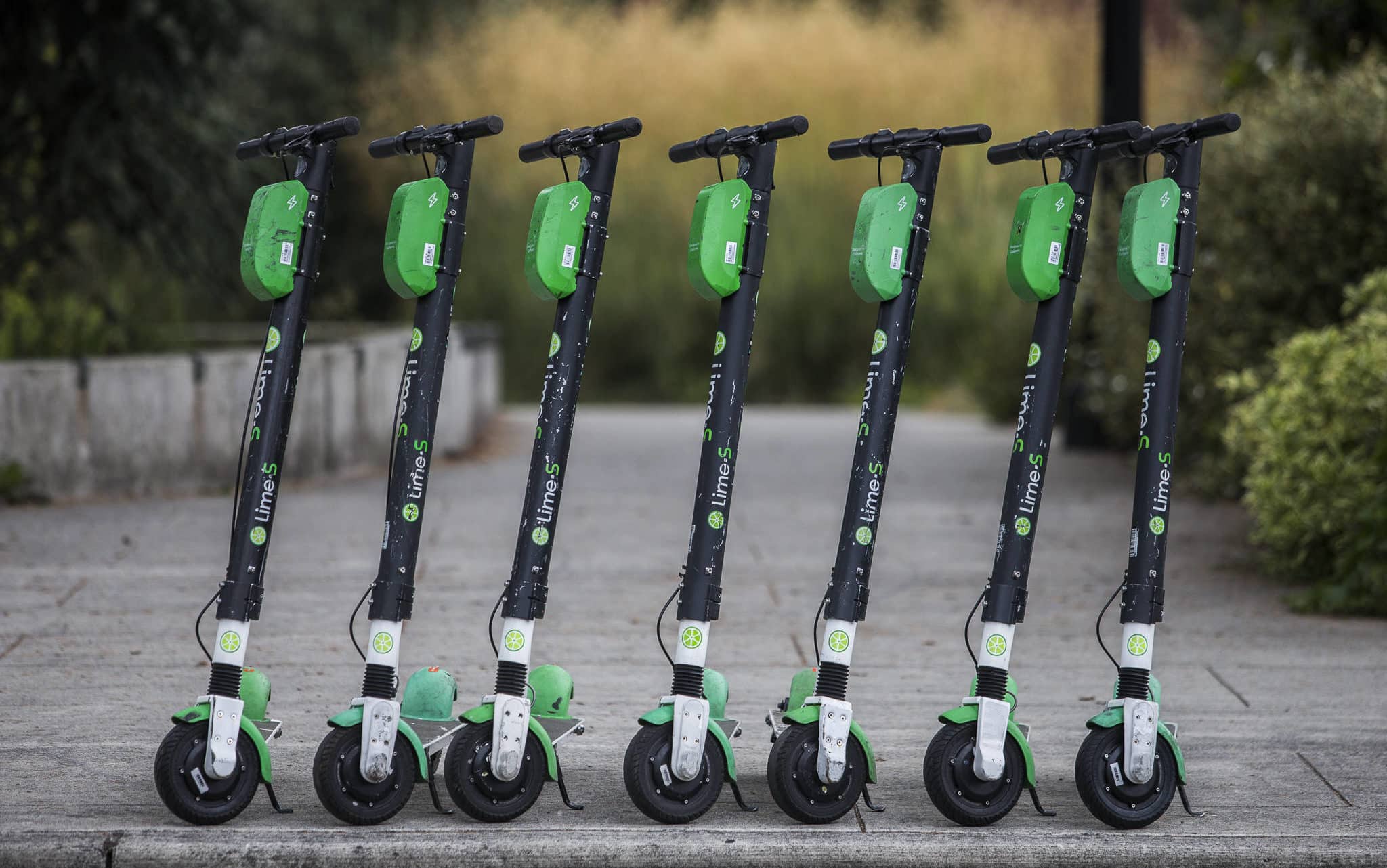 Lime-S is probably the leading e-Scooter provider in Madrid! You quite literally will not be able to walk down a street without seeing a Lime Scooter parked somewhere on the street. Being the original scooter company in the city they have grown massively in size and their app tech is state of the art.
---
ACCIONA Madrid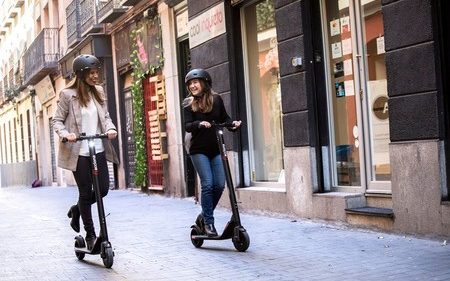 ACCIONA is another popular electric transportation app, primarily here in Spain. They run on a similar set up to Lime-S. You'll find their rates are incredible competitive and they also offer motor scooters and motorbikes to rent as well! Just open the app, find the kind of ride you're looking for that day and get moving!
---
Bolt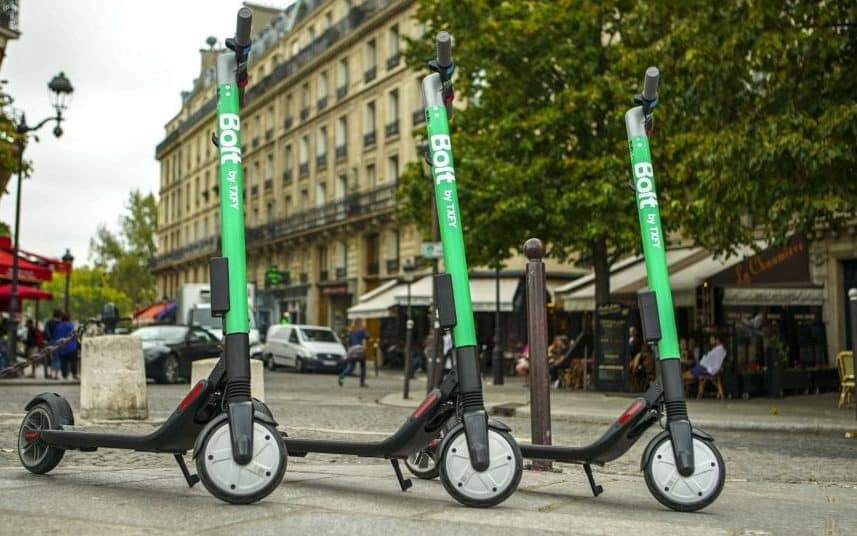 Bolt is one of the fastest growing e-Scooter providers in Europe. They have a firm standing in all over France, Croatia, Netherlands, Portugal and more! They have finally arrived in Madrid and are offering free rides for first time users. You'll see their bright green scooters all over the Madrid city center.
---
Bird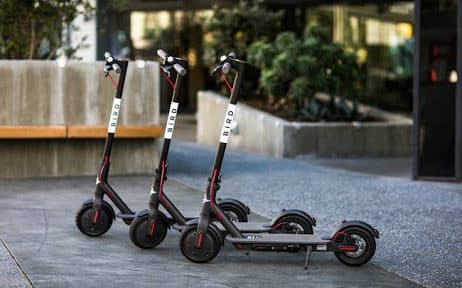 Bird is a state of the art e-Scooter company that operates in North America and Europe. Not only do they offer the same services as the other companies on this list, they also offer a variety of scooter types! From their foldable Bird Air Scooter to their brand new Bird Two series!
---
GoTo Scooters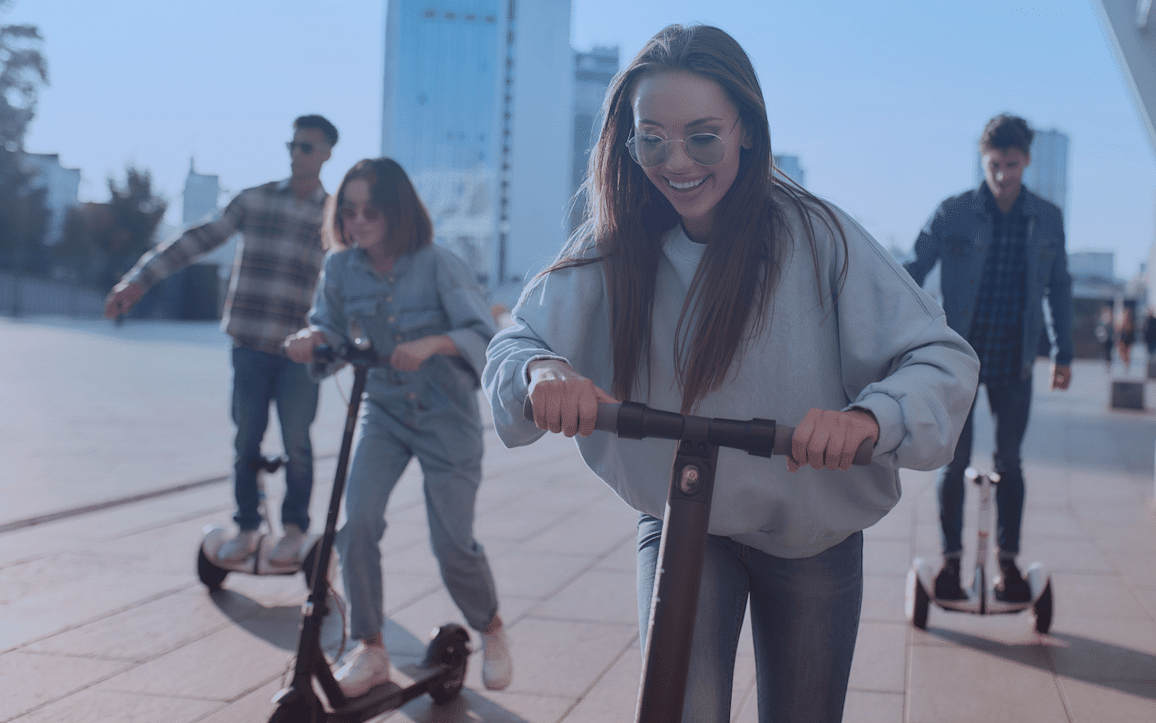 GoTo is an all in one rental company that offers every kind of private transportation vehicle you can think of (scooters, motor scooters & cars)! Most popular are their e-Scooters that you will easily find parked around the Madrid city center. What's really cool about GoTo is that you get your first right for completely free!
---
More e-Scooter Options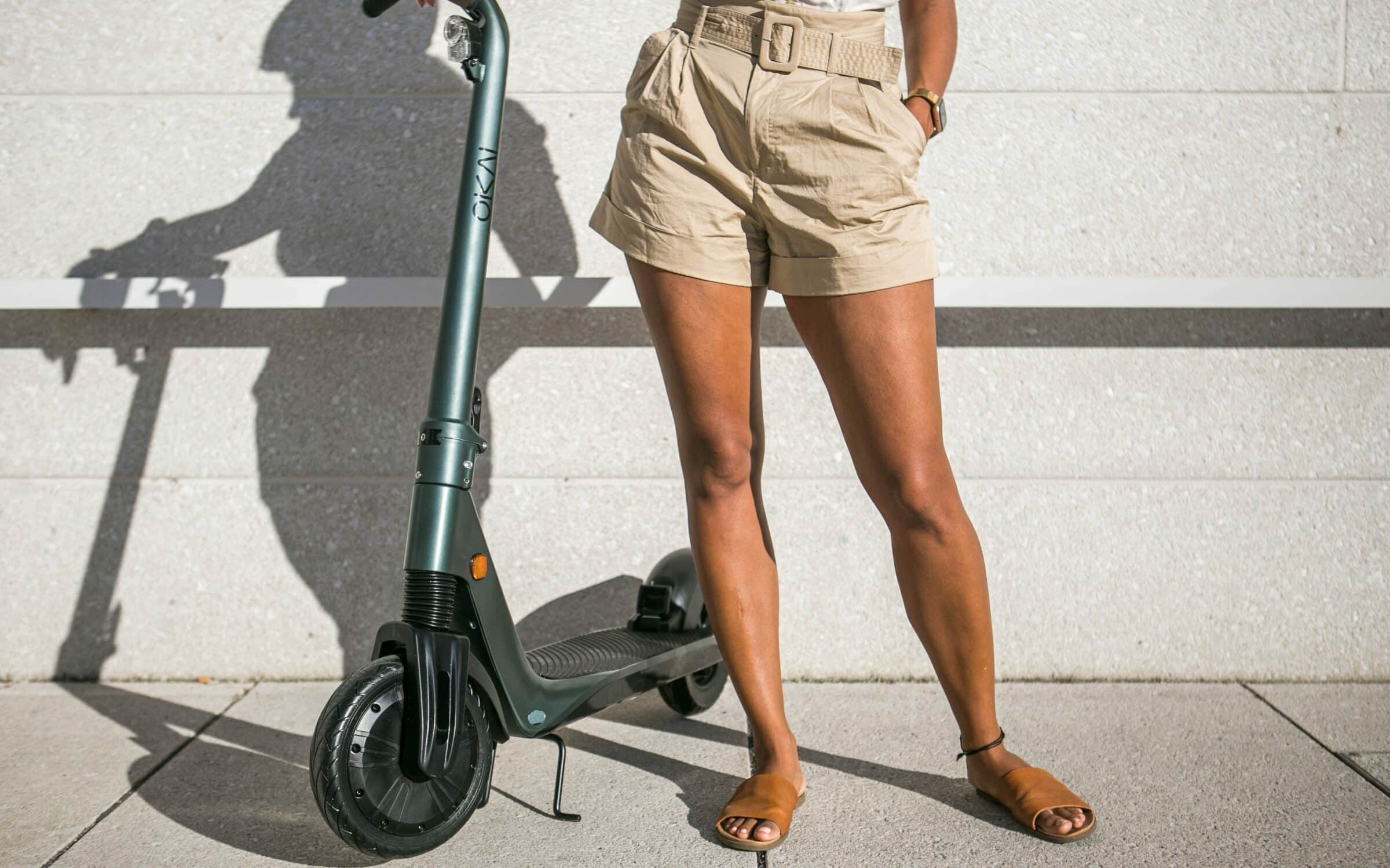 There are more and more e-Scooter providers popping up in Madrid every year. Here are some other top picks:
---
Bike Rentals & Segway Rentals in Madrid
---
Renting a bike is by far the most popular solution for getting around a big city! With eco-transportation on the rise there are lots of options for bike rentals in Madrid. However, not all of them are made for long term use. In this section we've highlighted our favourite options for bike rentals in Madrid for expats and international students.
BiciMad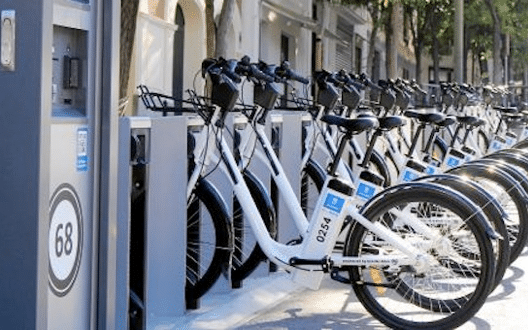 BiciMAD is an electric bike sharing system brought to you by the city of Madrid. It's mission is to provide an alternative clean and healthy form of transportation to the community and to encourage daily activity. They have thousands of bicycles for use with parking stations located all over the city of Madrid. Signing up is simple too! Just fill the form on their website in a matter of minutes. You can also connect your new BiciMad account with your monthly public transport card subscription and get a discount on fares! Speaking of prices, you can choose from an annual card or a simple top up card depending on your needs. For more details click here.
---
Trixi Bike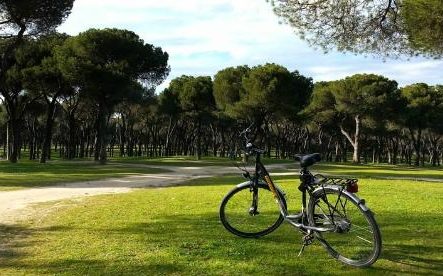 City Card holders receive a 20% discount with Trixi bike!
Trixi Bike offers both bike rentals in Madrid as well as bike tours around Madrid! Their bicycles are comfortable, light, and high quality. You can rent either a standard bike or an electric bike depending on your skills and preferences too! The bikes can be rented for a few hours, a few days, and even a few weeks if you choose. Additionally you can book one of Trixi bikes wonderful themed bike tours through Madrid – either with a guide or self guided. Prices vary depending on the type of bike and rental length you choose.
---
Rent and Roll Madrid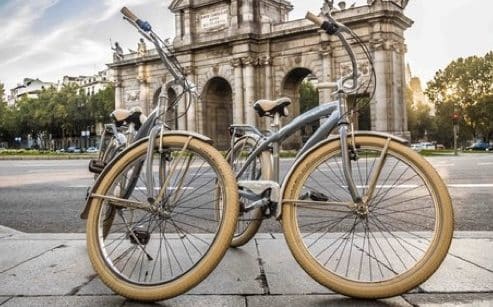 Rent and Roll Madrid is a great option for bike rentals in Madrid. They offer a wide variety of bikes, from city bikes, mountain bikes and electric bikes to trekking bikes, folding bikes and even Segways! They also offer bike tours around the city if you're interested! You can rent their bikes or Segways by hour if you are only planning a quick trip or you can rent their bikes for as long as 1 month if you need it. Rent and Roll Madrid will also include your helmet and various other accessories if required. And last but not least, they also offer a pick up and drop off option so you don't need to worry about picking the bike up or bringing the bike back when you're finished with it!
---
Madrid Segway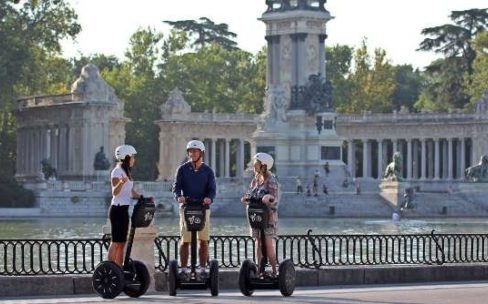 Madrid Segway is a Segway rental company in Madrid, run by an organized team of young professionals who specialize in tourism. When it comes to segways, they only give tours, but they do offer various other vehicles to rent on your own – like e-scooters and bikes. As we mentioned, they specialize in tourism and experiences, which is why we recommend them the next time you're looking for something fun to do with your family, friends or teammates! They offer experiences like bachelor/bachelorette parties and team building exercises.
---
Bikes and segways are just two of the amazing ways you can explore Madrid for fun! Check out all the other ways you can Discover Madrid for Less with your friends or family!
---
Motor Scooters in Madrid (Mopeds)
---
Motor scooters (not to be confused with e-Scooters which we talk about above) are a reliable form of transportation that works perfectly in the small winding streets of most European cities. When using a motor scooter you can access all the same places a car can, but with much more freedom! Also almost all motor scooter providers have adapted to the more eco friendly electric motors which is why we've included them on this list.
eCooltra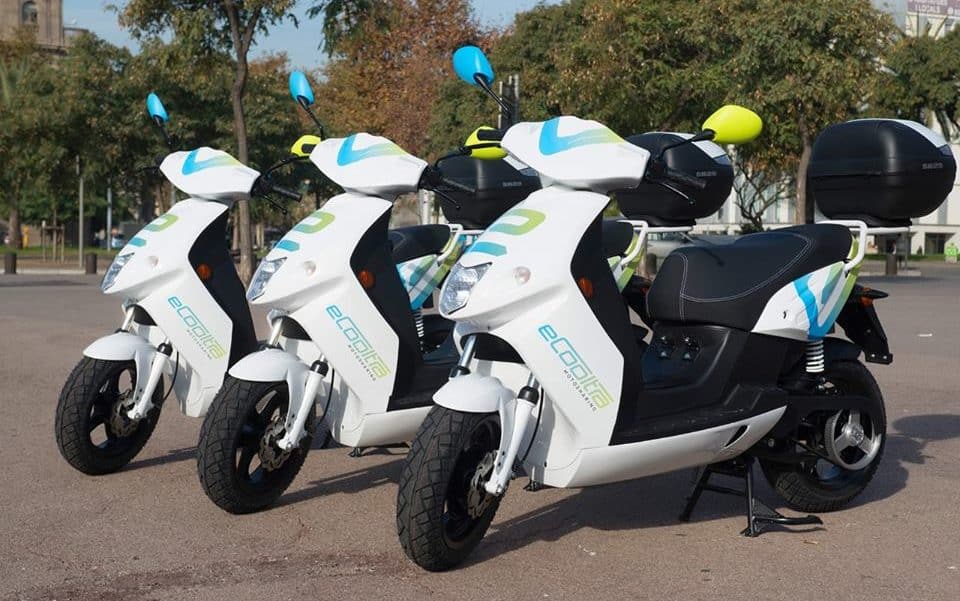 Save up to 20% off your rental with our special promo code!
Look no further if you want to try an electric motor scooter. eCooltra is a leader in mobility solutions on two wheels. They have more than 10,000 electric motor scooters and more than 100 rental spots in across Europe. They offer short term and long term rentals, which can all be managed by their app. There is also a monthly rental service that includes all expenses such as rent, insurance, maintenance, assistance, helmet, and VAT.
---
Movo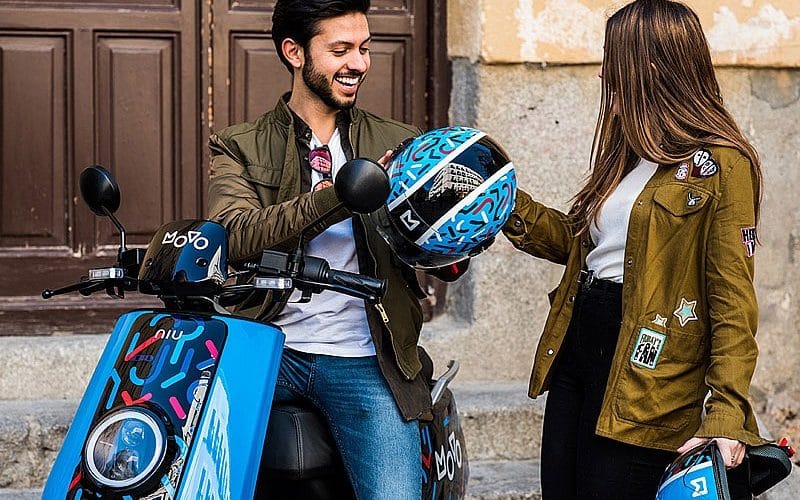 Movo is another very popular option for electric motor scooter rentals. You can always spot these bikes from far away by their distinctive geometric pattern that is wrapped around their bikes. Their modernized sign up system allows you create your profile quickly and easily from their app. Once ready, use the app to find the closest Movo scooter to you, reserve it and then the bike is yours to use! Their prices are quite competitive as well.
---
ACCIONA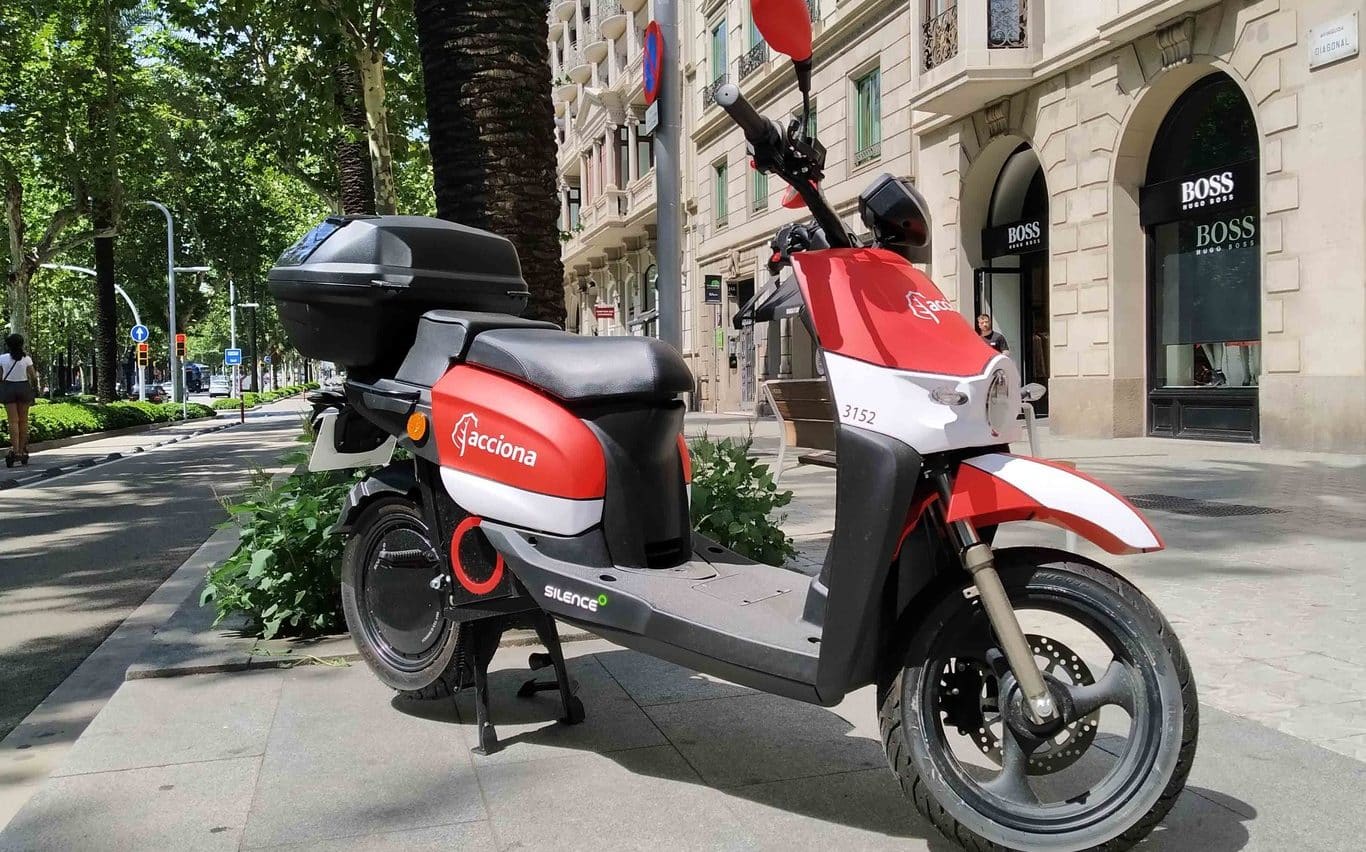 ACCIONA is back again! This time for their awesome motor scooter rentals. This company is incredibly popular among Spaniards and we are sure you have already seen at least one of their bikes parked in the streets. Whats-more, your first 30 mins on an ACCIONA scooter are completely free!
---
GoTo Motos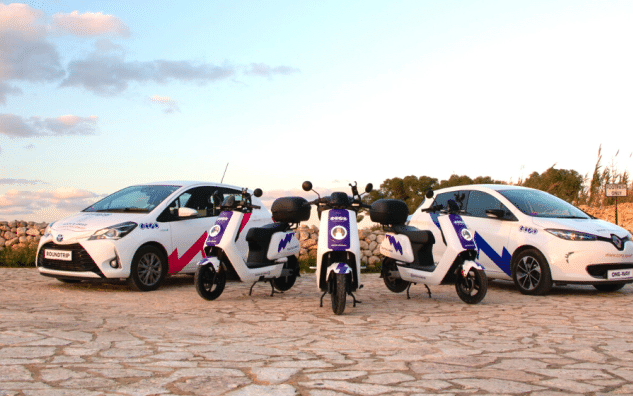 GoTo is quickly growing its eco friendly transportation empire across Europe! Not only do they offer the e-Scooters that we mentioned above, but also motor scooters! Just download their app to see how it works and what prices they offer.
Looking for an insurance for your motor scooter? Find the best insurance policies with the Rastreator comparison tool! The tool is quick and easy to use and will get you the best deals on motor scooter insurance within a few seconds. Check it out here.
---
Keep in mind that a driver's license in mandatory for renting a car as well as a motor scooter in Madrid. If you need advice on getting a Spanish driver's license reach out to our partners at MTS Relocation & Consulting Services for a free consultation! Enjoy the ride everyone!
---
---