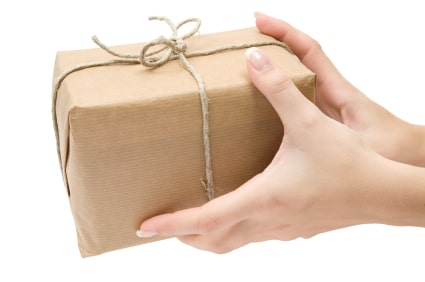 Either you have purchased something from outside the EU or you're receiving some gifts from your family and friends. If they haven't sent it "properly" it will most likely end up waiting (and waiting) for you at the customs office in Barajas airport – to avoid this as much as possible check out our Sending and Receiving Packages blog for some hints and tips. When your package arrives in Madrid it will probably just sit there for a while. It'll get weighed, possibly opened and the value of its contents might be evaluated. You'll receive a letter in the mail called an "AVISO DE LLEGADA" which will contain the basic information about your package: who sent it, where it's coming from, so on and so forth. The letter will refer you to www.adtpostales.com but to save some time, just head straight to https://www.adtpostales.com/acceder.asp. This is where you begin your journey to rescue your package by filling out information about the parcel.
Once you get there click "Aportacion de Documentacion" and follow the steps: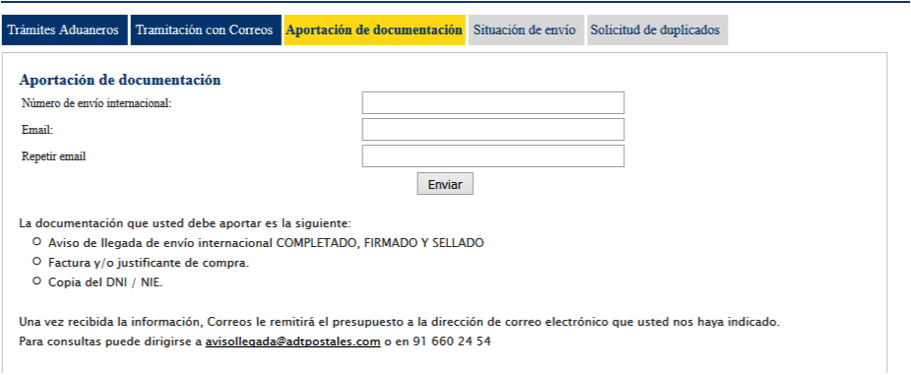 Here you will enter your email address and the International Number of the package – which can be found on the letter you received in the mail – scroll down to see a copy of the letter with all important info outlined. Once you have finished this you'll have to upload a few things onto the Correos server:
The "aviso de llegada" form that came with the letter, completed and signed
The bill of purchase (if you're the one who bought it). If it's sent from a family member or friend check the additional steps below

*

Copy of your passport/ID card
*If your package is sent from a family member or friend, you will have to write and sign a document indicating that you are, in fact they right person to receive this package. To make it easier on you, we've written a sample here. Just replace the examples with the appropriate information:
Mi nombre es "JOHN SMITH" con Pasaporte: "YOUR PASS/ID Nº", me pongo en contacto con vosotros tras la recepción de una carta de la aduana por la retención de un paquete a mi nombre.
Dicho paquete fue enviado por "INDICATE THE NAME OF THE PERSON SENDING THE PACKAGE AND YOUr RELATION TO THEM", desde "INDICATE THE COUNTRY" con Nº envio nacional: "THE NATIONAL NUMBER OF YOUR PACKAGE FROM THE "AVISO DE LLEGADA" FORM"
El contenido del paquete "INDICATE WHAT IS IN THE PACKAGE (eg: SHOES,)":
1 jerseys

2 Shirts (camisas)

2 pair of socks

etc
El precio estimado de dichos regalos es de "INDICATE THE VALUE OF THE CONTENT OF THE PACKAGE"
Os adjunto toda la documentación requerida.
Quedo a la espera de noticias para poder recoger mi paquete.
Muchas gracias.
Atentamente.
"YOUR NAME"
If you are having trouble finding the information you need to complete the letter or the form itself, take a look at the photo below. Remember to sign the form and upload it to your computer and to the website with the other 2 documents. Once you have all the 3 documents filled and uploaded, you're adventure is almost complete!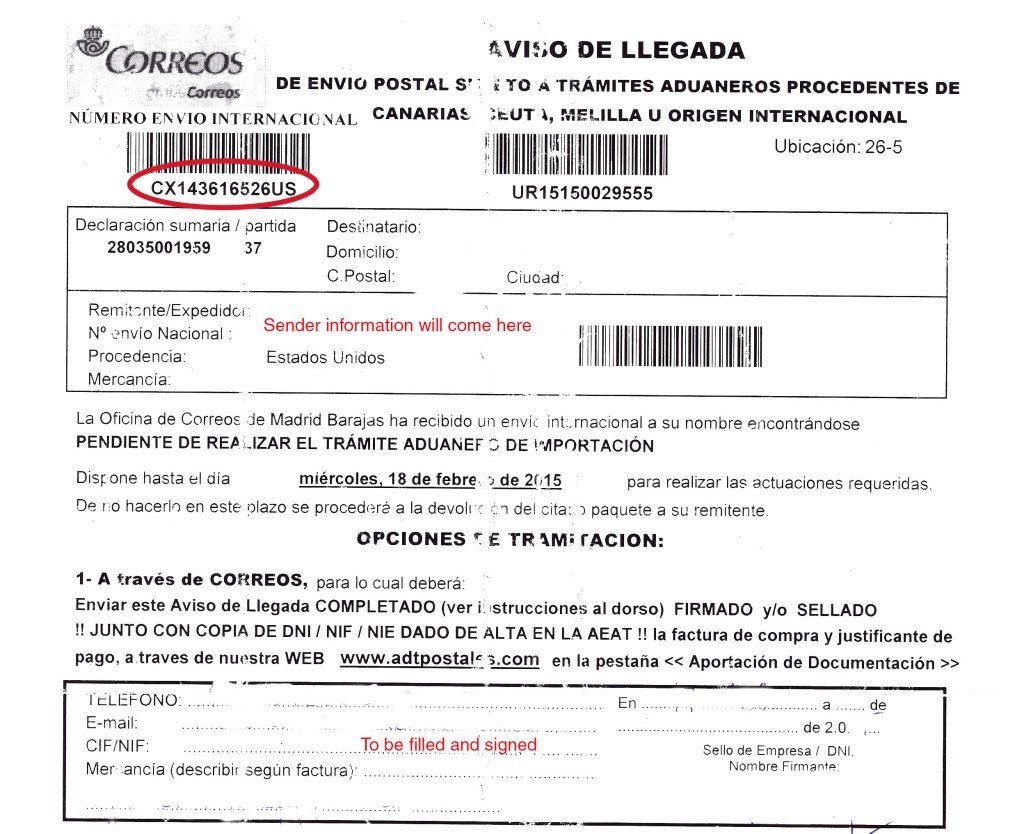 Once Correos receives all the information they've asked for, you will receive another letter in the mail telling you that your package is ready for pickup at a nearby "Correos" office. In the off-chance that you are lucky, they might even deliver it to your door, but they'll also charge you for that! Once you get to the office, or the delivery is made you'll have to pay a tax fee – yes, even if the sender requested to pay for all fees on their end, you will still have to pay a tax. The amount of taxes you have to pay depends on the value of the contents, so try to lowball the value as much a possible. But, remember, the value you indicate and the value the sender has indicated MUST match.
Another option is to go directly to the Correos at Barajas Airport to pick up your package. Please keep in mind that if you decide to go straight to the airport you must present the delivery form and a Spanish NIE. If you do not have a NIE you must go with someone who does. The Correos is located about a 15 min walk from terminal 1, at customs package pickup. When you go to retrieve the article you may need to pay a tax, which can only be paid in cash. The Correos at Barajas is open from Monday through Friday until 3pm.
And there you are! Hopefully you will rescue your parcel in good time and enjoy whatever gifts come your way!


HINT: In case you would like to send a package from Spain to home, check out CangoBox – probably the cheapest, easiest & most reliable way at the moment to send packages at least within the European Union. Read more by clicking here!
– Leah & Teddy