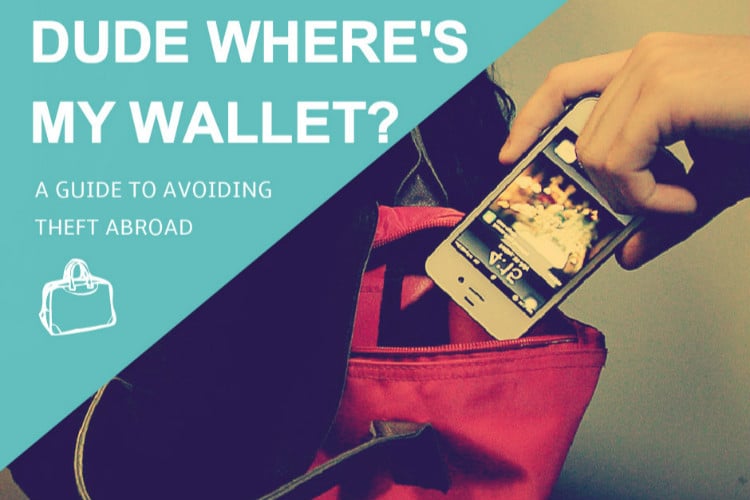 Madrid is no stranger to theft in the streets, but don't let that scare you! Be self aware and be aware of your surroundings! Most people don't fully come to these realizations until something has been stolen from them. But, if you prepare yourself ahead of time, you can become a super smart, super savvy traveler :).
Recognize the thieves
In most situations, these people will spot you long before you spot them and usually there is more than one person involved – even if you don't see them. Working in groups; one will distract you by begging, following you, asking you questions or dropping something in front of you. While the others check out your bags and pockets. The man or woman begging on the corner could be a part of a group of people who are "working" that street or plaza – this even includes their children who will be running around and "bumping" into people. Some of these people will even offer to help you with directions or carrying your luggage and after helping you will demand money from you.
You don't have to be a neurotic mess while out on the town, but just be aware and always keep a hand on your things when you notice these people around you. For more information check out this great article by Rick Steves called Tourist Scams and Rip-Offs.
Emmerse into local life
Tourists and exchange students are easy targets for theft and scams in Madrid and all of Europe. As they travel in herds of english speakers, with their cameras and maps and often looking around and forgetting about their bags – it's like wearing a sign on their heads! Emmerse into local life by exploring the city and learning where the tourist areas are. Once you do, don't waste much time there. These areas are a central hub for overpriced food, shops and where most of these street thieves hangout. As soon as you become a part of the culture – you will be surprised how easily you will be overlooked.
Protect what is important
When I first got here I caught someone trying to take my purse from my table at and outdoor restaurant as I was telling a "passer by" the time. Ever since then I have been ON TOP of my things. Never take your purse/wallet off of your person. For men, it is a good idea to keep your wallet in the front pocket at all times – dont ever leave it on the table like you might do at home. These days cellphones are more valuable than wallets, so use these precautions for your phone as well. Finally, if you are spending the day at the park always keep your bags within sight and don't flaunt your belongings – putting them under a blanket or jacket is a good idea.
Prepare for a night out
You are most vulnerable when you are intoxicated and out on the town with your friends. I had my wallet stolen – somehow – during a pub-crawl in the city centre, and I don't know when or where it happened. The best thing you can do to prepare for a night out is decide what you really need to bring with you. If you have a drivers license or a student card, dont bother bringing your passport with you as a form of ID. You can photocopy your passport should you need it for emergencies – but my advice is to just leave it at home. For girls I suggest bringing a purse with straps that you can put accross your body and not have to worry about holding all night. As I have mentioned before, phones are the most desirable target – so girls, keep it out of your back pocket and in your purse. When it comes to money, only you can decide how much to bring with you on a night out – but, the less you bring you less you have to lose!
What to do when you got robbed
Most importantly, stay calm and check for the nearest police station to go to. Report everything you are missing, from money and IDs to cell phone and keys by making a police report. As already mentioned, only carry with you what you really need. In case your keys got stolen, also contact your landlord. If your passport is gone, you should contact your local embassy immediately. Don't forget to immediately contact your credit card provider / bank to report the theft of your cards so that they block your cards. If you lose your phone, you can find some well priced used phones easily.
Your friendly neighbourhood Travel Guide,
– Leahxx