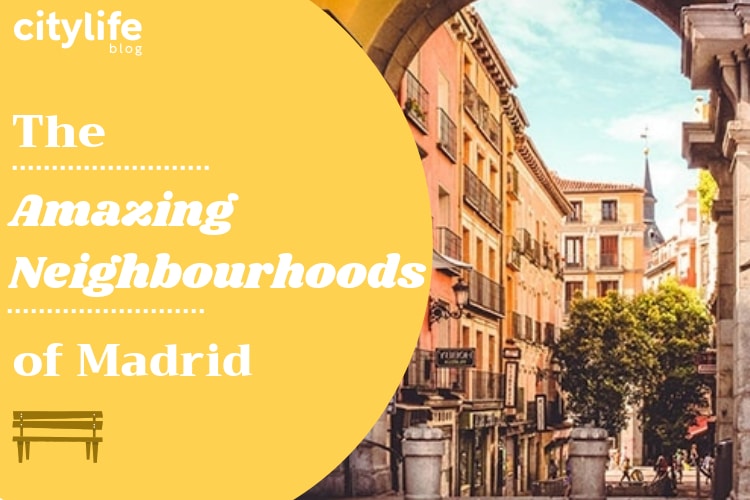 Madrid is recognized worldwide not only for being a major European capital, but also for being an alluring cultural hub, for the exquisite cuisine and the fashion-forward residents.
Each of Madrid's central neightbourhoods have a unique identity of its own, which makes exploring the city a fun filled adventure.
Whether you're trying to figure out where you'd like to live while in Madrid or just want to get to know the city better, we've crafted some neighborhood or "barrio" profiles to give you an insiders' look. simply take a look at the table of content to learn more about a specific neighbourhood or skip ahead to the barrio of your choice via our content overview!
Puerta del Sol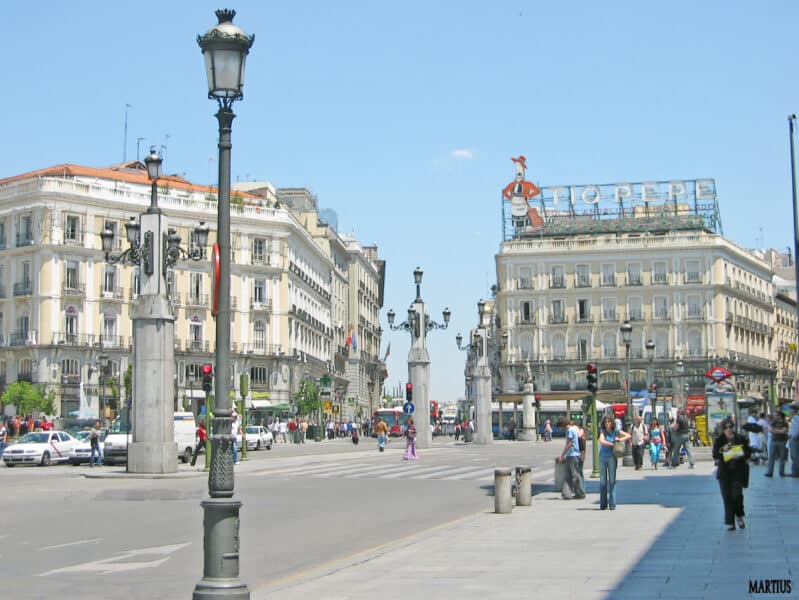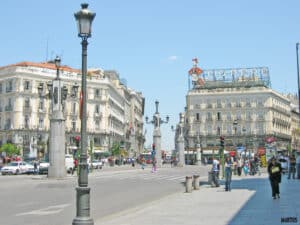 Puerta del Sol is the very center of the city and home to Madrid's most popular meeting-point for young and old: in Spanish, "El Oso y el Madroño" which is the infamous bear statue with the strawberry tree. Sol also marks Kilometer Zero, meaning that all of Madrid's numbers and roads stem from this point – it is literally the center-most point of the entire Iberian Peninsula! The plaza itself is always teeming with life as tourists, buskers and native madrileños come together in the heart of this amazing city. Sol is also very central when it comes to transportation, shopping and tourist attractions. All of Madrid's most popular shops are located within walking distance, and the streets are lined with cafes, bars and restaurants specializing in both Spanish and international cuisine. Plaza Mayor is only a hop, skip and jump away, and a 10 minute walk from Sol in one direction will conveniently bring you to the Prado Museum, while 10 minutes in the other direction brings you to the Royal Palace. This neighborhood is for you if you'd like to be in the center of all the action, and don't mind the hustle and bustle of the city at all hours of day or night.
Metros: Sol, Sevilla, Ópera, Gran Vía, Santo Domingo, Callao, Tirso de Molina (Lines 1,2,3,5)
Cercanías (local trains): C-3 & C-4
Malasaña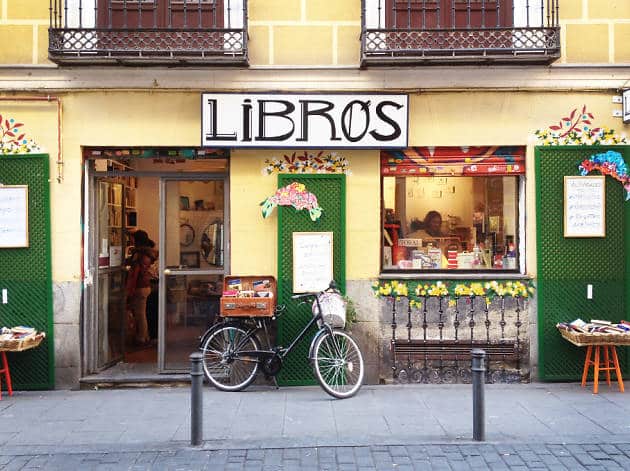 Malasaña is known as the most hipster/alternative part of the city, mainly due to its history as a rebellious neighborhood that fought for what they believed in (in 1802, the residents here staged an uprising against Napoleon in what is now the main plaza, called Dos de Mayo). Fuencarral is the main street and runs parallel to Chueca's Calle Hortaleza north of Gran Vía. The narrow, colorful streets are chock full of cafés, restaurants, trendy and vintage shops, and neighborhood cooperatives. You can also find interesting street art, high-end tattoo parlors, uber-trendy eateries, and experimental pop-up shops selling everything from costumes and goth clothing to home goods and cupcakes. You'll find the streets, shops, and plazas full of a diverse mix of people at any hour of day or night, and its main metro stop Tribunal is the second-most-popular meeting spot for groups of friends going out for the night. Their nightlife scene has a little bit of everything but this neighborhood is definitely home to the indie-alternative youth culture and boasts some of the most popular nightclubs catering to this clientele. Whether or not you choose to live here, you must check out the colorful, funky streets for yourself and join the groups meeting at Metro Tribunal for a night out unlike any other.
Metros: Tribunal, Bilbao, Noviciado, San Bernardo (Lines 1,2,4,10)
Chueca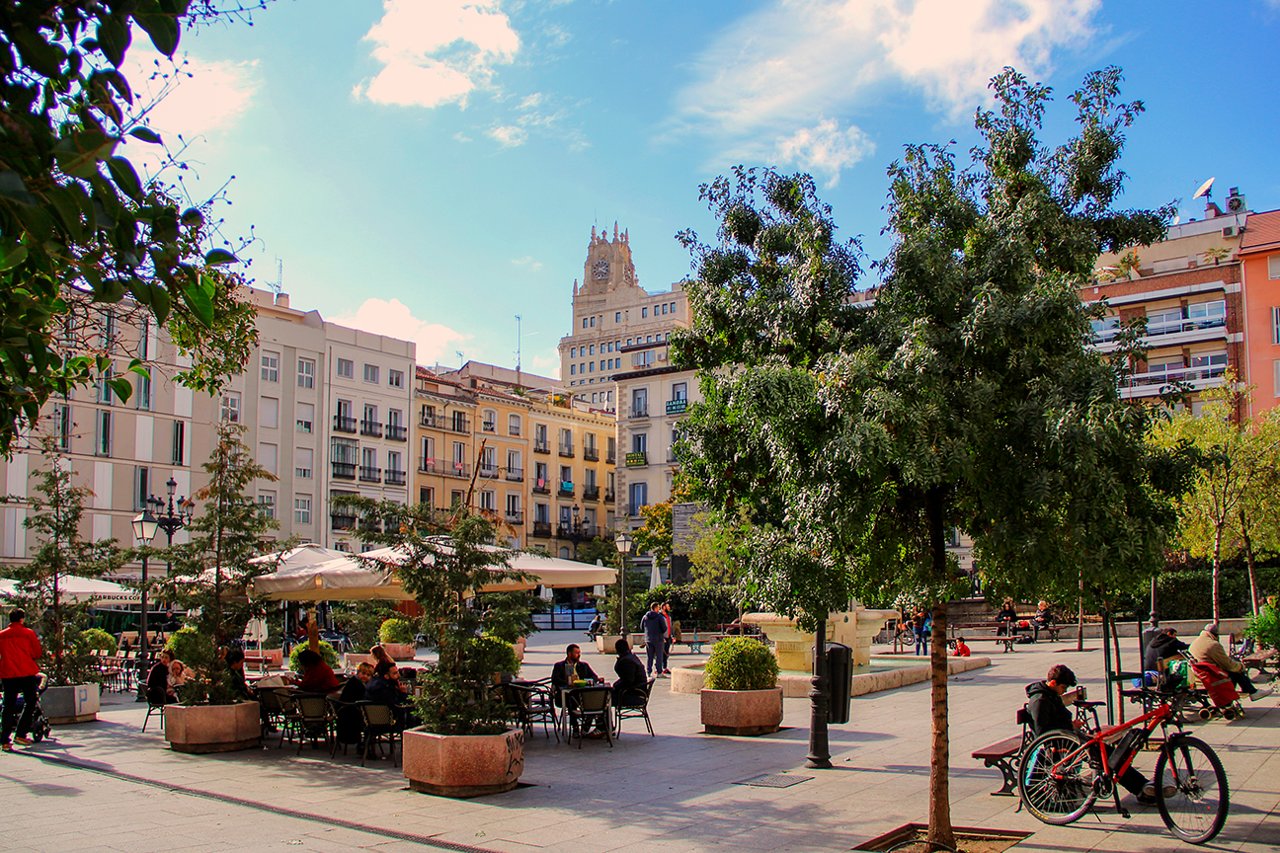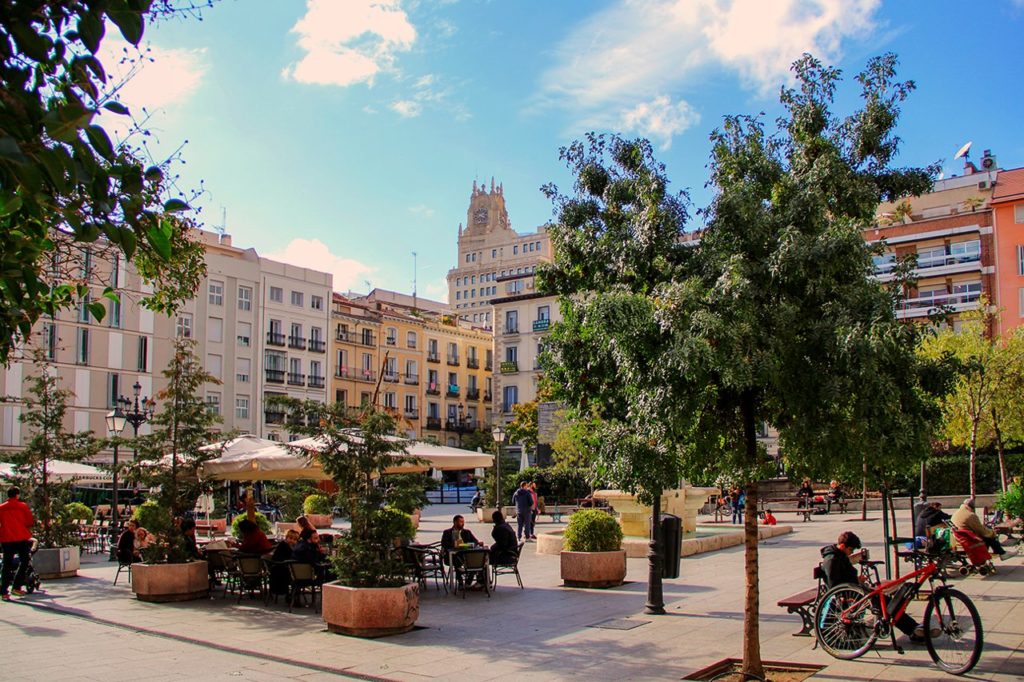 This neighbourhood borders Gran Vía to the north, the streets full of bars, taverns, restaurants, cafes, and clubs, and is one of the best places to go out in Madrid. Its main streets are Calles Hortaleza and Fuencarral, and it's undoubtedly one of the trendiest destinations in the city, though it's considered the laid-back and more diverse cousin of hipster Malasaña. During the day, this neighbourhood is home to fabulous restaurants, out-door terraces and boutiques, and an entire street dedicated to shoe stores can be found on Calle Agusto Figueroa. Also found along this street is Mercado de San Antón, a 3-story gourmet food market offering all kinds of delicious treats and an outstanding rooftop bar. Food and shopping aside, Chueca is the proud host of one of the world's largest Gay Pride Parades that attracts thousands of visitors every year, filling the streets with color, music, and revelers. Due to its mix of trendy and high-end nightclubs, restaurants, bars, stores, and ambiance, it's hard not to fall in love with Chueca. If you're looking for a central location that maintains tradition and also embraces modernity while keeping some distance from the tourist hub, this neighbourhood is for you!
Metros: Chueca, Gran Vía, Alonso Martínez, Tribunal (Lines 1,5,10)
Huertas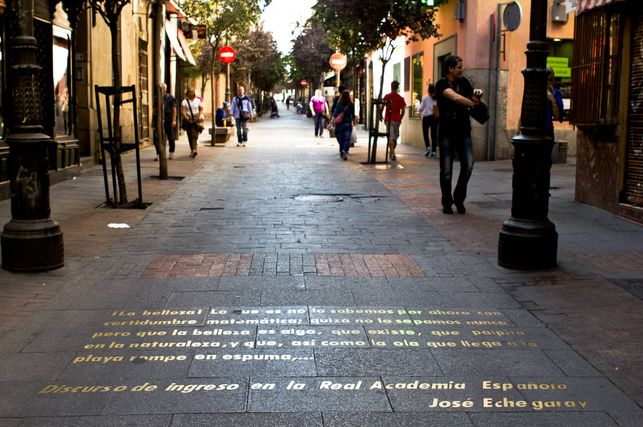 Named after its main street Calle Huertas by the locals, this neighborhood is officially called Barrio de las Letras. Another great area to go out for dinner, a caña or for the night. This part of the city is five minutes walking distance from Sol and is crawling with all sorts of bars and great restaurants. Featuring the large Plaza Santa Ana and numerous small side streets, there's a lot to see and explore, like Calle Leon which has fun bars, old-school delis, and interesting boutiques. While you're here, don't miss the popular spots like live music at café Populart or a drink at the iconic Hotel Reina Victoria, not to mention the landmark house where Cervantes died in 1616. Though very much part of the tourist hub that is Sol and city centre in general, this neighbourhood attracts just as many locals for the excellent atmosphere. If you're looking for a great location where you'll never be bored, consider barrio Huertas!
Metros: Sol, Antón Martín (Lines 1,2,3)
Barrio de Las Letras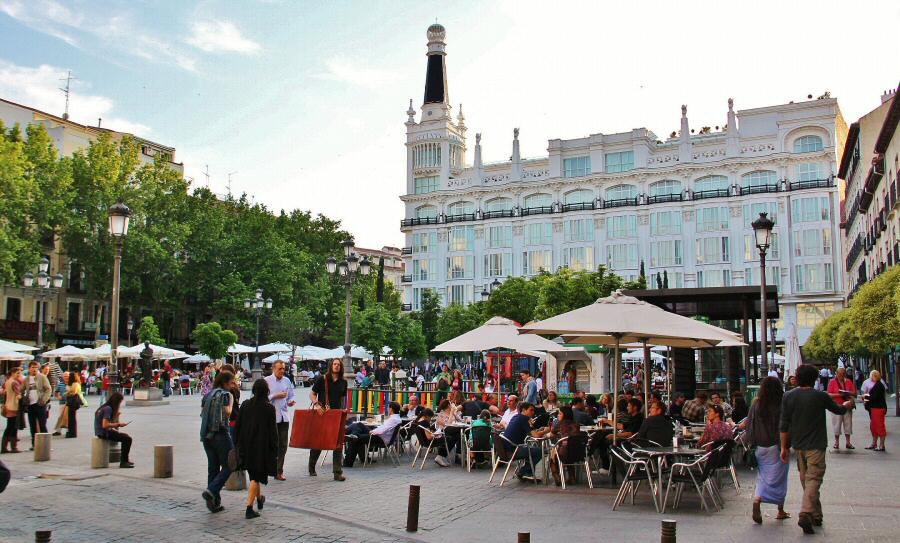 This title generally refers to the area just east of Plaza Santa Ana and is named after the many important writers who lived here like Cervantes, Quevedo and Lope de Vega. You'll recognize it by the golden quotes set into the pedestrian cobblestone streets, which can be found here and there throughout the neighborhood. This area is distinct from Huertas because it's less of a nightlife area and instead houses, many arts and crafts shops and cultural attractions like historic houses-turned-museums. Perhaps best described as laid back, bohemian and artsy, this neighborhood is also home to important artistic venues like Caixa Forum and is a short walk from the Prado and Thyssen Museums. It boasts numerous traditional shops like cobblers, silversmiths and instrument craftsmen, and maintains this quaint neighborly feel without compromising its proximity to the comings and goings that make the center of Madrid such an excellent place to live.
Metros: Sol, Sevilla, Atocha, Tirso de Molina, Antón Martín (Lines 1,2,3)
Lavapiés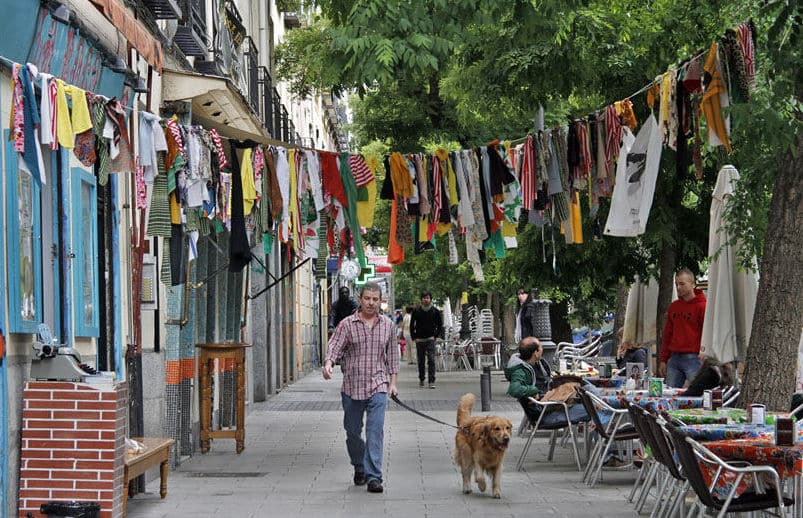 With a distinct underground feel, Lavapiés is quickly becoming one of Madrid's trendiest neighborhoods. It was home to an influx of immigrants for many years, which has transformed this barrio into a fusion of culture, cuisine and alternative-artsy nightlife. Just one metro stop south of Sol, Lavapiés is being embraced for its diverse personality and hipster bars featuring outdoor terraza seating. Most famous for these bars and terraces is Calle Argumosa, which is lined with ethnic food and traditional taverns alike, and filled to the brim with groups of friends every evening and weekend. The famous tapas route held every October, called Tapapiés, features many stops along Argumosa and fills the neighborhood with people enjoying a cold caña and conversing over good food. Thanks to lower rent compared to other areas and the draw of a multicultural neighborhood, many young people come here to live alongside people of over 90 different nationalities. Try some food from around the world, enjoy a drink, or simply explore the streets filled with interesting and colorful street art!
Metros: Lavapiés, Tirso de Molina, Antón Martín, Atocha (Lines 1, 3)
La Latina
Located just south of Plaza Mayor, this neighborhood is made up of beautiful Latin architecture and small colorful alleyways between 18th-century buildings. Here you'll see tons of streets lined with restaurants and their respective terrazas, as well as traditional bars and interesting antiques shops. On Sunday mornings, La Latina's famous outdoor flea market, El Rastro, engulfs La Cava Baja and the entire surrounding area and is packed with vendors and shoppers alike. The basilica's elegant dome stands as a backdrop to the area's bustling streets, restaurants and taverns, which are dotted with interesting graffiti and street art. Perhaps the most popular neighborhood for a tapas crawl with friends, this eclectic and vibrant barrio is a unique place to spend time exploring one of the oldest parts of Madrid.
Metros: La Latina (Line 5)
Moncloa & Argüelles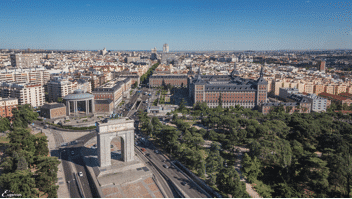 These neighbourhoods, also called the university district, are found side-by side northwest of the city center and are especially great places to live for young people and students. Madrid's biggest university, La Complutense, is very close by, and it also borders the lively Malasaña and Chueca barrios. The area is full of bars and shops, and the main draw, Calle Princesa, has all the typical stores like Zara and El Corte Inglés. If you follow Princesa far enough, it turns into Gran Vía after passing through Plaza de España. But this doesn't mean it's a long way from the city center, far from it actually, as Sol is a 10-20 minute walk away, depending on where you start. Full of university students, families, and local madrileños, this neighborhood is much quieter compared to Malasaña, Sol, and surrounding areas, and has more of a neighbourhood than city feel. Adding to the neighbourhood vibe are the close by parks, the Madrid River, called Manzanares, and public swimming pool which you can enjoy in the hot summer months. In this barrio you'll get to know your neighbours, live alongside tons of other students both from Spain and international countries, and enjoy the perks of city life with less of the noise and tourists so typical of the center-city.
Metros: Moncloa, Argüelles (Lines 2, 4, 6)
Chamberí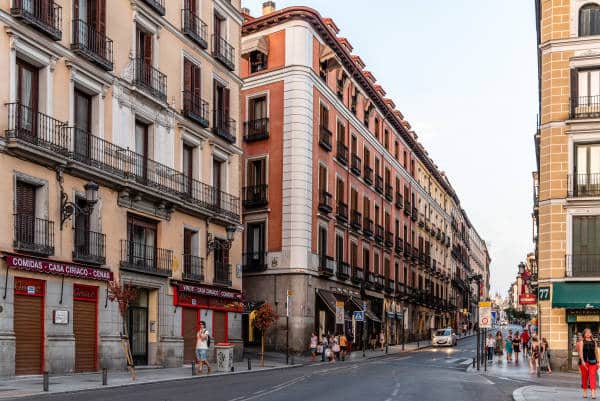 East of Moncloa & Argüelles and stretching to Paseo de la Castellana is barrio Chamberí. A more aesthetically elegant neighborhood, this area is home to slightly older residents and families. Full of beautiful architecture, museums, and important governmental buildings, this area is sometimes referred to as the business district. Even so, it still contains quaint plazas and popular tapas bars where you'll see people in business attire enjoying a coffee break or having a caña with colleagues after hours. In the impressive Plaza Colón you'll find Madrid's largest Spanish flag flying high next to the National Archaeology Museum and National Library. Since it's north of the city center this neighborhood is quieter and doesn't contain the trendy lounges or international bars typical of Malasaña and Chueca, but rather has the traditional lifestyle of Spanish taverns and bars with small terrazas dotting the streets and plazas. Here you'll also get to know your neighbors and probably become a regular at your local grocery store or favorite bar. It's a great place to live if you're looking for an authentic Spanish experience close to the city center but not in the tourist hub.
Metros: Bilbao, Iglesia, Rios Rosas, Alonso Martínez, Gregorio Marañón, Colón, Rubén Darío, San Bernardo, Quevedo, Canal, (Lines 1, 4, 5, 7, 10)
Chamartín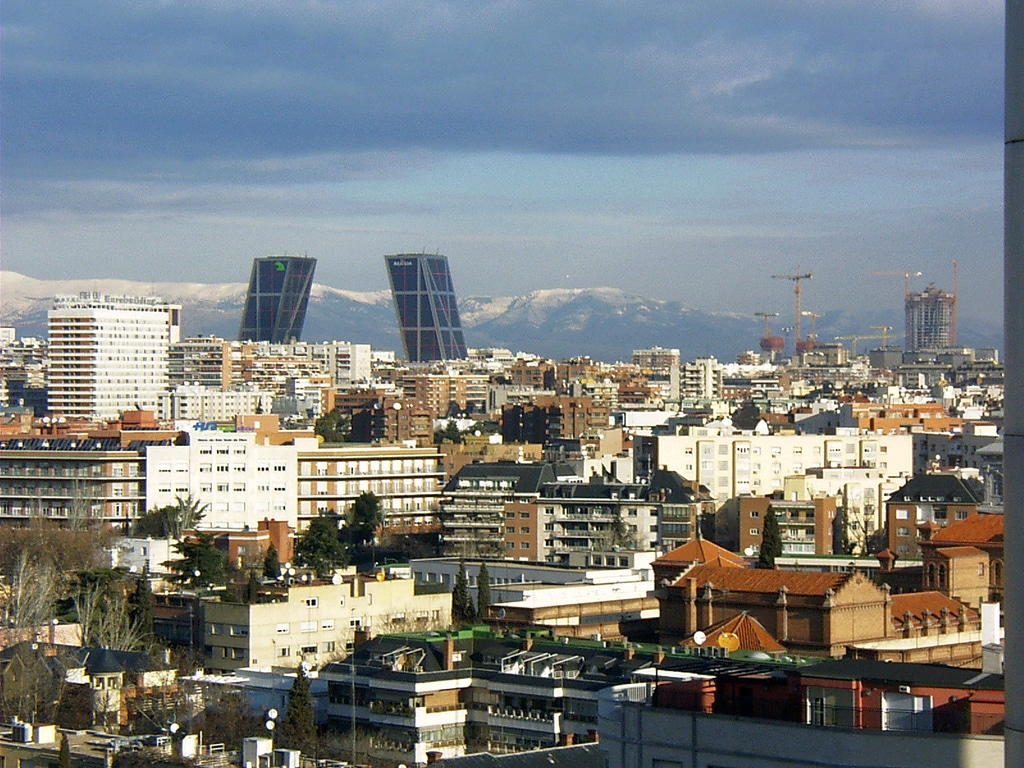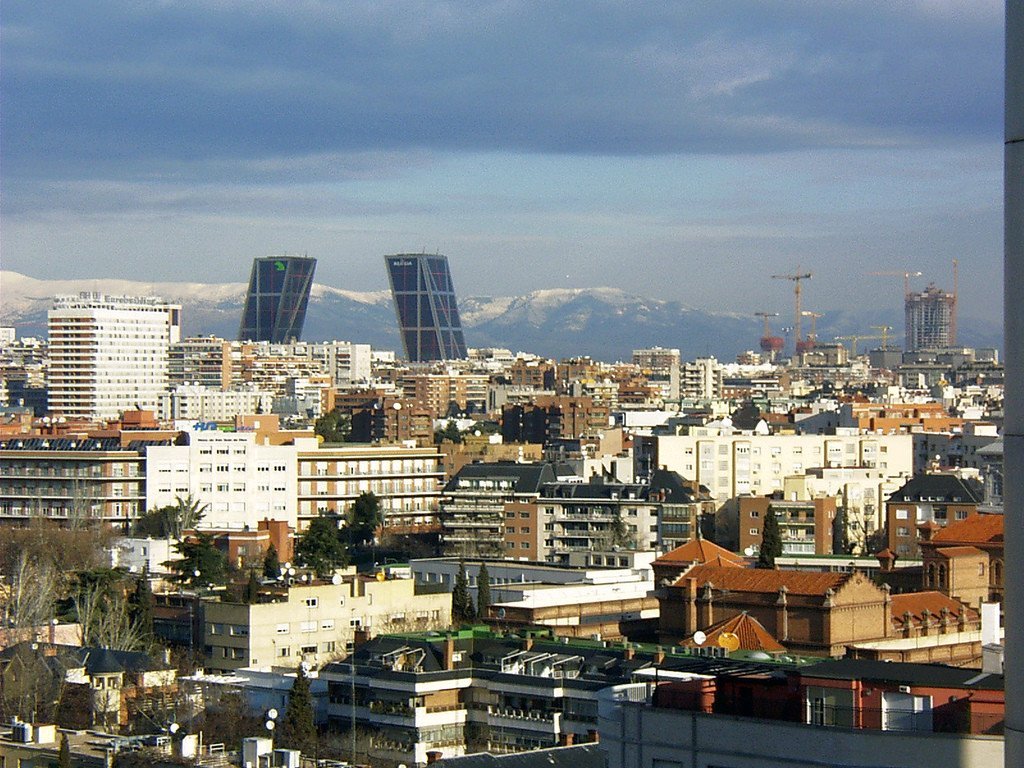 In the North of the city lies a more modern Madrid and a disrict known as Chamartín. The area is technically the Northern limit of the city centre and larger than others. The region itself is divided into several other smaller sections like Castilla and Prosperidad but all sections are easily connected with Madrid's metro system. The neighbourhood is located between Las Tablas and Salamanca and is considered one of the business districts of Madrid. Here you can find locations like Plaza de Castilla, the Chamartín Train Station, the Santiago Bernabéu Stadium and the famous Gate of Europe. The border of the barrio is marked by the huge Paseo de la Castillana – a major roadway in Madrid connecting to the large M30 and M11 motorways! Chamartín is a major hub for banks, corporate offices, modern art galleries and event venues especially along the Paseo and between all the major metro stops. But since the area is so large, its has also become a very popular residential neighbourhood, with many schools and apartment clusters throughout!
Metros: Gregorio Marañón, Rebública Argentina, Prosperidad, Nuevos Ministerios, Santiago Bernabéu, Cuzco, Colombia, Alfonso XIII, Plaza de Castilla (Líneas 1, 6, 7, 8, 9 10)