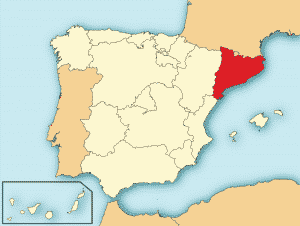 The rivalry between Madrid and Barcelona is famous in Spain, but it goes much further than modern day football. Oh yes, Catalan pride is a powerful force that has shaped Spain into the country it is today. The region of Catalunya is located in the north eastern coast of Spain and is made of 4 provinces – Barcelona, Girona, Lleida and Tarragona.
Catalonia and its proud people often consider themselves as a separate nation from the rest of the country. Since the fall of the Roman Empire, the people of Catalonia have been fighting to become an independent region of Spain – which was granted in part, in the late 19th century. It is now self-governed and raises it's own provincial flag, rather than that of Spain. The region even has it's own language – a unique combination of Spanish and the french language that was left behind – and recently attempted to gain full Catalan independence.
Catalunya is one of the most populated regions of the country, both by Spaniards and by tourists. With people flocking from all over the world to visit the beautiful coastline and the famous city of Barcelona. Barcelona is one of the largest cities in Spain and is flourshing with culture, art and an amazing nightlife scene. The region also offers amazing landscapes, as its nothern border is lined with the gorgeous french Pyrenees mountains and the Mediterranean coast to the east. Due to the salty ocean air and the fresh wind from the mountains, Catalonia produces some of the finest crops in the county. The countryside is covered in rolling hills with endless olive groves, vineyards and farms
Join Citylife Madrid on several amazing trips to this unique, proud and beautiful region as we visit Barcelona – the cultural hub of Catalunya! Click here for more information, and to book your tickets today! To check on cheap flights, hotels and rental car deals, click here!
Your friendly neighbourhood travel guide,
– Leah