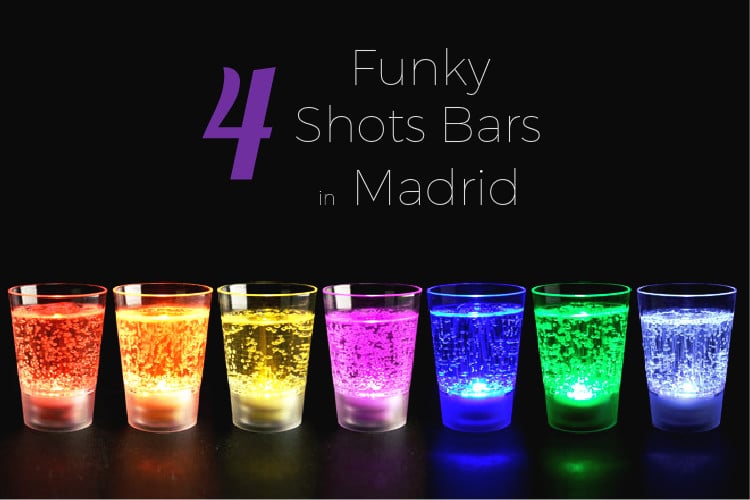 Greece is currently in the lead when it comes to the amount of bars per inhabitant. Sliding into second place is the place we call home, Spain. Naturally you'd expect it to be fairly easy to find a bar in Spain, more specifically Madrid. However, this task get slightly more complicated when you try to find a place to call your own. Fortunately, we've taken on the difficult task of going out every night and drinking all over Madrid to be able to give you a run-down of some of our favourite spots!

Cherokee Madrid


Calle Lara, 15.
Cherokee is found in an area of Madrid that people often don't pay too much attention to. Bilbao, found a few minutes walk from Malasaña, has some of the most intriguing bars and Cherokee definitely adheres to its neighbouring bars. Specialising in shots of all different types accompanied by a drink (yes, you buy a drink in order to receive a free shot) Cherokee will be a great way to start and/or end your night!

Nearest Metro: Bilbao
Special Offers: Free Shots with drink offer

Chupito Sabor
No we enter more into familiar territory as we enter in Alonso Martinez continuing with our theme of shots. Chupito Sabor, which loosely translates to Taste of a Shot makes sure that you are introduced to all kinds of flavours. They have over 15 different 'trademark' shots including "Diarrea corrosiva", "Sangre de Satán" and "Erección". I doubt they require translations but may require explanations. Fortunately we're fond of surprises and can only say that Sangre de Satán is surprisingly. Well, go and find out!
Nearest Metro: Alsonso Martinez
Special Offers: Trademark Shots

La Lujuria De Los 80
La Lujuria de los 80s (The Lust of the 80s) is the wildcard in our selection. Situated in the heart of Madrid the bar maintains a traditional Madrileño style and feel. It's not about a drink deal, or 2, it's about THREE drinks. The bar encourages people to stay and converse, have a good time and does so by offering 3 mixers for €20. If you're a fan of the 80s and a more traditional atmosphere. This is the place for you.
Nearest Metro: Ópera / La Latina
Special Offers: 3 Drinks for €20

Espit Chupitos
By this point you may have caught onto the fact that Chuptios is Spanish for 'Shots'. However, this isn't any "Chupito Bar". Each chupito you order is never alone, it comes with a childhood friend – SWEEEETSSSS! (Sorry, still trying to overcome this whole sugar excitement issue).
The bar has over 600 shots, cocktails and mixers and the staff are more than happy to assist you to find the one that suits you. If they make a mistake in guessing your preferences, you just repeat!
Located in the Moncloa student region and recently celebrating their 4th Anniversary, make sure you pay a visit to Espit Chupitos this weekend!
Nearest Metro: Moncloa
Special Offers: Free Sweeeeeettsss!
– Ken