The Changing of the Guards Ceremony
On the first day of every month, 100 men and 100 horses march through the palace gates into the Plaza de la Armería and through the Plaza de Oriente. They are honouring the tradition of the Solemn Changing of the Guard (Relevo Solemne y Cambio de Guardia) from the times of Alfonso XII and Alfonso XIII. The ceremony always starts at 12:00 in the afternoon, but it's a good idea to get there a little bit early to get a good spot!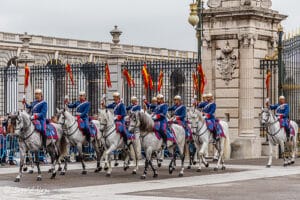 Another tradition at the palace is the weekly Changing of the Guard ceremony. A much smaller – but just as meaningful – tradition. It involves 4 sentries and 12 guards walking from the Palace into Plaza de la Armería and performing the traditional routine of the Changing of the Guard. It starts at 11:00 in the morning and officially continues until 14:00! You can catch the ceremony every Wednesday morning at the palace gates.
Your friendly neighbourhood travel guide,
– Leah