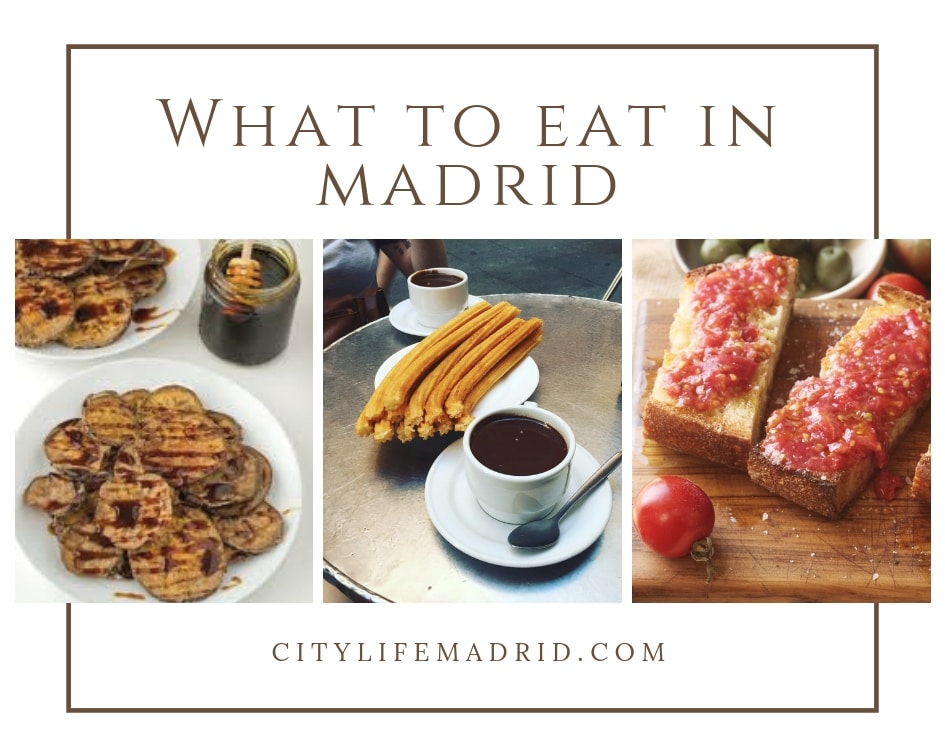 Coming to Madrid, a new city and culture are super exciting but it can a little overwhelming to navigate where to start when it comes to the cuisine. So here is an overview of some of the foods you should give a try.
You cannot leave Spain without trying this.
Keep in mind that the Spanish tortilla Mexican tortilla are two completely different things
. The Spanish tortilla
is made
from sliced potatoes, eggs and sometimes onion. It's generally made in a special pan. Think like if a quiche and an American omelet
were mixed
together.

These make the best sharing tapa
in my opinion
.
At the base, there are diced potatoes fried to perfection and then drizzled on top there's a pepper-based sauce, and sometimes mayonnaise
is thrown
on there too
. Each place varies in their recipe and spice level. 
I would recommend trying this dish at
multiple
places until you find the most savory combination
. 
Pan con Tomate
I would recommend checking it out because it is what most Spaniards have for breakfast and when in Spain, eat as they do
. When it is good, it's
really
good. Also, dripping or drizzling some olive oil on it is de-li-cous!
A dough shaped and fried into perfection and then dipped in warm thick chocolate, what's not to like?
That's what you'll get when you order churros con chocolate, and this is my number one suggestion for desserts in Madrid
. You cannot go wrong if you like chocolate. As for places, I would rely on the oldest and most experienced churros in Madrid, San Gines.
This is generally in a rectangle shape with smooth, gooey chocolate inside, absolutely mouth watering. And just like the churros, I would recommend going to a famous place and that would be La Mallorquina in Sol. They have had generations to perfect their recipe and you can taste the love in them.
What better way to feel Spanish than picking out your starter, plato principal (main dish), a dessert, and a copa(cup) to drink from a local cerveceria. I would recommend this for a couple of reasons. One, it's usually very cost efficient and you get a lot of bang for your buck and two, it's a very Spanish way to have your meal.
Even though Madrid is landlocked it has surprisingly good seafood. One of the easiest ways to eat it and one of the most popular ways of eating calamares is in a bocadillo (sandwich). I would suggest checking out Bar La Campana, it is super cheap and the calamares are phenomenal. 
Spaniards love their pigs. Whether you look in Museo del Jamon, a supermarket, or even in a local bar you will find pig in all sorts of ways. But the most common is Jamón Serrano. It is raw,
thinly
sliced meat. Sounds weird right? Well if it does sound appetizing you have many more options than that.
Jamon is actually a broad category as well because you can choose for how long the ham has been curating for, the price differs great, from 5 to 20 euros a plate, the top-notch ham even has a different name, Jamón Ibérico
. 
Nice and crispy on the outside and soft and delicious on the inside. Croquetas are also a fantastic tapa to try. The majority of them
are made
with ham but there are also ones made with fish. And in some places that specialize, you can find vegetarian ones like ones made out of cheese or veggies.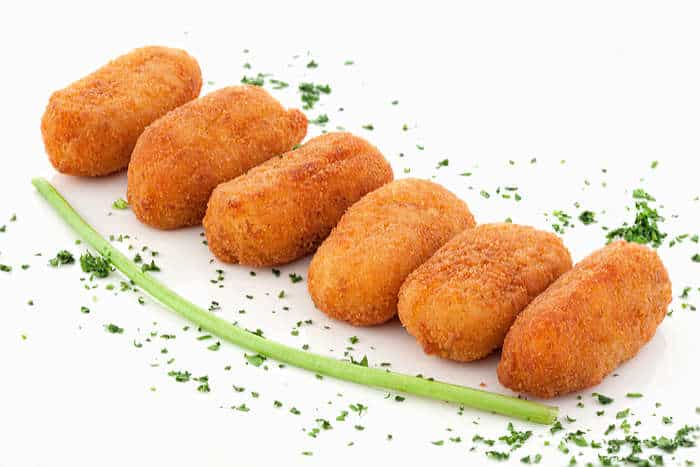 Berenjena con Miel (Eggplant with honey)
This is more common in the south of Spain.
However
, if you can find it here in Madrid, I would suggest ordering it immediately. They
lightly
fry the eggplant and then drizzle dark, sweet honey on top and it is to die for, it also makes a good dessert!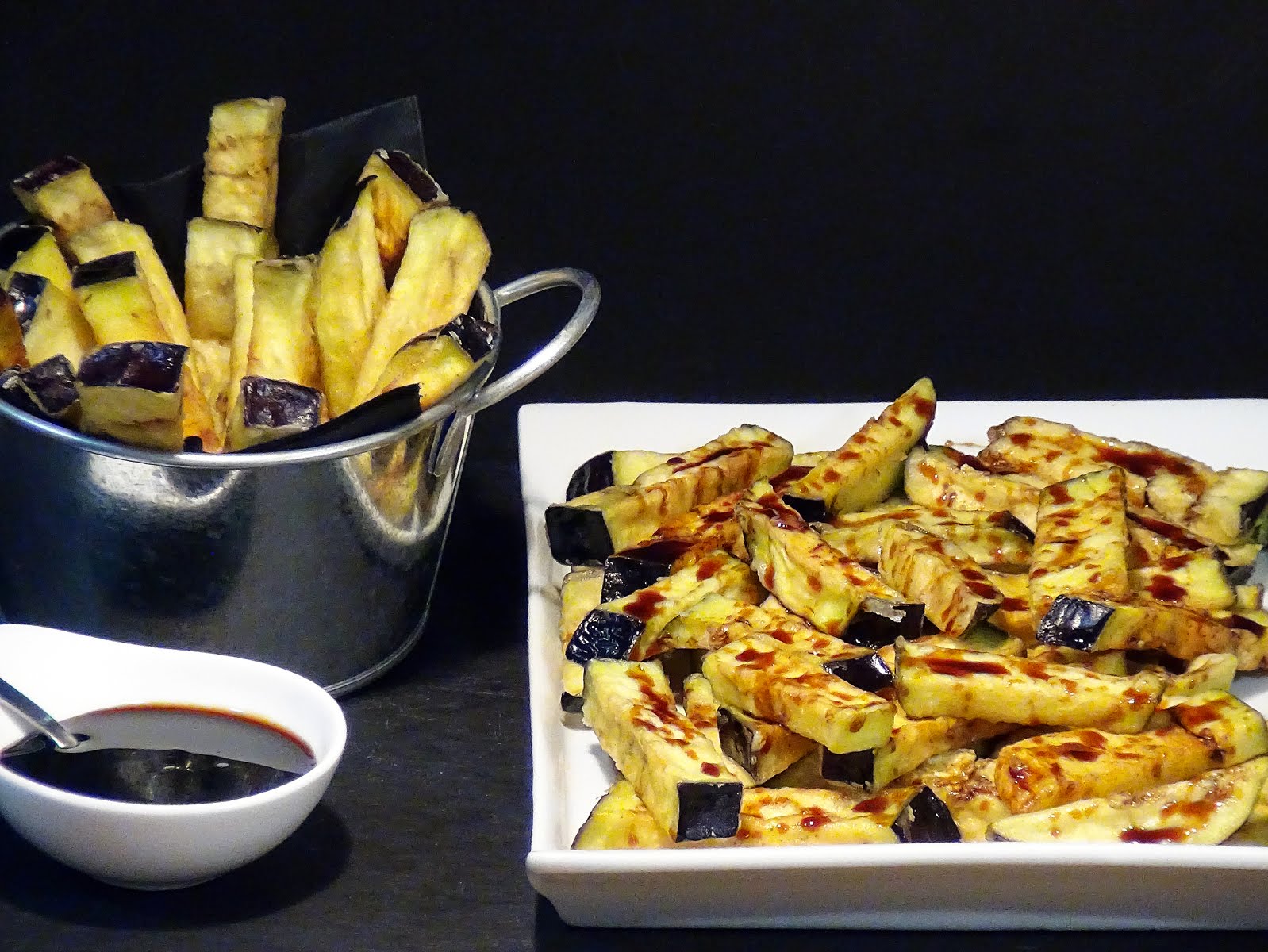 Hope that helped and gave you an idea of what to eat in Madrid!