We love hearing about people's experiences at any of our activities or trips. It means so much to us to know that the people they've met and the adventures they've had all came together because of Citylife Madrid. So once again, we are happy to introduce a lovely article written by Zoë which she wrote about her time in Morocco with us during Semana Santa! Enjoy!
New Continents and Renewed Confidence
By: Zoë Sullivan-Blum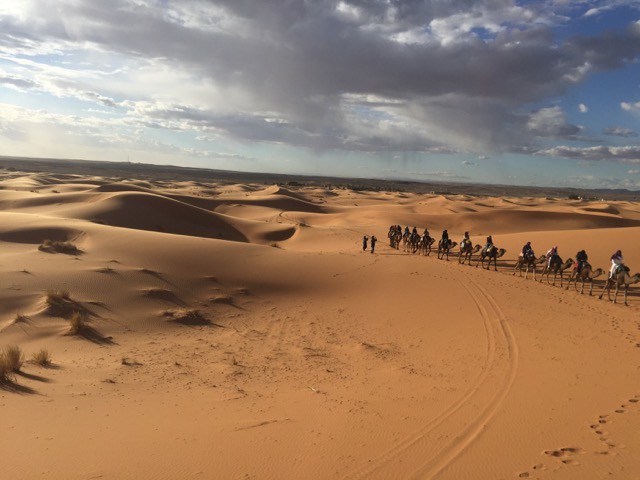 During Semana Santa, Spain's equivalent of our Spring Break, I travelled to Morocco for a week. I had been playing with the idea for a while (as you may or may not remember, I initially wanted to study abroad in Morocco), but was waiting to see if any of my friends would go with me. I had decided to go on a group trip with Citylife Madrid, an excellent organization based in Madrid that helps students and other new inhabitants of Madrid to bond with other "extranjeros" (foreigners) and to feel more at home in Spain. When none of my friends were able to/wanted to go on this particular trip, I made the difficult decision to sign up by myself. I was definitely nervous about going solo on this trip. Yes there would be throngs of other young people, but, in my typical worrier fashion, I was concerned that everyone would have their friends already, effectively making me the loner of the group.
As it happened, I made friends right away, and many friendships I believe will last. Spending almost every hour of every day with the same group of people for a week can make you very close; especially when you are embarking on journeys into the desert and through entire cities painted blue. I completely underestimated how much this trip would affect me. I came back feeling alive and refreshed and utterly happy. Although I experienced sorrow upon leaving Morocco, the feelings of happiness and confidence that I gained have stayed with me in the days since my return to Madrid. Even my grammar instructor commented on my wide smile and my joyful demeanor during our first class after Semana Santa.
My week in Morocco was a whirlwind of colors, spices, and cats (there are a ton of stray cats all throughout the country). After an all-night bus trip across Spain, a ferry trip across the Straight of Gibraltar, and a torrent of rain to welcome us to Tangier, we stopped in Casablanca to see the breathtaking Hassan II Mosque and have our first Moroccan meal (Tagine, a kind of stew of steamed chicken and vegetables and, of course, spices). After lunch we traveled to Marrakesh, one of the, quote, more "European" cities in Morocco. After barnacle-ing onto two British girls fellow students with whom I have become very close, I ventured with my new friends out into the city for dinner with three American girls from our group. As we walked towards the main Medina (market), we were suddenly stymied by something that had seemed like a relatively simple task up until this point in my life: crossing the street. This particular street had no crosswalk and no traffic light, only a steady stream of traffic with no hint of a respite. As we debated how to cross the sea of speeding cars, a man appeared, ghostlike, and told us he worked for the hotel we were staying at. He offered to take us to a restaurant for dinner and told us he would help us cross the street. Without waiting for a response, he fearlessly stepped out into traffic, hands outstretched, cars screeching to a halt around him as we timidly ran across the street, eyes half closed in our certainty we were about to meet our deaths on this terrifyingly busy road. We proceeded to follow the man, the Brits and I cautiously following the older, bolder Americans who did not seem worried that the man might lead us to a less-than-desirable situation. As we wound up a series of stairs in a slightly derelict building, I whispered to Lara, one of the British girls, "Well, we'll either die here or have one of the best meals of our lives." Thankfully, it was the latter that came true. This angel of a man had led us to a fantastic restaurant, in which we ate, truly, one of the best meals I have ever had. The man emerged again to lead us to the Medina after our luxurious dinner, and stayed with us until we embarked home. Yes he asked for a tip, but the help of this man was well worth the relative pennies we paid him.
As I travelled through Ait Ben Haddou, the Sahara, Fez, and Chefchaouen (known as the "blue city"), I had more experiences like this, experiences that renewed my faith in humanity and also in myself. "I am strong! I can do this!" was my constant mantra, but I found myself needing it less and less as the week progressed. As I napped next to a new Australian friend on the bus back from Tarifa, comfortably dozing on his shoulder, I realized that my mantra had disappeared entirely. I had become close enough with these strangers that I was able to use them as pillows and they were comfortable enough with me to let me. We had shared experiences filled with colorful scarves, donkeys, shisha, tagine, mint tea, sand, and snow (yes, we experienced both the desert and a snowstorm on this trip, if that gives you any kind of idea as to how wondrous Morocco's climate is). We had triumphed together, explored this tiny corner of what, for many of us, was an entirely new continent. We rode camels until our butts and thighs screamed for mercy; climbed sand dunes; adorned ourselves with henna; bartered for spices and rugs, clothing and Argan oil. We had a snowball fight in Azrou as monkeys watched us curiously; drank to the backdrop of Berber music and a crackling fire; rode miles upon miles together, listening to everything from Dutch classic rap to The Backstreet Boys while we looked out the bus windows at this remarkable place we were lucky enough to be visiting together.
I am so glad, not only that I went on this trip, but that I decided to go on it alone. I knew from the beginning that I wouldn't technically be by myself, that there would be dozens of other people with me every step of the way. But, as I have written before, I struggle with being alone, separate from my people. I didn't know if I was going to be able to have a good time on this trip without any of my friends. But, the thing that I wasn't thinking about, the thing that happened so effortlessly and so quickly, was that I met new people who also became my people. Even though I began the trip alone, I ended it with new friends and new confidence in myself. And that, in addition to the incredible things I saw and did, made it the trip of a lifetime.