Scorching heat, fresh herbal tea, desert air, couscous, bustling market places and the smell of sheesha – this is Morocco at its finest! Our neighbour to the South is an absolutely amazing country, full of rich history, culture, incredible landscapes, breathtaking cities, amazing food and endless discoveries! All this is exactly why we love to travel to Morocco and why it is one of our top destinations throughout the year.
Want to travel to Morocco with a group of like minded internationals? Make sure to check the calendar of our upcoming trip packages that range from quick 3 day excursions, to longer 8 day adventures!
---
In this comprehensive travel guide, we bring you everything you need to know so you can visit Morocco like a pro. Discover the top travel destinations, delve into the rich tapestry of Moroccan history, savor the tantalizing local cuisine, and immerse yourself in the vibrant culture. Whether you seek thrilling escapades or tranquil exploration, we'll make sure you're prepared for it all! Join us as we unlock the secrets of this enchanting destination and make your dream of traveling to Morocco a reality.
So keep reading to soak up everything we want to share with you about beautiful Morocco, or skip ahead to the topic you're most interested in by using our Content Overview!
1. Visiting Morocco – A Visual Adventure with Citylife Madrid
---
Join us on a captivating virtual journey through Morocco's breathtaking landscapes, ancient cities, and vibrant culture. Let our mesmerizing videos – which were all captured on past escursions – take you far away to the heart of Northern Africa. We hope they inspire you to join us on one of our amazing Morocco tours in the future! For more videos, check out the Citylife youtube channel or our reels on Instagram (@citylifemadrid).
2. Travel to Morocco – Citylife's Morocco Tours
---
We have several customized Morocco tours so that no matter what kind of trip you're looking for, there is one for you! From quick weekend getaways that give you a taste of the Moroccan world, to longer, extensive tours that take you deep into the heart of the country (and the desert). Take a look at all of our upcoming Morocco tours so you can travel to Morocco with other young internationals!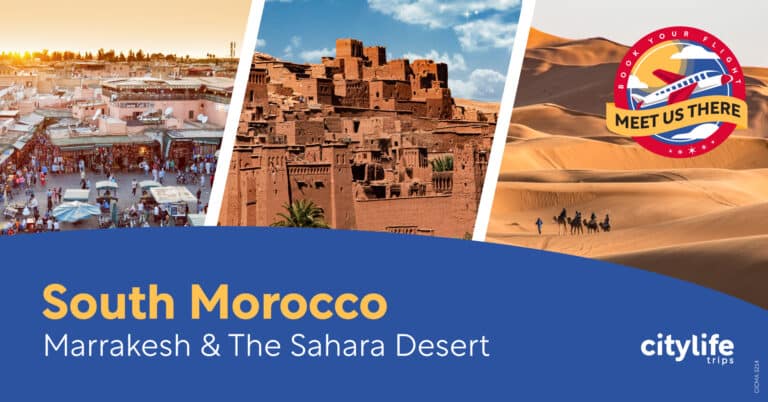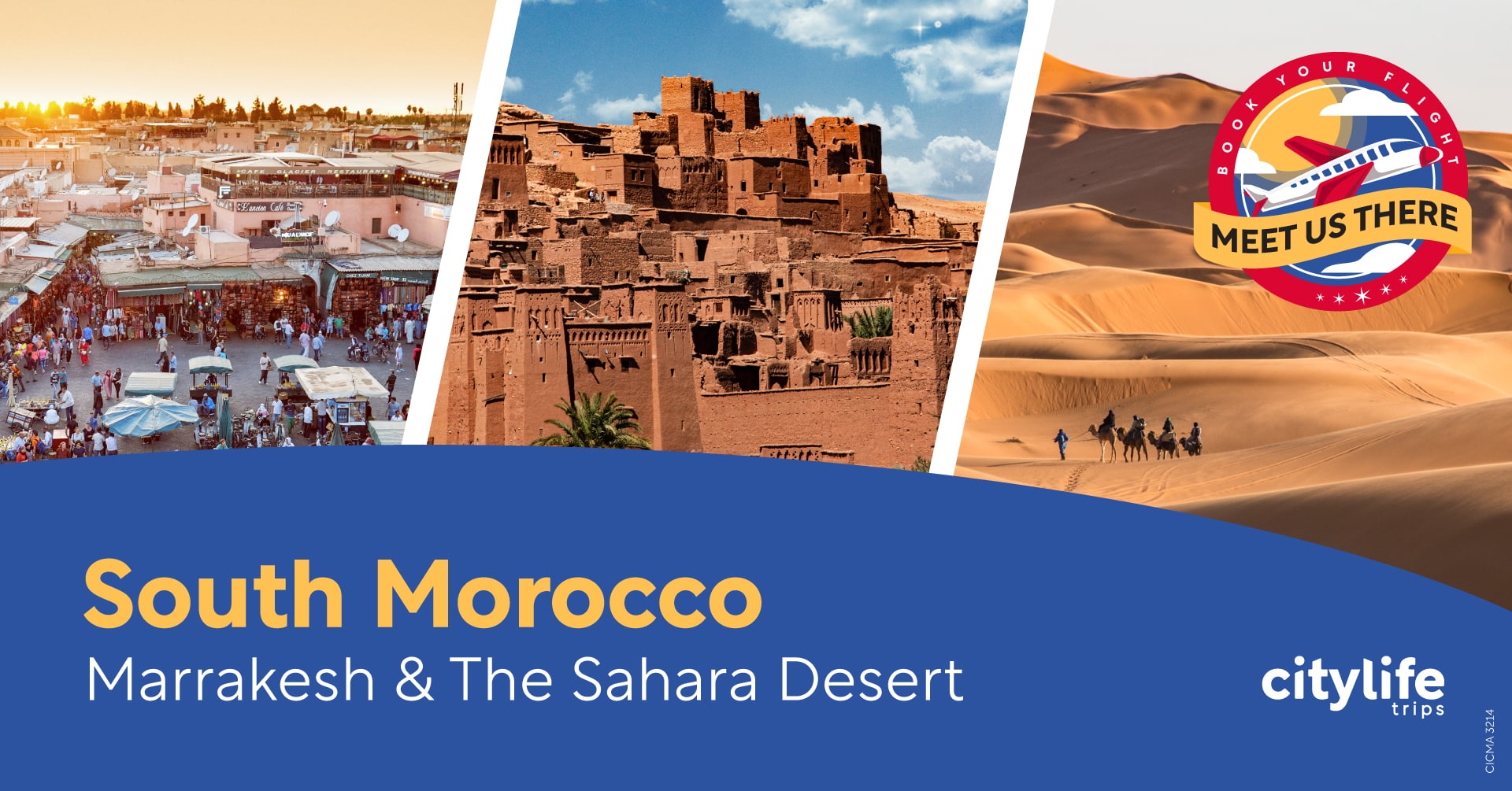 December 13 @ 19:00
-
December 17 @ 23:00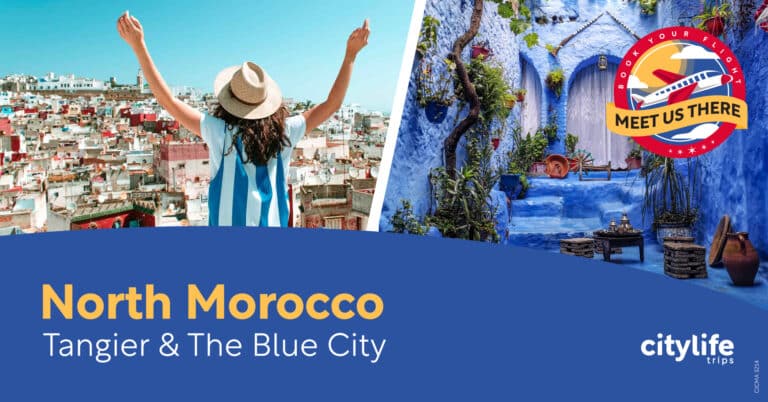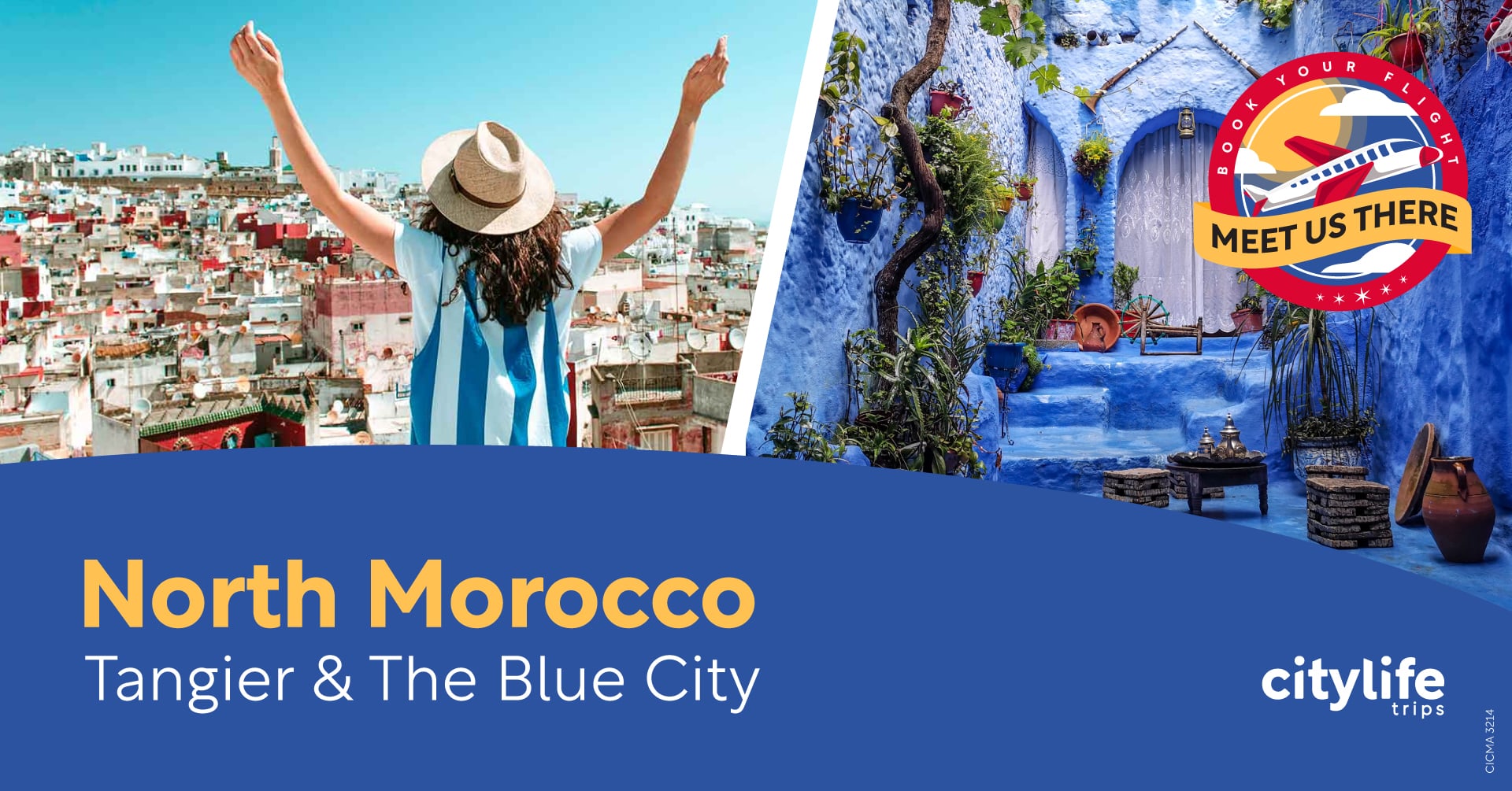 19/01/2024 @ 14:00
-
21/01/2024 @ 16:00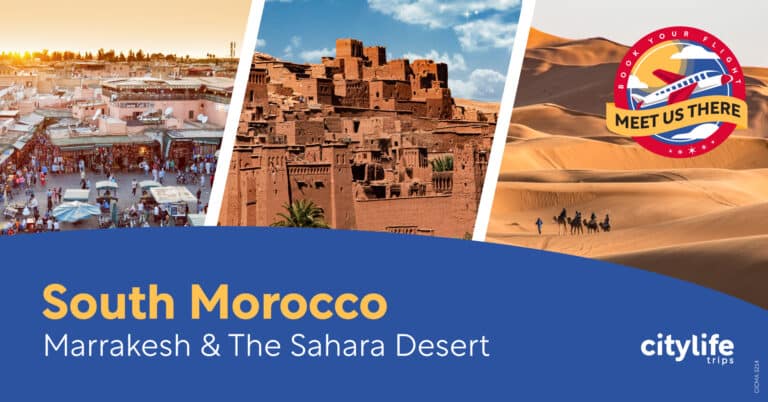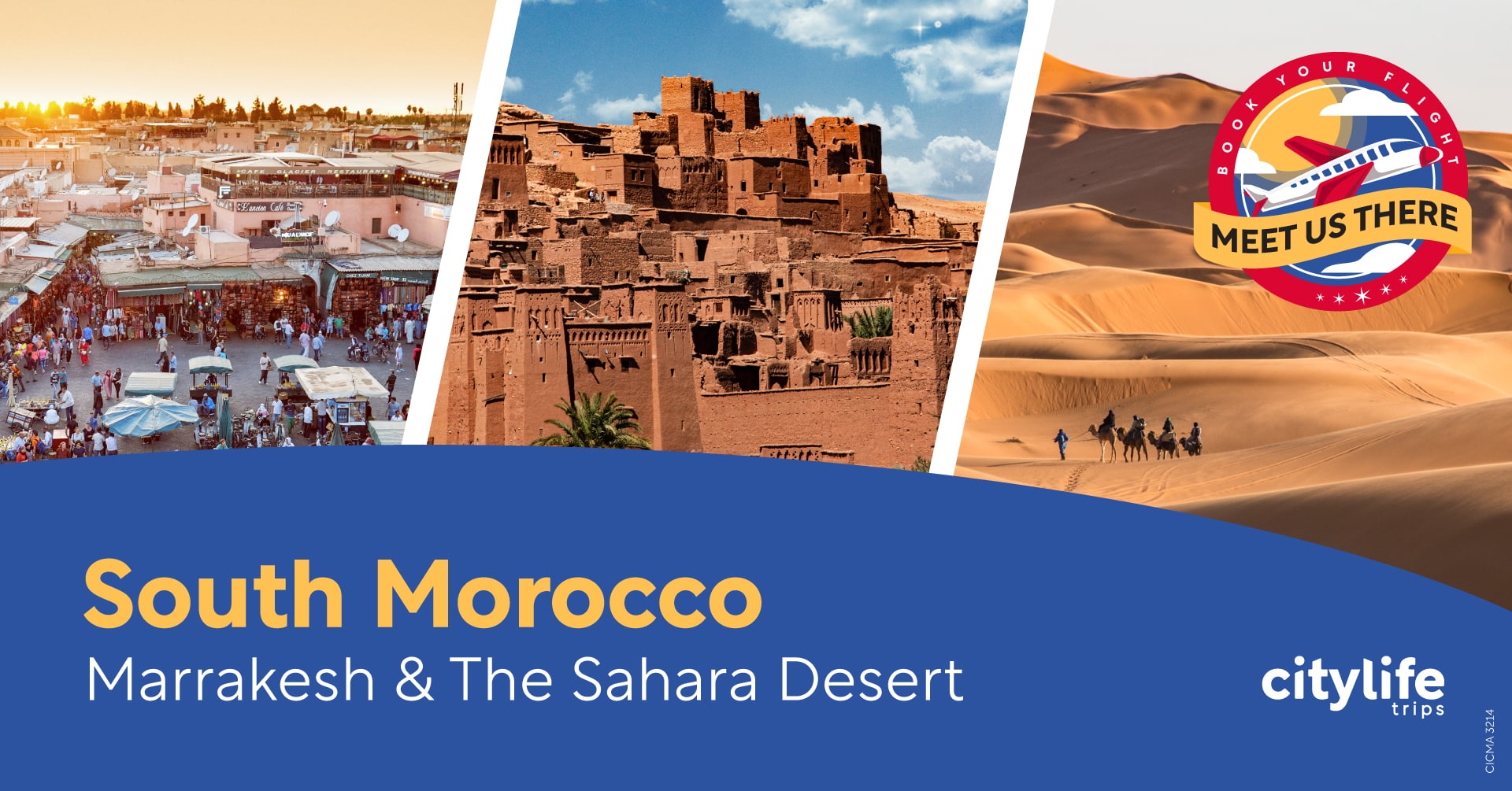 25/01/2024 @ 11:00
-
29/01/2024 @ 16:00
---

3. Morocco Travel Guides – Best Things to do in Morocco & City Guides
---
If you're preparing to embark on a thrilling adventure to the captivating land of Morocco, it's essential to do your homework on all the incredible things there are to see and do! In this section, we'll cover all the best things to do in Morocco, ensuring your adventure is nothing short of extraordinary! So, keep reading to get our professional insights on our favourite Moroccan cities, Morocco's incredible food, as well as practical tips on packing! So study up for an unforgettable journey to the captivating land of Morocco.
3.1 Travel to Morocco's Past – A Brief History of Morocco
---
Morocco, a country where the scorching heat kisses your skin, the aroma of fresh herbal tea dances in the air, and the allure of desert landscapes always calls. This captivating country, our cherished neighbour to the South, offers an extraordinary world of experiences that leaves visitors spellbound!
Morocco, officially known as the Kingdom of Morocco is located in North Africa. It looks over the Mediterranean Sea and can some days be seen from Spain's most Southern port! It's home to nearly 37 million people and welcomes more than 10 million visitors every year. The country's official languages are Arabic and Berber, however French is widely spoken by locals in the major cities as well.
What makes Morocco so fascinating to visit today is its incredible blend of influences from various civilizations and religions. Just like many European countries, the main cities of Morocco owe many of their foundations and industrialization to the remarkable Roman Empire. Morocco (formally known as Mauretania) was eventually conquered by the Arab empires to the East and the majority of the population converted to Islam. Meanwhile, as the country was passing between cultures, religions and leaders, the country's original native poluation – known as the Berbers – fought to keep their way of life prevelant in Moroccan culture. While you'll find many Berbers in Morocco's larger cities today, the main bulk of the population migrated deeper South, into the city's located in the mountains as well as the cities and villages that thrive in the desert.
The Roman's and the Arabs were not the only ones with their eyes set on Morocco. Europe also took notice of the country's abundant resources, tantalizing spices, and breathtaking landscapes. In a spirited quest for dominance, both France and Spain spent years trying to claim this captivating country as their own. But today, Morocco stands proud as an independent nation, embodying the spirit of its diverse cultures and religious heritage.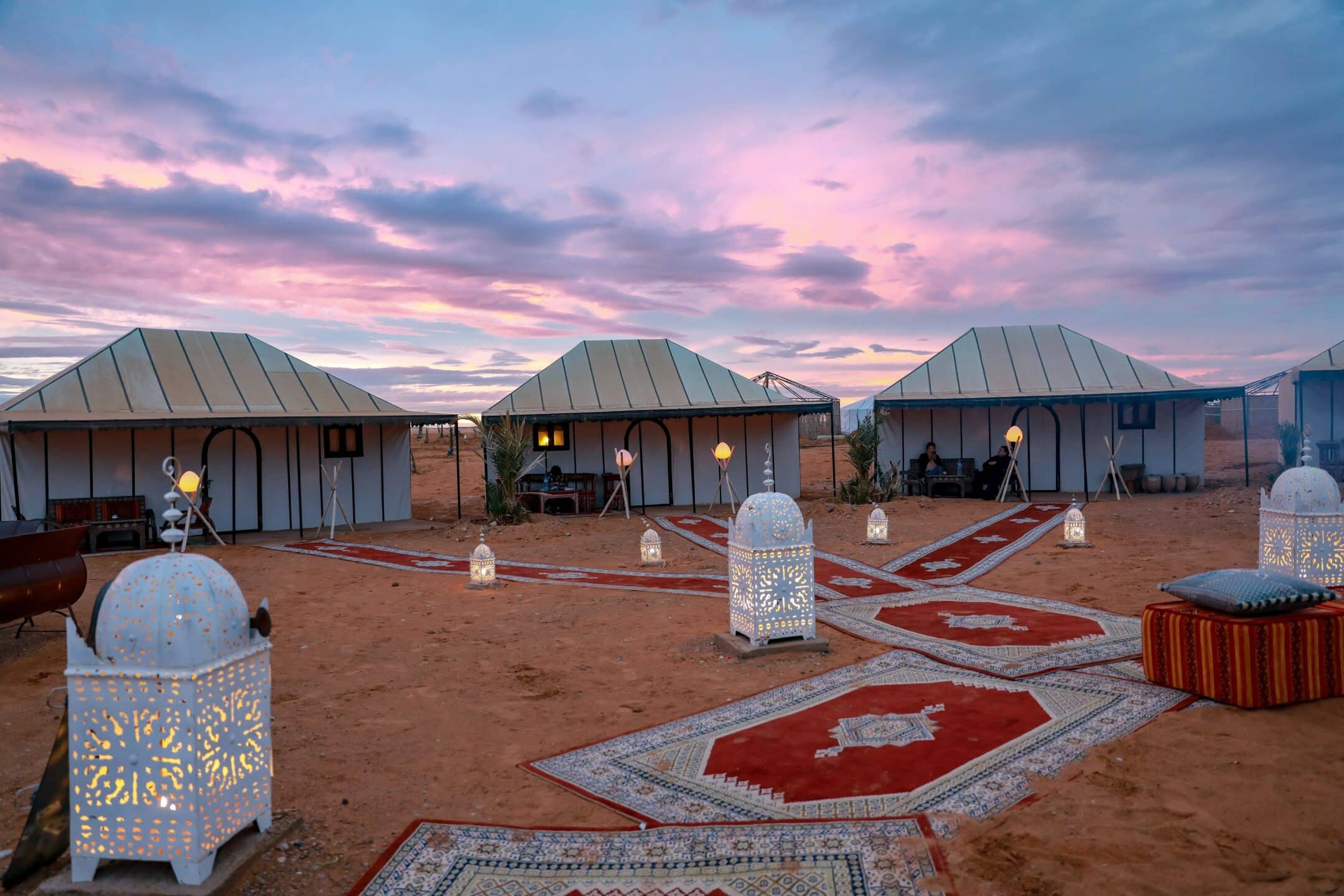 3.2 Exploring Morocco's Cities – Citylife's Top Things to do in Morocco
Keep reading to enjoy our collection of guides about the many captivating cities of Morocco! From the bustling labyrinth like streets of Marrakesh and the coastal wonder of Tangier, to the serene blue alleys of Chefchaouen and the vast landscapes of the Sahara desert. Morocco boasts an exquisite blend of vibrant culture, breathtaking scenery, and rich history. Whether you're planning your first trip or seeking new discoveries in this enchanting kingdom, our Morocco travel guides are here to inspire your wanderlust. Prepare to immerse yourself in the finest selection of things to do in Morocco and uncover the hidden gems that make this country a travel haven.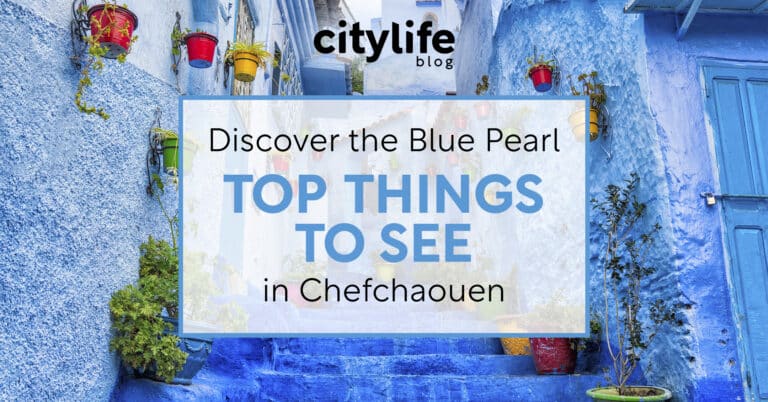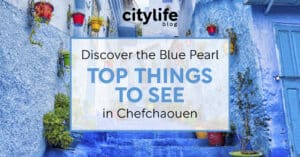 Chefchaouen is a beautiful city in the northern part of Morocco. This…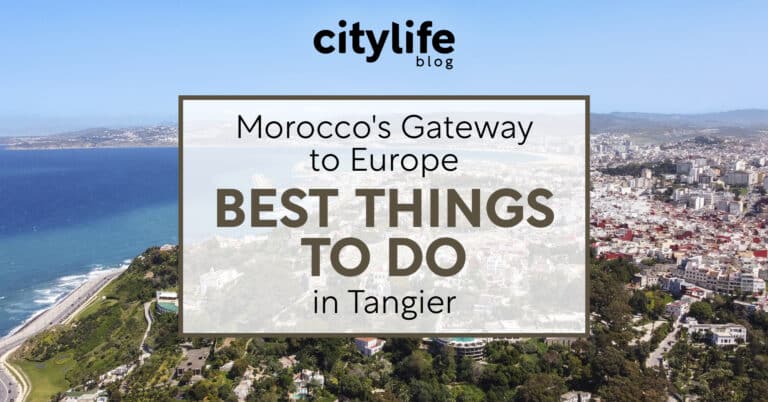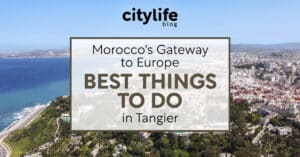 Tangier is the perfect introduction to Africa. Situated on the edge of…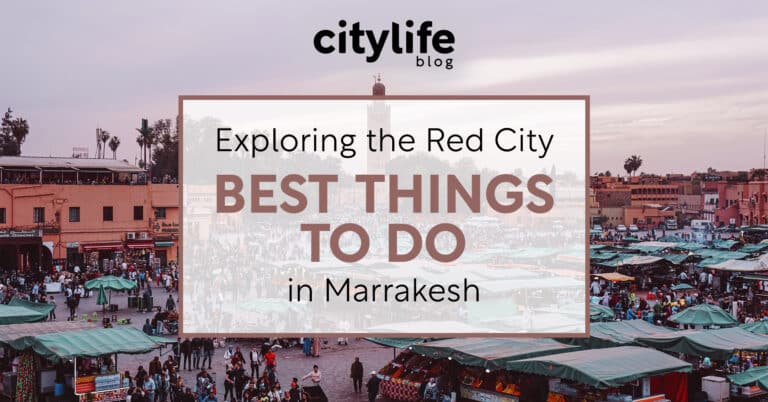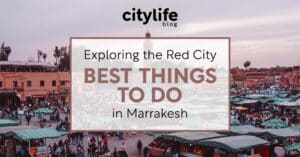 Marrakesh, famously known as The Red City, is a bustling mix of…
3.3 Packing for a Trip to Morocco – Our Top Tips
Morocco is a destination like no other. But as you gear up for your Moroccan adventure, a common question will come up: What should you pack? Don't worry, we've got you covered! In our Ultimate Morocco Packing List, we break down the art of smart packing for your Moroccan journey. Including clothes to keep you stylish while following with Morocco's culture, as well as expert hints that will keep you comfortable and prepared for anything during your travels.
So take a look, and pack like a pro!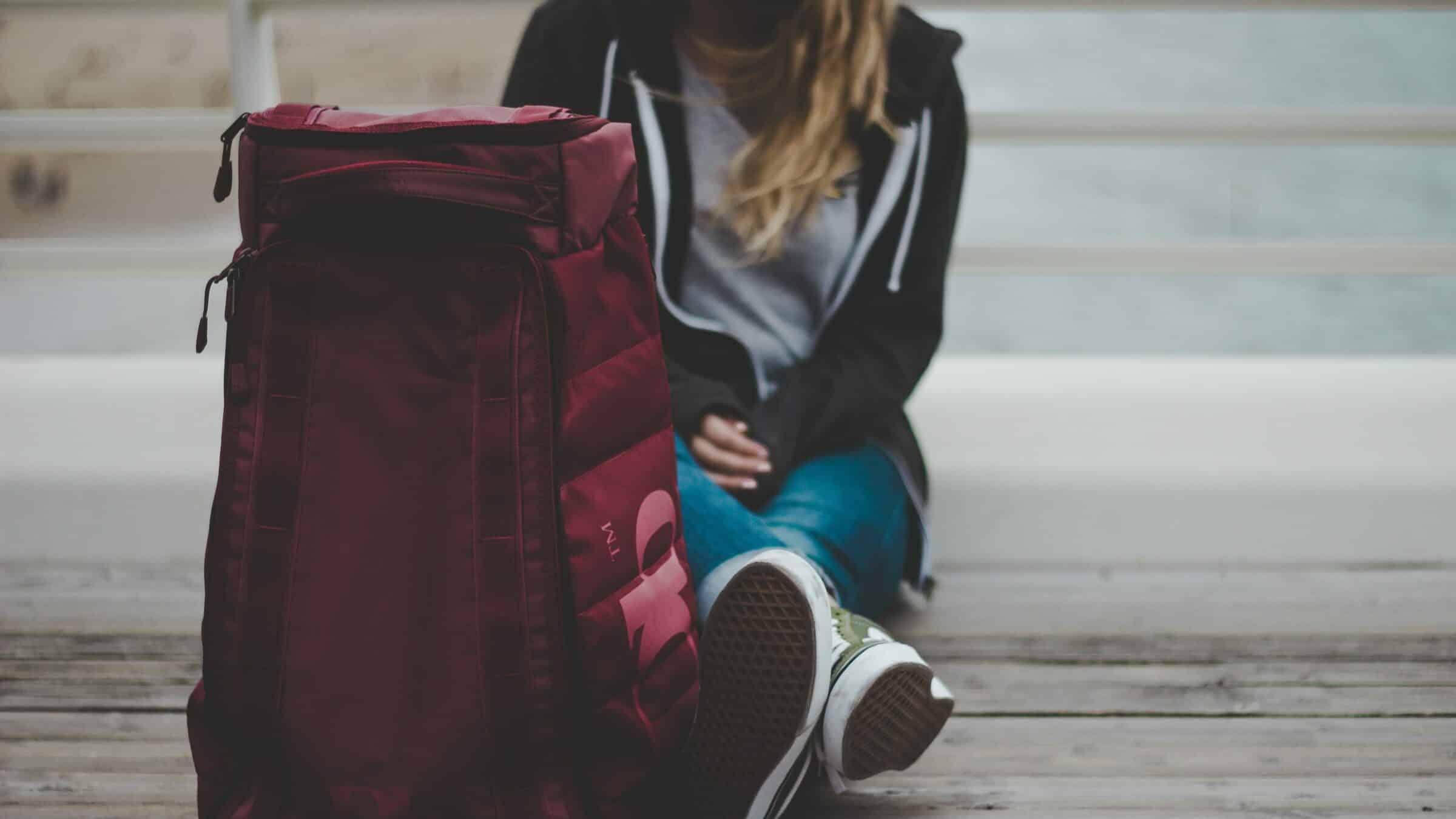 ---
3.4 Moroccan Cuisine – Top Moroccan Dishes you Must Try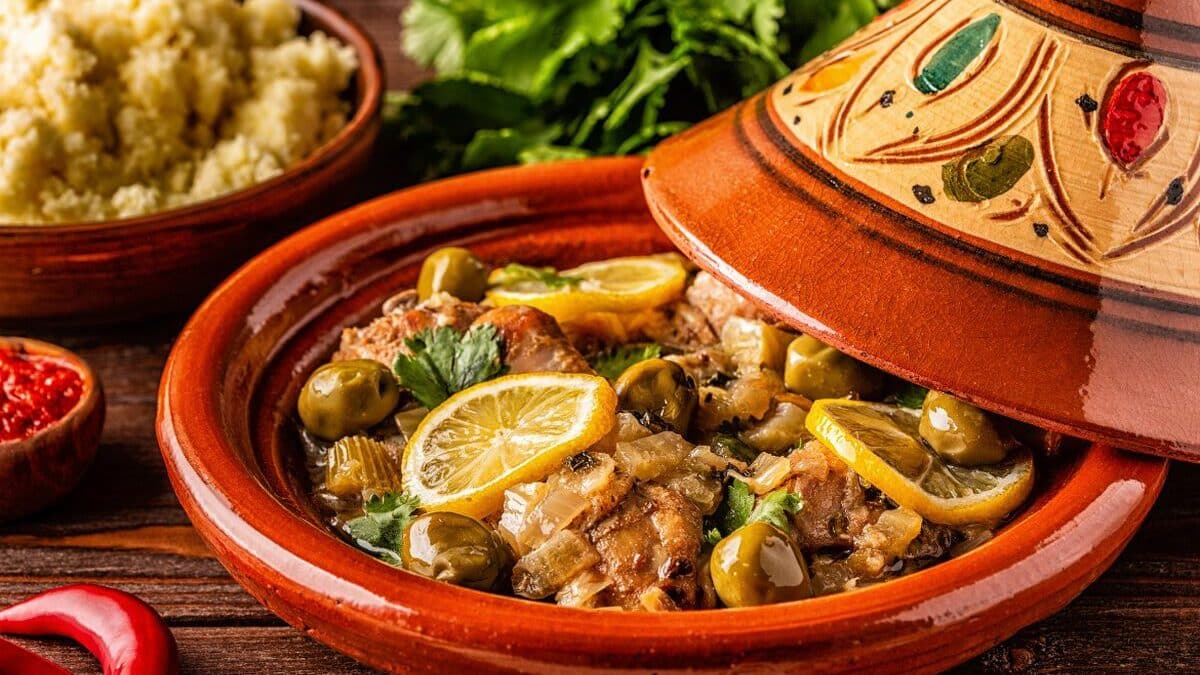 They say to truly experience a culture you must experience its food. And Moroccan cuisine is something that definitely needs to be experienced! Moroccan food is incredibly unique, with influences from the Arabs, the Berbers, the South of Spain and the Mediterranean. The rich spices that the Moroccan people use make each dish burst with both colour and flavour and with its mix of both meat and vegetable based dishes there is surely something for everyone! So if you plan to travel to Morocco then make sure to check out our favourite Moroccon Food you Have to Try so you're ready to eat the moment you arrive!
3.5. Our Top 11 Architectural Wonders to See in Morocco
Nestled between the vast Sahara Desert and the glistening Mediterranean Sea, Morocco boasts a rich cultural heritage that is beautifully reflected in its architecture. This North African gem is a treasure trove of architectural wonders, where history and tradition harmoniously blend with innovation and contemporary design. Join us on a captivating journey as we unveil Morocco's top architectural marvels, each a testament to the country's vibrant past and promising future.
1. The Kasbah of Ait Ben Haddou

---

Visit the breathtaking Ait Ben Haddou on Citylife's South Morocco & African Adventure trip packages! See all upcoming Morocco tours in our Morocco Travel Calendar.

Located in the foothills of the High Atlas Mountains, the Kasbah of Ait Ben Haddou stands as a perfect example of traditional and inventive Moroccan architecture. This UNESCO World Heritage Site has served as the backdrop for numerous Hollywood blockbusters due to its breathtaking beauty and historical significance. Also known as the "mud city", Ait Ben Haddou's mud-brick buildings form a labyrinth of alleyways and market streets that offer a look into ancient Moroccan building techniques.
2. Hassan II Mosque in Casablanca

---

Visit the incredible Hassan II Mosque on Citylife's African Adventure trip package! See all upcoming Morocco tours in our Morocco Travel Calendar.

In the heart of Casablanca, the Hassan II Mosque is one of the largest and most awe-inspiring mosques in the world. Its beautiful architecture showcases a blend of traditional Islamic elements and modern design. Built partially over the ocean, this architectural masterpiece features intricate mosaics, ornate woodwork, and a towering minaret that reaches an astounding 210 meters high. With a capacity to accommodate over 100,000 worshippers, the mosque stands as a symbol of Morocco's devotion to Islam and its commitment to architectural excellence.
3. Bahia Palace, Marrakesh

---

Use your free-time on Citylife's South Morocco & African Adventure trips to visit the breathtaking Bahia Palace! See all upcoming Morocco tours in our Morocco Travel Calendar.

A true gem of Marrakesh, the Bahia Palace is a celebration of Moroccan and Andalusian craftsmanship. Constructed in the 19th century, the palace was actually inspired by those made by the Moors in Andalucia (the South of Spain). This increidble design mesmerizes visitors with its lush gardens, serene courtyards, and beautifully adorned rooms. The name "Bahia" translates to "brilliance," and it is indeed a fitting tribute to the lavish designs and architectural wonder that once served as a residence for the ruling elite. Intricate stucco work, colourful zellij tiles, and elaborately carved cedarwood ceilings leave visitors in awe of the opulence and taste of Moroccan royalty.
4. Volubilis – Ancient Roman Ruins

---

Not only does Morocco dazzle with its Islamic architecture, but it also carries the remnants of an even more ancient civilization. The archaeological site of Volubilis showcases remarkably preserved Roman ruins, offering a glimpse into the country's historical significance as a vital outpost of the Roman Empire. Visitors can explore the well-preserved triumphal arch, ancient basilicas, and grand villas adorned with exquisite mosaics. This UNESCO World Heritage Site is a unique opportunity to travel back in time and marvel at the architectural achievements of a bygone era.
5. The Mausoleum of Mohammed V, Rabat

---

Visit the incredible Mausoleum of Mohammed V on Citylife's African Adventure trip package! See all upcoming Morocco tours in our Morocco Travel Calendar.

In the capital city of Rabat, the Mausoleum of Mohammed V stands as a dignified memorial to the late King Mohammed V, who led Morocco to independence. The mausoleum is an architectural masterpiece that seamlessly blends Islamic design with modern aesthetics. The green-tiled roof and white marble facade exude a sense of elegance and serenity. Inside, visitors can pay their respects to the revered monarch and his two sons, King Hassan II and Prince Abdallah. The mausoleum's grandeur and historical significance make it an essential stop on any architectural journey through Morocco.
6. The Saadian Tombs, Marrakesh

---

Use your free-time on Citylife's South Morocco & African Adventure trips to visit the Saadian Tombs! See all upcoming Morocco tours in our Morocco Travel Calendar.

Located within the bustling city of Marrakesh, the Saadian Tombs offer a fascinating glimpse into Morocco's historical past. Dating back to the Saadian Dynasty in the late 16th century, these tombs were rediscovered in 1917 and have since been preserved as an important architectural heritage site. Hidden behind a seemly plain wall, the mausoleum houses the remains of Saadian rulers and their family members. The tombs feature stunning Hispano-Moresque design elements, including carved marble, colourful tiles, and cedar wood ceilings adorned with gold leaf. The Chamber of the Twelve Columns is a highlight, with its splendid arches and exquisite plasterwork.
7. The Kasbah of Chefchaouen

---

Explore the charming city of Chefchaouen on Citylife's North Morocco trip package! See all upcoming Morocco tours in our Morocco Travel Calendar.

Chefchaouen, often referred to as "The Blue Pearl of Morocco," is a picturesque town tucked away in the Rif Mountains of Northern Morocco. What sets Chefchaouen apart and makes it an architectural wonder in its own right is its enchanting blue-washed buildings that cascade down the hillsides like the waves of the sea. This distinctive tradition of painting the town in various shades of blue is believed to have been brought by Jewish refugees in the 1930s, symbolizing both spirituality and repelling mosquitoes. As one strolls through Chefchaouen's narrow winding streets and alleys, adorned with vibrant pots of flowers and intricate tilework, a sense of tranquility and calm pervades the air.
8. Essaouira's Skala de la Ville

---

Nestled along the Atlantic coast, the fortified city of Essaouira boasts the Skala de la Ville, a striking defensive bastion that offers breathtaking views of the ocean and the city's white-washed buildings. Constructed during the 18th century, the Skala de la Ville is an example of Portuguese military architecture adapted by the Moroccan forces. Its fortified walls and imposing cannons remind visitors of Essaouira's strategic importance as a major port city. Today, the Skala serves as a popular spot for both tourists and locals to savor picturesque sunsets and immerse themselves in the city's maritime history.
9. Badi Palace, Marrakesh

---

Use your free-time on Citylife's South Morocco & African Adventure trips to visit the Badi Palace! See all upcoming Morocco tours in our Morocco Travel Calendar.

Nestled within the bustling Medina of Marrakesh, the Badi Palace (Palais Badi) is a striking architectural marvel that harks back to the grandeur of the Saadian Dynasty. Built by Sultan Ahmad al-Mansur in the late 16th century to commemorate a victorious battle, the palace was renowned for its opulence and extravagant design during its heyday. However, after the fall of the Saadian Dynasty, the palace was largely dismantled and its precious materials plundered for other building projects.
10. Ifrane – The Alps of Morocco

Samsung Techwin

---

Nestled in the Middle Atlas Mountains, Ifrane stands as a charming and unexpected architectural gem that earned it the nickname "Little Switzerland" of Morocco. Established during the French colonial era in the 1930s, the town's design draws inspiration from Alpine architecture, featuring distinctive chalet-style buildings with steep roofs and ornate wooden balconies. The city's clean streets, meticulously landscaped gardens, and the iconic lion statue make Ifrane an idyllic destination that contrasts beautifully with the surrounding Moroccan landscapes. Whether covered in a blanket of snow during winter or adorned with colourful flowers in the warmer months, Ifrane's unique architecture and natural beauty make it a hidden treasure worth exploring.
11. The University of Al Quaraouiyine, Fez

---

Pass by the incredible University on Citylife's African Adventure trip package! See all upcoming Morocco tours in our Morocco Travel Calendar.

Recognized by UNESCO as the world's oldest continuously operating degree-granting university, the University of Al Quaraouiyine in Fez has played a pivotal role in shaping Morocco's intellectual and cultural history. Founded in 859 CE by Fatima al-Fihri, the institution boasts a magnificent architectural complex that seamlessly blends Islamic and Andalusian design influences. Its stunning courtyard, intricately carved stucco work, and a soaring minaret exemplify the architectural splendor of Moorish style. Though entry into the university's educational facilities is restricted, visitors can explore the stunning central courtyard and appreciate the historical significance of this venerable institution.
---
3.6 Exploring Morocco's Vibrant Markets – Unique things to See and Do in Morocco
Morocco's markets offer a vibrant mix of colours, aromas, and bustling energy that amaze every explorer who enters. Diving into these incredible traditional souks is an essential part of any visit to Morocco. From ancient medinas to modern marketplaces, each city offers a unique shopping and cultural experience. In this section, we'll guide you through the top things to see and do in Morocco's markets, as well as the must-buy items that will make your trip truly memorable!
What You'll see in Morocco's Markets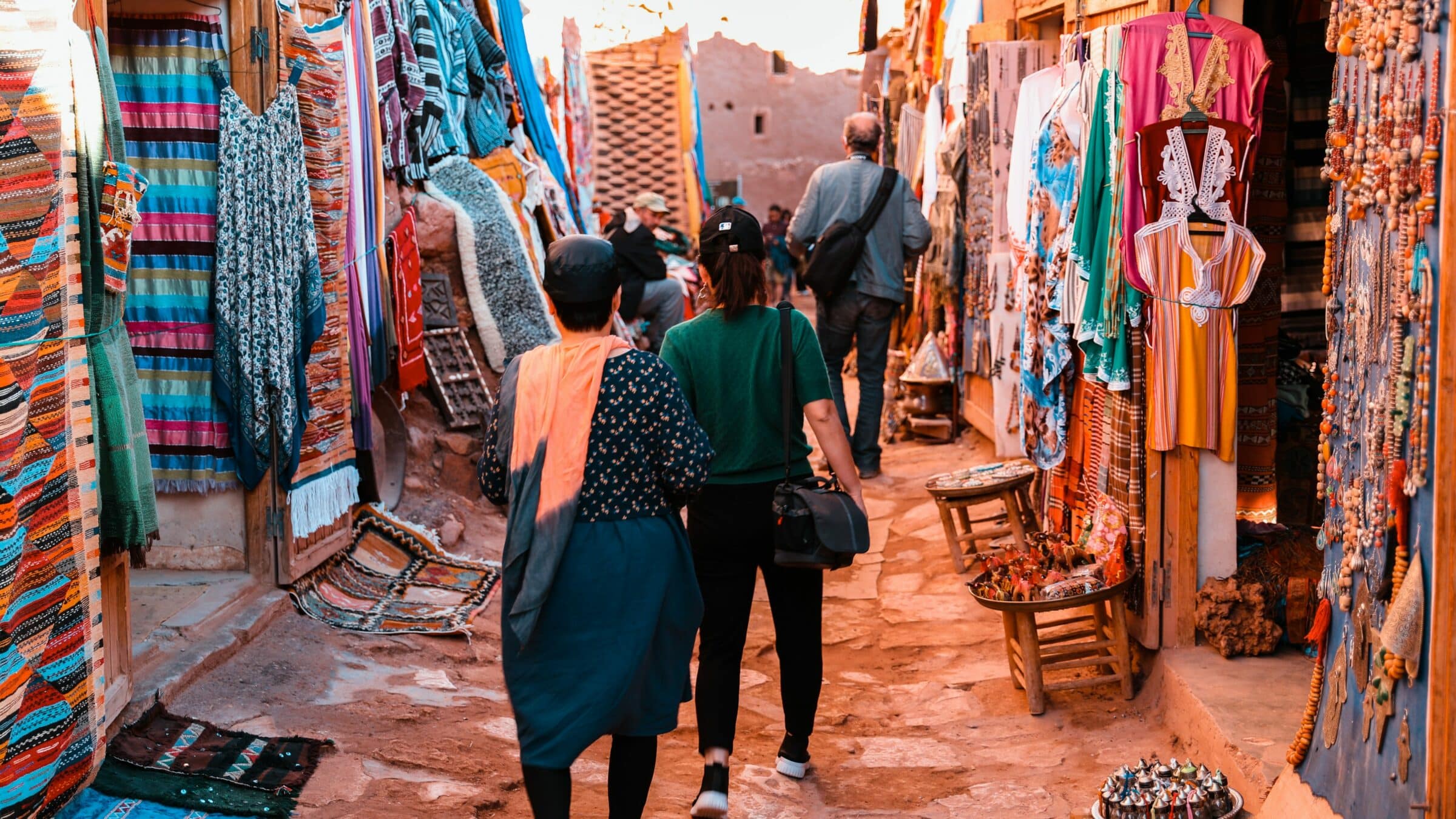 Taking a stroll through Morocco's many markets is an adventure in itself. You should prepare to encounter vibrant colours, sounds and smells (both the good and the bad). You'll see a mixture of skilled local artisans working on their perfected craft as well as souvenir merchants selling memorabilia to the tourists passing by. As you navigate the maze of stalls and alleyways you'll come across food venders preparing incredible street food as well as the local butcher's stall selling their daily provisions.
But what's more is the local life that exists inside these medinas. From produce deliveries (many times by donkey) and children playing in the streets, to young shop owners and local elders gathering for tea time. These markets offer a wonderful glimpse into the old world and will surely be a unique experience while you visit Morocco.
What to Buy in Morocco's Markets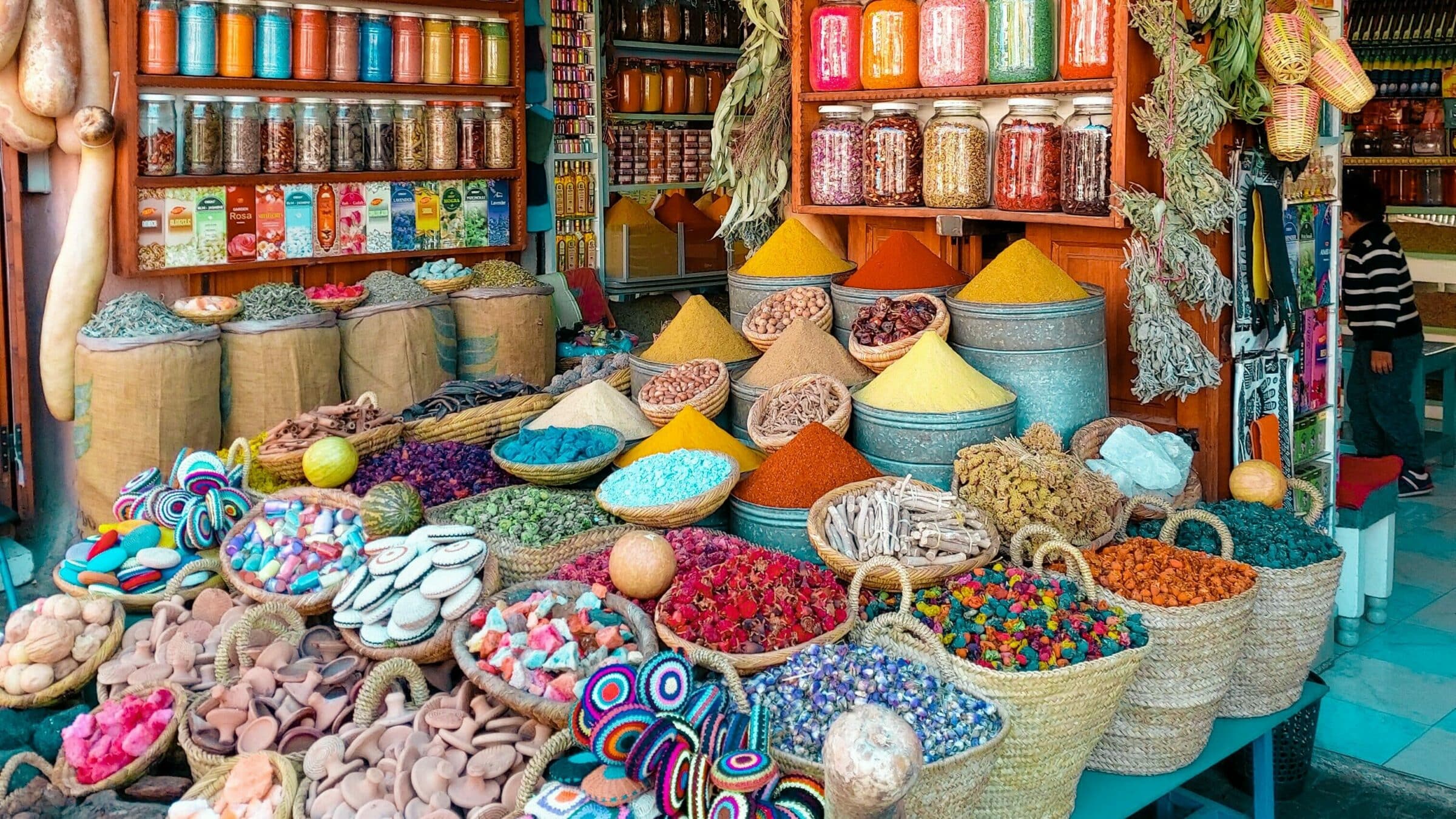 Morocco's markets offer an array of unique and authentic treasures that make for perfect souvenirs. upon your first visit to any makret, you'll surely find many incredible wares you'll want to buy immediately.
Things like incredible handwoven rugs, handmade and handpainted pottery, traditional leather goods and locally sourced silks, pashminas and cashmere. You'll also discover the incredible Moroccan pharmacies that sell natural, ancient beauty and health remedies – most of which will contain some form of argan oil. You'll come across handmade wood and metal works that would add a Moroccan flare to any home, including lamps, mirrors, ottomans and jewellery. And of course, it wouldn't be a market without those colourful, fragrant spices! Saffron, cumin, paprika, curry and more. Each more colourful than the next.
Top Markets to Visit When you Travel to Morocco
Marrakesh's Medina: The labyrinth like alleys of Marrakesh's Medina are a shopper's paradise. Don't miss the bustling souks of Chouari, El Attarine, and Haddadine, each specializing in different crafts and goods.
Jemaa el-Fna, Marrakesh: Jemaa el-Fna is the beating heart of Marrakesh's medina, an iconic square bursting with energy, where snake charmers, musicians, and colourful stalls create an enchanting atmosphere for visitors to immerse themselves in Moroccan culture.
Medina of Fes: The heart of Fes is home to Souk el-Henna, renowned for its intricate henna designs, and Souk es-Sebbat, where copperware glimmers under the sunlight.
Tangier's Grand Socco: Located at the crossroads of Africa and Europe, Tangier's market is a blend of Moroccan and European influences, offering a diverse shopping experience.
Chefchaouen's Market: The blue city's market exudes a relaxed ambiance, and it's the perfect place to find local handicrafts, unique souvenirs, and herbal remedies.
El Had Souk, Agadir: As one of the largest and most vibrant markets in Southern Morocco, El Had Souk offers a diverse selection of fresh produce, aromatic spices, and handicrafts, making it a feast for the senses.
Essaouira's Medina: This coastal town's market blends the charm of a fishing port with a rich artisanal heritage, featuring a captivating assortment of woodwork, silver jewelry, and art pieces.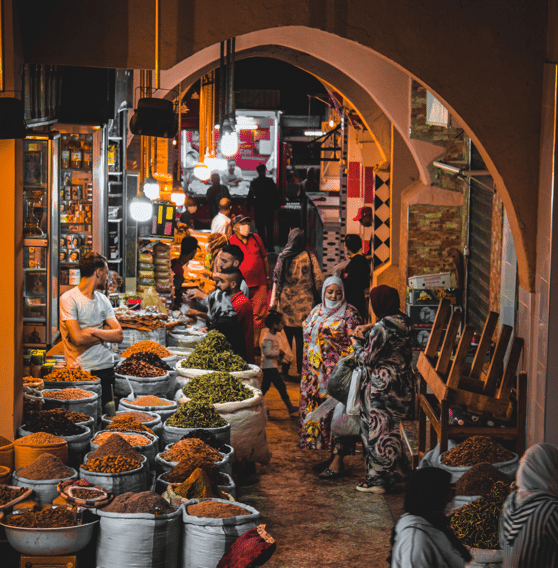 3. 7 Must Have Souvenirs you Must Bring Back From Morocco
No visit to Morocco is complete without taking home some authentic souvenirs that reflect both its incredible culture as well as your unforgettable experience. From the bustling markets to its traditional craft workshops, Morocco offers a variety of delightful mementos that will forever remind you of your journey. In this article, we unveil the top 9 souvenirs to buy in Morocco that will truly encapsulate the essence of your visit.
Moroccan Leather Goods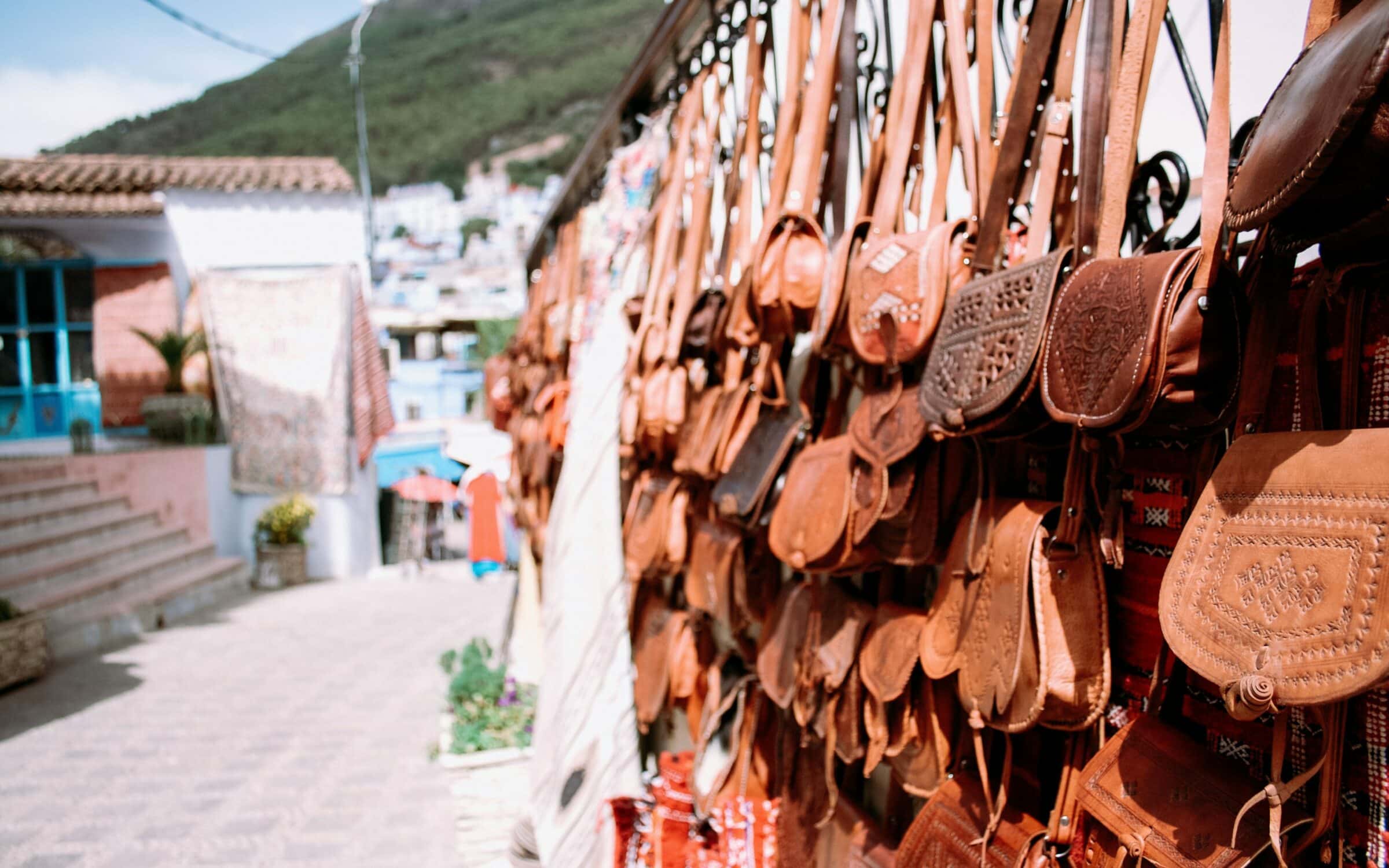 Morocco is famed for its high-quality leather products. From stylish bags and wallets to comfortable footwear, you'll find an array of leather goods in the bustling souks. Marrakesh and Fes are popular destinations to find leather craftsmanship at its finest.
Moroccan Scarfs & Clothing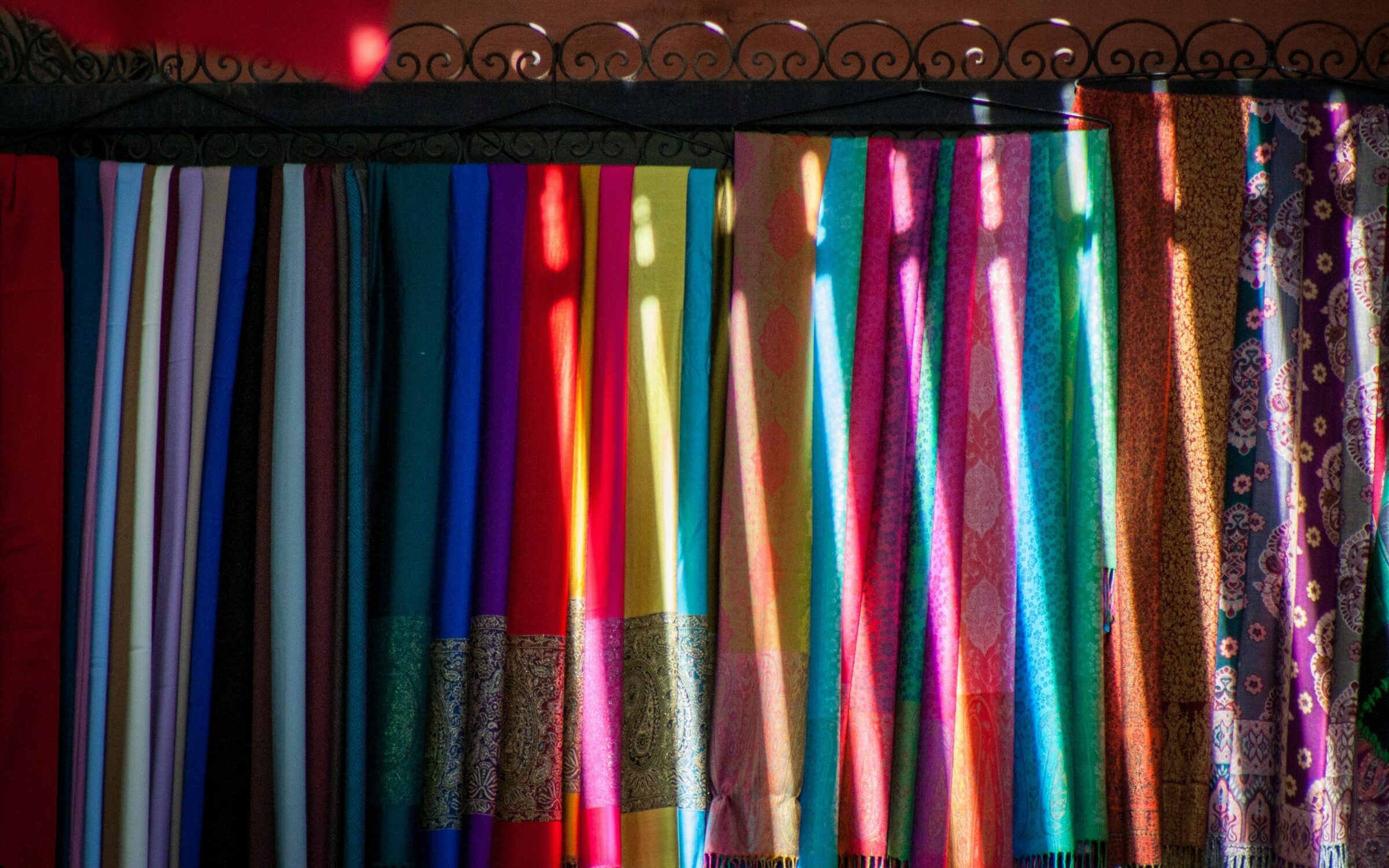 Immerse yourself in Moroccan culture by purchasing traditional clothing and accessories like a djellaba, kaftan and pashmina. These colourful garments are authentic to Morocco and can be fine, unqiue additions to your modern wardrobe
Spices and Herbal Remedies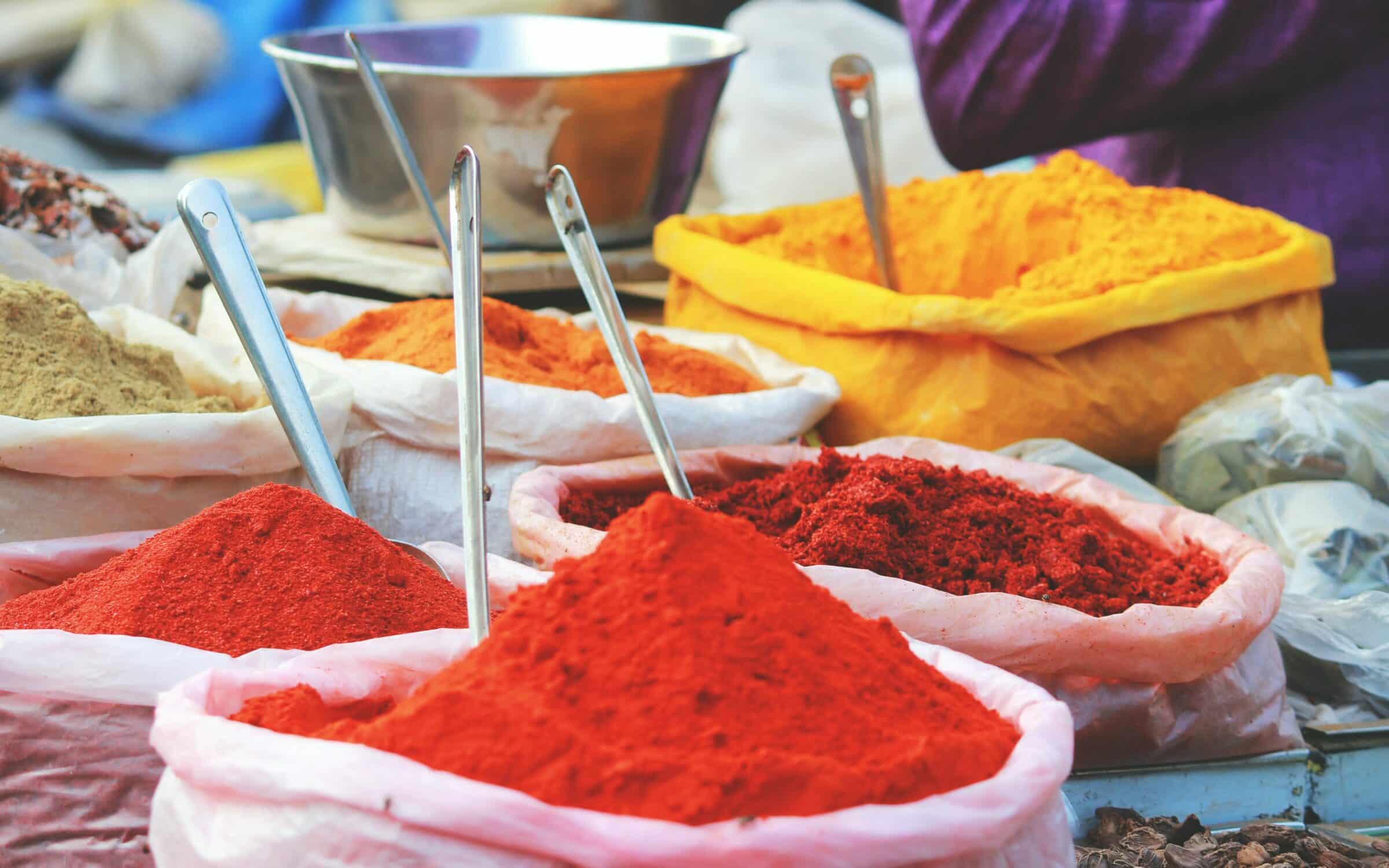 Bring home the enticing flavors of Morocco with a selection of aromatic spices. Head to the spice markets to find blends like Ras El Hanout and Za'atar, along with natural herbal remedies that have been part of Moroccan traditions for centuries.
Argan Oil Products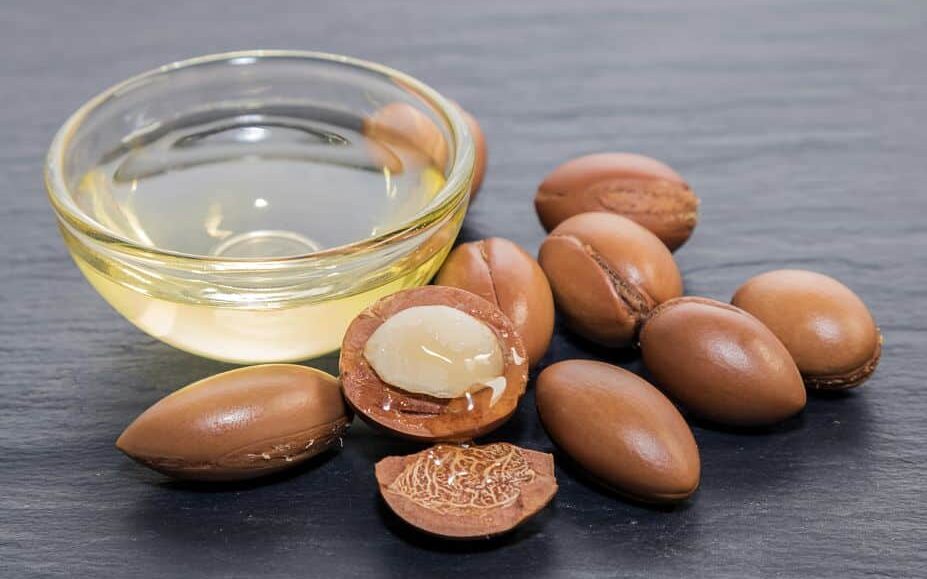 Extracted from the argan tree, native to Morocco, argan oil is celebrated for its cosmetic and culinary properties. Purchase argan oil-infused skincare products, culinary oils, and beauty essentials for a touch of Moroccan luxury back home.
Traditional Moroccan Lamps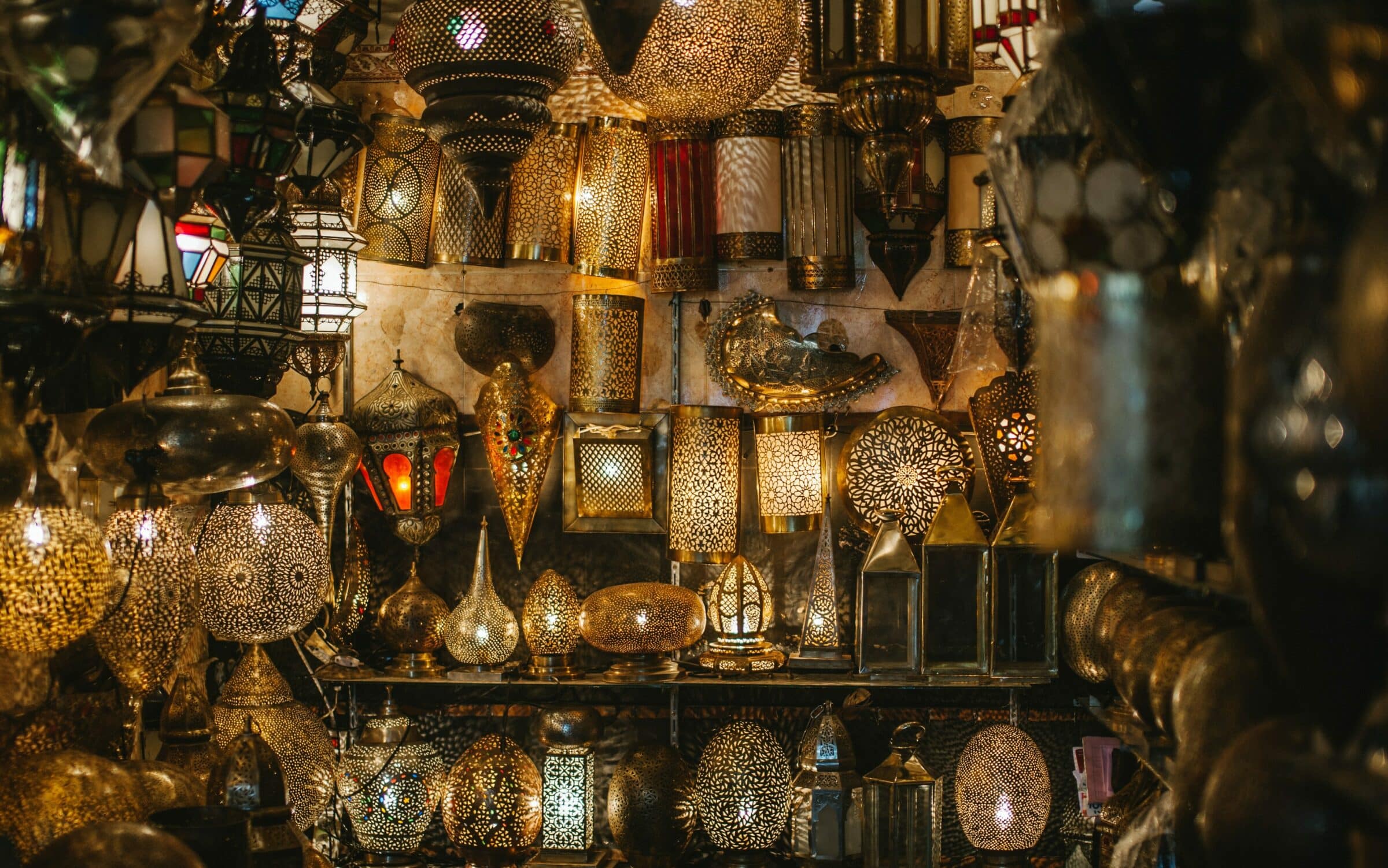 Known as "luminaires", these colourful Moroccan lamps cast mesmerizing patterns of light and shadow when lit. These captivating pieces add a touch of exotic ambiance to any space.
Traditional Berber Carpets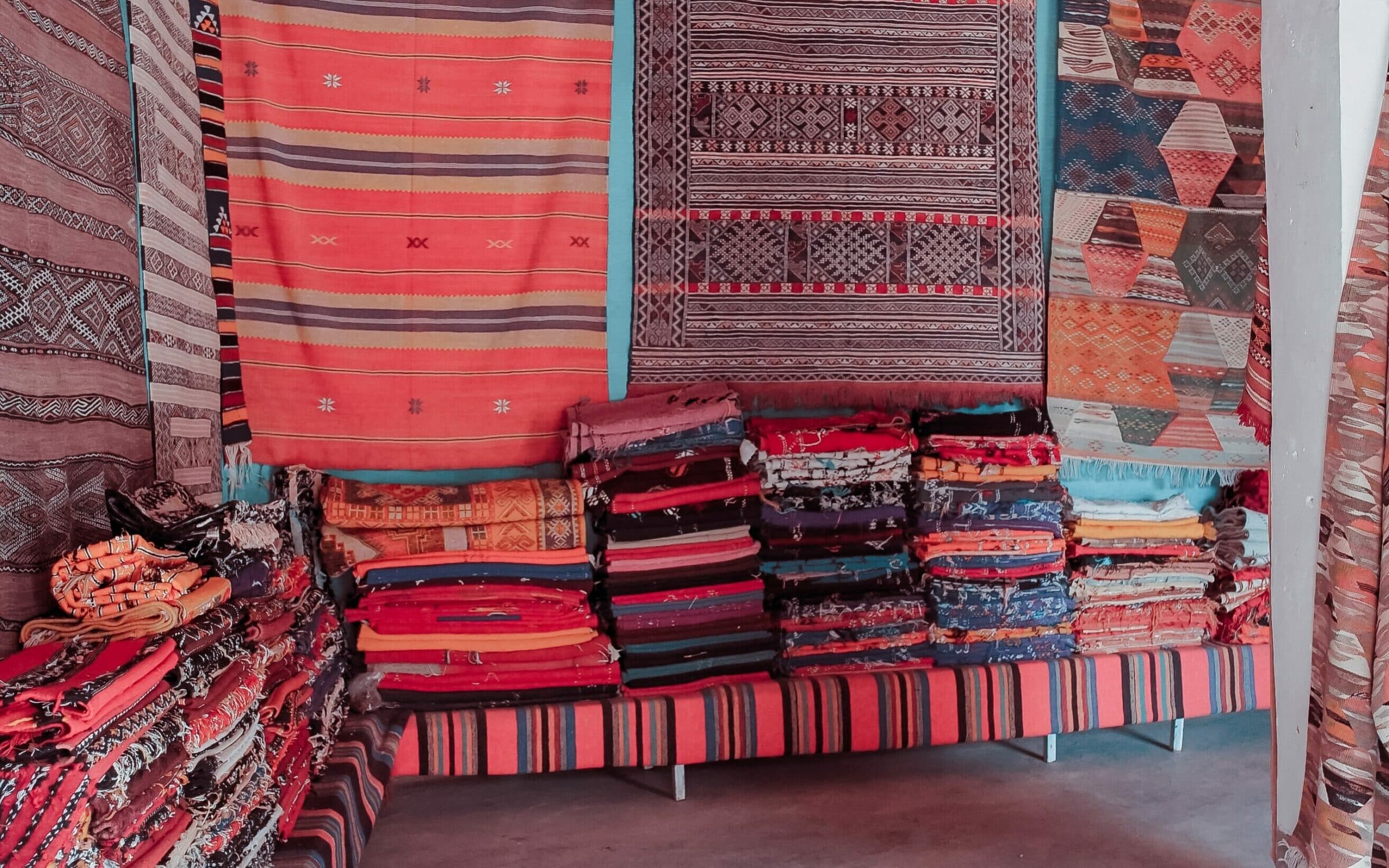 Handwoven by Berber tribes in the Atlas Mountains, these carpets are not only visually appealing but also carry deep cultural significance. Each carpet narrates the stories and traditions of its weaver, making it a cherished and authentic souvenir.
Exquisite Pottery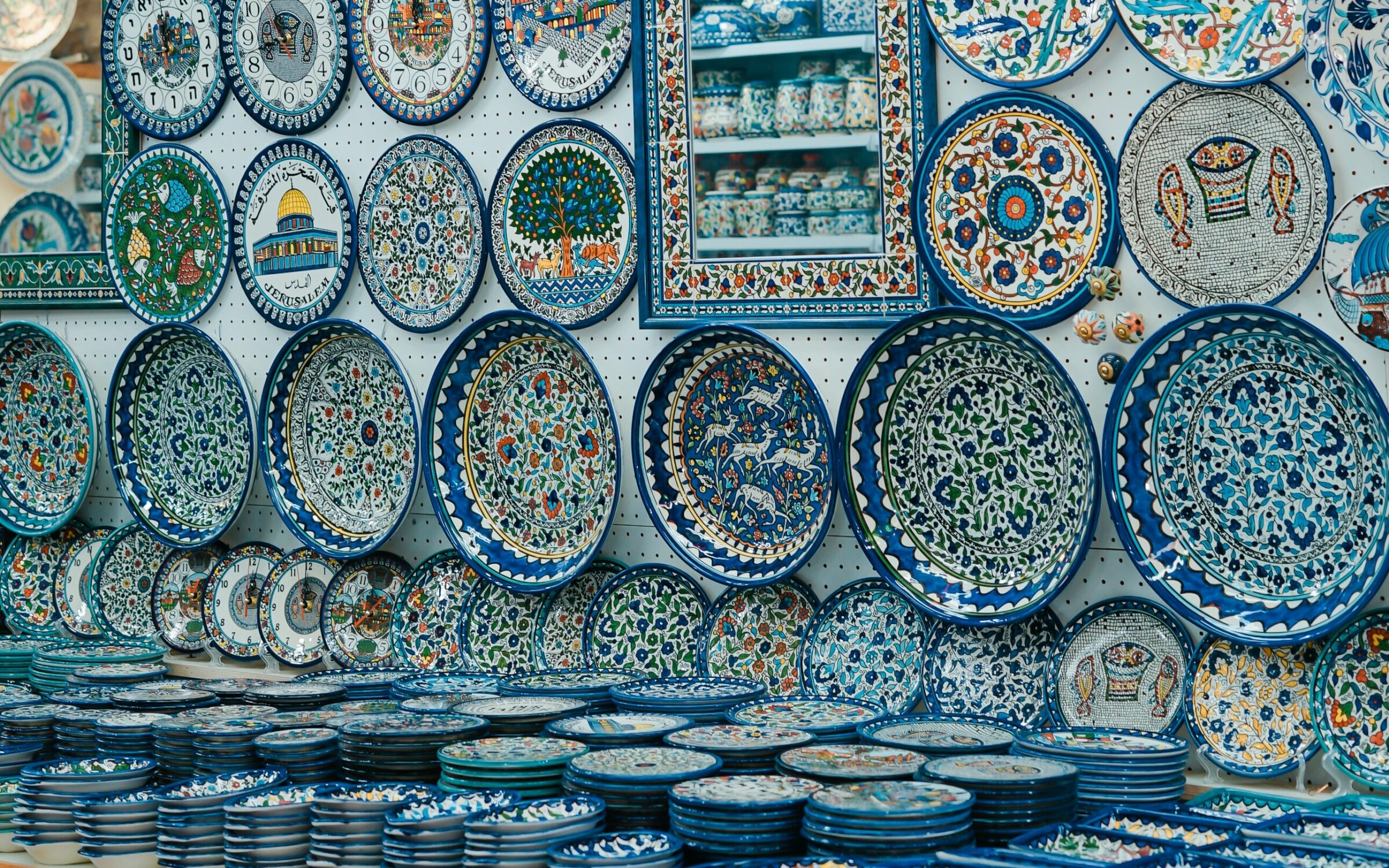 From vibrant ceramics to hand-painted plates, Morocco's pottery is a testament to the country's artistry. The city of Fez is renowned for its blue-and-white Fassi pottery, while Safi boasts colourful zellij-inspired creations. These pieces make for beautiful decorations and cherished keepsakes.
Handcrafted Jewelry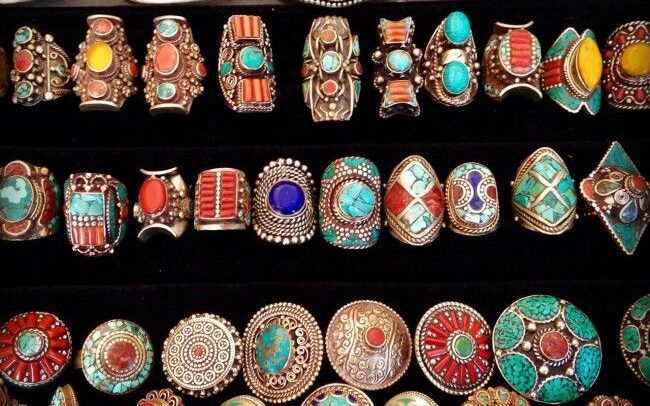 Adorn yourself with exquisite Moroccan jewelry, crafted with intricate designs and embellished with precious stones. From Berber silver to unique henna-inspired pieces, Moroccan jewelry is a stunning representation of the country's artistic prowess.
Moroccan Sweets and Pastries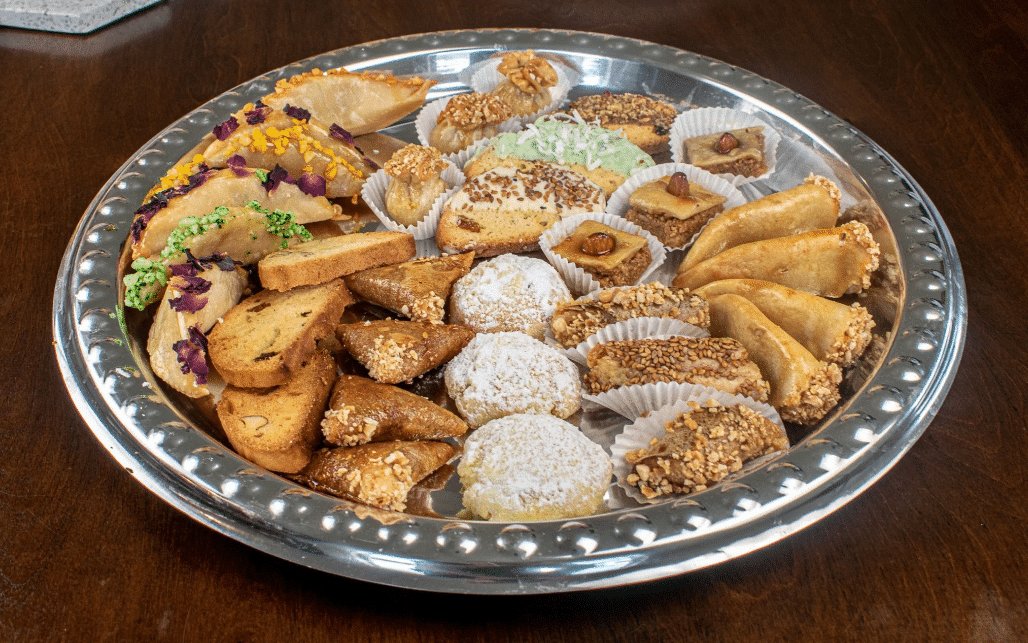 Indulge your taste buds and take home the delectable flavors of Morocco by purchasing a variety of traditional sweets and pastries. From mouthwatering almond-based treats like "corne de gazelle" to honey-drenched "chebakia" cookies, these delicacies offer a delightful glimpse into Morocco's culinary heritage.

4. Morocco Essentials – Morocco Safety, Security, Culture & Etiquette
---
Whether you're a seasoned world traveller or you're embarking on your first international adventure, exploring Morocco is an experience that promises to leave an indelible mark on your heart! We're sure you're excited for your trip, but before you dream of eating tagine and exploring marketplaces, it's important inform yourself with as many useful tips and insights as possible.
In this comprehensive guide, we will cover everything you need to know about travelling to Morocco! From essential safety precautions that will keep your travels secure and worry free, to cultural nuances that you should be aware of during your travels. So keep reading to unlock all the Morocco essentials that we have to offer!
4.2. Morocco Safety & Security
One of the reasons we truly love travelling to Morocco is because it's a safe place for all travellers. In truth, Morocco is not actually any less safe than some major cities and has been ranked in several surveys as a low to moderate risk for tourist. That said, its unfamiliar culture and language, combined with its "rough" atmosphere can often leave travellers feeling less personally secure than they would at home.
Below we've put together a list of our best hints and tips to make sure that you feel as safe and secure as possible on your next trip to Morocco!
Avoid pickpockets by not carrying valuables – The most common crime towards tourists in Morocco are muggings and petty theft. You can avoid this very easily by not wearing any flashy jewelry and branded clothing. We also recommend wearing your bags across the front of your body and never placing your wallet or phone in your back pocket.
Don't walk around at night, especially alone – Some Moroccan cities are more accustomed to tourists than others, with well-lit streets and busy public areas. But a good general rule to follow is to avoid walking through the streets by night, and particularly not in any medina or marketplace. Women especially should always travel in groups. This will help you avoid any unwanted attention, potential robberies and anything else that can happen when walking down a dark alleyway.
Don't get intimidated by the local vendors – Moroccan shopping culture is all about "the hustle" and can be a bit aggressive. Vendors often take advantage of the fact that this makes tourists uncomfortable (aka more likely to give in to make it stop) and use it as a technique to make a sale. Don't be afraid to say no and to simply walk away from any vendor, henna artist, snake charmer or shop owner that is trying to sell you something you don't want to buy.
Watch out for scams – Another way that people might try to make money is by age old trickery. If someone places something in your hand, offers you a gift or tells you to take a closer look at their snake/monkey collection, it's very likely that they will try to charge you for enjoying their service – even though they are the ones who called you in! They may end up following you with their hand out insisting that you pay them. Avoid this by keeping your distance, saying "no thank you" and moving on to the next location.
Dress appropriately – Avoid any unwanted attention by dressing more conservatively than you normally would. Morocco is a muslim country and as a visitor it's not only polite to follow the local norms, but it will also ensure you don't stand out to pick pockets, unwelcome stares or even unpleasant approaches by men in the streets. We recommend making sure you can always cover your shoulders and knees and avoid wearing skin-tight outfits. Make sure to jump to section 4.3. for more information on Morocco's culture and etiquette.
Insist on your food limitations – Moroccan food is very vegan and vegetarian friendly. You will also find many food options for those with lactose intolerance and celiac disease. That said, you should always make sure that you communicate this to the staff at the resturant and even consider learning the phrases in french so that you know for sure that the message is clear. We even recommend having the phrase saved to your phone so you can show it to the staff before you order.
Be weary of taxi prices – If you need to take a taxi make sure you agree on a price with the driver before you get in. Otherwise they might try to charge you a luducris price. If possible stick to ride sharing apps where the prices are fixed.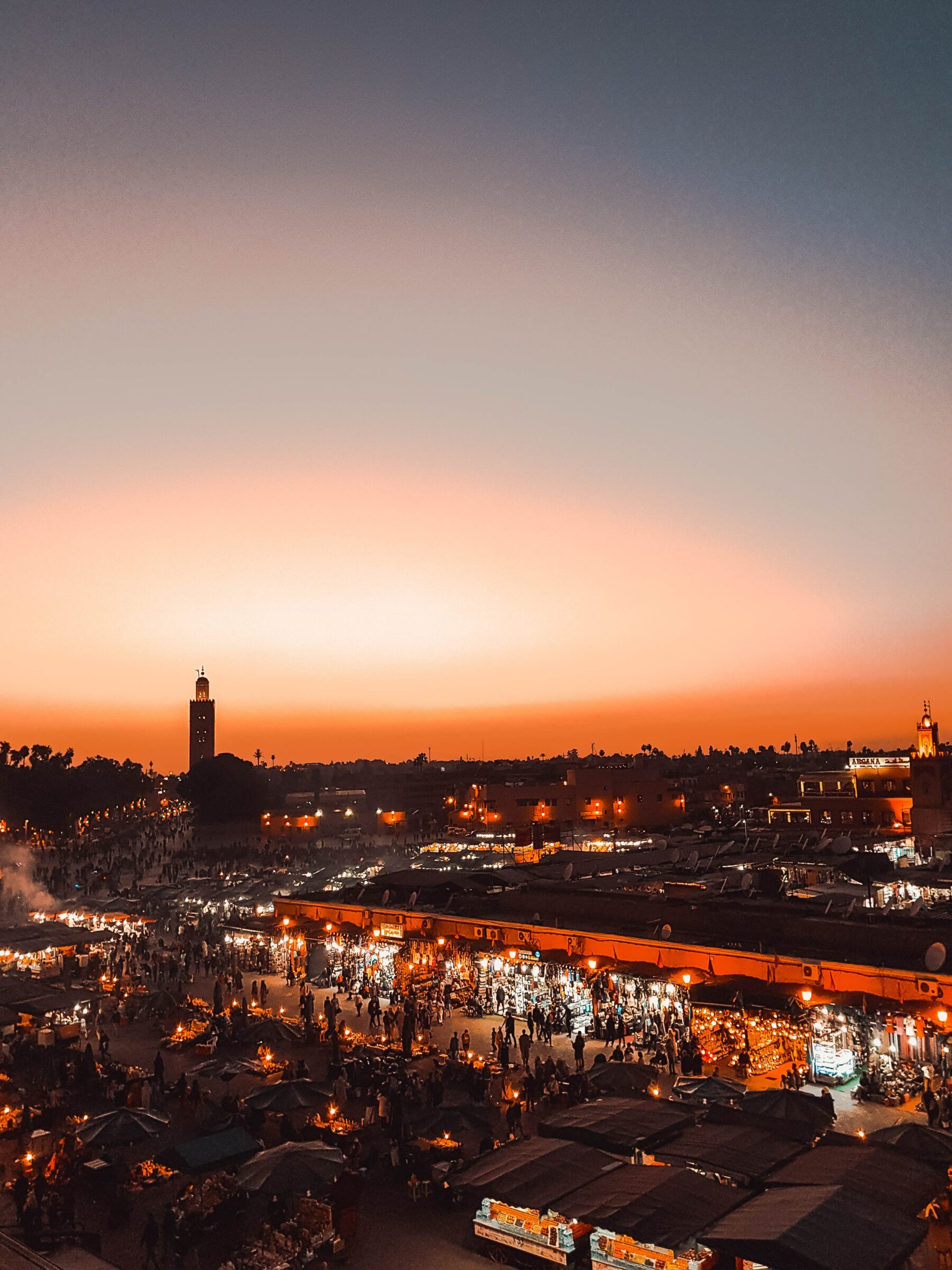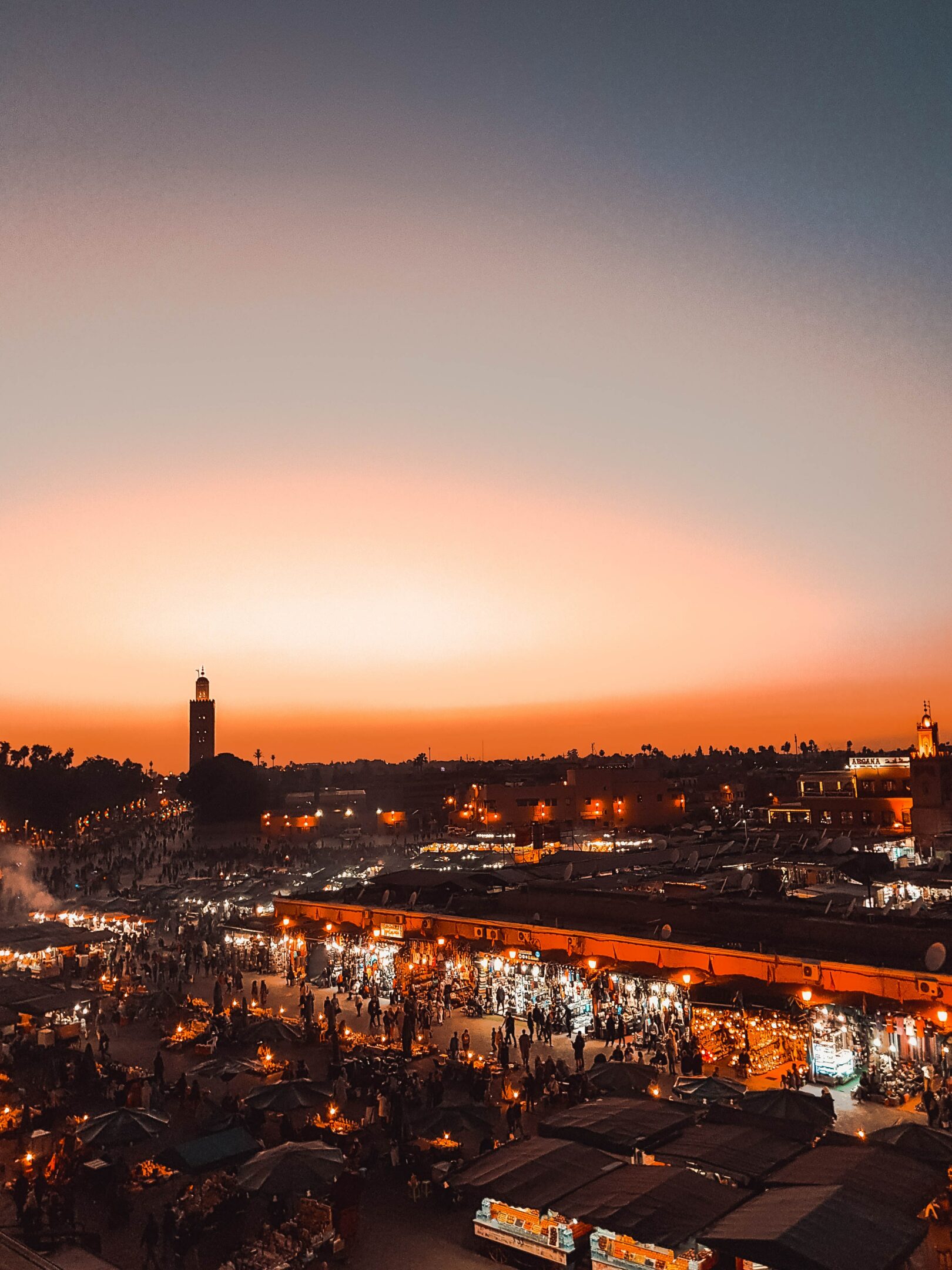 Only book tours with official tour guides – You might be approached by people in the streets who offer to show you around the city. They might even advertise themselves as a tour guide. It's important that you make sure that these are legitimate tour guides and that you also agree on a price upfront. What would be even better is taking the tours that are recommended directly by your hotel or accommodation host.
Make sure you get travel insurance – We know that travel insurance can often seems like a rip off, or something that you will never end up using. But when you are in a foreign country like Morocco you want to make sure you're covered. This way you know you'll be taken care of if you need medical attention.
Choose secure accommodations – Morocco is incredibly affordable. Which means you can easily book a nice, secure, reputable hotel, riad or Air Bnb for your trip without worrying too much about your budget. Unfotunately scams are very likely, so make sure you book your accommodation through a secure platform with lots of reviews from real people.
Don't drink the tap water – Even though much of Morocco's water comes from the Altas mountain range, there can still be bacteria in it that doesn't mix well with tourist digestive systems. Avoid getting any kind of stomach bug and stick to bottled water from the very beginning.
4.3. Culture & Etiquette in Morocco
As you continue planning your travels to Morocco, it's essential to have an understanding of the local culture. You will be a visitor to their home afterall, and it's important to know that it will not be like your home country. In this guide, we'll summarize some of the do's and don't when travelling to Morocco's so you can make sure you're always respecting their local cultural and etiquette. This way you can ensure your visit is not only memorable but courteous!
Morocco Culture – Do's
Dress Modestly: Given the conservative nature of the culture, it's respectful to dress modestly, especially when visiting religious sites and rural areas. Always make sure you can cover your shoulders, chest, and knees if needed.
Learn Basic Phrases: While many Moroccans speak French and English, learning a few basic Arabic phrases can go a long way in fostering connections and showing respect. You can say "Choukran" instead of thank you and "Salam Aleikum" instead of hello.
Remove Shoes: When entering homes or places of worship, it's customary to remove your shoes. This practice symbolizes leaving impurities at the doorstep.
Ask Before Taking Photos: Always ask locals before capturing their images. Many locals believe it to be a personal intrusion by tourists, but many also have religious and cultural reasons for not wanting their photo taken.
Handle Food with Right Hand: In Moroccan culture, the left hand is traditionally associated with unclean tasks. When sharing meals or accepting food, use your right hand as a sign of respect.
Respect Religious Customs: Morocco is predominantly Muslim, and respecting religious practices is paramount. During the call to prayer, it's courteous to lower your voice and not stare or point at anyone who might be praying in public.
Greet with Politeness: Greetings hold great importance in Morocco. Use phrases like "Salam alaykum" (peace be upon you) and respond to locals with "Wa alaykum as-salam" (and peace be upon you). A simple smile and greeting can open doors to meaningful interactions.
Engage in Handshakes: Handshakes are common between members of the same sex as a greeting. However, remember that some conservative individuals might prefer not to shake hands with members of the opposite sex. Wait for them to initiate the gesture.
Morocco Culture – Don'ts
Public Displays of Affection: While holding hands is acceptable for couples, public displays of affection should be minimized to show cultural sensitivity.
Ramadan Considerations: Always be aware of when Ramadan is taking place before booking your trip. The tradititons of Ramadan might effect operation hours of many attractions.
Open Ramadan Discussions Intensely: While it's okay to inquire about Ramadan and its customs, avoid initiating intense discussions about religious or political matters, as these topics can be sensitive for some individuals.
Disrupt Friday Prayer: Friday, the Muslim holy day, is a time of congregational prayers. Avoid planning visits to mosques or busy areas during this time, and keep noise levels down out of respect for worshippers.
Buy hashish on the streets – Hashish is a substance made with the extract of the cannibis plant and is often offered to tourist in the strrets. As common as it may be, it is actually illegal in Morocco and even tourists can get in trouble for possessing it.
Waste Food: In a culture that values hospitality and sharing, wasting food is seen as disrespectful. Take only what you can eat, and be gracious if you don't like the look or taste of something.
Play with the stray animals – If you're an animal lover then you will be drawn to the countless cats and dogs that live in Morocco's streets. Resist your urge to pet and cuddle them, as they are often covered in fleas and could be infected with other diseases.
Expect much access to alcohol – As a muslim country, alcohol is not as accessible as it is in many other countries. You will not find it readily available at all restaurants and you will also not find a large bar/club scene. It's not impossible to find a party if you want one – casinos, hotels and certain supermarkets will often sell alcohol. But due to the restrictions it's also much more expensive then you'll be used to.
5. Morocco FAQ
---