We're happy to welcome back one of our featured bloggers. Sabrina participated in our of Citylife's day trips and decided to write up a nice article about her experience. We hope you enjoy it. And dont forget to check out her own blog Adventures in Madrid!
Do you want to feel like a royal for one day? Then you should definitely visit Aranjuez! I joined a one-day trip with Citylife Madrid and explored the beautiful town and the wonderful Chinchón. Both towns are around one hour away from Madrid and it's definitely worth visiting them. It was such a great day of exploration that I just had to share it with all of you! So here it goes, My day with Citylife Madrid!
The Town of Aranjuez
Aranjuez is a historic town located at the confluence of the Tagus and Jarama rivers, 42 km south of Madrid. The town has been declared a UNESCO World Heritage Site since 2001, which is not surprising. The town is full of Renaissance inspired architecture and beautiful landscapes. The royal family used to use this location as the official Royal Summer Residence and Hunting Lodge. Walking in the unique and beautiful royal gardens is very relaxing, they are enormous and gorgeous!
The Tour
We started with a guided tour along the palace and the royal gardens. We strolled through two gardens: Jardín de la Isla and Jardín del Parterre. Jardín de la Isla is a unique example of a Spanish Renaissance garden. The gardens are full of little squares and statues dedicated to Hercules, Bacchus, Apollo and many more mythological figures.
When the guided tour came to an end, I decided it was time to finally visit the big and majestic Royal Palace – after some tapas of course. Thanks to our beloved student discount, we paid €4 for the admission. I couldn't compare the palace with the one in Madrid, because I still haven't gotten around to visiting it – shame on me! – but I do know that it was absolutely worth my money. It wasn't allowed to take pictures inside, so I only managed to take a few. The rooms looked incredible and some were breathtaking in my opinion. Before continuing our one-day trip to Chinchón, we decided to go for another walk through the beautiful gardens to relax.
The Town of Chinchon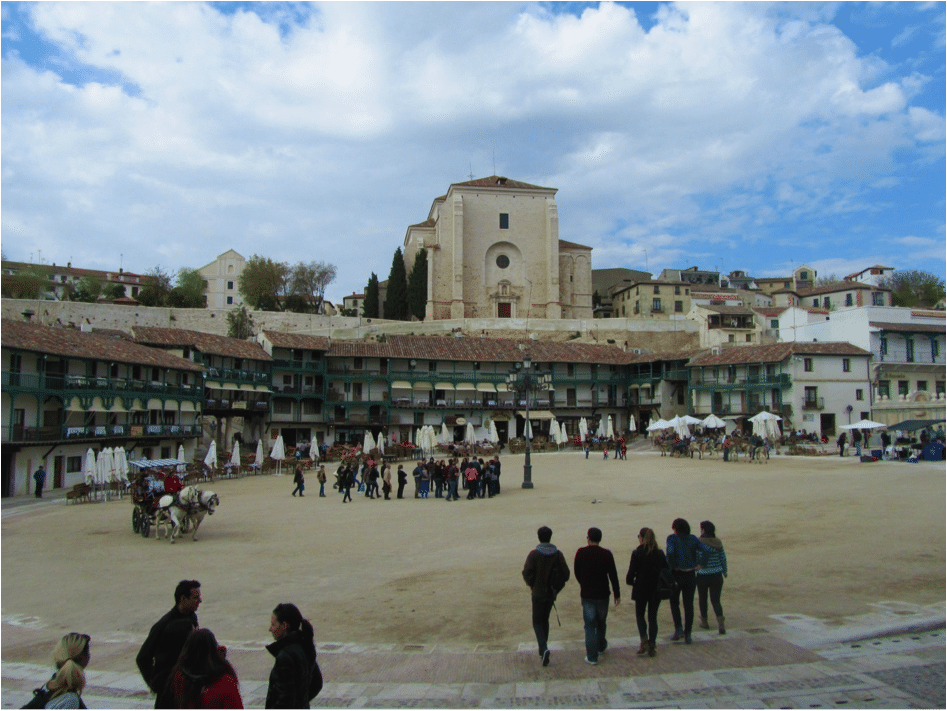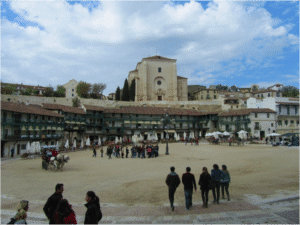 Chinchón is a small town, located 50 km southeast of Madrid. We had one hour to explore this lovely, small town before heading back to Madrid. The famous main square is Plaza Mayor and it's actually round. It's a beautiful plaza with its green and white façades and balconies. A fun fact for all the film lovers out there: this plaza was used to film a bullfight in Around the World in Eighty Days. After enjoying the plaza, we walked up to the old clock tower. You'll be surprised by the beautiful view of the small town. We definitely enjoyed the old, peaceful streets and small shops which sell handcrafts, and of course pastry and traditional food! It really felt as if we travelled back in time, but soon it was time to get back to reality and head to Madrid.
If you're interested in seeing these adorable cities, or any other city in Spain, Portugal or even Morocco, head to the Trips Calendar on the Citylife Madrid website and check out all of the up and coming trips ! Whether you want to get away for the whole weekend, or just one day, they will have something for you!
– Sabrina