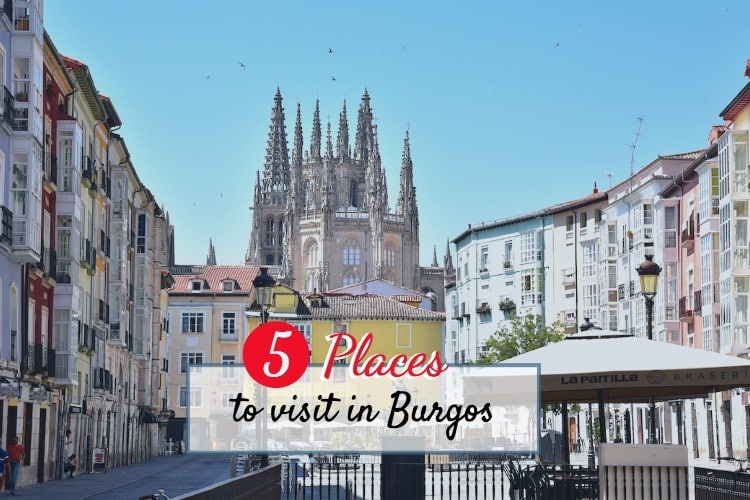 Burgos is the capital of the province of Burgos in the autonomous community of Castile and Leon. Historically, it was a bishopric and a capital of Castile. It is also known as the city that defined the Burgos laws in 1512. Those created legal obligation for the Spaniards to treat Americans in a specific way. Even though it is a city of considerable size, some 180,000 citizens, the everyday life is governed by the old traditions, festivals, and believes. Siesta is just one example. Don't expect to get lunch past 4 o'clock. Talking about food, the typical meal is Morcilla de Burgos. It is a pig's sausage with rise, a Spanish black sausage. Check here to search for cheap hotels and rental cars to get to Burgos.
Burgos Cathedral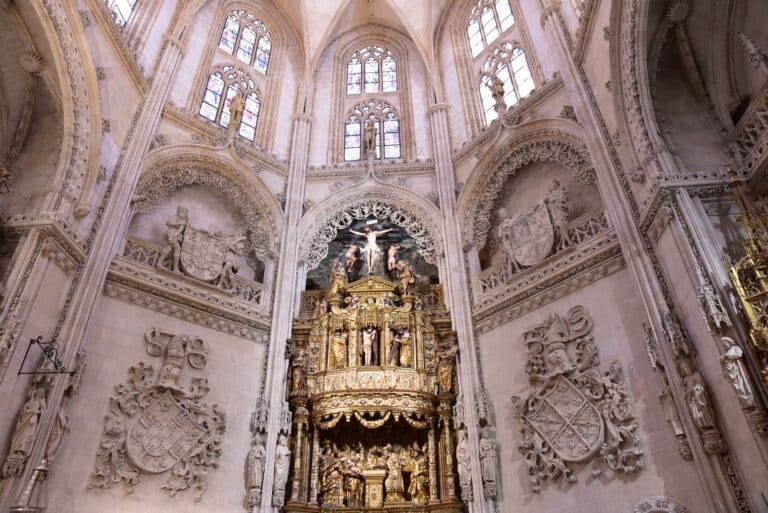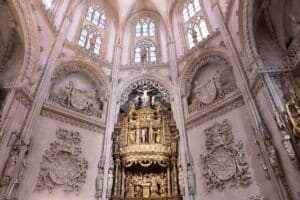 Burgos equals in many ways this Cathedral. The impressive Gothic structure from 1221 defines the city. It has always attracted many visitors; in the past as the northern route of the Camino de Santiago and nowadays as a cultural heritage of Spain that forms part of the UNESCO World Heritage. The Cathedral is dedicated to Virgin Mary. Inside, you can find the tomb of Spanish national hero: El Cid.
Whether you visit Burgos for one hour or for ten days, the Burgos Cathedral is a must. The indescribable sculptures that look like coming around any minute, the decoration and strong passion coming from the walls of rooms will surely take your breath away, whether or not you believe in Christianity. The tickets cost 7 euros for an adult and 4,50 euros for a student. 
Castle of Burgos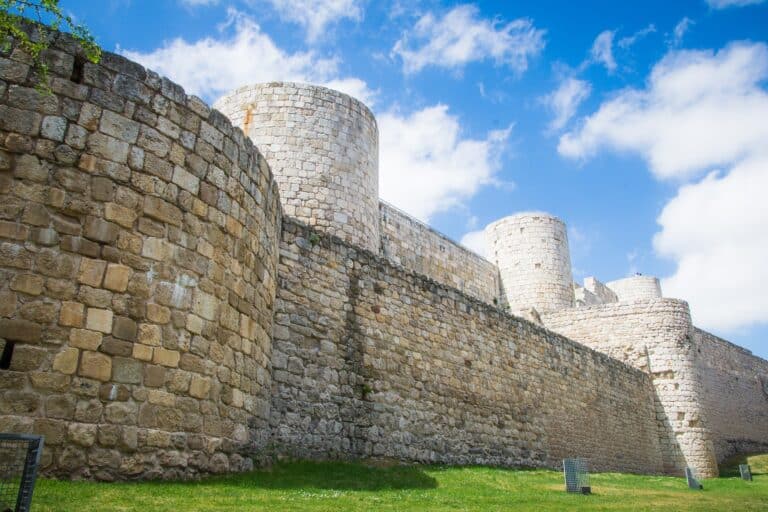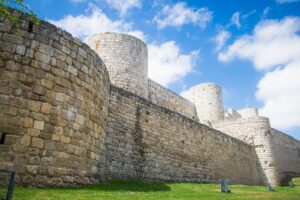 The Castle of Burgos, which now undeniably reminds us more of a ruin than castle, is believed to date back to the Roman and Visigothic era. During the period in which Burgos was the capital of Castile, rules and the nobility occupied the castle. The beautiful building was unfortunately destroyed in the 19th century when the French army started retreating from Spain. It was closed for a while, then explored by archaeologists under General Franco and now it is opened to the public.
Even though the castle lies in ruins, it offers some spectacular views. You can climb around the walls, read an information table or two and all of that for free! So go ahead and visit 🙂
Monasterio de las Huelgas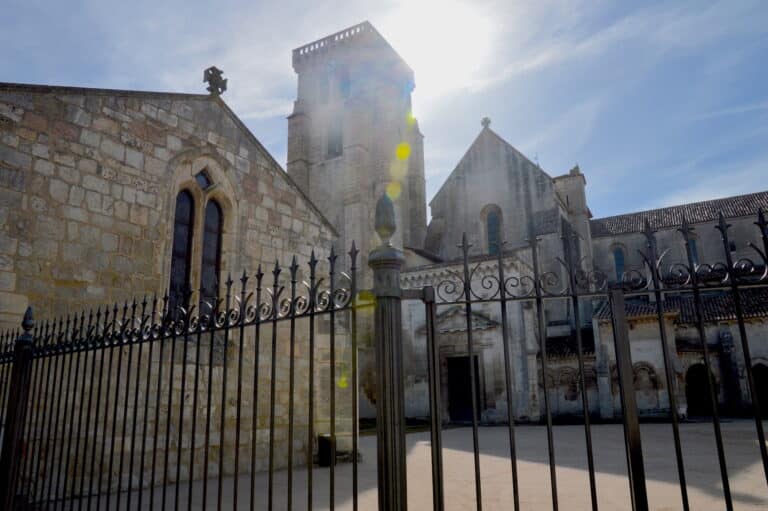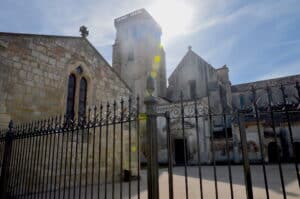 After foundation of this Monastery in 1187, it enjoyed a good standing in the society. It was a royal burial place where personalities like Eleanor of England, Queen of Castile, Berengaria of Castile, Blanche of Castile and other found their eternal rest. More importantly than that, Monasterio de las Huelgas gave Spain incredible textile and music heritage.
If you want to visit the Monastery, it is some 25 minutes walk from the Cathedral. The entrance is 6 euros.
Miraflores Charterhouse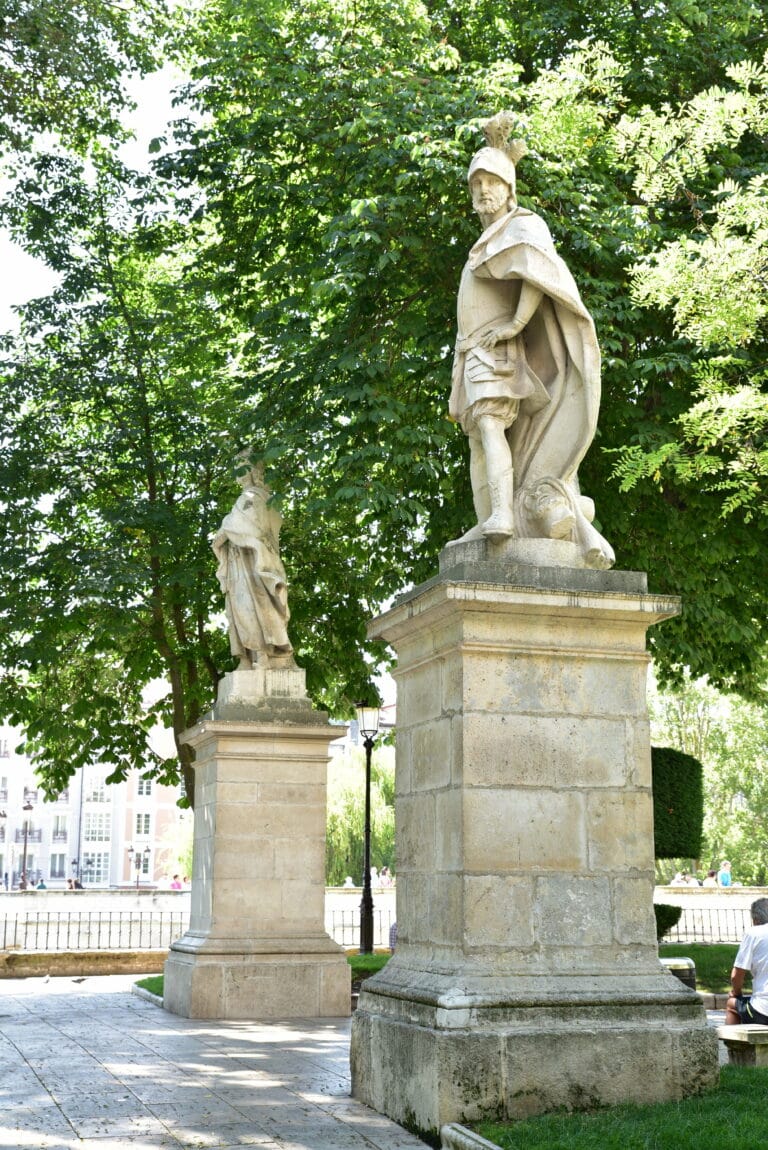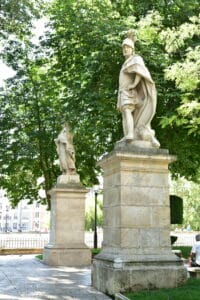 Yes, you guessed it. Yet another religious building (last one, I promise). In 1442 King John II of Castille donated his hunting lodge to the Order of the Cathursians. After few amendments, they started using this building as a monastery. The main attraction is undoubtedly the beautiful altar dominated by the image of Jesus in the centre. Yet the whole building is stunning and brings answers to all your prayers.
This Miraflores Charterhouse is only recommended if you have enough time. Unfortunately it is not in the city centre and thus you would require about 45 min to walk there (even though through spectacular parks) or to take a car/public transport. Nevertheless if you are visiting Burgos for few days or returning to this cool city, be sure to pay a visit!
Museum of Human Evolution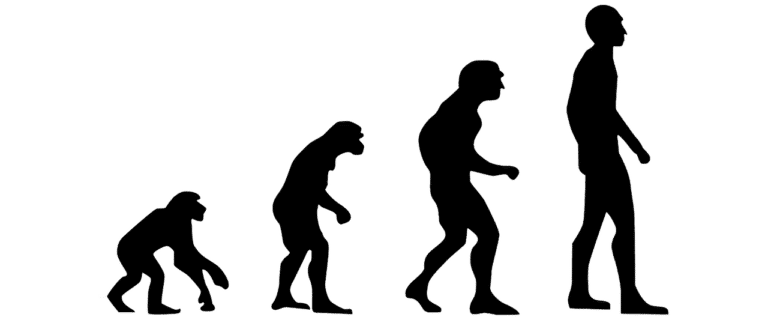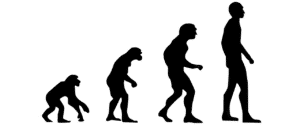 The museum was established as a showroom of the findings from the Sierra de Atapuerca Archaeological Site located near-by Burgos and currently holding UNESCO World Heritage site. As a museum with modern and interactive approach, it is sure to spark interest in everyone's inner child.
If you want to learn more about the development of humanity, understand how we came to be who we are, then this is a must for you. The entrance fee is 6 euros, 4 euros for student. 
Burgos is a must for anyone who wants to have an idea of what Spain is about. It has always formed indispensable part of the history, defined religious, and cultural developments of then very divided peninsula. More importantly than that, it is a very relaxed city which is sure to transfer you back into the Gothic time with its Cathedral, tiny streets filled with loud and excited visitors eager to eat and architectural wonders.
Sounds unreal? Spend the day with us exploring this amazing city every semester on our fun Into the Wines: Ribera del Duero and Burgos day trip! We're travelling every weekend to amazing new locations so make sure you keep up with our travel calendar!