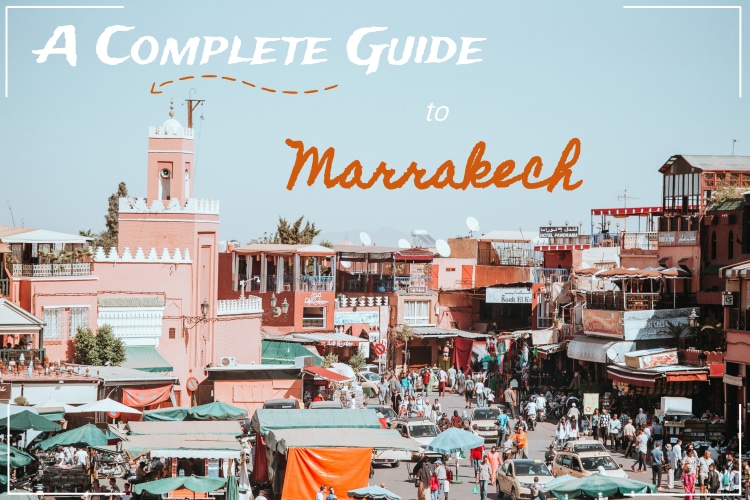 ---
When beginning your journey to Africa, Marrakech is a great place to start. In Marrakech, you'll find it has both an old city and a new city, with equally interesting parts to explore. If you travel to Marrakech, you'll see that the new city looks very similar to your typical European city. Whereas, the old city could be a scene from 1,000 years ago. While in Marrakech, I spent most of my time in the old city, so the following list reflects that. Marrakech is the perfect introduction to Africa, being as it has equal parts old and new.
For a traveling individual, who's used to European cities, you'll find Marrakech easy to explore. On our trip, Morocco: The African Adventure, you'll have the chance to explore Marrakech on your own time, as well as with our included walking tour. Additionally, Morocco is a good stepping stone to stop at on your way to the Sahara Desert, which is also a destination included on our trip! To discover the top sites to see while you're in Marrakech, keep reading!
Planning a trip to Morocco can be overwhelming, as Africa is very different than Europe. Allow Citylife Madrid to take care of all the little details for you (hotels, transportation, walking tours), so you can enjoy your time in Morocco to the fullest. See our other blogs on cities in Morocco, including Fes, Chefchaouen, and Tangier. Check our trip page to see where we're heading in Morocco this semester! Keep exploring.
1. Jemaa el-Fnaa
---
Jemaa el-Fnaa is the central square in Marrakech's old city. In this square you'll find snake charmers, monkeys, magicians, story-tellers, dancers, food stands, and more! This central square was created between 1070-1072, making it almost 1,000 years old! When you walk through this square, you'll be walking through a living part of history. From day to night, the square transforms from an area where products can be sold, to an area of performance. This is when the magicians, story-tellers, and dancers make their appearances. As the sun sets, the lights from the square begin to light up the night. There are typically even more people in this central square at night, than during the day. It's more pleasant to walk through the square once the temperature has cooled off a bit.
Fun fact: when I was in Marrakech, the temperature was 92°F (or 33°C), so I found the square much more enjoyable at night, than I did the day.
Of course, this square is included on Citylife's walking tour of Marrakech. You'll find that there is plenty to explore in this market, and you'll definitely want to check it out, both with the walking tour, and in your free time! This square is also considered a UNESCO Masterpiece of Oral and Intangible Heritage of Humanity, which is slightly different from a UNESCO World Heritage Site, as it meant to preserve a site that isn't one specific location, it's the intangible parts of this square that make it so valuable. This title protects the people, culture, and ancient feeling of the square.
---
2. Koutoubia Mosque
---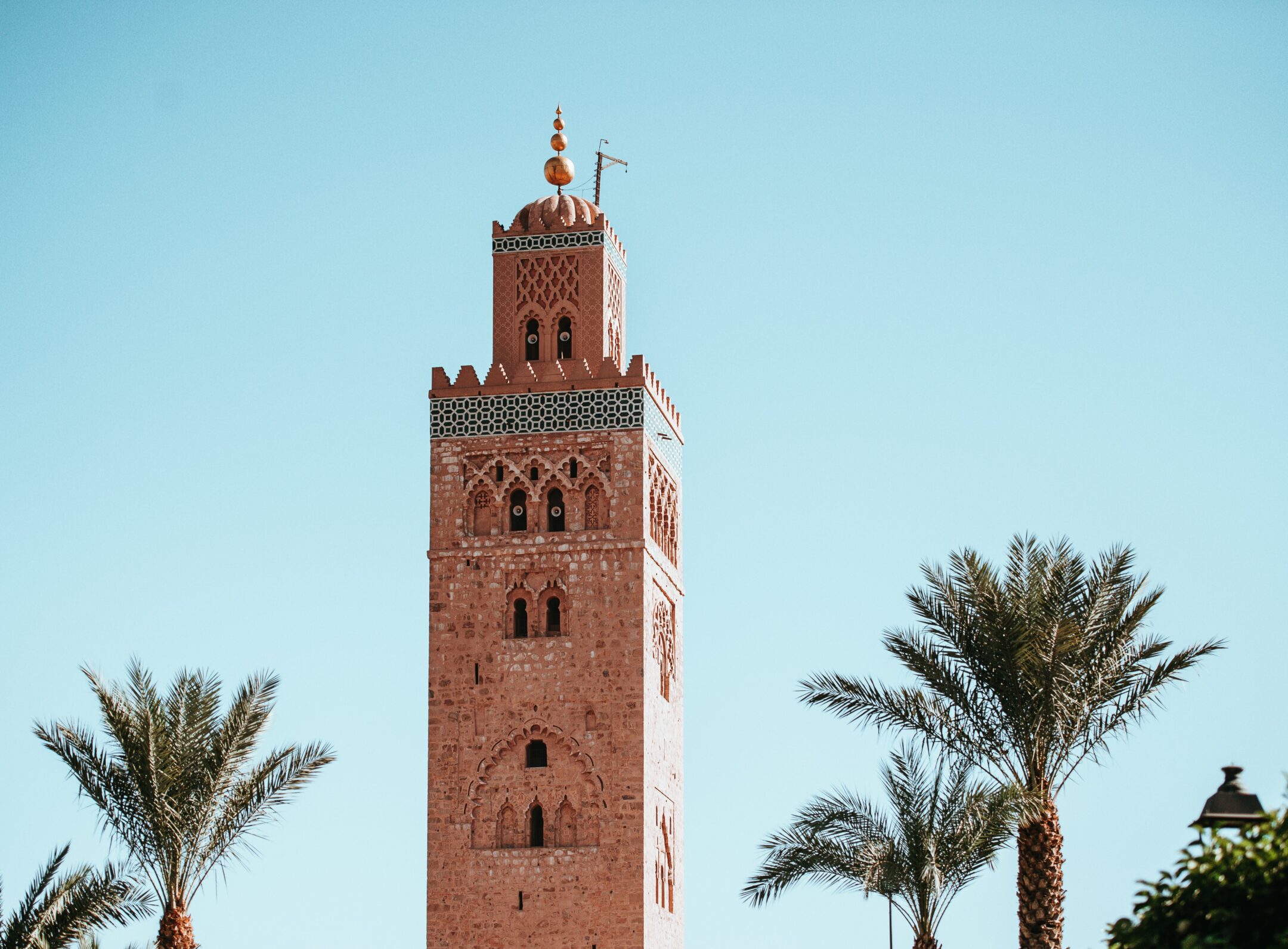 This mosque is the largest one in Marrakech, you won't miss it! At 77 meters in height, with decorative arches, and curved windows, you'll find a visit to this mosque to be well worth the visit. As with many mosques in Muslim countries, if you are not a practicing Muslim using the mosque to pray, you are not allowed to enter Koutoubia Mosque. This mosque was completed in 1199, under a Berber King (Berbers are the people native to Northern Africa).
The mosque is only 200 meters away from Jemaa el-Fnaa, so you'll definitely be able to see both landmarks at once. Even though most of you reading this won't be able to enter the mosque, you'll be able to take as many pictures as you want from the outside! The outside of the mosque is a masterpiece and beautiful to observe. Be sure to take your time appreciating this ancient building.
---
3. The Many Pharmacies
---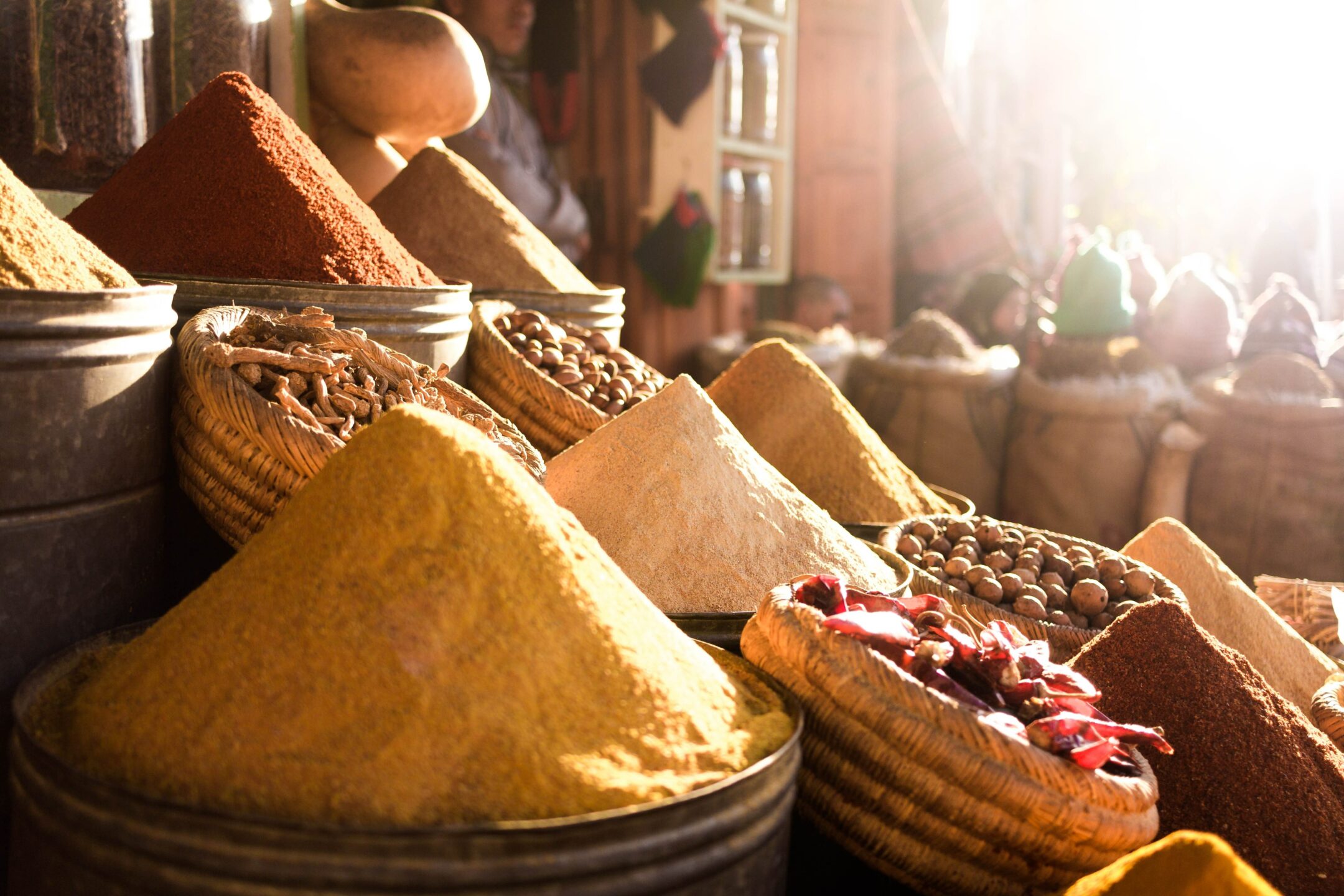 You'll be pleasantly surprised that a pharmacy in Morocco is totally different than the ones you'll find in the modern parts of Europe and the United States. Rather than selling antibiotics and other medications, a pharmacy in Morocco sells natural solutions to your ailments and products for good health. For example, many of the products available at the pharmacy include teas to help with indigestion, mint used as a natural decongestant, and oils to increase your energy and activity, among others.
One of the most interesting products that I saw at the pharmacy we visited, was a lipstick that was made partially with henna. Henna is a popular natural dye used to temporarily tattoo your skin. Due to the long lasting properties of henna, this lipstick will stay on all day, without fading! The pharmacy also had a section where a woman was making argan oil. It was really interesting to see argan oil being hand made, right before my eyes. Herbs, spices, and soaps were also available here. Any natural product that you desire can most likely be found at one of the pharmacies in the old city of Marrakech. Remember, the people at these pharmacies are sales people! They're going to try to sell you their products, but don't feel obligated to buy anything. I highly recommend checking out one of the many pharmacies in Marrakech! Or, if you join Citylife on our African Adventure, we'll stop at a pharmacy on our walking tour.
---
4. Bahia Palace
---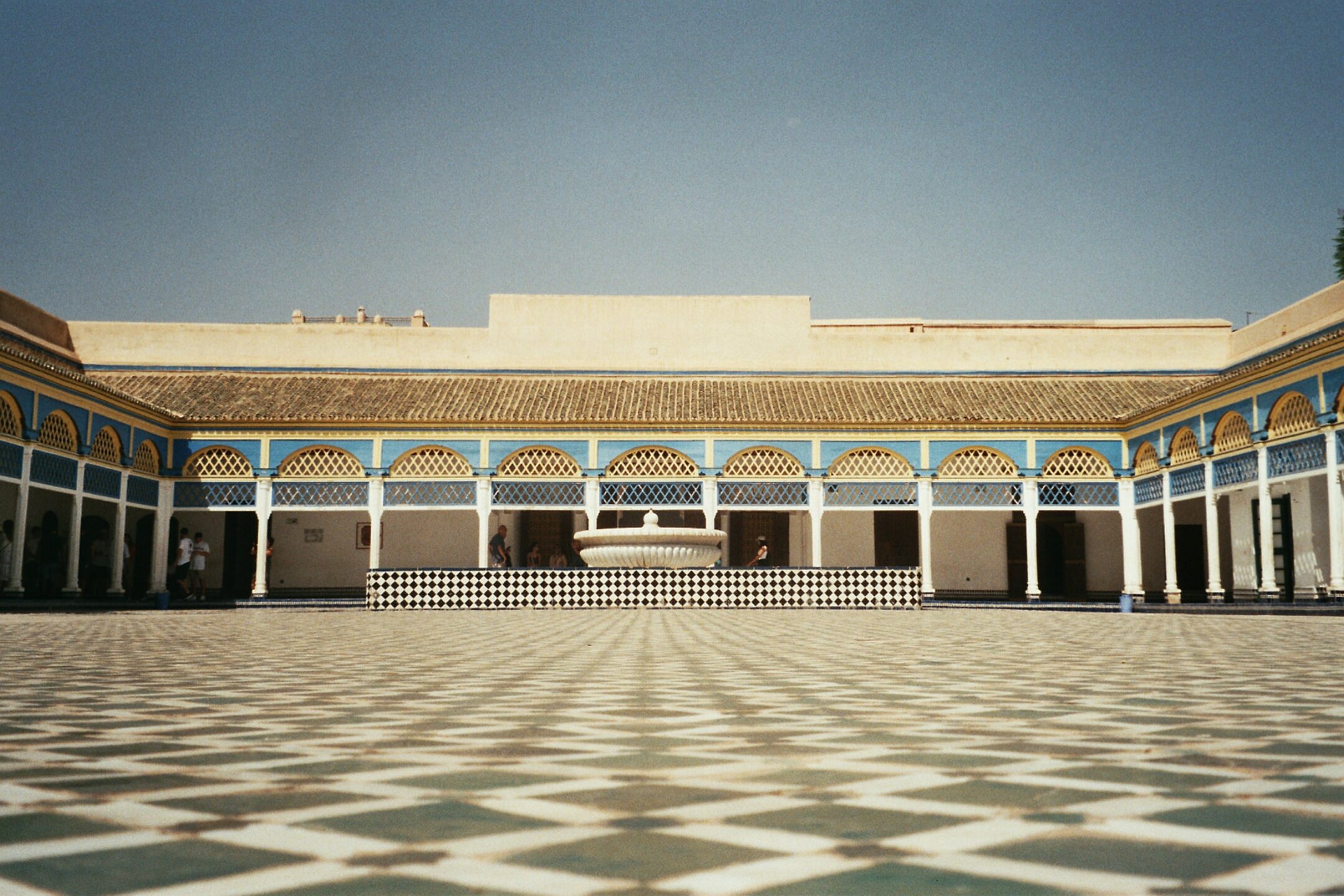 Bahia Palace is one of the most famous buildings in all of Morocco. This palace is from the nineteenth century, built in 1867. When it was constructed the palace was meant to be the greatest of all time. The palace was constructed for Si Moussa, the grand vizer of the sultan. The tiles and patterns found throughout this palace are extremely impressive. Each room is decorated with a different pattern.
As our tour guide took us through each room, we realized that many of them are meant for the many wives and mistresses of Si Moussa! In Morocco, at the time of this building's construction, it was acceptable to have several wives and mistresses. In fact, the name of the palace, "Bahia," is actually the name of the favorite mistress of Si Moussa, meaning brilliant and beautiful. The highlights of the palace include a main open courtyard and a beautiful garden. Recently refurbished, this palace is a little more costly than most touristy sites in Morocco (at 7 €), but is well worth the extra money!
---
5. Medina of Marrakech
---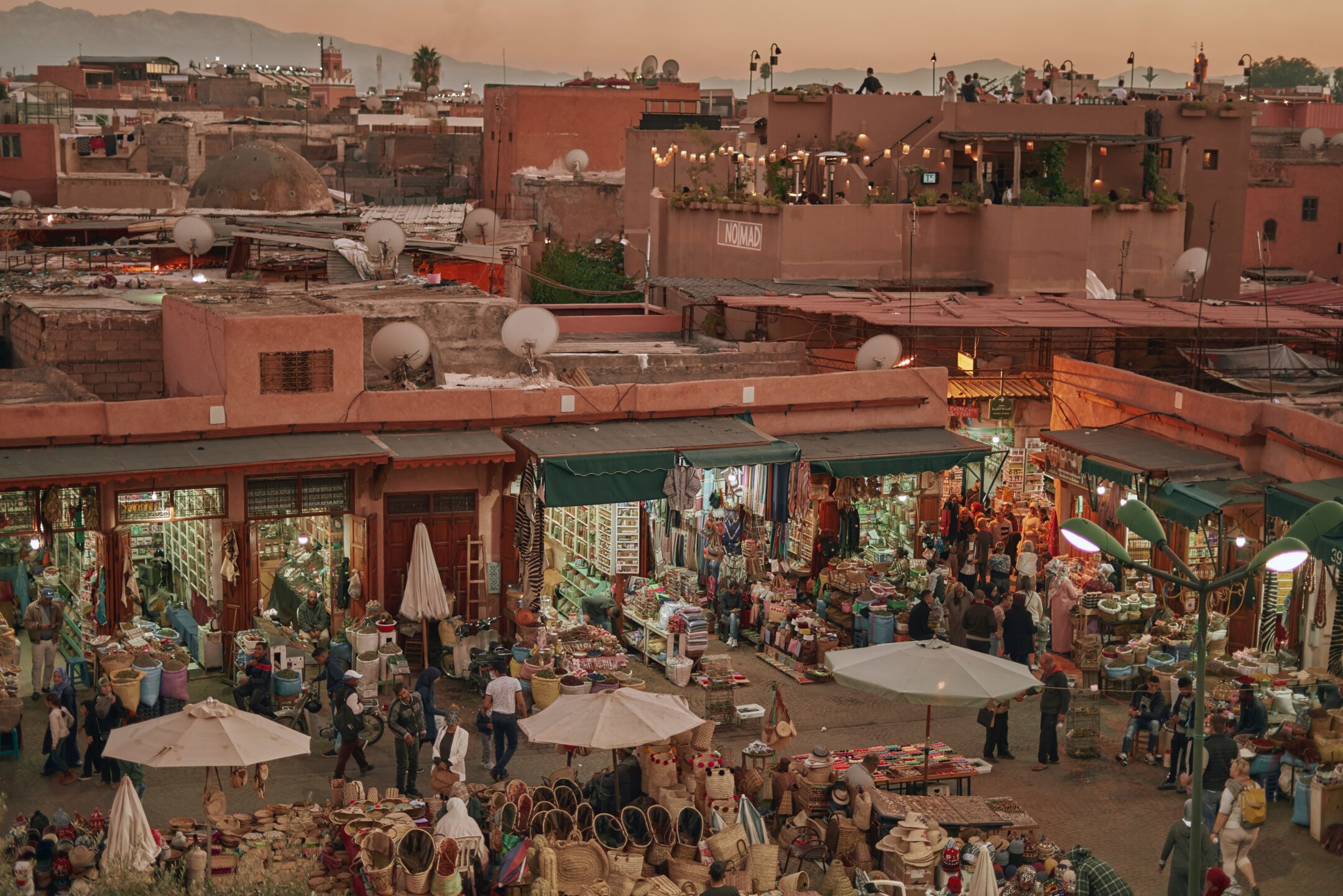 A medina is a group of maze-like streets, that can stretch on for many kilometers. Medinas are very common in the cities of Northern Africa. The streets in a medina are also extremely narrow, and usually walled. On the streets of the medina in Marrakech, you'll find several different typical and authentic Moroccan shops. Due to their proximity, the Koutoubiya Mosque and Bahia Palace are also considered to be a part of the medina.
The medina of Marrakech is considered a UNESCO World Heritage Site, due to the proximity of all these important sites of heritage so close together. Get lost walking the streets of the medina, and I promise you won't regret it! You're sure to run into some interesting characters and a diverse set of shops.
---
6. Marjorelle Garden
---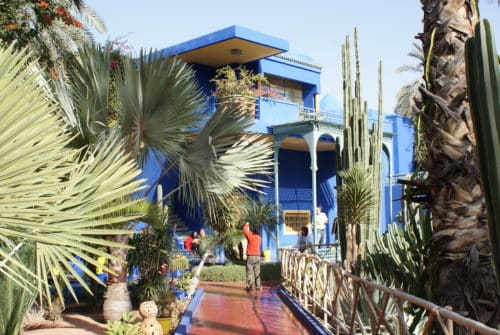 This garden is one of the most relaxing palaces that you can visit in the busy city of Marrakech. After an exhausting day exploring the central square and medina, a visit to a quiet garden may be exactly what you need. The French painter, Jacques Majorelle created this garden, working on it for over forty years. The garden houses many trees, a stream, pools of water with many different types of flowers, and an amazing crew of birds that hang out there. With exotic cacti and plants, the garden is about 2.5 acres large.
Attached to the garden is a Berber Museum. This museum houses many relics, including jewelry, traditional costumes, and an explanation and overview of Berber culture. The Berbers are those indigenous to Northern Africa, or the descendants of the pre-Arab inhabitants of this area.
---
7. El Badi Palace
---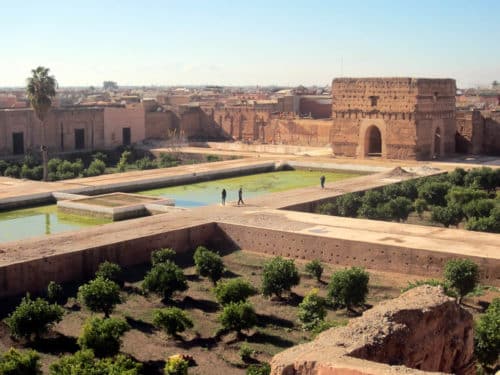 El Badi Palace, completed in 1593, is now a ruined palace in Marrakech. "Badi" means "incomparable," and this name is meant to show how grand the palace was at its time of construction. The palace was built to celebrate the Moroccan win over the Portuguese army. This palace once had over 360 different rooms, all beautifully decorated, a courtyard, and a pool. Near the grounds of the palace, there is also a museum that has different artifacts from Marrakech in general. Every year, a festival, called the Marrakech Laughter Festival, is held at the ruins of this palace.
---